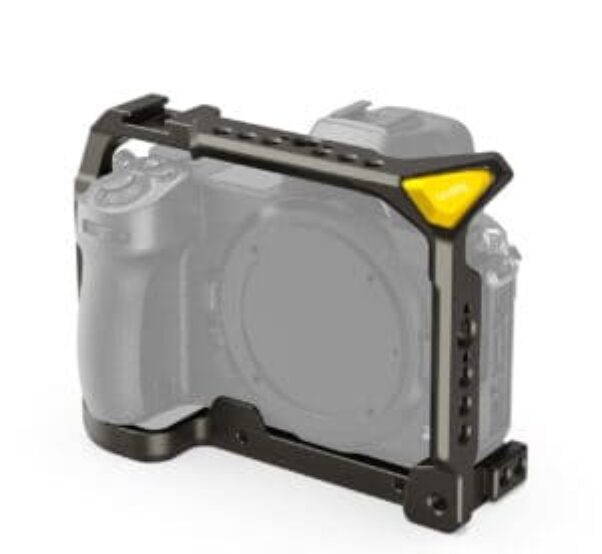 Welcome to my Nikon Z6, Z6ii, Z7 & Z7ii SmallRig cage review and which one is the best cage for the Nikon Z6ii
I have tried out and tested a number of Nikon Z6ii cages over the last few weeks and my personal favourite has to be the SmallRig model 2824 as it's built like a tank, is form fitting, has loads of mounting positions and has two incredibly handy Nato rails builtin and it looks the part also. 
SmallRig right now have a total of 5 different cages that will fit the Nikon Z6, Z6ii, Z7 & Z7ii. They vary from half cages to full cages and also accommodate battery grips in some models. 
Before we go any further I should say I have bought several SmallRig products myself for my DJI RS2 and my Nikon Z6ii but SmallRig did send this out to me for testing and I didn't pay for it. So cheers for that SmallRig, I appreciate the support. I should also add I ordered their
Follow focus system (review here)
 today with a few other bits and pieces and paid for it in full myself, so I do genuinely believe in their products.
SmallRig had no input in this blog post, they only saw it after it was posted and did not pay me to write it. 
So getting back to the options you have of cages from not only SmallRig but several other companies out there for the Z6, Z6ii, Z7 & Z7ii series cameras, there is an utterly mind blowing selection of them there by the way. So that brings us to the below question.
So why buy a SmallRig cage?
Well for me that answer is incredibly simple, SmallRig for me personally have produced some of the best video accessories over the last year or two and they are terribly consistent with their quality and the thoroughness of their designs. So if I am buying a new product I need to trust the design and the quality control team, so far I have only had fantastic experiences with the SmallRig products. 

My friend David always talks about Cine tax and how much of a real thing it is… this is where companies just add like between 50% to 100% extra to the price because it's Cine gear. SmallRig so far have priced their products at an incredibly fair price in my eyes anyway.
The Four Criteria I judge a cage on are…
1.- Build Quality
All you have to do is look at or have a feel of any SmallRig product and straight away you get the serious impression SmallRig means business, their pricing is amazing for the quality of the product and the features are great also. I think you will have a serious problem finding anything close to that quality for the price anywhere else.
This SmallRig cage is very strong, it's made out of one solid cast and has a beautiful finish to it, straight away you can see the attention to detail that has been lavishly poured into this product. My Z6ii fits very snugly in its case as it has a number of rubber pads to support and protect the product.
The 2824 model cage also has an anti twist pin fitted in the base so there is no wiggle while your camera is seated in this cage. The real beauty this SmallRig case is you can very simply pop it out again in ten seconds by unscrewing the 1/4 inch screw in the base. This design doesn't need a second locking point and you can also leave on your camera strap loops, so that's a nice touch.
You can purchase this camera cage and the cheaper model via Amazon or also directly from the SmallRig website via the links below.
This is the link for the model I reviewed here Model 2824 on the SmallRig Website or you can also check the price on Amazon by clicking here.
This is the link for the cheaper Model 2926 on the SmallRig Website or you can also check the price on Amazon by clicking here.
I have my complete Nikon Z6ii camera rig setup video and how I built it at the end of the page if you want to have a look at it.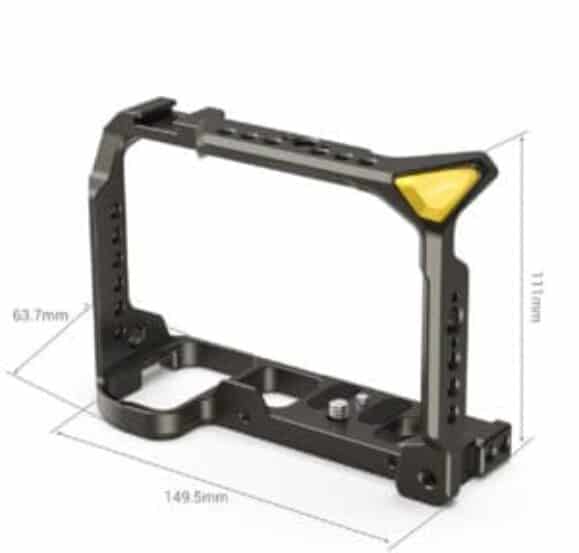 2.- Features
This SmallRig cage model no.2824 comes with two built-in Nato rails, one on top of the camera which can be used for a Nato top handle or a monitor mount or whatever other Nato rail accessory takes your fancy. The second is on the left hand side of the cage for a left hand nato side handle or another accessory. I love having Nato rails in these two positions as they are incredibly handy and I would strongly advise anyone buying a cage to bite the bullet and get one with a two Nato rails.
The ability to just slide on and lock accessories is fantastic. What I particularly like about the rails is the ability to change the handle positioning in a moment. For example the left side handle is something I slide up and down a bit when I am shooting at different positions and the same with the top handle, you can easily find the balance point of the camera by sliding the top handle position along the top of the cage, let's say you are happy with your balance and then you add a follow focus unit or an external monitor it will pull the balance of your rig to the right or left then. With a Nato rail all you have to do is slide the top handle to the balanced position and your off shooting again. Now that's a huge time saver isn't it? 
when you think of unscrewing and bolts and re-screwing them again over the years this system is a pure joy to use then. I usually take off the Nato accessories when packing my gear and it only takes seconds. Now if you are sitting there thinking the side handle or top handle I hasn't a nato rail mount then don't worry you can always upgrade later on as this cage has loads of 1/4 inch mounts and three Arri Rosette mounts also.
There are also loads of other mounting options with a cold shoe mount and three 3/8″ 16 thread ports also.
3.- Ergonomics or how it fits in your hand
This SmallRig cage fits nicely in the hand and doesn't add a lot of weight to your rig. No wiggle in your camera and it adds a nice bit of extra length to the grip of the camera. The one drawback to mirrorless cameras has to be their minature grip which isn't too bad but if work on shoots where you end out holding your camera all day likie I do then it's more than a bit of a pain. All the buttons are still easily accessible which and this cage was clearly designed by someone who really thought this true.
4.- Price
Now price-wise there are a few different SmallRig cages and this model ….. the retails for $111.25 via the SmallRig website but honestly it's great value for money. The one thing you really don't want to skimp on is your camera cage as it's the one piece that holds it all together. There is also the SmallRig cage model no.2926 this has a Nato rail on the left side but no top mounting Nato rail, it also has two locking screws as there is no anti twist pin in it or rubber pads, it retails for $69 though so it is a good bit cheaper.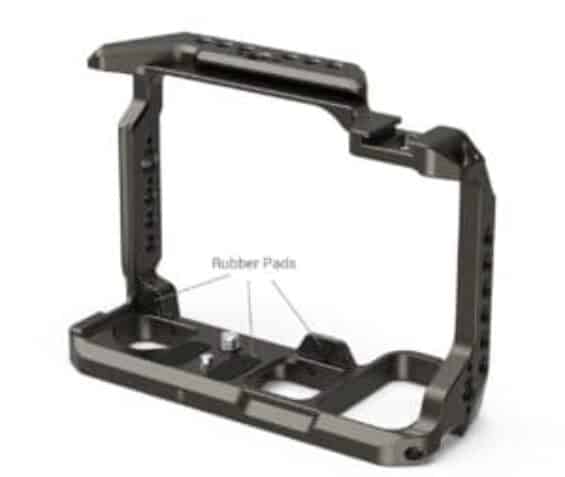 see you out there,
Kieran.
My complete Nikon Z6ii rig setup video including the SmallRig Cage, Follow Focus, Left side Wooden NATO handle and Matte box