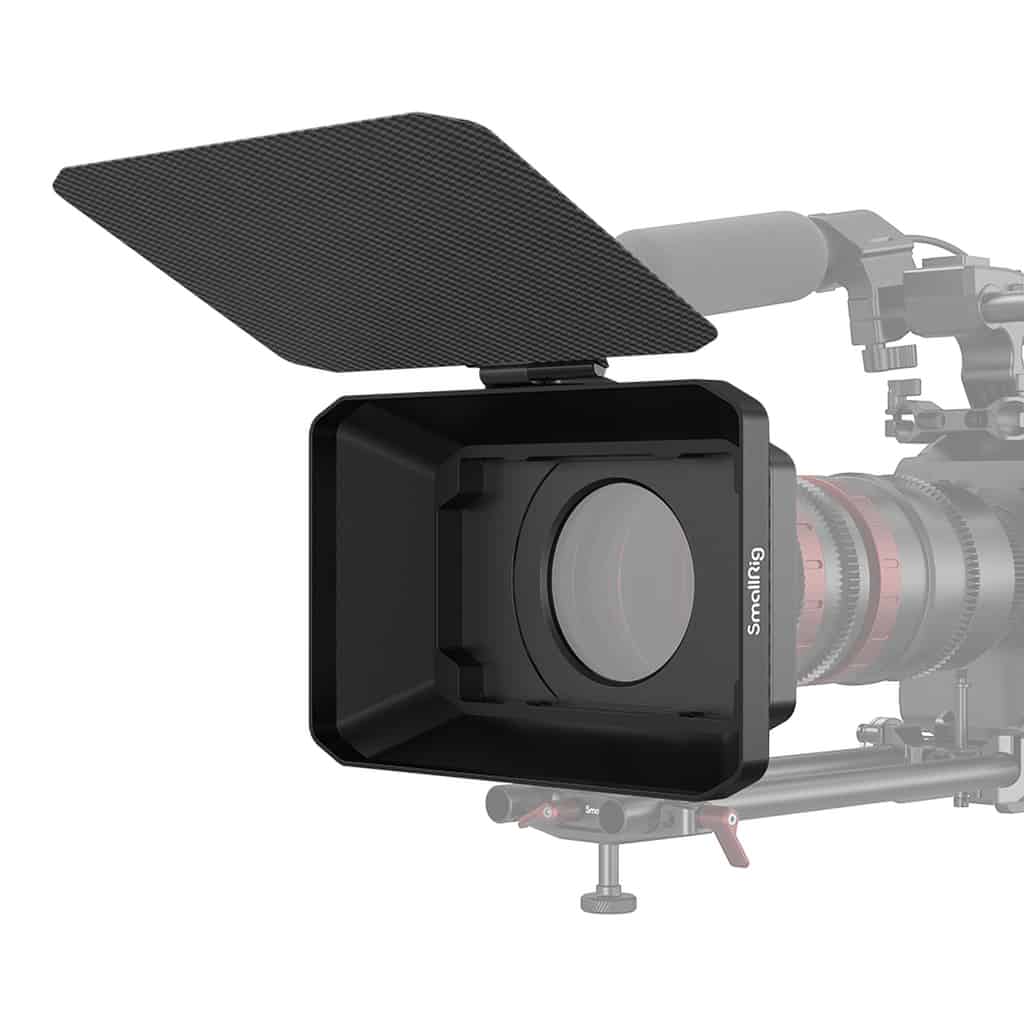 Welcome to my SmallRig Lightweight Matte Box Review.
Before I go into this review I should say I paid full price for my SmallRig Light weight Matte box and this review is not sponsored by SmallRig I always liked their products and that's why I bought this unit myself.
SmallRig Lightweight Matte box Price
The SmallRig Lightweight Matte Box is normally $99.- but you can get an up to date price via the SmallRig website by clicking here or you can also check the price of the Matte Box on Amazon by clicking here for the latest price and special offers.
I have a video at the end of this post on my complete rig setup.
Unboxing
The first thing you will notice once you get the box is how beautifully packaged it is, the box looks like something a high-end product would come in and sets a very nice tone for the product you are about to see. You may well be asking yourself right now "should a box matter?". Well, the simple answer is no, it shouldn't but it's attention to detail that separates winning products these days. As I mentioned above I have bought numerous SmallRig products myself and it always struck me that their products were designed with quality and the end user in mind, as it should be.
But before we get into my thoughts on the SmallRig Lightweight Matte Box let's have a look at what you actually get in the box.
The Matte box comes with 4 different thread adaptors which cover the most popular thread sizes of 82mm, 77mm, 72mm & 67mm filter threads. You also get a removable top flag for the Matte Box. You obviously get the Matte box also and finally there are two allen keys in the kit as well. Yes all that for just $99.95… it's a bargain.
My SmallRig Lightweight Matte Box Unboxing video is below
Don't forget to Subscribe to my YouTube channel and hit that notification bell to see my latest videos 🙂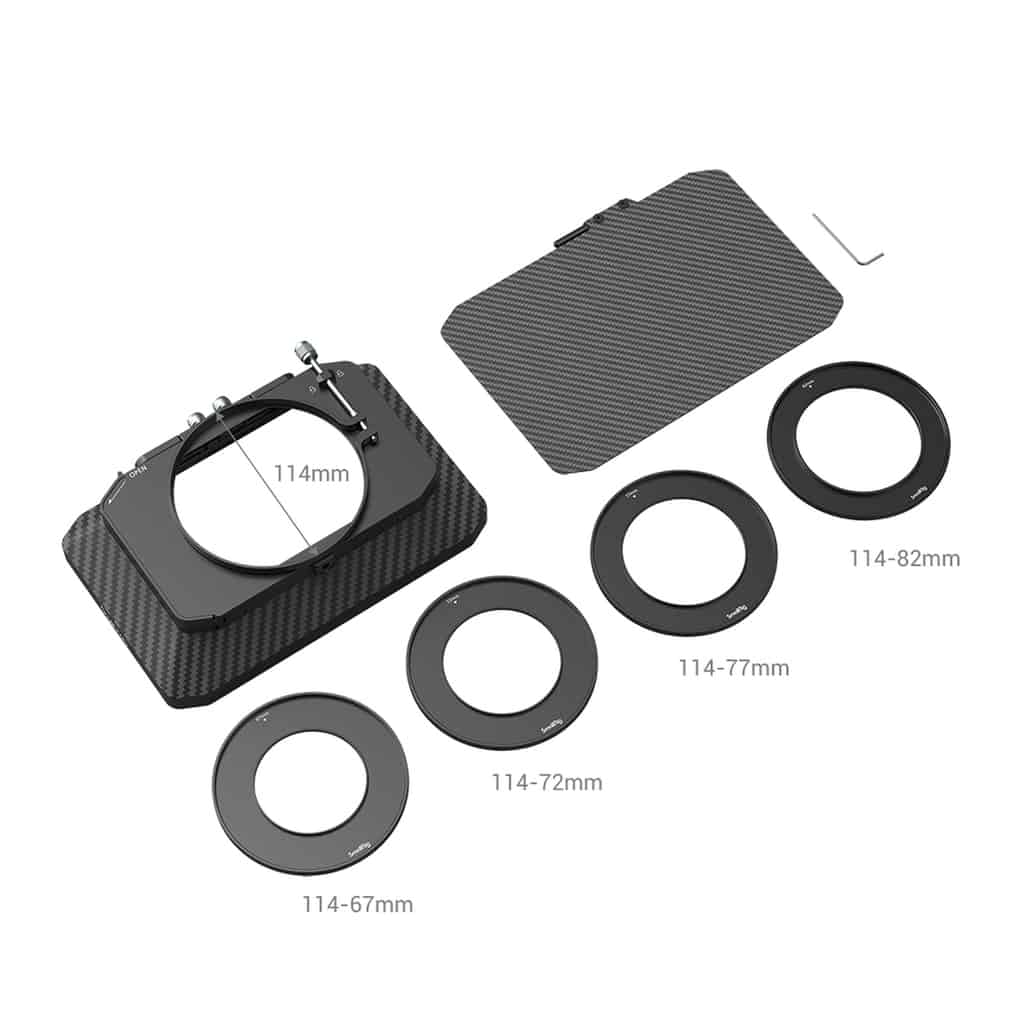 SmallRig Lightweight Matte Box review
After I first opened the box I was very surprised how light this Matte box iss, at only 285grams it really is a nice lightweight Matte Box. The adaptor rings work well and feel solid, the Matte box itself is well built, simple and has a lot of nice little features like the four 1/4 inch mounting holes on top of the filter holder and the ability to buy an extra mounting bracket for 15mm rods for the Matte box so you can use it with longer lenses or circular ND filters like a Variable ND filter or CPL for example. That's part number 3196, I will get back to that again later on in the post.
A removable top flag which is very easy to pop on and off in a few seconds, the flag is beautifully made from Carbon Fibre and does it's job really well, cutting down on unwanted flare and which helps maintain contrast in your images. A point to note is there is a sticker on the front of the Matte Box which just says "Matte Box" this stickers comes off so don't worry the ascetics are still beautiful. The Matte Box is made from a mixture of Polycarbonate Plastic, Carbon fibre and Aluminium. It might be light but it's still a sold and robust feeling Matte box.
The inside of the Matte Box is also coated with a nice matt finish to help kill off any internal reflections.
What filters can you use in the SmallRig Lightweight Matte Box?
You can use both 4 x 4 or 4 x 5.65 filters and it takes two filters at a time so you can easily pop in a Firecrest Ultra Cinema ND filter (used on block busters like Star Wars, Batman, Peaky Blinders etc…) they are also now available in 4 x 5.65 inch Firecrest Ultra superslim versions. You can also pop in one of their awesome Black Supermist Diffusion filters, hence you can control the exposure and get the right depth of field in your shot and also get the right look or feel from the footage with the diffusion filter or use a grad filter.
As I mentioned it takes two filters and more importantly the filters are positioned close to the lens hence minimising reflections. Some of the matte boxes have the filter slot or slots out in  front of the Matte box and this can be a slight issue with reflections at times.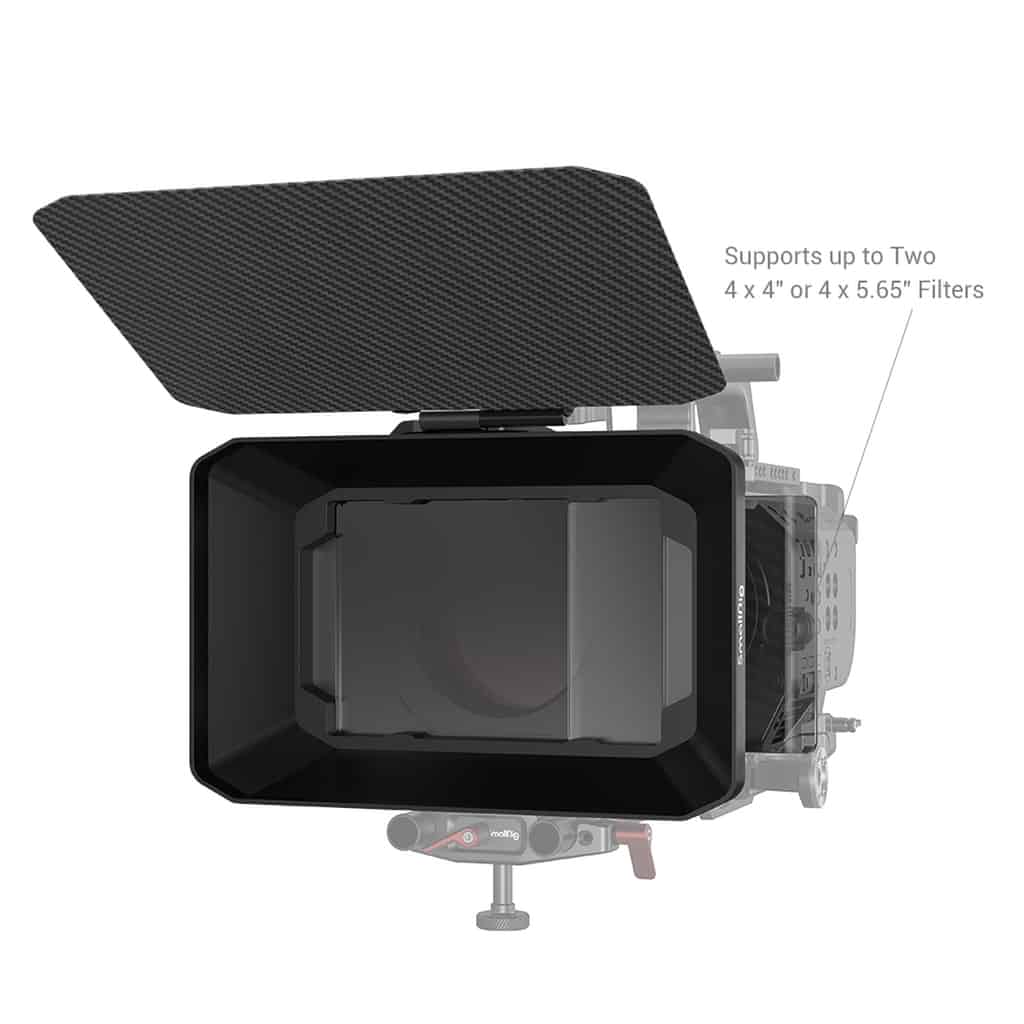 Fitting the SmallRig Lightweight Matte Box to your rig.
Fitting the Matte box to your camera or rig is a really simple affair.
1.- Screw on the correct adaptor ring (4 supplied as I mentioned above and more sizes available if you need them)
2.- Place the Matte Box on the adaptor ring.
3.- Tighten the large Thumbscrew to the left of the Matte box to tighten it in place and you're done.
There is another fitting option for circular variable ND filters Cpl's and longer lenses that I will get to later on in this post…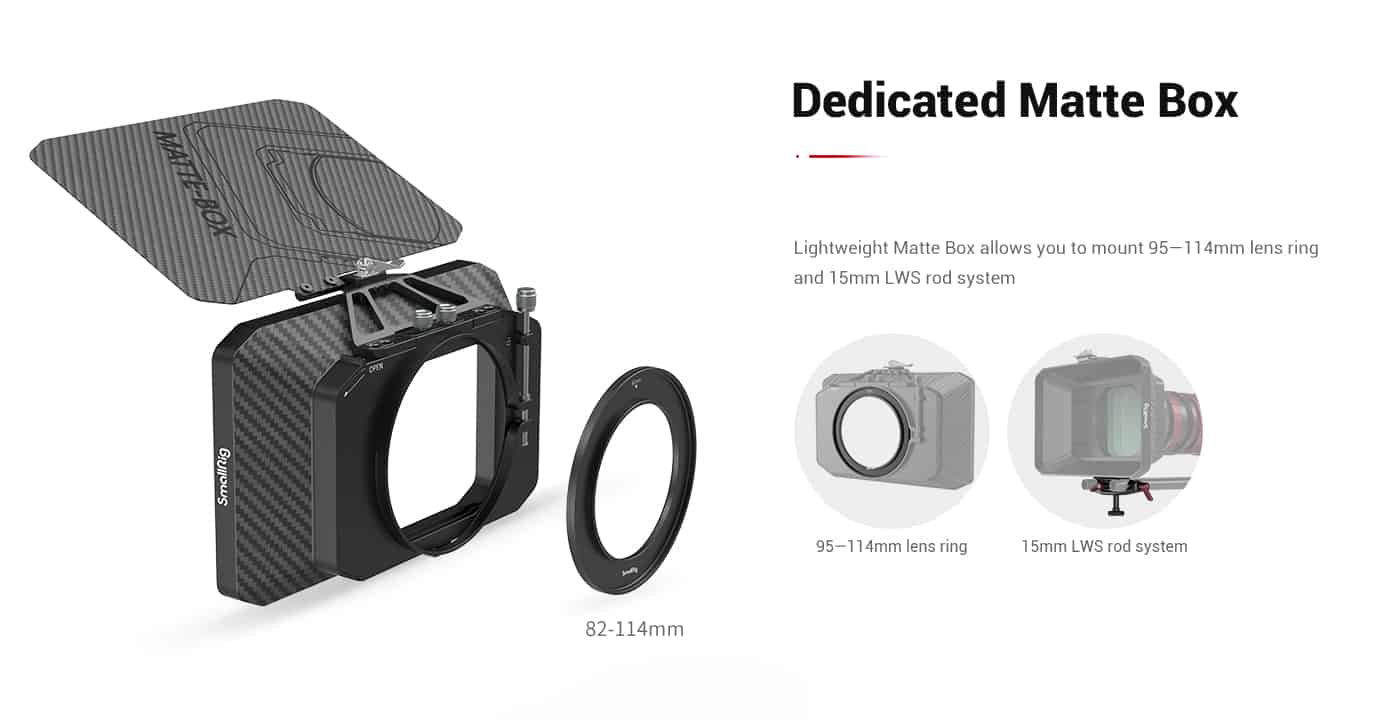 Fitting the filters to the Matte Box.
To fit the filters you simply pop open the side of the filter holder, open the thumbscrew locking nuts on the top of the holder and then slide in the filters.
Re-tighten the thumbscrews and close the side of the holder.
Now the access door on my Matte Box is a bit stiff but it's no issue to open it and I would prefer it that way then it being too loose (in case I forget to tighten the locking screws!!!).
The filters slides in easily and it's also easy to slide them back out without touching the front of the filters.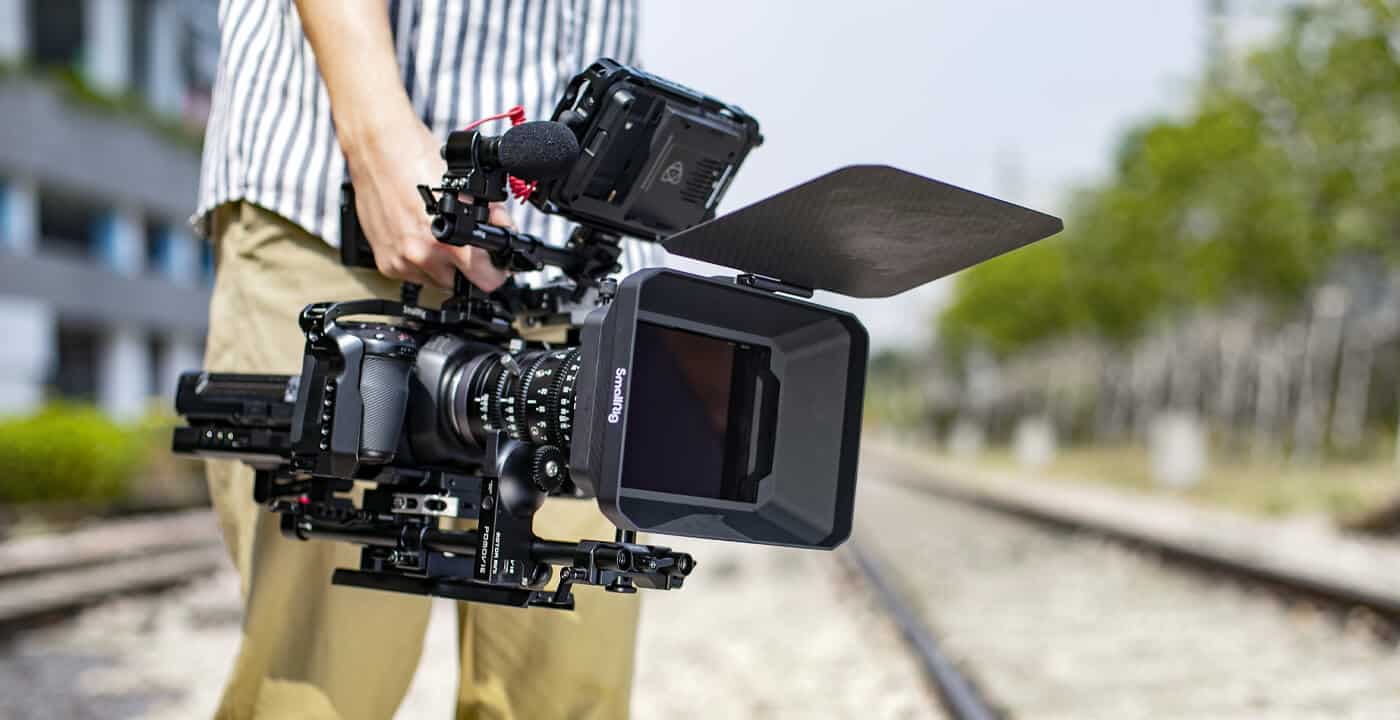 Can I find a serious fault with this Matte box?
Well there are two things that I can so far see that would improve this Matte, let's just remember the price point of $99.95 when we do this though…. The first thing would be to have threads on the adaptor rings so you can easily use a Variable ND filter and CPL with ease. The second thing is the filter door catch as it's fairly hard to open right now but that may well improve with use. In saying that I would prefer it to be too tight than a door that easily pops open just in-case I forget to tighten down the locking thumbscrews for the filters. So it's actually not a really bad thing and could be a huge positive one day for me. I am sure we have all been there where a client starts talking to you and you get sidetracked. I also have to say that . If you have any ideas on how this holder could be improved on then please do let me know. I would love to hear your thoughts on it.
Considering the price this SmallRig lightweight Matte box is exceptional and it has earned it's place in my kit bag.
There is a solution for the lack of threads on the adaptor rings and it's the Matte box support seen below for mounting the Matte Box on 15mm rails. It's part number 3196 and you can order it here on 
, or here on the  .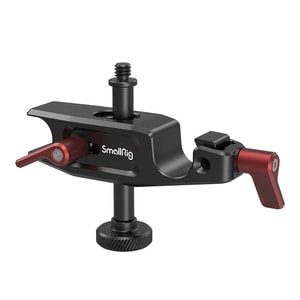 The SmallRig Lightweight Matte Box right now is $99.- but to get an up to date price click here for the price on the SmallRig website or you can also purchase it through Amazon.com by clicking here.
 I will be posting updates to this review as I continue to use this stunning Matte box and I will also be posting a video on it shortly via my youtube channel.
Thanks for taking the time to read my review and I hope it helped you find out a bit more about this awesome Lightweight Matte box.
If you have any questions please do feel free to contact me and I will try to help you as best as I can.
I have a few more articles you might be interested in below.
.
See you out there,
Kieran.
I have affiliate links in this blog post, the slight commission I get helps me write articles like this and keeps my website running.
Kieran Hayes Photography Landscape photography Ireland SmallRig lightweight Matte box review https://www.landscapephotographyireland.com/smallrig-matte-box-review-2660   My review of the SmallRig Lightweight matte Box and how it works 5 43 kieran hayes 17/07/2021