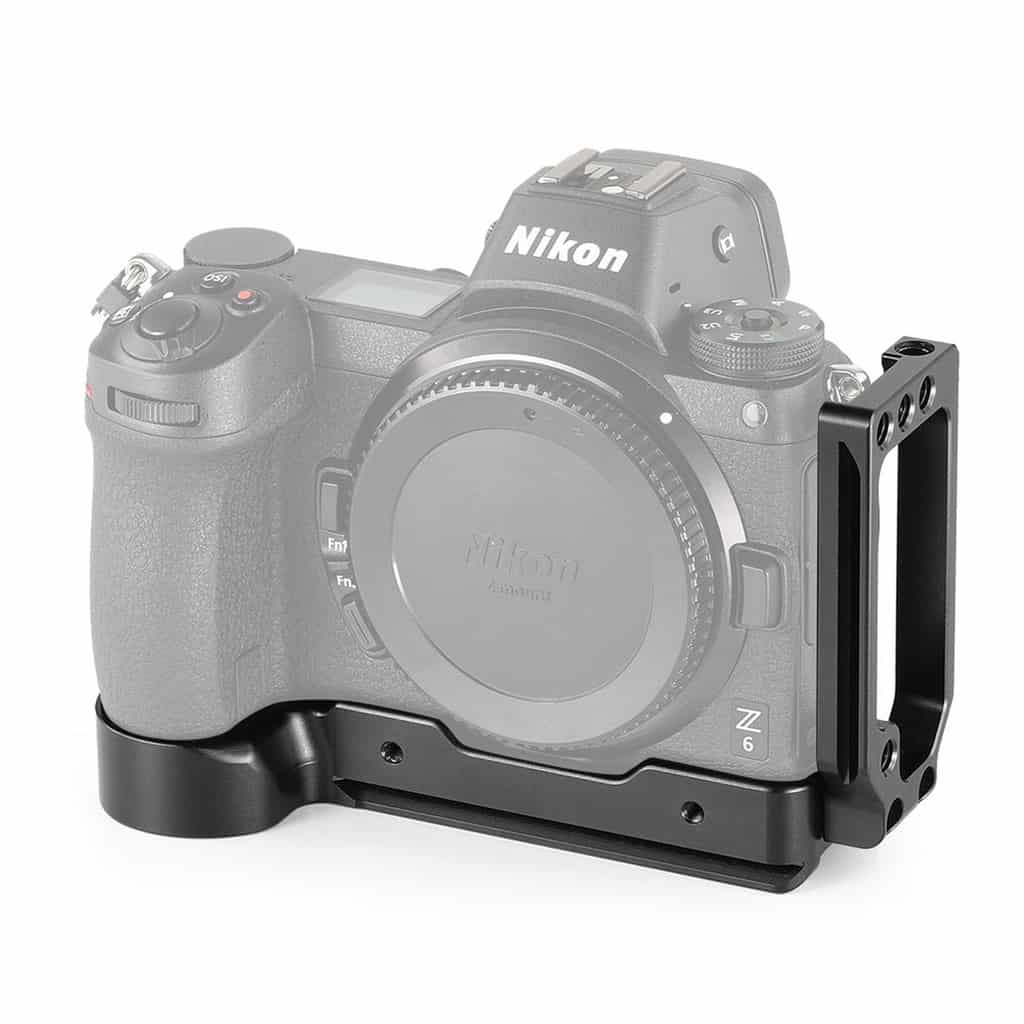 Welcome to my SmallRig L Bracket review for my Nikon Z6ii and Z7ii Cameras.
SmallRig L brackets are known to be incredibly well built and straight away I can tell you the SmallRig L bracket for the Z6, Z6ii, Z7 & Z7ii is no exception to the rule and feels like it could withstand a nuclear bomb. SmallRig have two different L Brackets for the z6 and z7 series Nikon cameras and both fit like a glove. The APL2258 Model and the 2947 model, they are at different price points and 2947 model is under $40.- or £40.-. The APL2258 is under$70 or £70
For my use I went with the slightly dearer L Bracket model no. APL2258 and the reason I did this is I thought it would be handy to have the slightly longer extendable bracket as I could then use it as a side camera handle if I wasn't using my Z6ii SmallRig cage (review here). The SmallRig L Bracket model 2947 is also exactly the right size for the Z6 and Z7 cameras but you can't extend the side bracket as far and there are a few more differences which I will get to at the end of the review.
Why buy an L Bracket?
If you are thinking ah that's easy you buy an L Bracket for doing panoramic shots and that's it… then my friend I say let me tell you the three reasons I would say an L Bracket is an essential bit of kit.
1.- Yes you guessed it for Panoramic shots so your camera is positioned over your tripods Nodal point and you can easily stitch your images in editing software afterwards.
2.- Mirrorless cameras are great because they are smaller and lighter now but dear god it's like they were designed for my 8 year old son to use, if you have what I would dare say "normal hands" then the grip on these cameras is a bit pathetic with my SmallRig L Bracket fitted it adds 16.5mm to my Z7II and Z6ii cameras and they are the same size nearly as my D850 (slightly longer grip now). So if you are looking to comfortably hold your camera for any bit of time then you need an additional grip to the camera.
3.-  Now stick with me for two minutes here now as I explain this one, if you shoot bits of video from time to time (as we nearly all do now) then this L Bracket is so incredibly handy. The side bracket can be moved and positioned a further 24mm out from the camera body so you can use it as an on the spot side handle for your camera. Or it can also be used for removing tethering cables etc… If you just want to shoot two mins of video and don't fancy popping on your SmallRig cage and side handle then this is an incredibly handy option to have as it adds a bit of extra width to your camera and hence more stability to your footage.
So they are the 3 reasons why I would buy an L Bracket straight away for the Z6 or Z7 series cameras. In fact after I bought the Z6ii and it arrived I opened the box with excitement and popped on the 14-30mm lens and also tried it with my F mount lenses and I just knew I needed more grip to my camera. I would love to see newer models with a longer grip builtin. Now in saying all that you can buy cheap vertical grips for these cameras but I just wouldn't trust them. I once had a client on a workshop and their camera fell from their tripod because the grip screw snapped. They were lucky that the camera wasn't seriously damaged but it was a nightmare to remove the broken screw. When you buy good products you only cry once as they say…
Construction
The SmallRig L Bracket is built like a tank and adds just about the right amount of grip to the camera now. The camera fits very snugly to the plate and there is no wiggle or movement in it which is great. Even with the additional sliding side bracket when it is locked in place it seems very sturdy and stable.
It's not light but then again it is also not very heavy and helps to balance the weight of the camera in your hand so it's not top heavy when you are holding it.
The nice little feature to this SmallRig L Bracket is that it comes supplied with an allen key which is magnatised to the bottom of the L bracket so you can adjust the L bracket side arm in seconds or remove the L Bracket quickly also with the same tool.
You can of course connect any cables to the side ports on the camera and easily swap out batteries with this L Bracket fitted.
Conclusion
I have to say I am very happy with this L Bracket, it works well and it was great value for money, I bought mine on Amazon (click here to check the price) but you can also buy it directly from the SmallRig website. I really wish companies would build in better grips on their cameras though. The two different L Brackets are very similar and have a look below where I go into the main differences between them.
Before you go don't forget to checkout my Nikon Z6ii rig setup video which is at the end of this article.
Which L Bracket to buy?
As I mentioned earlier there are two SmallRig L Bracket versions for the Nikon Z6ii, the differences are slight between them but they are there. The three main differences between them are…
The APL 2258 has…
1.- An FTZ mounting bracket support facility which means if you are using longer lenses or you just want to support the FTZ adaptor you can easily do that, basically it's two mounting screw holes.
2.- The bracket is higher and give more of a grip to the camera.
3.- The side bracket extends a bit further from the camera body. It's only 4mm more but it makes it more comfortable to fit your hand in there then.
There are other facilities like the facility to use the peak design strap and more mounting holes on the APL2258 also. That's basically it as far as I am concerned but both are great brackets and you would find it hard to find fault with either of them.
If you want to read my full Nikon Z6ii rig review then please click here.
You can buy the SmallRig APL2258 L Bracket from Amazon or buy it directly from the SmallRig website also. You can buy the SmallRig 2947 L Bracket from Amazon or buy it directly from the SmallRig website also.
See you out there,
Kieran
My complete Nikon Z6ii rig setup video including the SmallRig Cage, Follow Focus, Left side Wooden NATO handle and Matte box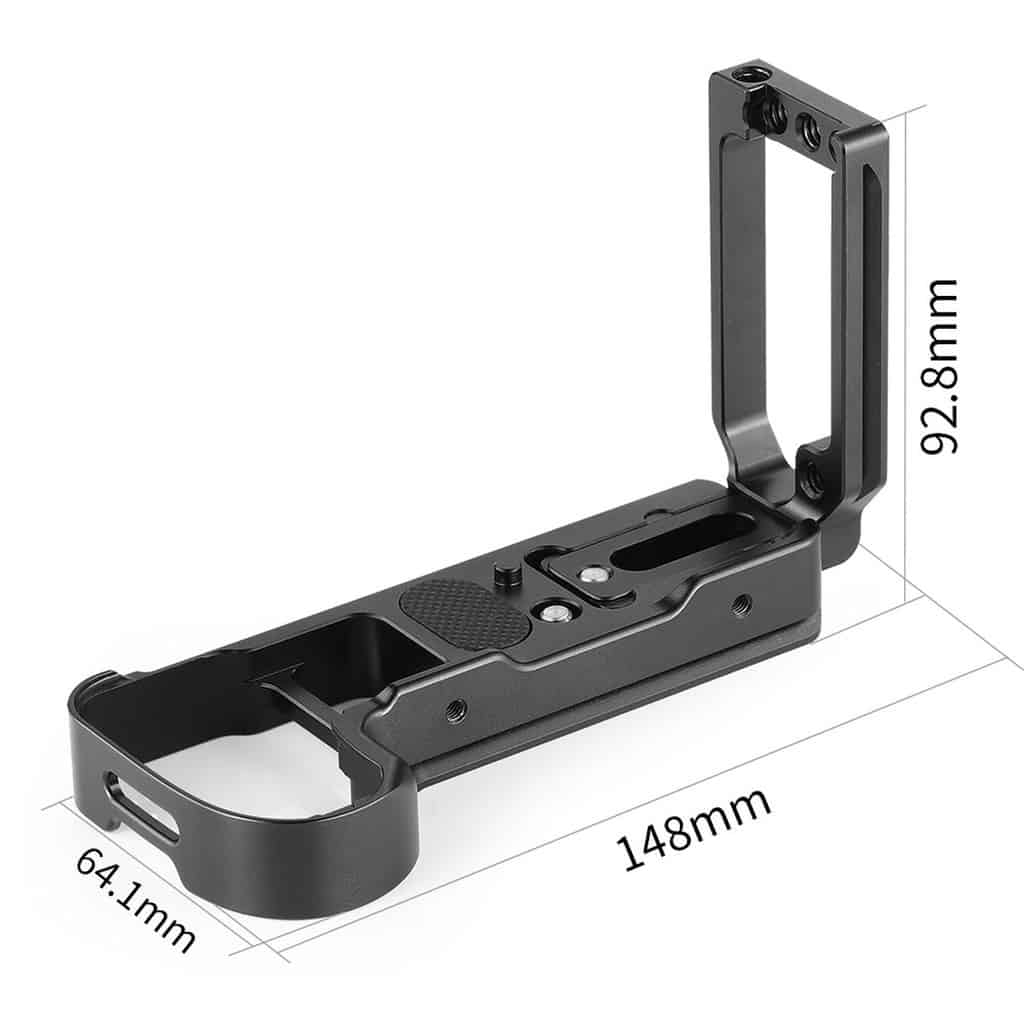 *I have affiliate links in this blog post so if you click one of the links and purchase a product from Dji it means I get a slight kickback from sales made, this helps me write reviews like this, it helps fund my website (I don't use adverts on my website) and it doesn't cost you anything.
Kieran Hayes Landscape Photography IrelandSmallRig L Bracket review, My review of the SmallRig L Bracket for the Nikon z6ii 5 5 0 5 5 0 39 1st of August 2021 https://www.landscapephotographyireland.com/smallrig-l-bracket-nikon-z6ii