Welcome to my Photography Workshops Ireland Page.
Hello my name is Kieran Hayes and I am a Photography educator and a multi-international award-winning photographer (not that means much) based in beautiful West Cork, Ireland. 
I have 8 years plus experience teaching clients photography and I have loved every single minute of it. I am personally very passionate about photography and this is far more than a job for me which is why I enjoy it so much.
My main aim is to keep everything simple and for you to get as much out of the day as possible.
On each Photography workshop I cover the technical aspects of photography and explain how to look at different angles, compositions and lighting to create images more personal to you and your style of Photography as at the end of the day you are the person capturing the moment so it should always have your style to it.
If you don't have a photography style yet don't worry about it I will show you how to develop your own style. That's very simple to do.
I have a few different Photography Workshop options… 
I provide One to one Photography workshops here that are tailored to your exact needs and what you want to and need to learn. They are available all year round and at a date and time that suits you.
Group Photography Workshops…  I also run 6 hour group Photography workshops with a one hour zoom chat afterwards. I have my available dates further down the page or I am also available for private groups and camera clubs.
I also have a new Photography Mentorship program I am in the process of rolling out in the next week which includes three one to one Photography workshops (3 hours long) and five 30 minute zooms chats to catch up with you and your progress as well as support via email.
If you would like to know more about my teaching style then please feel free to read some of my Workshop reviews below or watch my Photographs tips and tricks video further down the page.
Kieran's Landscape Photography Workshop was a fantastic experience. Full of knowledge delivered with great enthusiasm and passion. Kieran has the great ability to communicate with each participant in a personal manner. The follow-up editing session was very informative and a great help to me. Overall very highly recommended.
I recently took part in one of Kieran's workshops and for me the outcome from the day was a renewed passion to improve my photography.
From the time the group met up, Kieran was totally engaged in providing us with an informative and enjoyable day. Kieran's knowledge of his subject and passion for photography was evident from the beginning. The early part of the day involved reviewing the technical basics of photography from which Kieran very quickly evaluated our level and abilities. After a very quick lunch the 'serious' photograph taking began. Kieran divided his time and support equally between each participant and was very open to changing his planned program to suit the group. Kieran went the extra mile by extending the scheduled finishing time to accommodate photographing the evening sunset – I am happy to recommend Kieran's workshops.
I participated in Beginners Course and Landscape Workshop run by Kieran. Both workshops were run in a friendly atmosphere. Kieran was very helpful, patient and first of all 100% engaged in his workshops.
I highly recommend his classes.
Kieran was really engaging, helpful and patient when explaining the long exposure photography. I thoroughly enjoyed the experience, learned a lot and highly recommend to anyone interested in landscape photography.
I attended a recent workshop of Kieran's at the beautiful Owenahincha beach in Cork.
I learned a huge amount about seascape photography, especially the process of getting set up and adjusting as the light changes.
The workshop was a great experience for me.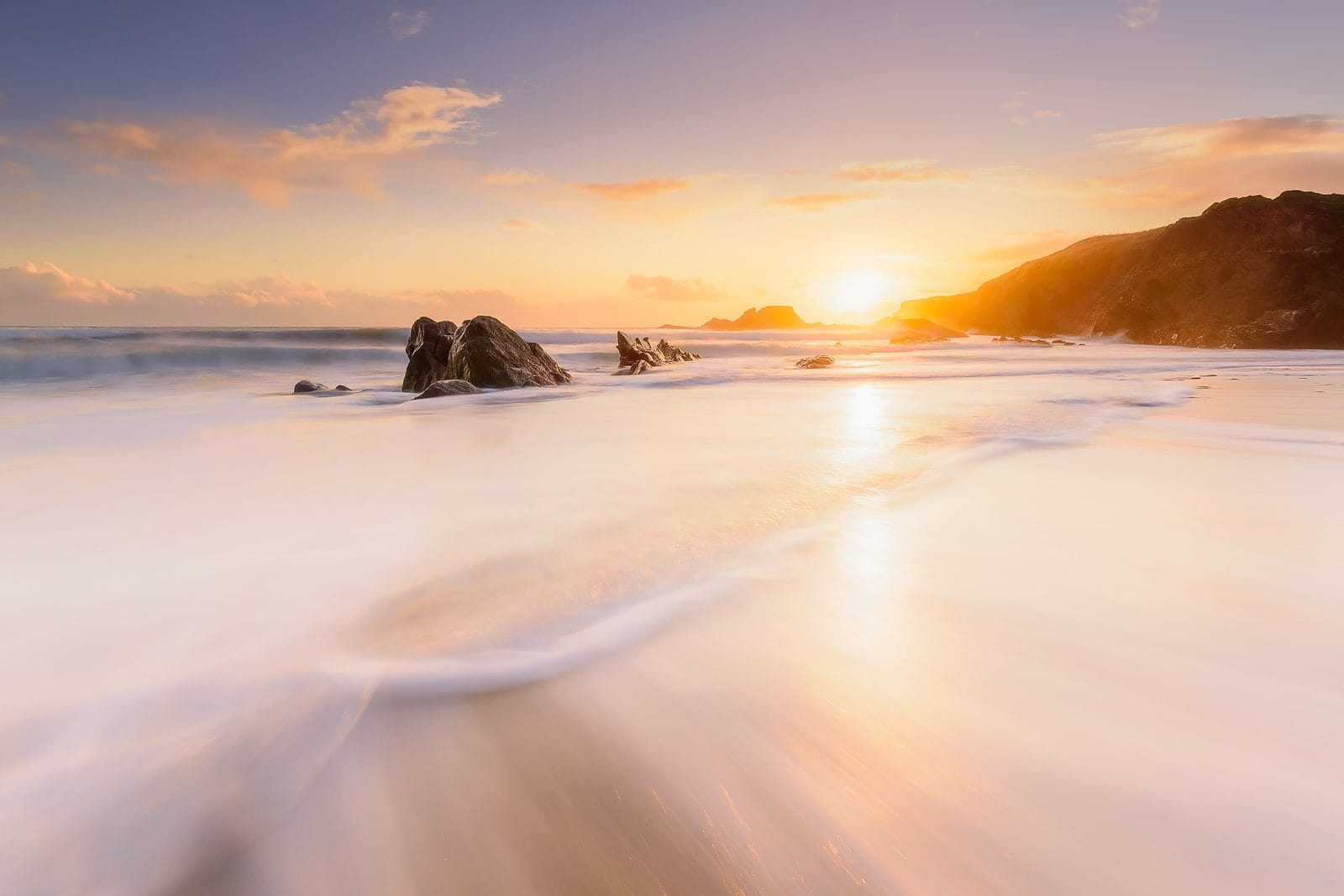 Long Strand beach, West Cork, one to one Photography workshops
My 2023 Group Landscape Photography Workshop Dates
These 6-hour landscape photography workshops Ireland are €150.- each with small group numbers (Max 4 clients on each workshop) and includes a 1 hour Zoom group chat.
Workshop Locations- Owenahincha beach, Long Strand Beach and Galley head Lighthouse all set in beautiful West Cork, Ireland.
***Free tripod, filter holder and filters for your own personal use***
***Including a one hour zoom group chat at a later date showing how to edit the photographs captured on the day and answer any questions you may have.***
8th of April 2023 (Gone)
20th of May 2023
29th of July 2023
26th of August 2023
29th of April 2023 (Gone)
3rd of June 2023
6th of May 2023
17th of June 2023
Click the link above to book a space online or to find out the times and details for the workshop you are interested in.
Or you can also contact me and I will keep a space for you.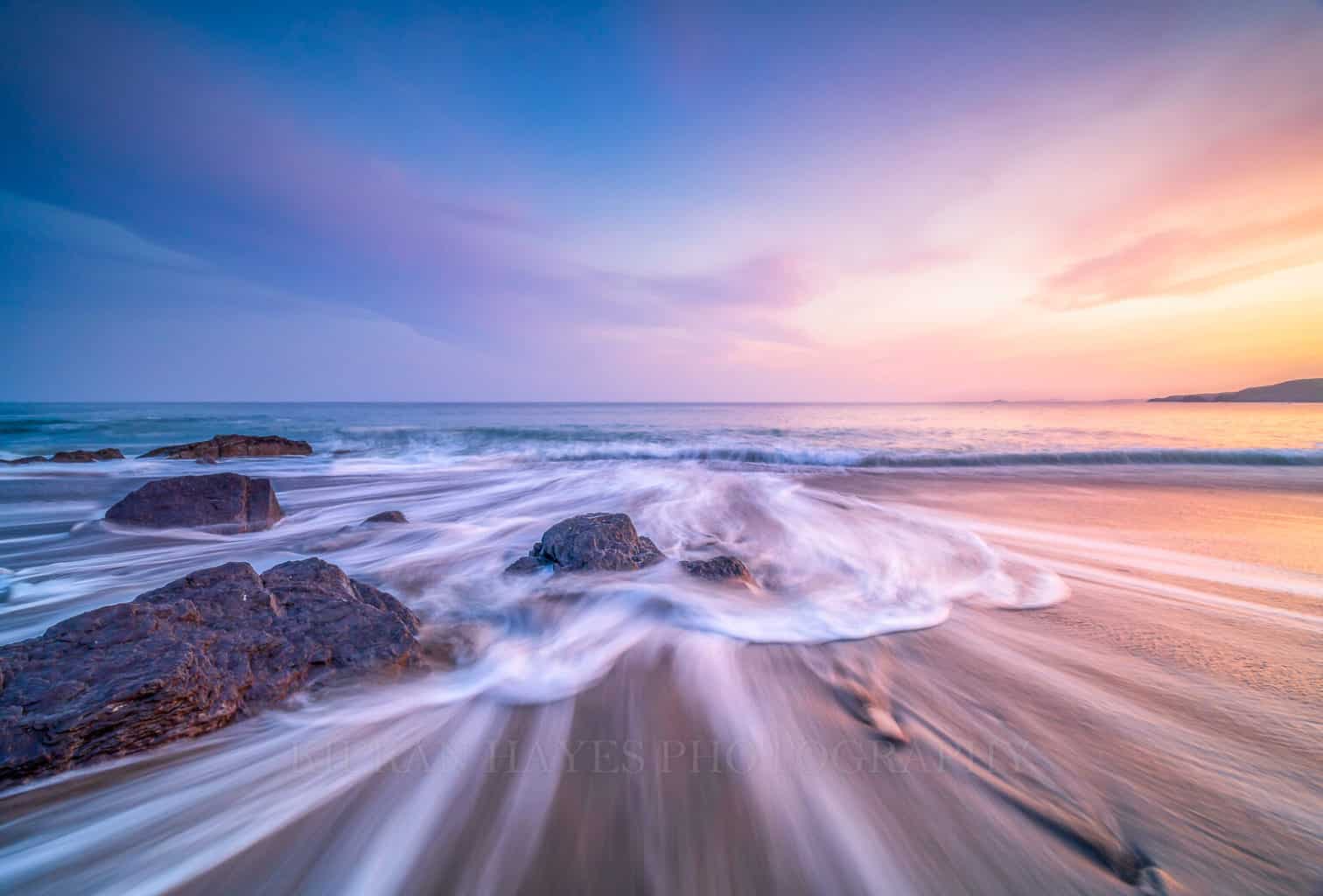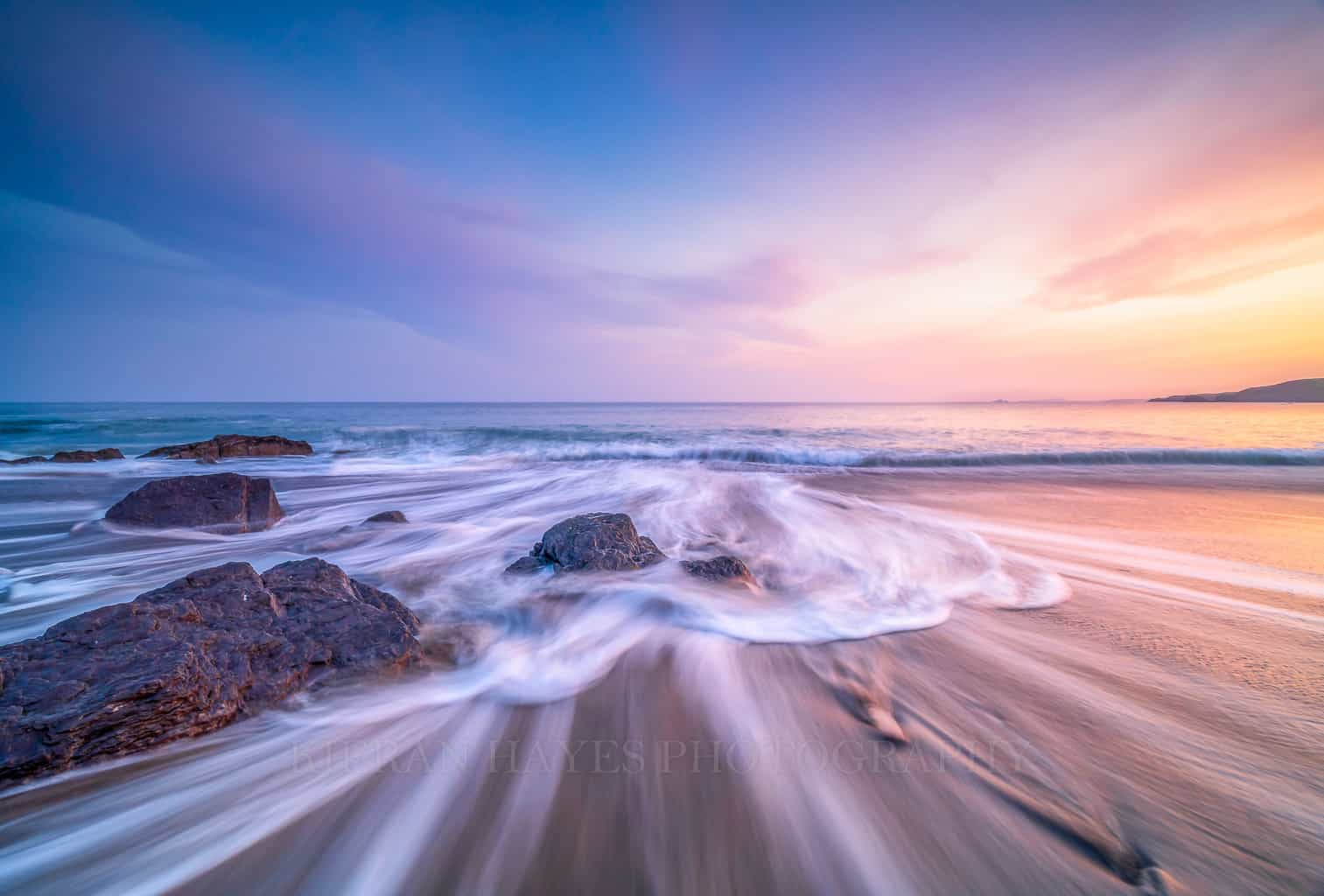 Owenahincha beach, Photography Workshops West Cork
Group Photography workshops
My Group Photography Workshops Ireland are perfect for photographers that want to learn in a group setting, want to meet other like minded photographers or to simply see how other people take photographs and compose their shots while learning new skills themselves also.
My Group Workshops are 6 hours long and also include a one hour zoom group chat. These Zoom chats are great for sharing photos from the day or asking any questions you might have after the workshop. The group Zoom chat is usually held on an evening in the following week.

You get six hours in some stunning scenery, a few nice photographs hopefully, some new tips and tricks to help your photography and possibly make a few new like minded friends also.
On the day I run you through everything from Composition, Exposure, camera settings all the way through to the right mindset for taking photographs on a session.
You also get a free set of filters and tripod for your own personal use during the workshop.

As well as the group chats I also get a bit of one to one time with you if you have any questions this is a great time to get them answered. 
My Photography workshops Ireland dates for 2023 are further down this page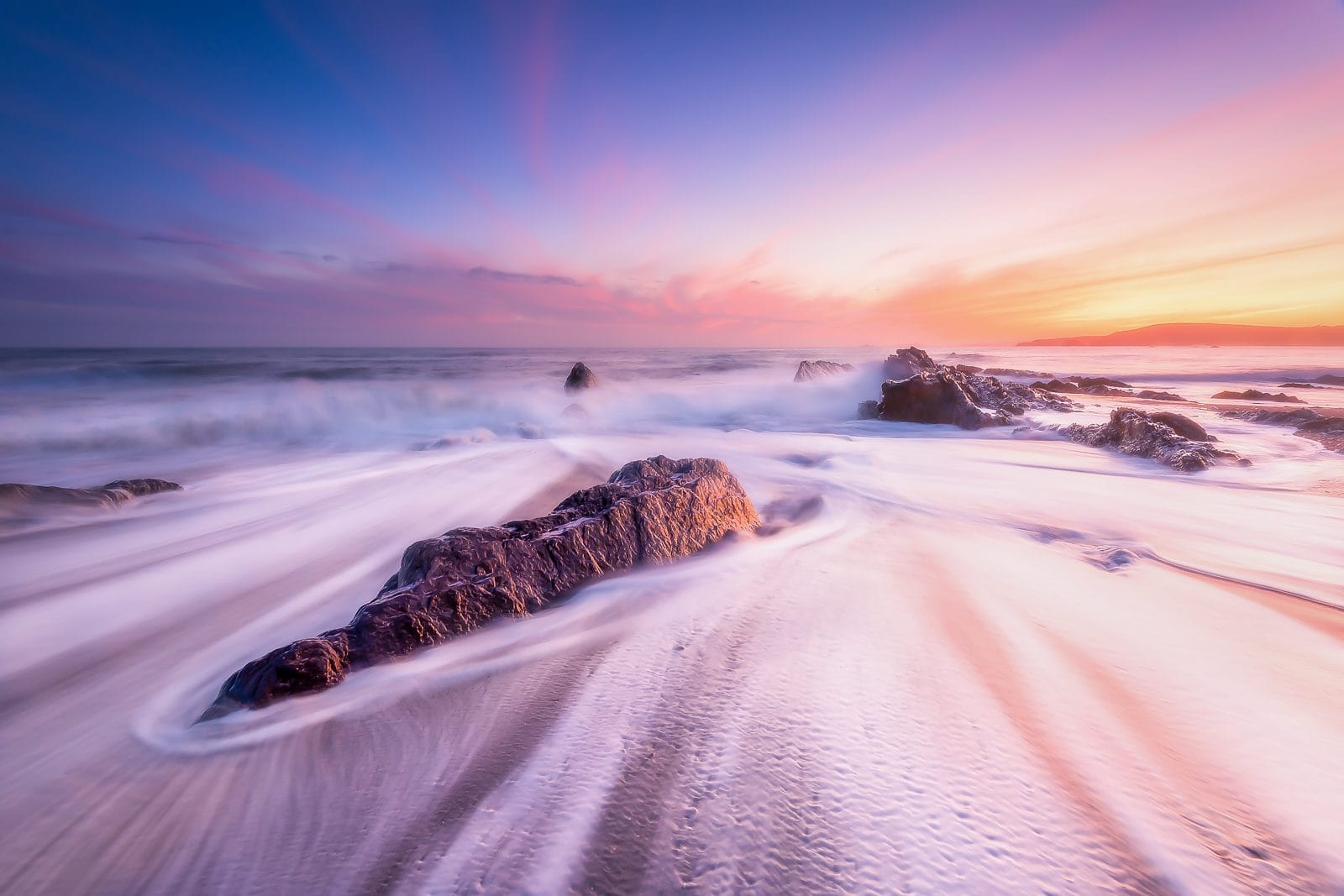 Owenahincha beach sunset, Photography Workshops Cork
Why Choose my Photography workshops?
I cater for everyone from complete beginners all the way through to professional photographers on my photography workshops. So whatever your skill level you are very welcome on one of my Photography workshops.
With 8 years of experience teaching photography I now how to keep it very informative yet simple at the same time. I also work as a photography educator for over 15 leading international companies. 
I can give you a tripod, a full set of Photography filters and a filter holder for your own personal use for the duration of the workshop if you don't have your own.
I value your privacy, so I don't post any behind the scenes photos or videos from the day but I am more than happy to jump into a group shot if you want one 🙂
I offer both one to one photography workshops and group photography workshops, I have a lot more information on the two different types of Photography workshops below as well as my group Photography workshops Ireland dates for 2023.
I have a frequently asks questions section at the end of the page also.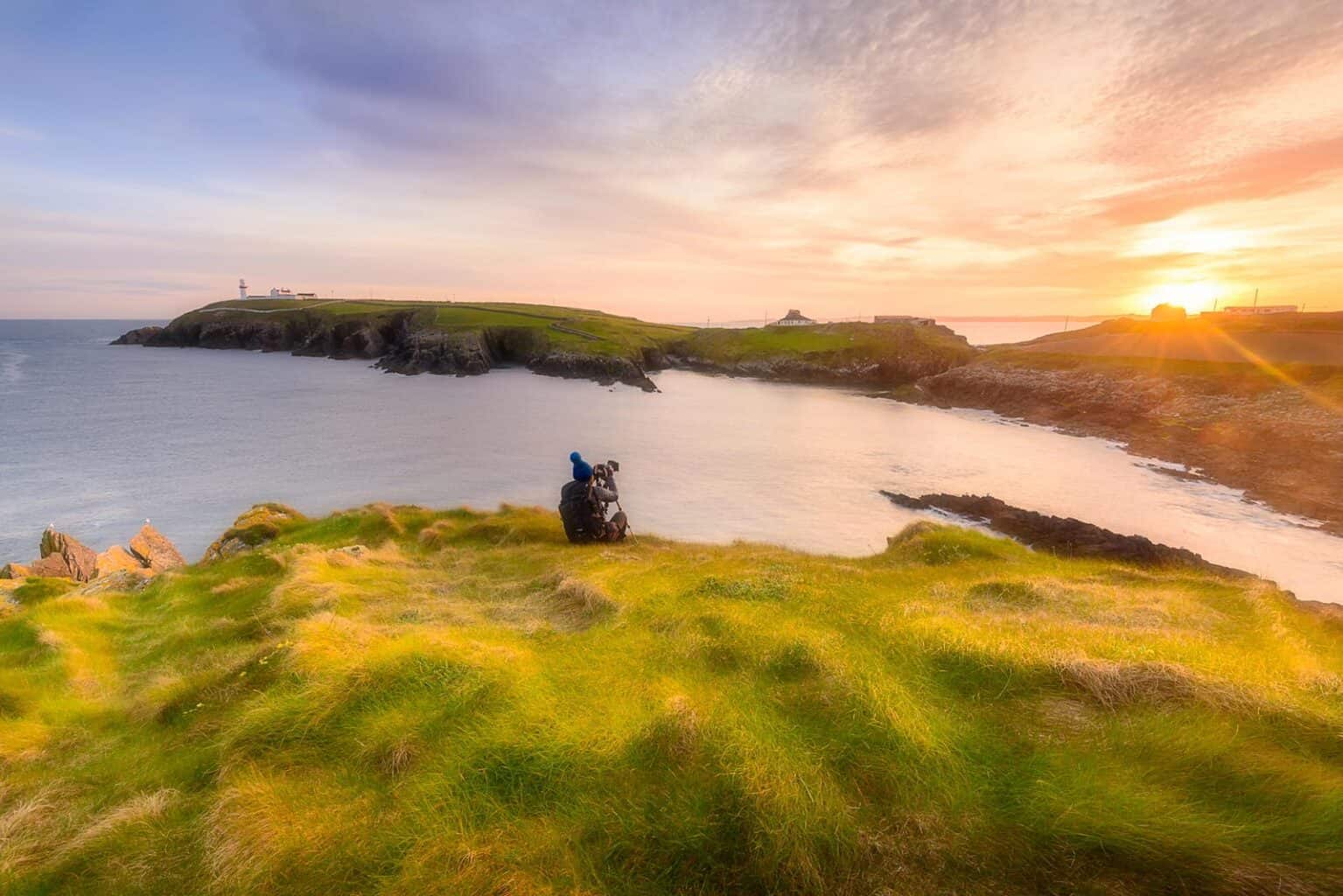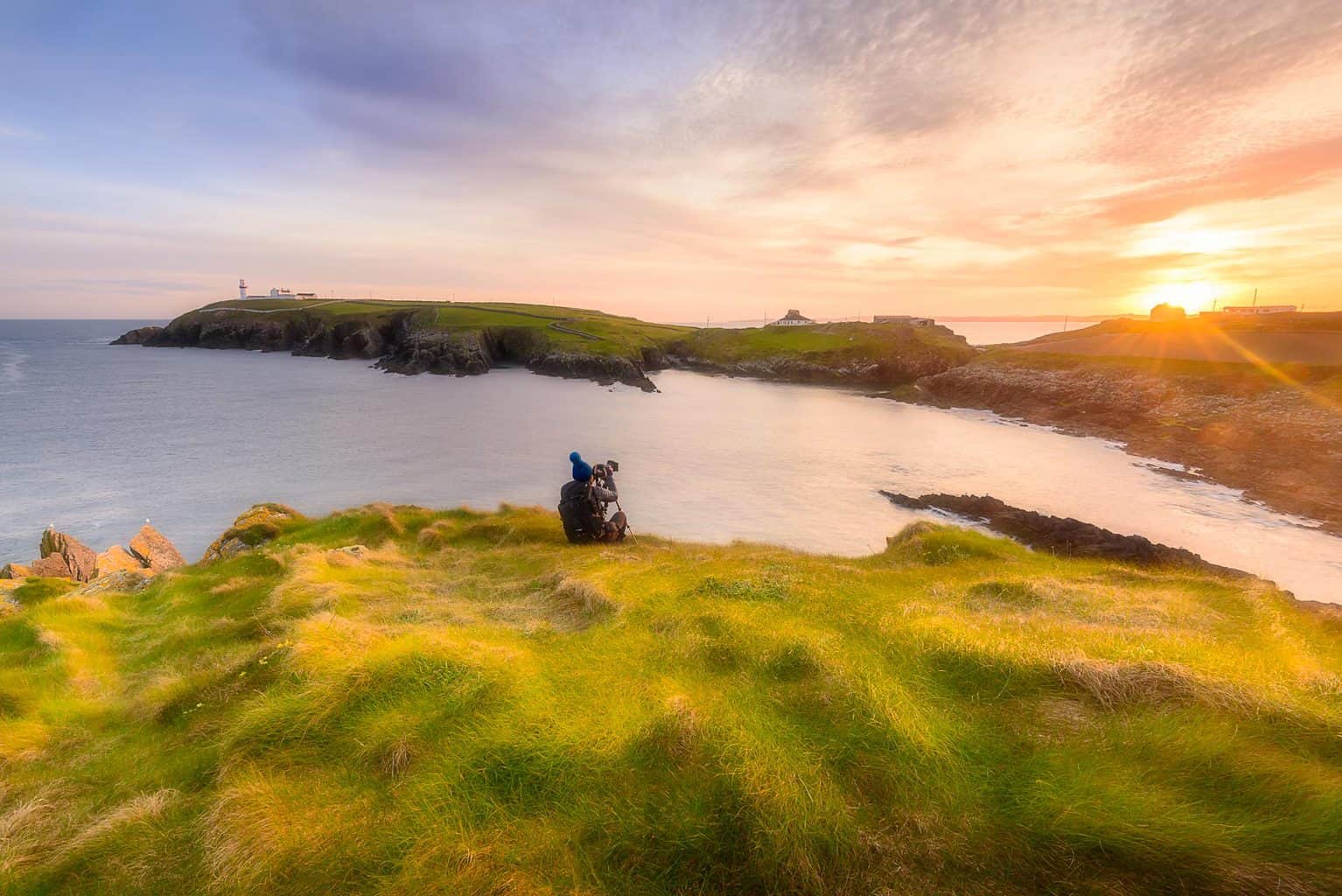 Galley Head Lighthouse sunset, Cork Photography Workshops
On all of my Irish Photography Workshops I help you…
Understand exactly how your camera works.
How to get the absolute best out of your specific camera.
How to take consistently good photographs.
How to develop you own style in photography.
How to compose your photographs and a few little tricks that can help you there.
How to enjoy Photography even more.
Please feel free to contact me if you would like to arrange a private photography workshop either for a group Workshop or a one to one Photography Workshop.
What Equipment do I need for one of your landscape photography workshops in Ireland?
You just need your camera preferably a DSLR or Mirrorless camera, a charged battery (also a spare if possible), a memory card, an open mind, a good pair of eyes, warm clothes and a pair of wellies are also handy :-).
The most important thing to remember is we are all learning constantly and the day we stop is the day we start going backwards. I have spare tripods, filters and filter holders for you so you don't need to worry about any of that.
Comprehensive one-on-one tuition with a professional photographer.
Whether you're seeking tuition to improve specific skills, such as how best to use natural light or create depth with aperture and framing, or guidance in the more nuanced aspects of photography, such as composition and post-processing, one to one tuition will provide the perfect opportunity for a deep dive into your photographic ambitions. A personalised course tailored to your needs and goals will be designed around you, so you can make the most effective progress no matter what your skill level.
A 3 hour session is €150.- A 6 hour session is €300.- On my one to one photography workshops it's all about you and how to improve your photography.
Group photography workshops are great but in my experience you learn a lot more on a one to one workshop as you get to ask the questions you want answered and I can tailor the session to you then and where you are on your photography journey.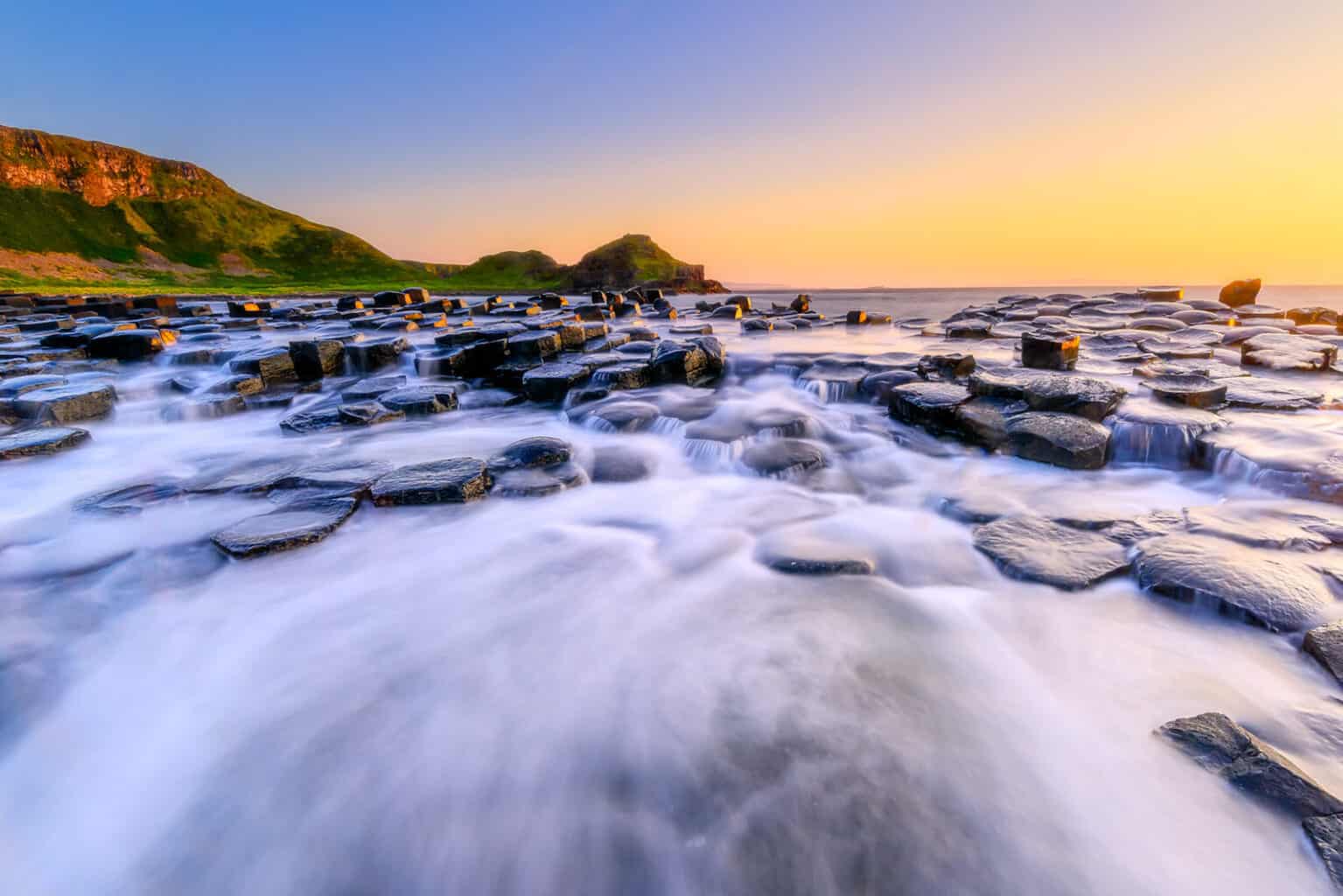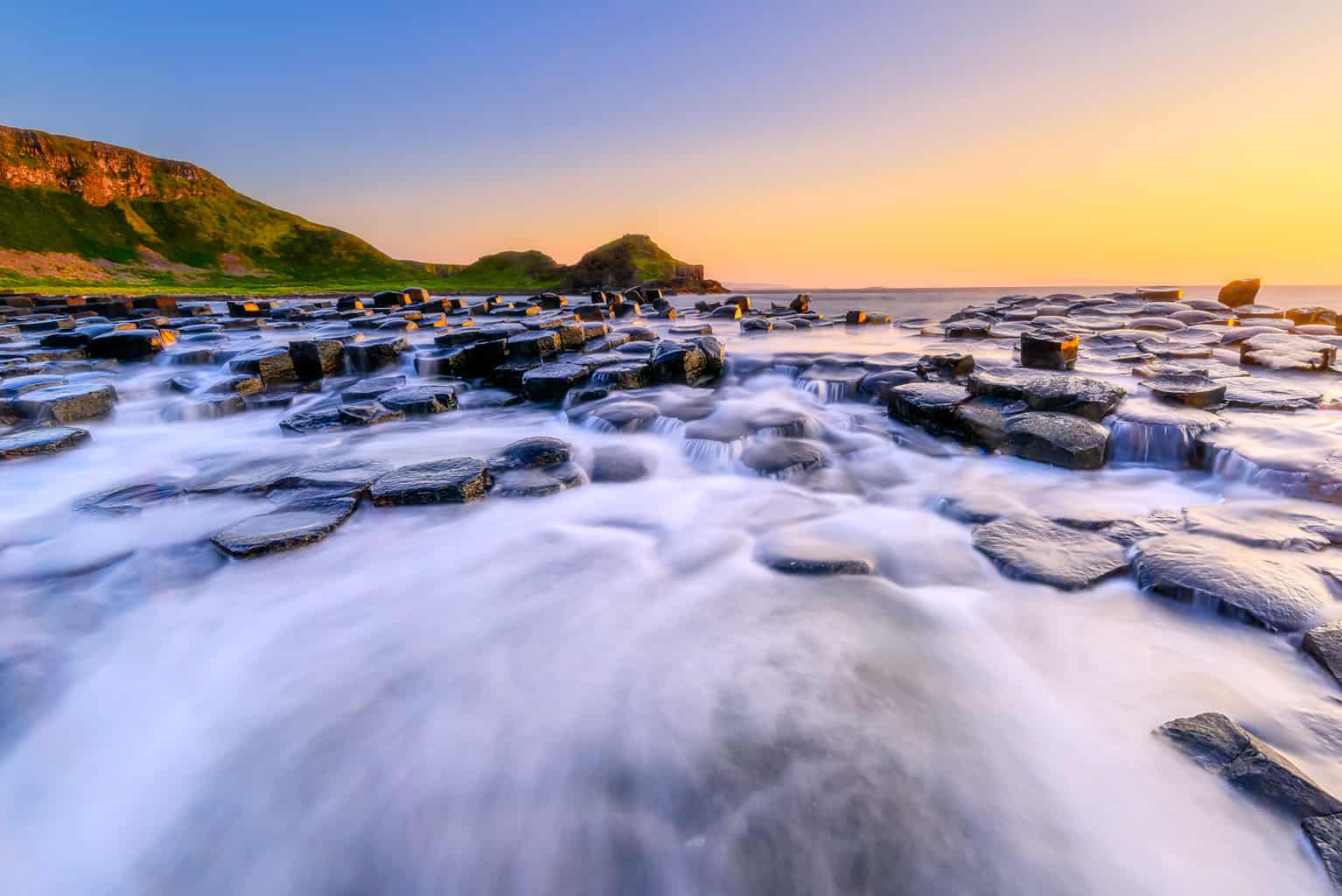 Giants Causeway sunset, Photography Workshops in Ireland
Camera Clubs Talks and workshops.
I frequently host talks for camera clubs around Ireland and worldwide on zoom (which are now free).
I have a number of different presentations available from…
Landscape and seascape photography which includes a section on  the thought process, a few tips and of course photography filters and photography editing.
Photography filters and long exposure photography.
Commercial photography and how to push yourself forward and promote yourself as a photographer…
What you need to make it as a professional Photographer in 2023.
If you would like me to do a talk for your club then please do get in contact with me 🙂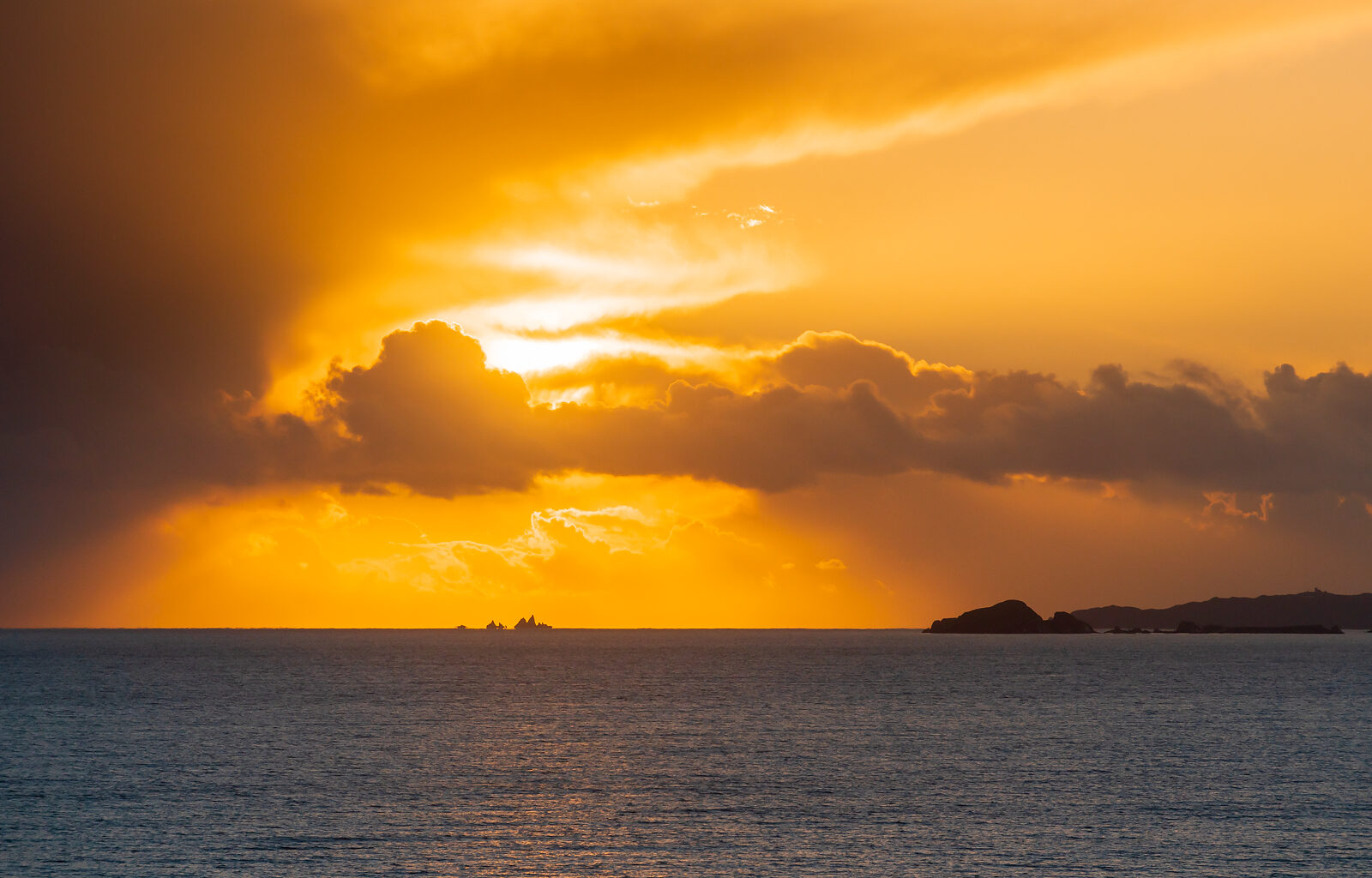 Long Strand beach, Ireland Photography Workshops
Photography workshops and your goals.
If you are looking to take your photography skills to the next level, join us for our expert-led workshops and tuition courses in Ireland. Perfect for all skill levels, from novice to advanced, our photography workshops are designed to challenge and inspire photographers of all ages and backgrounds.
Classes tailored to help you reach your goals.
Our photography classes offer something for everyone, from introductory courses for beginners to advanced tuition for those already familiar with their camera. Each course is tailored to help you reach your goals in the most efficient and enjoyable way possible. With guidance from your professionally qualified instructor, we'll give you the tools and guidance to help you realize your photographic potential.
Learn the essential techniques of photography, including composition and editing.
Through our expert-led workshops, you'll learn a range of essential techniques to help you advance your photography. You'll get an insight into composition, lighting, and editing – giving you the skills needed to capture stunning shots. Your experienced tutor will provide helpful, hands-on guidance throughout the course and be on hand to answer any questions.
By the end, you will have gained valuable knowledge in the essential elements of photography, so don't miss out!
Receive a personalised review and feedback of your photos taken during the workshop.
As part of our tuition course, you have the option to receive a personalised review and feedback of the photos that you took during the workshop. Your expert tutor will use their skills and experience to give detailed, constructive advice on composition and editing, allowing you to improve your understanding of photography. With the tailored comments and suggestions, you'll be able to better understand how to get the shots you want in the future.
If you have any questions then please do feel free to ask me, I am only too happy to help.
See you out there,
Kieran.
Photography workshops Ireland, photography workshops cork by Kieran Hayes. Including on to one photography tuition sessions group photography workshops and camera club group workshops.
Photography Workshops Ireland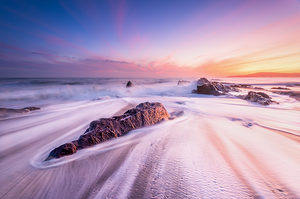 Photography Workshops Ireland run by international award-winning photographer Kieran Hayes. These workshops are ideal for every level of photographer.
Product Brand: Landscape Photography Ireland
Product Currency: EUR
Product Price: 150
Price Valid Until: 2023-12-31
Product In-Stock: InStock