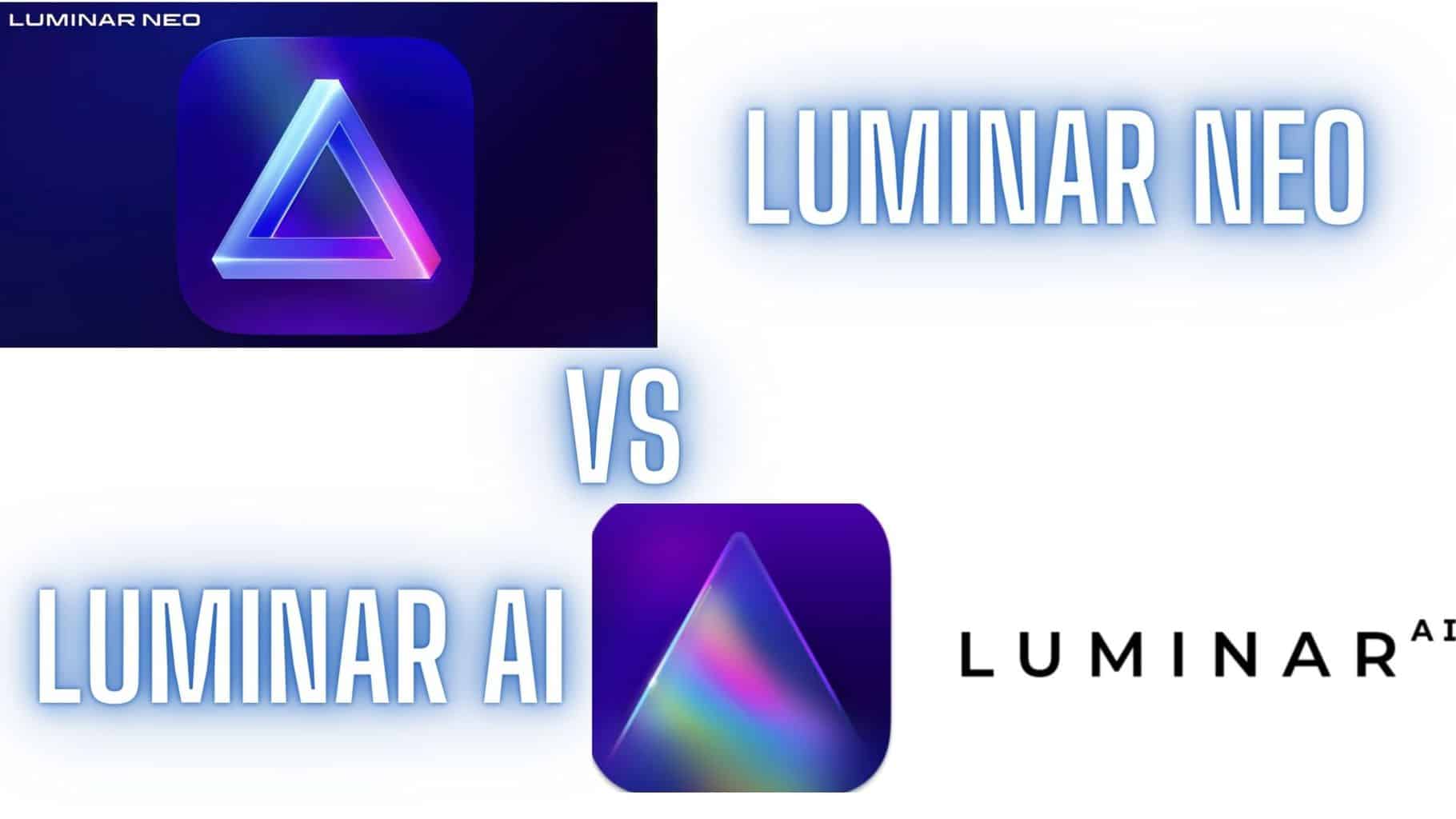 Luminar Neo vs Luminar AI.
What exactly is the difference between Luminar Neo vs Luminar AI? Well to answer that we need to look at both products separately first.
Don't forget to check out my video on the topic further down the page and the my early bird special offer pricing on Luminar Neo also…..
Luminar AI is as we all know is a Photograph Editing suite which in Skylums own words was designed to simplify editing a photograph in as few steps as possibly hence saving us time and making editing a lot easier for most people. The AI features of Luminar AI made it very easy to use and with features like Sky replacement and Portrait Bokeh AI it's incredibly simple to do complex tasks.
Luminar Neo is available to download right now in the Beta form if you have already bought it, I have all the details on my blog post here on how you can download Luminar Neo right now.
I have three separate videos below so far on Luminar Neo. 
The first one Luminar Neo's processing speed compared to Luminar AI.
The second on the user interface so far on Luminar Neo and the features included.
The third video is on my review of the first technical build of Luminar Neo and the three features in it.
Or read on for more details…
Luminar Neo
Luminar Neo is a bit shrowded in mystery right now as we don't have all of the exact specs as of yet but what we do know is it's designed as an "Image" editing software according to Skylum. I have to be careful what I say here as I am under an NDA from Skylum but I can tell you Layers and Masking are both in Luminar Neo as well as relighting, automatic spot removal, powerline removal and background removal are all in Luminar Neo making this a far more complex bit of software. 
Not only that but it also has a new AI engine making it faster and smoother to use according to Skylum again. 
The one point I will raise here is the addition of a new engine is both amazing and a pain at the same time as this new AI engine means the catalogue from previous version of Luminar will not be compatible with Luminar Neo!!!
Good News just in from Skylum is that the catalogue will be possible to migrate from Luminar 4 and LuminarAI to Luminar Neo but it will not be possible at launch as it will take sometime to perfect this process as the AI architecture is completely different. 
 Now if you use Luminar as a plugin like I do then it's only good news for you as you won't be using the Luminar catalogue feature.
So Luminar Neo is going to be more complex, faster, have a load more features and will also see Layers and masking make a welcome return. 
Before anyone starts shouting at me that Skylum should have never done this or that I will say two things, Firstly, as a photographer I probably agree with you and secondly don't shoot the messenger… I don't work for Skylum and I only hope they will listen to me and my fellow photographers going forward so we can create something truly amazing and hey maybe Neo is going to be that. 
I am not saying they don't listen as they do but I would hope us photographers can have a bit more input going forward that's all.
I really don't know right now how good it's going to be but in all honesty I think the feature set is looking really good so far.
So the next big question is….
What's happening to Luminar AI now?
Well, not much really, it's still being sold and has as Skylum have said to me "Feature complete" in other words all the features are there so there probably won't be a new feature added to the software. It will continue to get new camera support and updates for windows 11 etc… it is not an end of life product I am told am is still an awesome photo editor.
Luminar Neo vs Luminar AI Pricing and my special early bird pricing.
It seems a bit strange to be talking about an early bird special offers on a piece of software we know very little about (see my video below for more information) other than it is more of a replacement for Luminar 4 than anything else (there is a strong hint in there btw) my special early bird pricing is listed below. Please note the next phase early bird offers below end on the 18th of October… The prices for Luminar Neo will be increasing again after the 18th of October.
These offers are now superseeded by the offer below.
Luminar Neo vs Luminar AI my thoughts on it and what's really happening there.
My luminar AI and Luminar Neo discount code and special offers can be found on my discount code page for Luminar products here
I also have a 15% off Topaz Labs discount code which is here on my Topaz promo code page as well as the links to claim it.
Conclusion
Skylum are seeing the question of Luminar Neo vs Luminar AI as the wrong question, it's more of which one suits you rather than one of them it could actually be both and I could really see myself using both going forward. The same way as I use Photoshop and Lightroom but for different things.
The one word of caution I will say to anyone buying photography editing software is don't think just because you buy something now it's going to stay valid for 2 or 3 years, those days are gone and software moves on at a fast pace. Now in saying all that Once you buy Luminar AI you own it and can use it for as long as you want there is no time limit on it.
Finally I am going to add what Skylum have said about Luminar Neo below.
I have a new page dedicated to Luminar Neo here where I will regularly updating my review on it as well as specifications and other details.
What Skylum Have told us about Luminar Neo in the 
press release

.

Transform photos with new relighting options.

Luminar Neo analyzes each image to recognize the depth of a scene and its subject which allows precise control over exposure and tone.

Remove blemishes and distracting elements.

Luminar Neo automatically recognizes and removes artifacts caused by a dirty camera sensor or lens. New tools
make removing unwanted background elements easier than ever before.

Take full control of the background for portrait photos by quickly replacing it with an all-new image or background. See sample images at the end of this article.
Round-trip mobile image management.

Our new companion mobile app makes it simple to add pictures captured on a mobile device to your Luminar Catalog. Once edited in Luminar Neo, results can be sent back to the mobile device for easy social sharing or viewing on the go.

Precise control with flexible editing
We designed Luminar Neo with input from working photographers, artists, and colorists.
With this guidance, we built Luminar Neo to help artists break new creative ground with an
image editor that allows precise control over every aspect of the final image while providing
artists a flexible toolset that can be tailored to their unique creative workflow. These
capabilities include:


AI-Driven Compositing

● Smart, AI-based masking easily isolates elements in individual images.

● Add numerous images as layers to create entirely new art.

● Apply any tool and any mask … to any layer, in any order, multiple times.

● Use creative blending modes, guided by AI, to achieve clean, precise, composite images.

Improved Ease of Use

● Users can save their photos as well as presets for easy reuse.

● All editing steps remain editable for complete control over the final image.

● With a minimalist user interface, the whole process is enjoyable and easy.

High performance

An all-new editing engine drives Luminar Neo, making it possible to apply multiple tools to an image without significant performance loss. Luminar Neo allows for complex layering of several raw images. Our new Luminar engine enables Skylum to further optimize and refine the entire image-processing pipeline.


When is Luminar Neo launched or when will Luminar Neo be available?
Luminar Neo will probably be launched or available between the 18th of November and the second week of December as looking at the history of the other products below you can see a distinct pattern there. I am not breaking any NDA with Skylum as for now we haven't been given a date for the Luminar Neo launch and when writing this I haven't been at a briefing as of yet so I honestly don't know the exact date and if I did I couldn't say it as of yet.
The original Luminar's release date was on the 17th of November 2016

Luminar 2018 release date was in late 2017

Luminar 3 release date was on the 18th of December 2018

Luminar 4 release date was on the 18th of November 2019

Luminar AI release date was the 15th of December 2020.

There was an earlier Luminar AI release date for early bird subscribers but the main Luminar AI release date was the 15th of December.

I am guessing here that Luminar Neo will be launched on between the 

18th of November and the 15th of December. 

Once I know the date and I am released from the NDA I will release the date here.
The people that take the early bird offer will get there copies first which will be before the official launch of Luminar Neo. So if you are bursting to try it out like me then don't forget to order your copy here.
You probably a hundred different questions right now, I would love to be able to answer them but I can't for two reasons…
Firstly, I just honestly don't know all the answers as of yet and secondly I am under a non disclosure agreement with Skylum so I am not allowed to share some information as of yet.
Now, I will be getting a Beta copy soon and I will be playing around with it a lot and editing "Images" before it's released so I plan to release preview videos on my youtube account here so make sure to subscribe to stay up to date on the latest Luminar Neo news and also other Skylum software products.