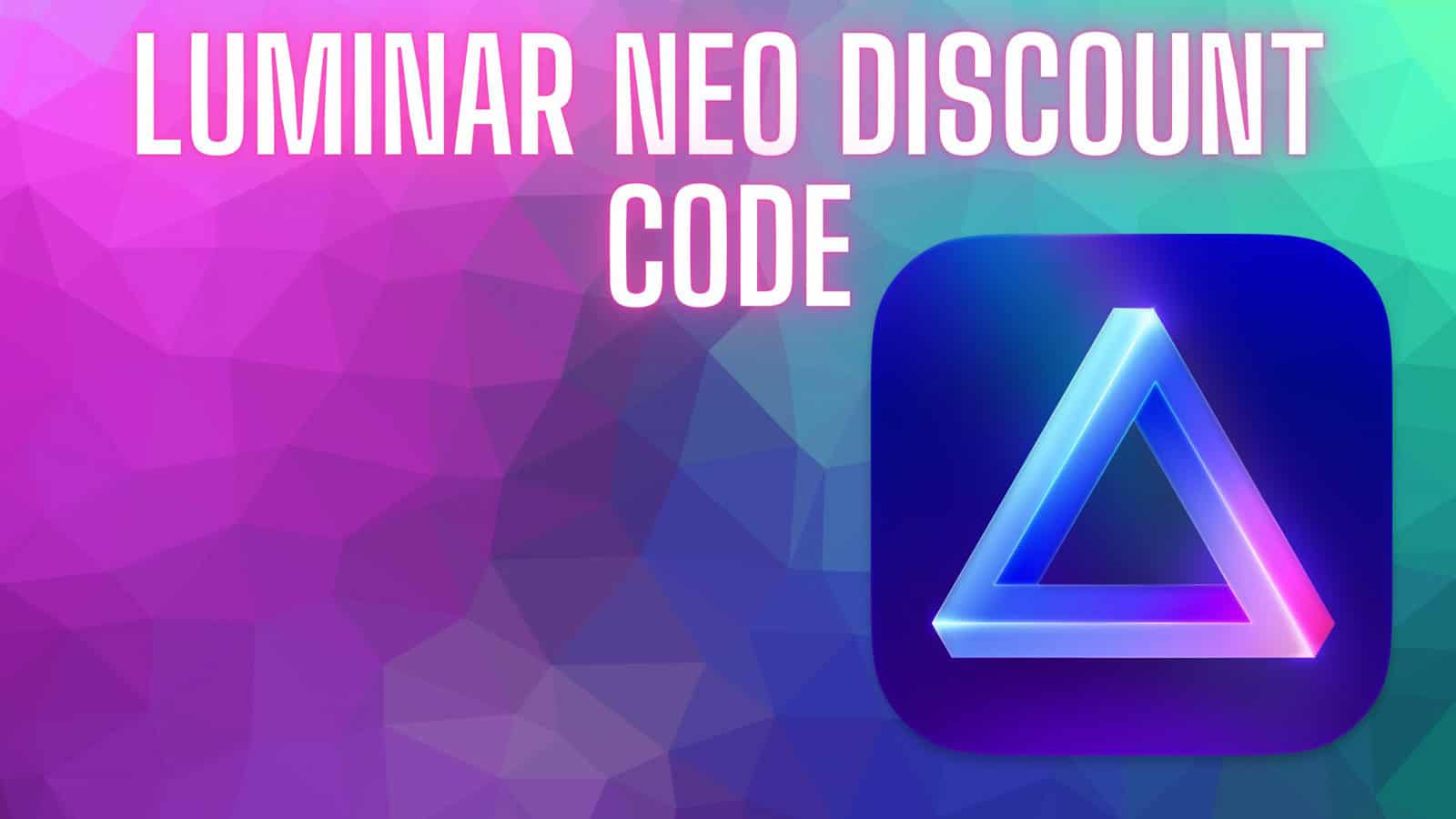 Welcome to my Luminar Neo Discount code page
I am delighted to be able to share this Luminar Neo discount code with you and to be able to offer you a free gift also when you sign up to Luminar Neo.
My discount code works nearly all the time with the exception of when there is a special offer or early bird discounts etc… The same thing with my free gift this comes and goes at time but it is definitely worthwhile checking it out when purchasing Luminar Neo.
If you click on the show code button below this will do two things for you, it will open my special link to the Luminar Neo offers page and also show you the discount code, simply copy the code and enter it at checkout.
To get the free gift simply pretend to exit the page and a pop up will appear which give you a free gift and add it to your purchase… how cool is that 🙂
Luminar Neo Discount code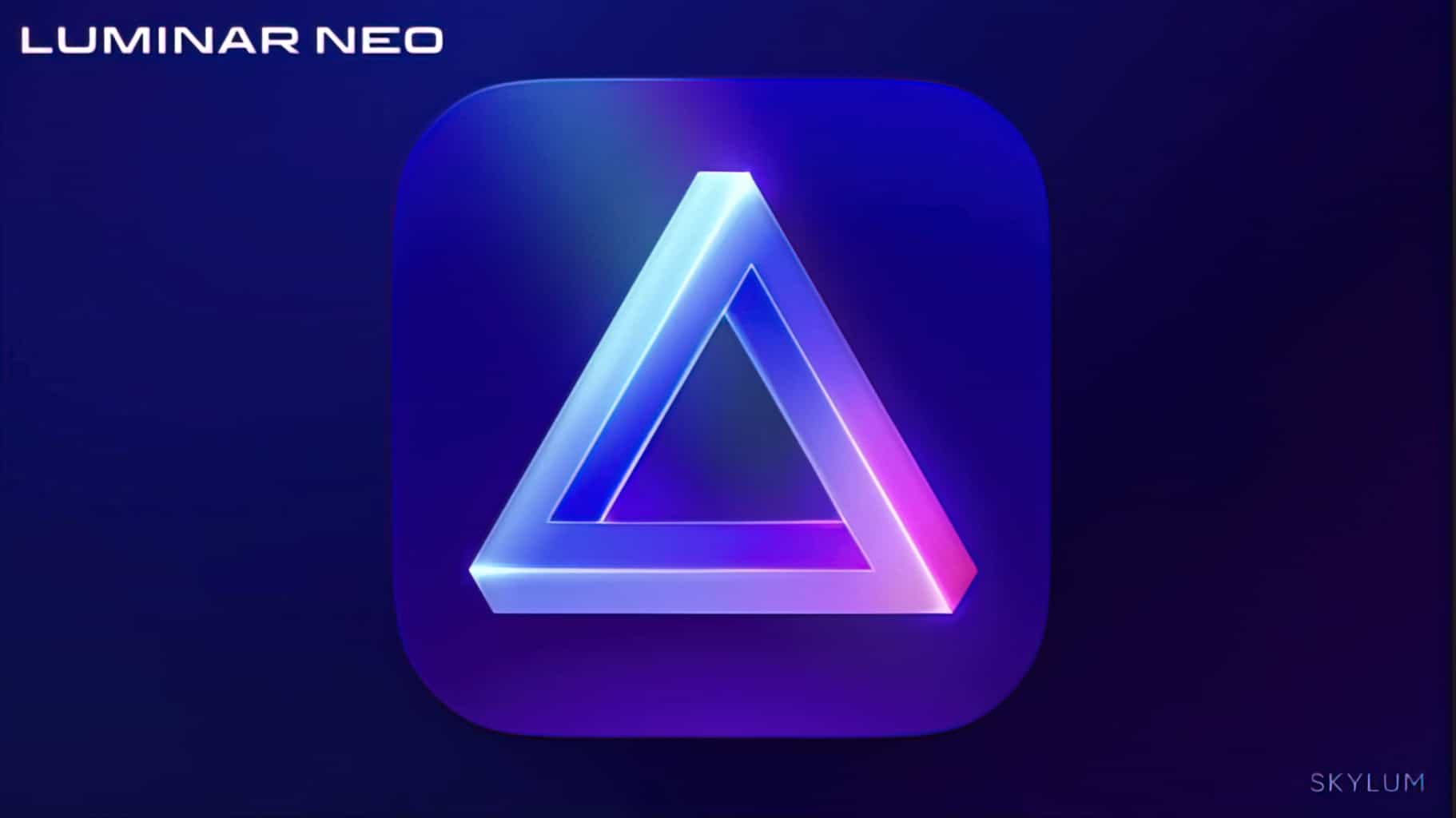 My Luminar Neo Discount Code and free special gift worth €25.- to get the special offer click the show code button and then copy the code and then go to get offer. This will take you to the Skylum website but before you purchase the product pretend to leave the page and you will get  a free gift included with your purchase....
More
Less
I make a slight commission for any purchases made with my discount code but it doesn't cost you anything to use my code in fact you save money!!! Out of every qualifying sale that I get a commission for I will pay for a tree to be planted to help keep this planet a bit more beautiful.
For more reviews updates and Neo reviews and features check out my Neo review and update page here…
Follow the steps below to enter the Discount code…
The first step is to click on "buy now" then the following screen will appear.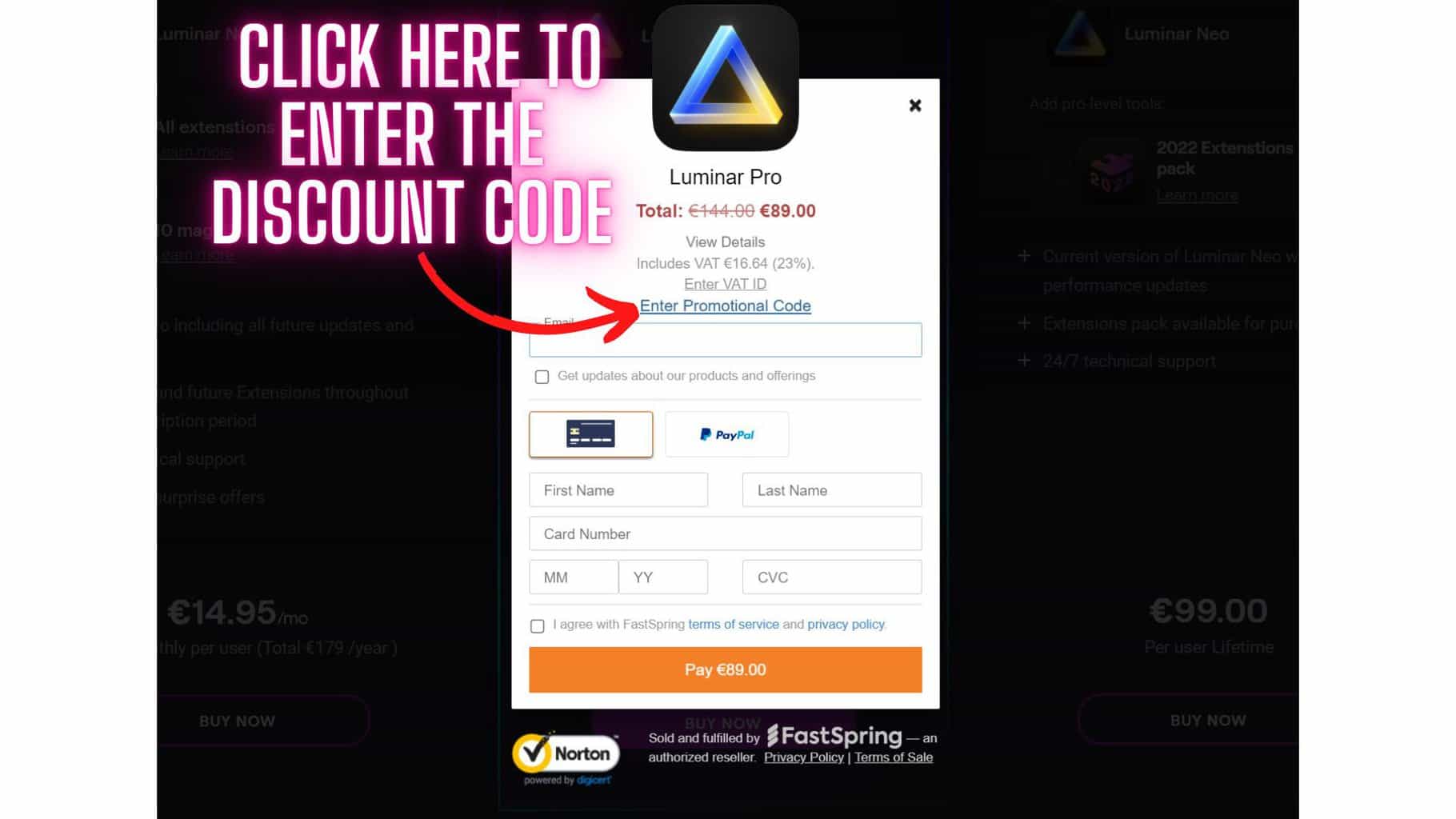 After you click on the "Enter Promotional Code" text you will get to the following screen.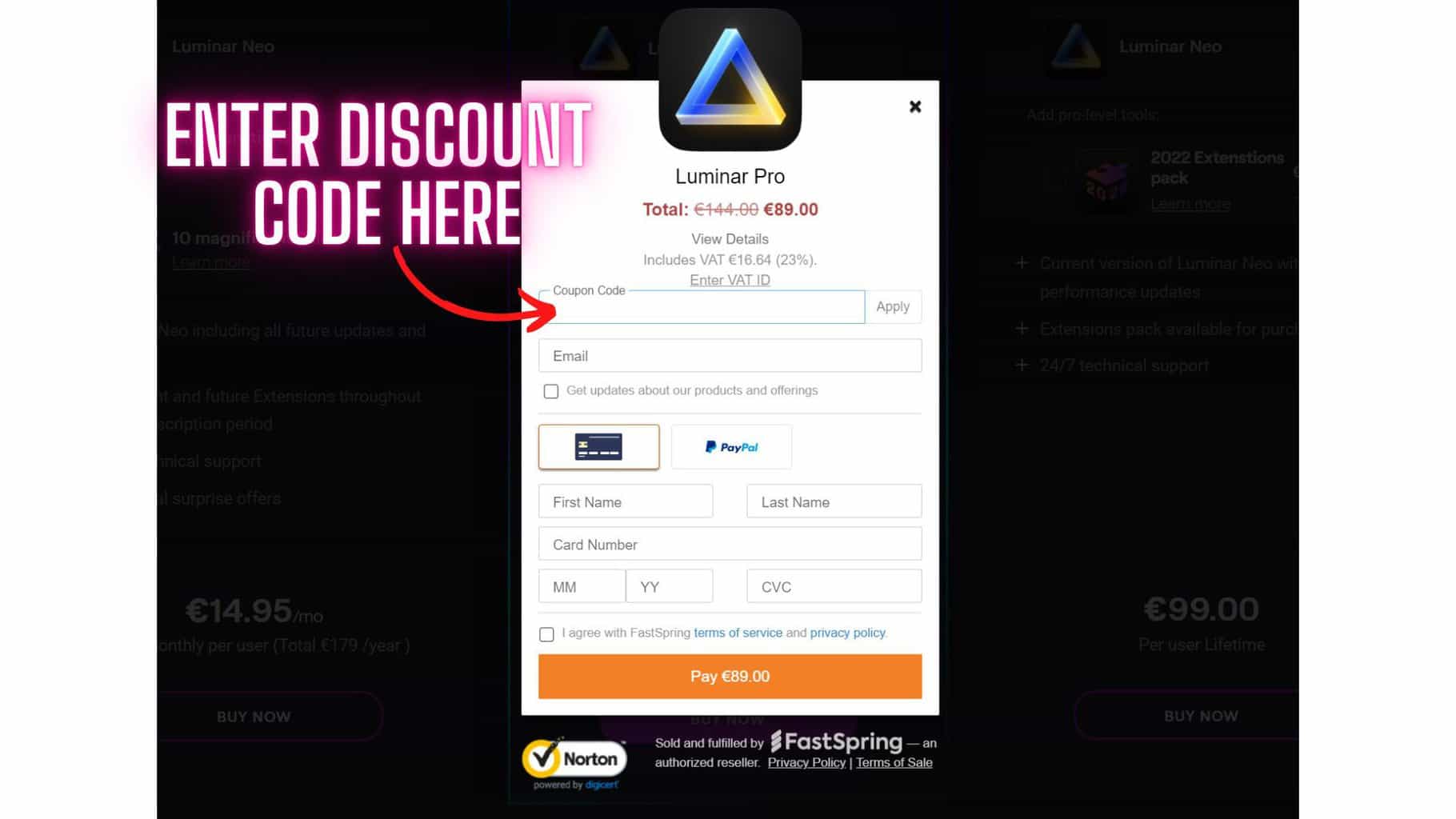 You will notice the price in this example all along has been €89.00 but after we enter the Discount code the price in the image below has changed to €79.00 so you have just saved yourself €10, $10 or £10 on Luminar Neo.
I run you through it completely in my video below and also show you how to get the free gift from Skylum.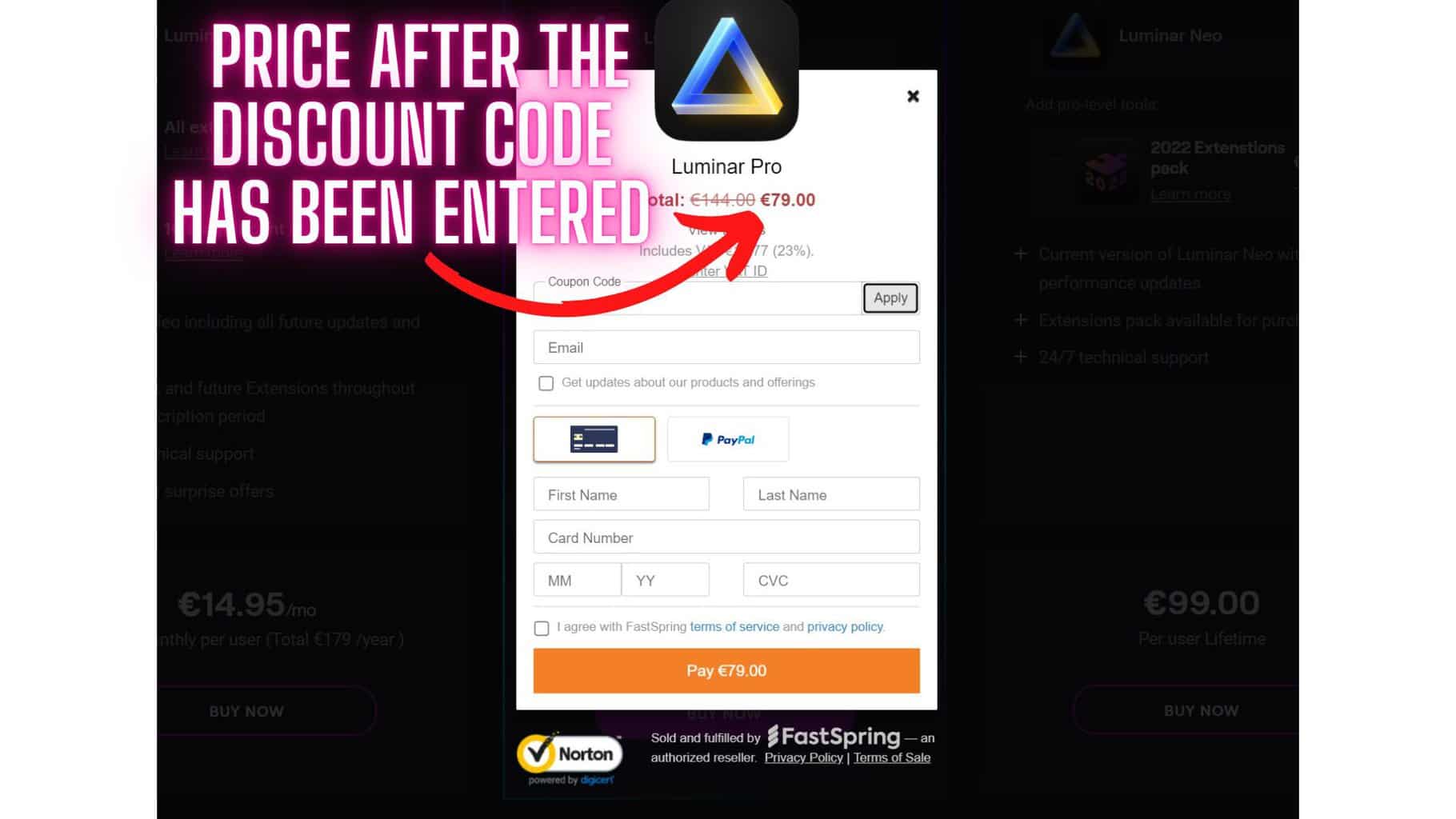 So go on save money and help save the planet a little too.

Also check out my posts below on the very latest Luminar Neo news and what's coming next.
See you out there,
Kieran.