My killer top 5 camera accessories you should have for your camera.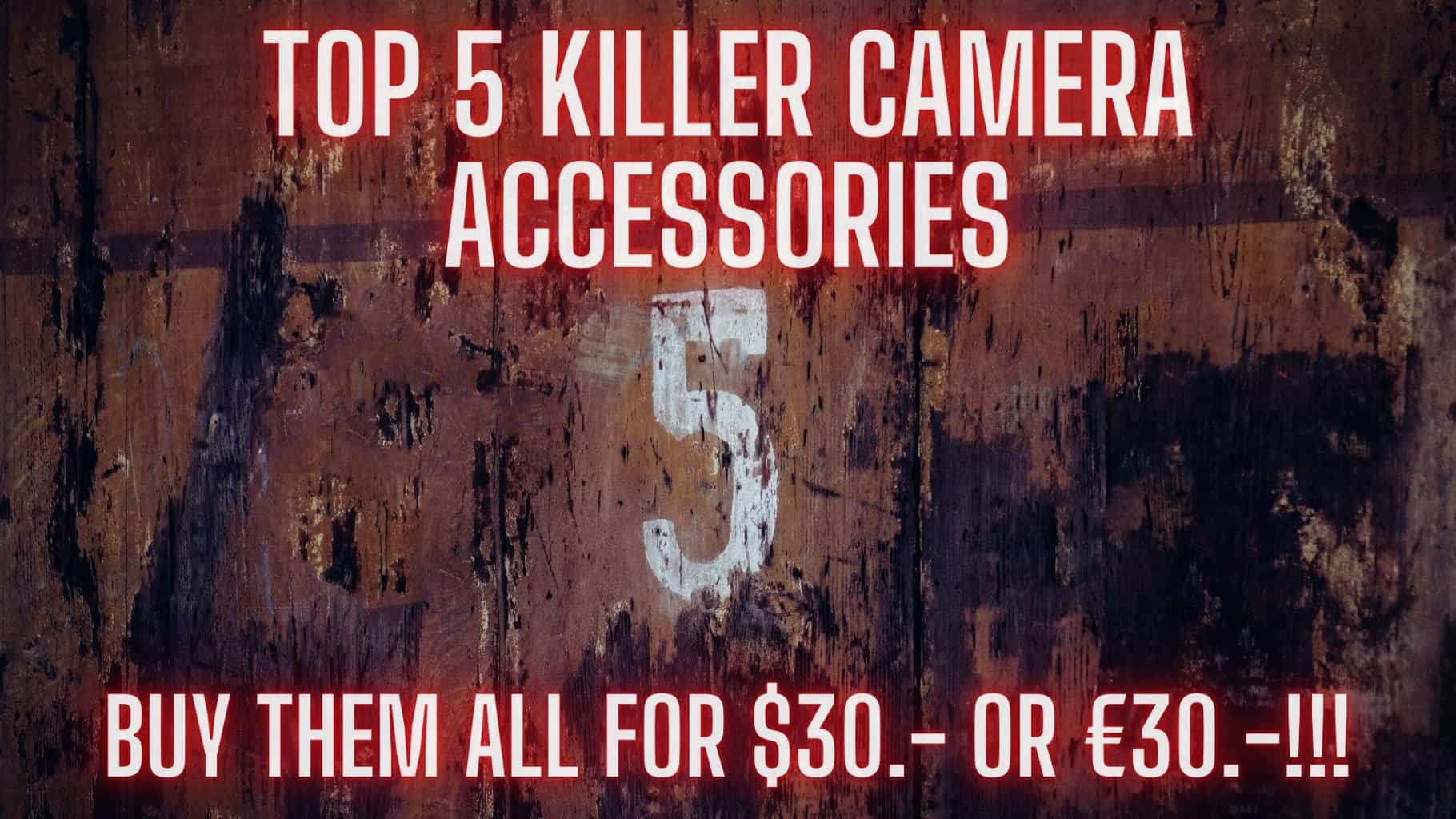 My super cheap top 5 camera accessories that cost less than €30 or $30 in total!!!
You can thank me later for this one and yes I know one day you will be sitting there thinking these top 5 camera accessories should be in everyone's camera bag…
It's important to read this through as there are a few tips you might not know about each one of these products and also for the reasons I picked them.
We all know photography is not only an amazing hobby but it can also be very expensive so I decided to write this article on my top five really cheap but also really important camera accessories to not only save you some money but also help you get that shot.
Photography Tax!!!
Yes, that does seem entirely mad, how can anything that cheap be so important? Well, the number one reason for that is these aren't really photography products so you don't pay that dreaded photography tax, you know when someone prices a photography product and throws an extra €20 or €50 onto the price because it's for photography… well that's photography tax 🙂
Camera Accessory number 1
The first one is a really simple one it's Silica Gel patches and not only are they super cheap but they also come in camera bags, cameras , electronics, heck they even come with medicine and shoes just to name a few things. They are those small little packets that have labelling on them saying "Do not Eat". So you probably already have these in your home… Which means tip number one is actually free, you can't do much better than that 🙂
So why Silica Gel patches?
Their job is to soak up any moisture in the air so if you are using your camera in a slightly damp environment or it rains and you rush to put your camera away before it gets destroyed this moisture will now stay trapped in your camera bag. That moisture can mean fungal growth on the inside of your lens and what's it could destroy command dials, buttons or switches on your camera with corrosion. So Silica gel patches are a life saver here.
What you may not know about Silica Gel patches.
Now if you have silica gel patches already and if you have them in those paper bag versions did you know if you pop them on a baking tray with some greaseproof paper under them and fire them into the oven at 150 degrees for 20 minutes you will renew the silica gel as it removes the moisture in the packets!!!! How cool is that? So you can use them again and again.
This is something I have been doing now for a while and it works really well, so we are not only repurposing items but also reusing them again.. So please don't just through them out always reuse them. A lot of the ones with plastic wrapping can also go in the over believe it or not, I would personally be far more careful with the plastic ones and keep an eye on them as some of the plastic ones melt and create a bit of a mess… so make sure to that with greaseproof paper under them 🙂
Camera Accessory number 2
Tip number two is another really cheap one… get either an old memory card or a really cheap one (this has saved me a few times).
So why a cheap or old memory card are you mad Kieran? Well, yes I am probably the maddest person in photography or am I the only one that doesn't hide it 🙂
I am sure we have all had those times where we grab our gear in a rush and head out the door as the light is just epic or let's face it we have time to pursue our passion for a change… 30 mins later we are at our spot to capture a special moment and we switch on our camera to find no SD card inside!!!
Yes, it's still in the blasted laptop or card reader… Been, there and done that more than once but this has saved me each time… The trick is to put that really bad/rubbish memory card in your bag in a pocket somewhere even sow it in place if you need to so if ever you are in trouble that rubbish little thing will be a life saver. So max spend here is €8.- heck if you are like me you probably already have one just in a drawer somewhere so it's free.
Why not buy a second memory card? Well you should have multiple memory cards anyway but the danger is you could have used that two days ago and it's yes you guessed it at home also. The rubbish memory card will never be used only in an emergency so it's always there then.
Camera Accessory number 3
Tip number 3 is that wonderful little invention called a shower cap, stick with me this is a good one. You can buy these for less than 50 cents and if you are out taking photographs with your camera setup on a tripod then just pop the shower cap over it and sit back and wait for the rain to pass.
This is going to save not only your camera but your composition and as soon as there is a slight break (could just be seconds) you are immediately ready to shoot again. We all know just before and just after rain storms you can get some incredibly dramatic light so why miss it.
Camera Accessory number 4
Tip number 4 is a bubble level for your camera. These are really handy little things as they help you quickly and easily level your camera and without even switching it on, so they save you battery life and area also really easy to use if your camera is low to the ground.
Another reason to use a bubble level!!! Did you know they can also protect your digital hotshoe from moisture from seaspray or light rain. I have seen cameras shut down just because the contacts were shorted with a few tiny drops of rain. These bubble levels are only about €2 so again not a big spend there.
Camera Accessory number 5
The accessory would be a spare battery but that would break the budget so this is where it gets interesting as I am sure most of you are now saying a battery cost a lot of money but I have a little hack here that works especially well with most mirrorless cameras and as we all know they tend to drain their batteries a lot faster than DSLR cameras ever did…. so for €20 go out and buy yourself a powerbank then simply plugin your USB cable in it and you can power your camera or better yet even charge your battery on the go.
Most of us have power banks at home so again this shouldn't really cost you anything and they are also really handy if you are out and about hiking or exploring the coast and your phone battery starts dipping low, so it's a dual purpose product yet again.
Conclusion
For a lot of us these products could well only cost us €5 or $5 as we already have a few of these items at home, so go grab them and pop them in your bag you honestly won't regret it and best of all they weigh very little too.
Now I know these are not the absolute best photography accessories to have in your bag, which by the way is going to be another blog post coming soon 🙂 but they are really cheap, effective and best of all they take up no space in your bag.
I personally guarantee you that one day you will be sitting somewhere thinking "wow that mad Irish guy was actually right". It doesn't happen too often to me but it does happen and one day it's going to be you.
Don't forget to Checkout my Photography Tips and Tricks section here, I have loads of tips on editing, photography gear and tips for Landscape and Seascape Photography or hey why not checkout my photography workshops page here as you are at it 🙂
See you out there,
Kieran.