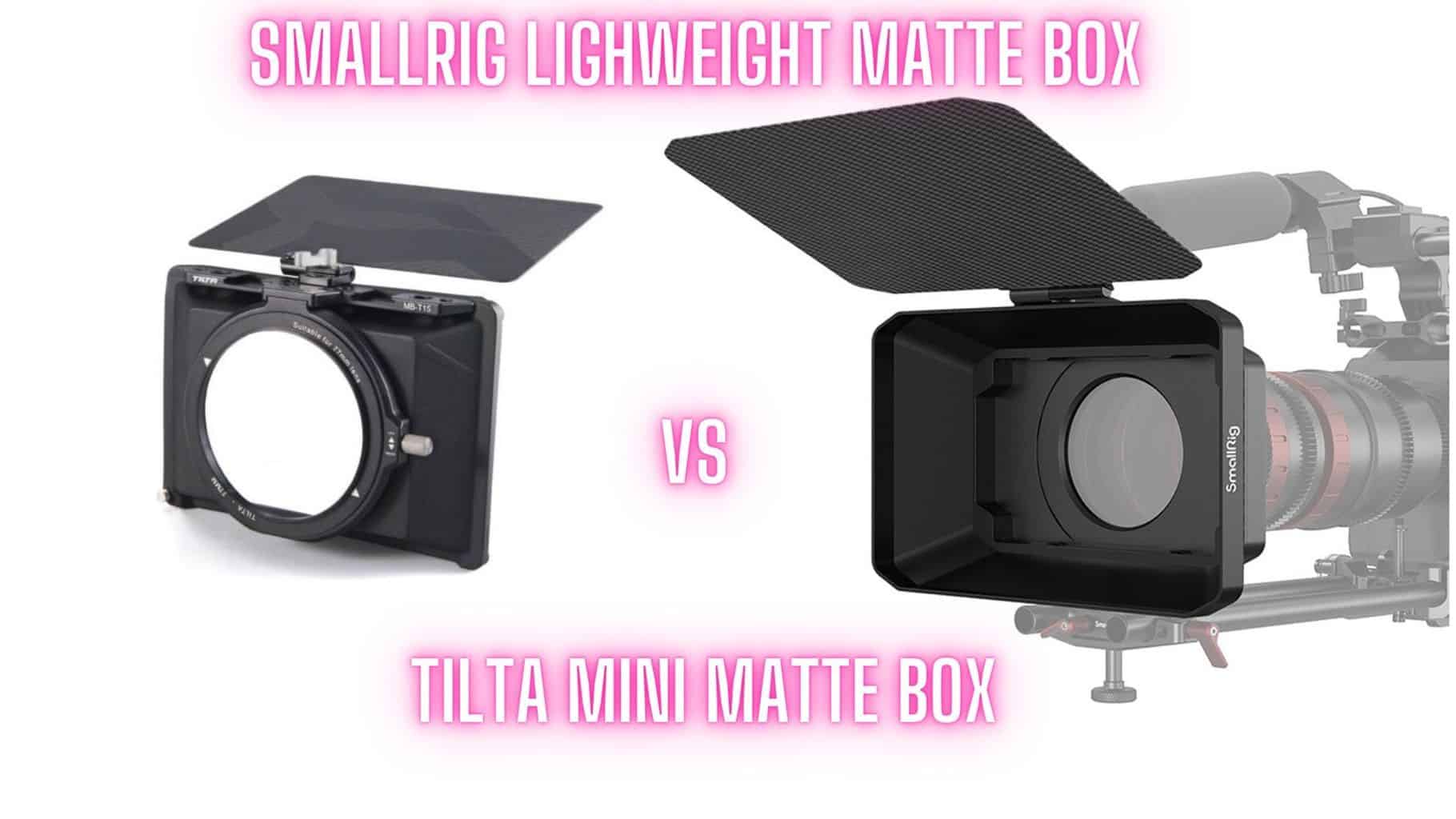 Which one is better for you? The SmallRig lightweight Matte Box vs Tilta Mini Matte box.
These two companies are frequently tested head to head and it's very common to see a SmallRig Vs Tilta debate going on in forums and on social media so for this Matte Box review we are going to weigh up the facts about both systems. It's all going to be about the pros and cons of the SmallRig Lightweight Matte Box versus the Tilta Mini Matte Box systems and which one is best for you personally.
Before we start I just want to add that this review is not sponsored by either of these brands and these are not just my opinions but product specifications which can easily be found on both of these companies websites. Combined with my own thoughts on both Matte boxes and how they work best.
Please keep in mind both of these Matte boxes retail for under $100.- so they are exceptional value for money.
I use Formatt Hitech Firecrest Ultra Cinema ND filters with my Matte box click here for my review of them.
I also use the awesome Formatt Hitech Black Supermist diffusion filters in my Matte box, I have a review of them here.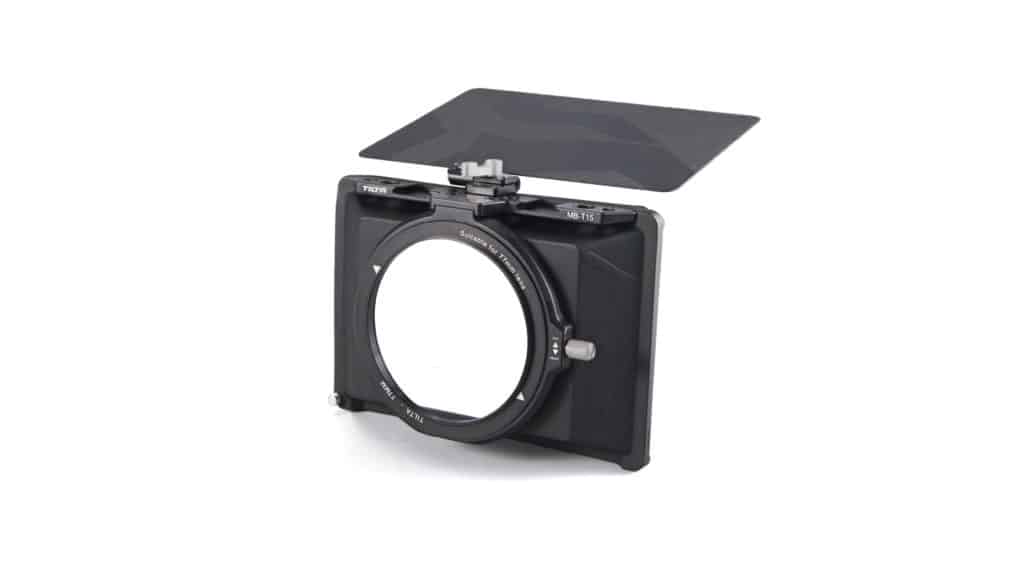 Tilta Mini Matte Box review.
The Tilta Mini Matte box is nice and compact and it has a beautifully small footprint, it also weighs only 140 grams so it's incredibly lightweight too. The Tilta Mini matte box is very well made so it feels nice and robust and could put up with a slight bit of abuse. It has filter threads on the adaptor rings which is very handy if you want to use a CPL or another type of filter like a screw in diffusion filter as well as an ND filter. So already we can see a lot of positives for the Tilta Matte Box, so let's dive deeper into the specifications of what comes in the box.
Tilta Mini Matte Box Specifications
You get the following items in the kit…
82mm, 77mm, 72mm and 67mm adaptor rings.
The Tilta Mini Mattebox.
The top flag for the Matte Box.
Bottom single 15mm rod holder.
15mm rod support kit for Mini clamp on Matte box.
A 15mm x 100mm black Aluminium rod.
The Tilta Mini Matte Box takes one 4 x 5.65 inch filter which slides through the front of the matte box. It wont work with 4 x 4 inch filters though. The filter after it slides into the front mounted filter slot is locked in place by a small little catch that stops it from sliding back out again. The front flag is functional and feels robust and there is a nice locking lever on it so you can release it and adjust the flag to the position you want and then simply re-tighten it again. The mounting system for the Tilta Mini Matte Box works well and like everything else about this system is robust and for the price amazing quality. Check the latest price via Amazon below…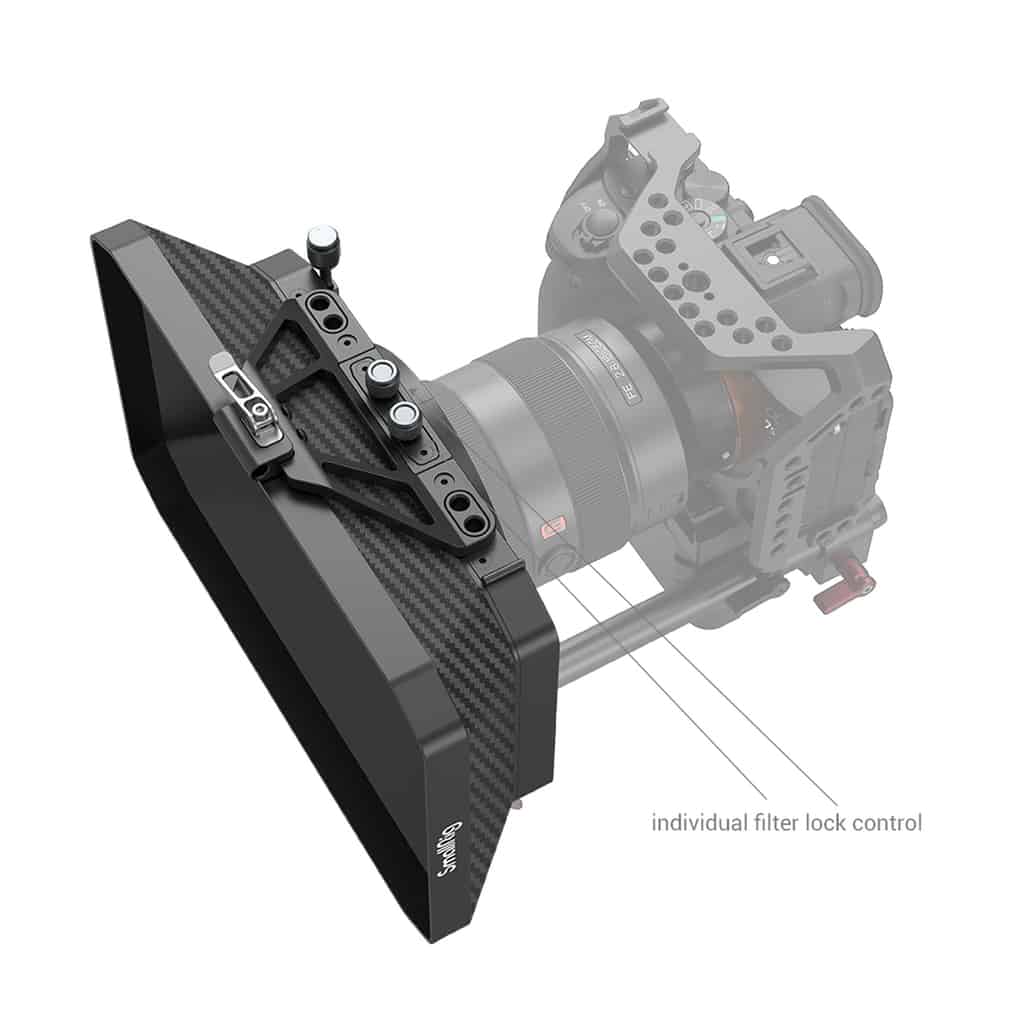 SmallRig Lightweight Matte Box review
The SmallRig Lightweight Matte Box is overall a nice system again and it feels very robust and exceptional value for money. It is not a very compact unit but that works to it's advantage in certain conditions. It can take two 4 x 5.65 filters or two 4 x 4 filters which I have to say is a really nice feature. The filters are mounted at the rear of the Matte Box so they sit just in front of the lens. Straight away we can see some nice design differences on the SmallRig Lightweight Matte Box to the Tilta Mini. Let's have a look at what comes in the kit now.
SmallRig Lightweight Matte Box Specifications
In the kit you get….
82mm, 77mm, 72mm and 67mm adaptor rings.
The SmallRig Lightweight Matte box.
The SmallRig Matte box fits easily onto the adaptor rings and as I mentioned above is a robust and solid bit of gear, I have to say the front flag is a nice size and is very easily adjusted via a locking lever and can be popped off the Matte Box when the same lever is released. It has a reasonably large footprint in your bag but it is still fairly lightweight at 238 grams. I have to say this system is really nice and unbelievable value for under $100.-
I have an in depth review of the SmallRig Lightweight Matte box here if you want to learn more about it.
My SmallRig Lightweight Matte box unboxing video is below.
SmallRig Lightweight Matte Box Versus Tilta Mini Matte Box
Let me start by saying these two are both great Matte boxes and exceptional value for money but for me personally there is one clear winner.
Size.
The Titla mini matte box has the clear advantage here in being smaller and lighter than the SmallRig Lightweight matte box.
So if you want a filter holder that's really compact and light then the Tilta Mini Matte Box is the obvious one for you in comparison to the SmallRig Lightweight Matte Box. In saying that there is also a SmallRig Mini Matte box that's incredibly impressive but more about that later.
Winner – Tilta.
Apperance
Now this is a bit of a funny one but then again perception is very important now and it has to be said the SmallRig system looks more professional or serious if you are rocking into a shoot with the SmallRig Lightweight Matte box attached to your camera then it just looks like you mean business. Does that make it better? No probably not but it makes you look better and at the end of the day clients respect that, if they are paying big money then they expect to see the gear then too.
Winner – SmallRig.
Flag & Flare reduction
Now this is often overlooked but the flag size on the SmallRig Matte Box is a lot bigger than the Tilta Flag so it is far more functional at removing lens flare, Now the Tilta system works but just not as well as the SmallRig. The one point I would make here is the flag on your Matte box is one of the reasons why you would buy a Matte box so don't over look that, it might seem trivial but it has a serious function. The Tilta flag locking mechanism is slightly more solid than the SmallRig version, nothing wrong with the SmallRig one and it works perfectly for me but to be fair I thought I would mention it. *Edit The SmallRig flag locking mechanism is actually really good I just didn't realise there was a hex screw in the centre of the lever that you can relaease or tighten to get the friction level you want so the SmallRig is the clear winner here.
Winner – SmallRig
Filters.
The next thing to consider is what filters you can use in it and how many it will take.
The Smallrig is the clear winner here as it has two filters slots unlike the Tilta which only has one, the SmallRig can also take 4 x 4 inch filters which is incredibly handy as they are more common for hybrid shooters to have.
In saying that on the Tilta system you can use screw in filters on the thread adaptors then again if you think about it you could also use screw in filters on the Smallrig only you would mount the screw in filter directly to the lens and then mount the adaptor ring to it.
Winner – SmallRig
Filter mounting system
With the Tilta Mini Matte box you slide the filters in at the front of the Matte box by pulling back a small pin clip and then releasing it to lock the filters in place. While this works it always seemed a bit uncertain to me and I would be very nervous about trusting my filters to that small little clip. A small grain of sand or dirty could jam it and then there goes your cinema filter.
The SmallRig has a filter door you need to open to either load or unload your filters, then there are two thumbscrew lock screws that hold the filters in place. These locking tabs are great as it means you can position the 4 x 4 filters and lock them in place.
I will say that the filter door is a bit stiff and needs a small bit of pressure to open it. I have heard a few people complaining about this but on my second time opening it I found it fairly easy. I just put my forefinger on the Matte box and flicked the door open with my thumb and it opened easily. I am actually happier having the door doesn't pop open easily just in case I forget to lock the thumbscrew for one of the filters one of these days…
Winner – SmallRig
Lens Size
The Tilta will take a max lens filter thread of 85mm whereas the SmallRig will take up to 114mm lens, so if you own or want to rent any large lenses (up to 114mm) then the SmallRig is the clear winner here.
Winner – SmallRig
Filter removal
Now if any of ye are thinking I am making up stuff now then just stick with me for a minute…
On the Tilta system you have to touch the front surface of the filters to slide the filters out of their slot. In the SmallRig system there is space for your fingers to fit so you can push the edge of the filter and not the front face of the filter so you don't need to constantly clean your filters every time you take them in and out of the holder, now that's handy…
Winner – SmallRig
Reflections
The Tilta system has the filter sitting out in front of the Matte box so you are more likely to get reflections from the filter due to the distance to the lens, the SmallRig system has the filters seated just in front of the lens so it avoids this issue.
Winner – SmallRig
15mm Rod mounting
Both systems are capable of being mounted on 15mm rod systems but the mounting kit comes with the Tilta system, So well done to Tilta on that one.
Winner – Tilta
Mounting holes
The clear winner here is the Tilta with several more mounting holes on the Matte box for mounting accessories with a total of 8 mounting holes on the top of the unit with the SmallRig having a total of 4 on top of the Matte Box. I have to say I have never mounted anything to the top of a matte box though.

Winner – Tilta
Build quality
The Build quality of both these units is great but the SmallRig unit feels sturdier than the Tilta unit. In saying that it is only slight and incredible for the price.
Winner – SmallRig.
I think we can all see where the conclusion is going and again this is my take on these impressive filter systems but as I say even if you just want to check the stats then you can see them on both websites. Out of 11 categories the SmallRig won on 8 of them, If I was being very fair to SmallRig I would have compared the SmallRig Mini Matte box to the Tilta Mini Matte box but that's coming in another review soon as I will hopefully get my hands on the new SmallRig Mini Matte box soon.
Already I can tell you that if the SmallRig Mini Matte Box functions correctly it will be the clear winner by a country mile as it destroys the Tilta on specs straight away.
It takes up to 95mm lenses, it weighs only 120 grams, has practically the same footprint as the Tilta, can take a circular filter and 4!!! yes I said 4 filters in 4 x 5.65 inch sizes. I would have compared the new SmallRig Mini Matte box to the Tilta but I sadly haven't had the chance to use it as of yet.
Have a read of my full SmallRig Lightweight Matte Box here and find out why it's in my kit bag now.