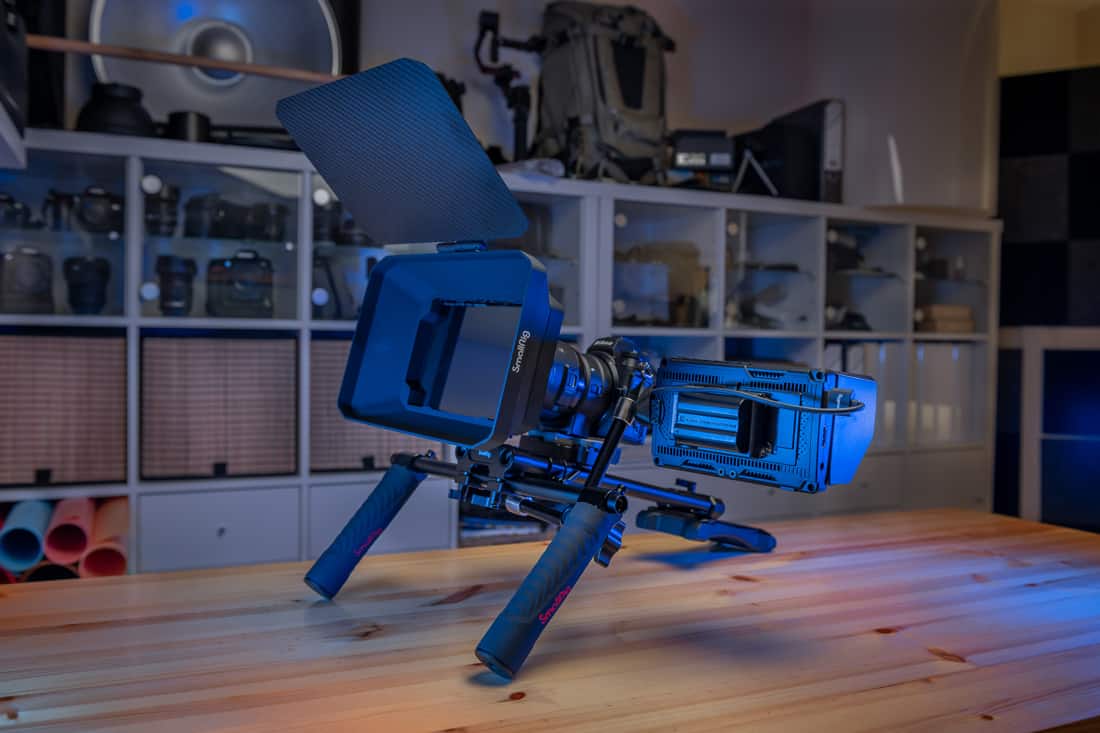 Welcome to my SmallRig basic shoulder kit review model 2896.
Before I go into exactly how this rig works I think it would be a very good idea to have a look at the video below which shows what you get in the kit as well as how to assemble it all.
The best price for the SmallRig Basic Shoulder rig Kit 2896 can be got from…
SmallRig basic shoulder kit unboxing video and assembly video of the 2896B kit and what else you may need for it.
Don't forget to Subscribe to my YouTube channel and hit that notification bell to see my latest videos 🙂
SmallRig Basic Shoulder kit Review.
Once you open the box and start to put this shoulder kit together then you will straight away see how easy it is to not only build it up but also take it apart again if you are packing it back into a bag.
It's a very simple design with no frills or fancy bits to it, it all just works and serves it's purpose beautifully.
The add on bits I would recommend are a magic arm for your monitor and a riser or quick release plate mechanism, as I mentioned in the video you will possibly not have enough height clearance for your lens without one of these two items. You can see that at the end of the video above.
The other addition that any good cinematographer should have is a matte box and my matte box of choice is the
. I use the  in my matte box and they work perfectly along with my  on them.
Once you have the rig setup with everything in place it feels really solid and the footage is far more stable immediately.
You can obviously angle the arms to your position of choice and with the magic arm connected to the underneath of the camera 15mm base plate you can swivel it into whatever position you want or what works for you.
The shoulder pad is contoured to curve around your shoulder to help make it more comfortable and to add as much stability as possible also.
Price
Before we go any further I should mention the price, which via the SmallRig website the shoulder rig kit is only $99.00
For that crazy low price you get a beautiful bit of kit and if you think I was a bit harsh on it earlier saying it was a no frills setup I didn't mean that in a bad way it was more if it does what it says it will do and that's exactly what you want in any bit of cinematography kit.
I personally think a v-mount battery pack would be a huge addition to this kit as the weight on the back of the rig would help it sit a bit more securely on your shoulder. Not that it doesn't fit well to your shoulder but I found the extra weight on the back of the rig put more downward pressure on the shoulder pad which made it a bit more secure.
The best price for the SmallRig Basic Shoulder rig Kit 2896 can be got from…
So what else can I say other than it's a great bit of kit and I love mine.
I should also add SmallRig sent this out to me for this review so thank you SmallRig for that and this is my honest review of this product and yes I know it's getting a but painful now with all these positive SmallRig reviews but they keep just knocking it out of the park with their designs and gear.