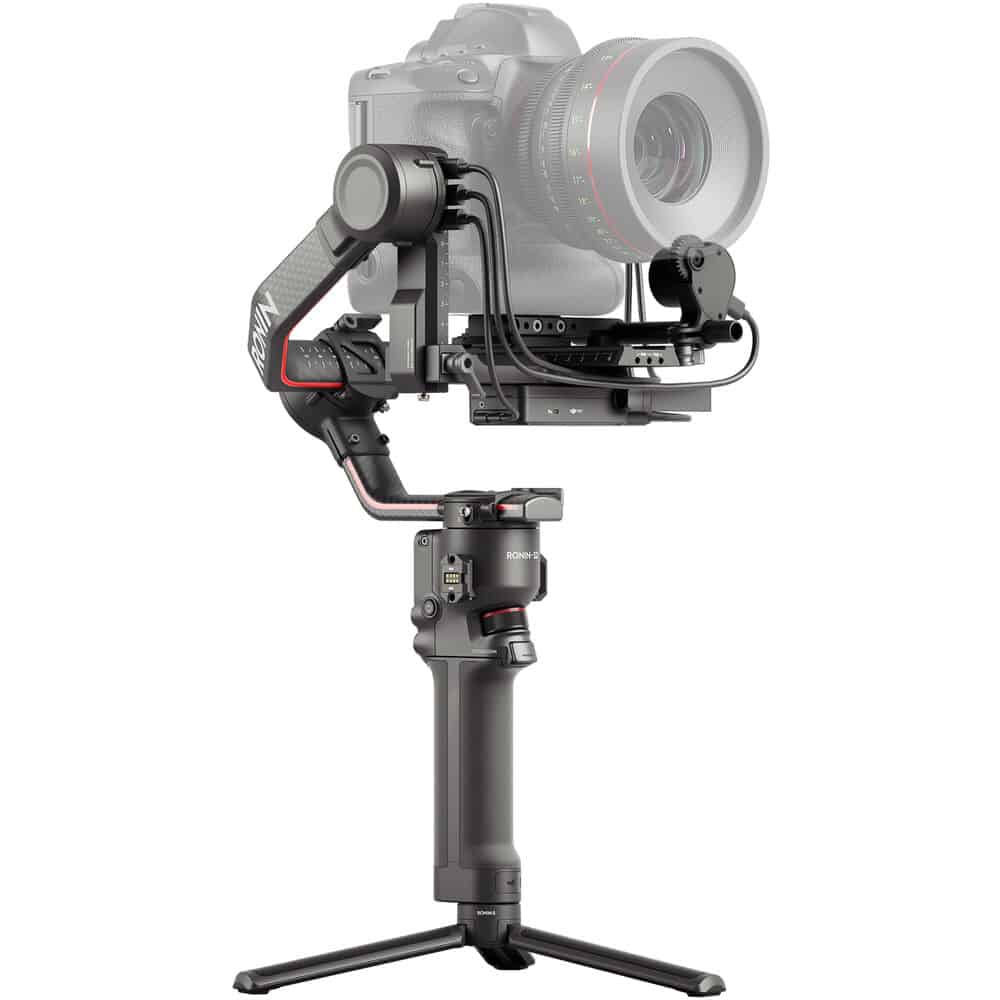 Skip further down for the Dji RS2 Pro Combo Review.
My Dji RS2 Review.
On paper the Dji RS2 is a great gimbal and slightly better than the RonIn S in a lot of little ways, all of these slight improvements add up to provide a unique user experience so let me tell you how I got on in the first few days of using my Dji RS2 gimbal.
DJI RS2 features
New Titan stabalising algorithm improves your gimbals performance and gives you smoother footage. After trying both my Ronin S and RS2 side by side I can confirm the new Titan algorithm really does works better and just helps smoothen out your footage. So well done DJI, the RS2 is the smoothest gimbal I have ever used.
Axis locks, so you can lock each axis. Now this might seem like a small feature buts it's a huge design feature to have for balancing your gimbal, firing it into your bag if you are running and gunning and also for assembling you gimbal and adding accessories like filters, filter holders, raven eye, focus motors or changing lenses.
Nato Ports, awesome new feature and invaluable mounting points. I love the nato ports as they make it so quick to pop on additional arms or carrying handles for the RS2.
Higher weight carrying capacity. This in itself is great and while you might say I don't need that weight capacity, the stronger motors mean it can combat bumps and give smoother more cinematic footage as a result. I even pop my SmallRig Matte box on my RS2 and it works perfectly on it.
Lighter gimbal. Again this is great if you are hand holding the gimbal all day, those grams aren't long adding up after 30 mins of shooting.
Centre of gravity is closer to you so less leverage involved. Now this is a big one for me and one of the reasons I love the RS2 and also something I don't hear anyone else talking about. The carbon fibre arms and lighter head to the gimbal mean the weight that is in the gimbal is closer to your body and their is less leverage involved in using the gimbal which also makes it feel lighter when you are using it.
12 hour battery life. Ah who doesn't love a good long battery life and if you can use this gimbal for 12 hours straight you are better than me…
A 15 min fast charge will power the gimbal for 2 hours… now that' truly is an incredibly handy feature to have in a gimbal, say you arrive on set and you have forgotten to charge the RS2 battery then 15mins later it's got enough juice to keep you running for 2 hours. One of the reasons I always keep a powerbank in my bag now.
Raven Eye (pro combo kit). Raven Eye is an absolutely amazing bit of kit, giving you wireless video sending and force feedback camera control from a mobile device make it an awesome bit of gear to have, I will go into more detail on the Raven Eye system below.
Focus Motor (pro combo kit) again it's so handy to be able use a follow focus system on a gimbal that just works and is lightweight with no additional controls or wheels needing to be installed other than the focus motor of course.
1.4″ touch screen for changing features and settings easily. A lovely feature giving you access to all your setting on the gimbal with no mobile device needed, I use this everytime I use my gimbal and it's a huge bonus to have.
My Gimbals.
I currently own the DJI Ronin S, DJI RS2 Pro Combo kit, the Osmo pocket and the Pocket 2 . I have used these gimbals a lot and these are my honest thoughts on the DJI RS2  gimbal. Before I bought the DJI RS2 I read a number of reviews on this product and I was still left wondering how good the new RS2 actually was and if it is much of an upgrade over any other gimbal. So if you are currently in the same position I hope this review helps you understand exactly how good this gimbal is. 
To say there is a steep learning curve in using any gimbal is a major understatement but they do open up a whole new world of filming possibilities. The cinematic results you can get now from these small handheld gimbals is utterly stunning and the Dji RS2 adds a few nice little touches to what was already a beautiful line up in the Ronin range.
As I said above I currently own the 
 and I decided to upgrade to the   for a few reasons. One of them isn't that I like spending money though so there had to be a good difference in the models and after having a chat with a fellow gimbal owner and friend that had just recently bought a DJI RS2 I was sold on it. 
Can I just add before I go any further I paid for both these gimbals myself and Dji have not paid for this review. I have both gimbals with me here at the time of writing this blog post but only one will be staying with me and I think it's fair to say we already know which one that is going to be. I purchased both gimbals from the 
and I got a good deal on each one at the time, you get a 1% cash back option for future purchases on the official website also. You can also buy the RS2 from Amazon via the link below….
The price is different in every region on the DJI so make sure to check their website to get the correct price for your region. They have several kits available on their website with a few nice offers available also. It worked out a good bit cheaper for me buying it direct than going through any of the major suppliers like Amazon etc… You also get 1% back in store credit for future purchases which is a nice little bonus.
The DJI RS2 Pro Combo kit is the kit I went with and you can again buy it from the DJI website or via Amazon below.
The price is different in every region on the DJI so make sure to check their website to get the correct price for your region. They have several kits available on their website with a few nice offers available also. It worked out a good bit cheaper for me buying it direct than going through any of the major suppliers like Amazon etc… You also get 1% back in store credit for future purchases which is a nice little bonus.
The DJI RS2 Pro Combo kit is the kit I went with and you can again buy it from the DJI website or via Amazon below.
Why I bought the Dji RS2 Pro Combo Kit.
So getting back to why I ordered the Pro combo kit and my conversation with my friend…
Our conversation went a little like this… "
"
"Lighter, faster, capable of a heavier payload and active track 3.0 need I say more, it's mind blowing!!!"
To be honest with you I was already sold on the RS2 after our brief chat and that singular sentence made more determined do some serious research and after watching that awesome Peter Mc Kinnon demo video I was just blown away, now credit where credit is due a lot of that is just down to pure skill and knowing your craft, amazing job Peter btw.
Dji RS2 review research
So after several hours of research I found yes the main benefits were the heavier payload capability of 4.5kgs, the lighter unit weight of 1.3 kgs (1/3 lighter), the smaller footprint of the unit in my bag (it really is a lot smaller), the faster setup time, the builtin 1.4″ screen, the new Titan stabilization algorithm, axis locks and active track 3.0* and finally the follow focus motor system* and Raven eye* (* both only in the Dji RS2 
*) the wireless transmission video transmission system for mobile use and the amazing Force feedback or tilt and turn control this gives you.
Now I should mention the Raven eye unit and the Follow focus system don't come with the standard Dji RS2 kit but they are included in the RS2 pro combo kit along with a whole host of accessories again the Dji official website is the best place to get your run down on what's in the kits..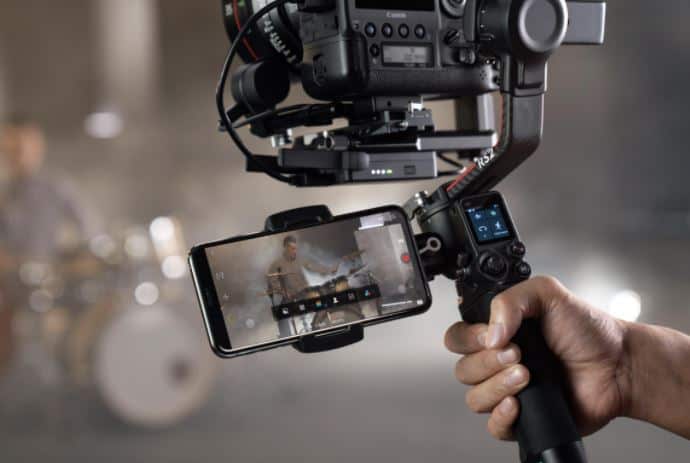 Using the DJI RS2
After my first time using the RS2 gimbal I already felt it had better stability and smoother operation, now it's not a huge difference but there is a slight difference with the new titan stabilization algorithm, the fact you can quickly change setting via the 1.4″ touch screen is not a gimmick either, the axis locks for each motor are brilliant so you can easily lock the gimbal up and fit your camera or add accessories or change lenses with ease and you can individually balance each axis/motor which again is incredibly easy when the others are locked. The new double release mechanism for the camera so you don't have to re-balance it each time you re-attach the camera (arca swiss and Manfrotto plate compatible). The real trouble with this gimbal is there are so many small points that are improvements that you could easily dismiss all of them but combined they make for a very different user experience Which you can feel straight away.
The weight of this gimbal is something that might cause a few people to say "yes it's a bit lighter, so what?" well what I found from using it was yes it's lighter but you wouldn't be shouting about it. I believe it's the centre of gravity or the weight balance that is the key here as it appears the weight is closer to your body so there is less leverage on your arms and it feels an awful lot lighter in use then. That is again a huge point you will actually feel after using it.
I love the Ronin S but I always wished it was a bit lighter, a bit smaller and just a small bit more functional, looks like Dji were listening to the words I never actually told them.
So the Dji RS2 is a leap ahead and already I can see this bit of equipment as something I will always carry with me on shoots. The Ronin S frequently got left behind and when a commercial client unexpectedly asks you to catch a bit of action for them, not having a gimbal with you just complicates the whole process, the RS2 is an amazing bit of kit to have with me at all times now.
I would class this as the same upgrade from the Phantom P4 Pro to the Mavic 2 Pro yes it's a bit different but the Mavic goes everywhere with me now, whereas the Phantom was always a bit more of a struggle to cart around. If the Mavic 2 Pro was only better in every way to the P4Pro then it would be the same as these two gimbals. The Mavic 3 Pro looks like a winner and I am looking forward to playing with that soon hopefully.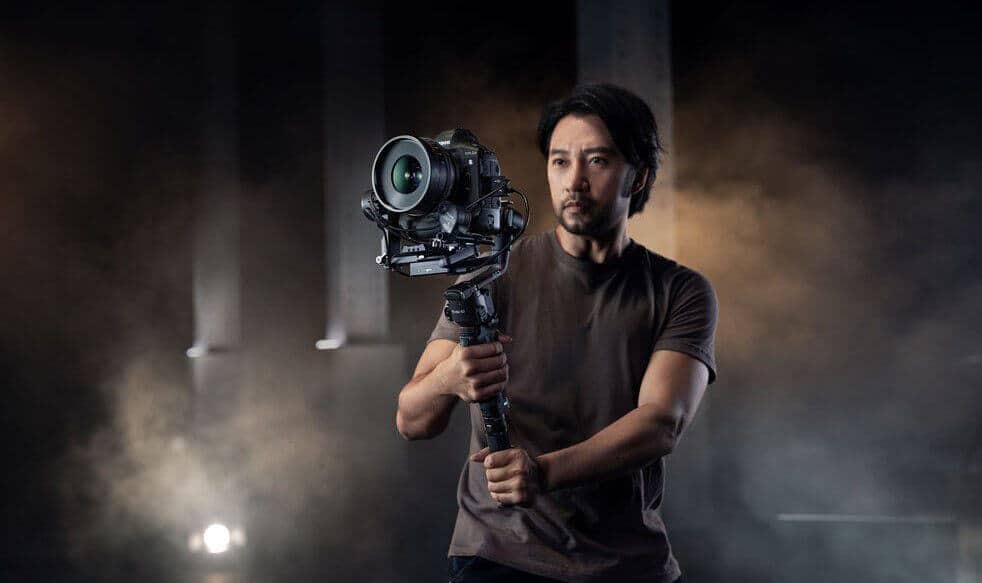 I love the touch screen on the RS2 so you can change setting on this screen and easily navigate the menu and even view the video on it, the focus wheel on the front of the unit is also very hand and although it takes a small bit of getting used to I couldn't do without it now.
As I already said there are a lot more tech specs to go along with the Dji RS2 but tbh you are better off reading them on the Dji website rather than me just rehashing them to you here now. 
I have listed for me what are the amazing little touches Dji have included in with this unit.
I actually forgot to mention the 12 hour battery life and another great feature… if your battery dies you can charge this gimbal for just 15 minutes to give you an additional 2 hours of battery life, how awesome is that?
As I already said this gimbal is a nice progression up from the Ronin S in a lot of little ways but when you put them all together it is a good leap forward for gimbal technology. 
Active track has added a whole new life to this product and force feedback may not be for everyone but I know I will use it a good bit over time. 
All in all a great purchase and thank you Dji for making such a beautifully crafted bit of equipment the only thing holding my cinematography back now is me. 
The extra weight capability of this beautiful gimbal is something we might dismiss but let's face it with more and more shots requiring diffusion filters and ND filters most of us will be adding a few extra bits to our rigs and this is where this extra weight capacity comes in really handy. 
Speaking of Diffusion filters I have an article here on the best diffusion filters, I will also put a link at the end of the post for it.
The Kit I went for- The Dji RS2 Pro Combo kit review
I purchased the Dji RS2 Pro Combo Kit, it has an additional focus motor, mobile phone arm and the Raven eye unit. The Raven eye transmitter gives you the ability to have the video feed from your camera played back wirelessly on your mobile device and it also gives you the amazing Force feedback mode and Active track 3.0 also.  All these facilities make the Dji RS2 pro combo kit the way to go in my opinion.
It means you have the same functionality of the Osmo Pocket 2 in that the camera will track you as you move around and act as a cameraman for you. For single person vlogging this is going to be an incredibly handy feature. Even for two person setups the force feedback tilt and turn control on your mobile device is an incredible addition and function to have. Essentially Force feedback is your phones movement controls your gimbal so if you turn your camera to the right your camera turns in exactly the same way and at the same speed as your phone so you can pan and tilt your camera remotely. It's a bit freaky seeing it in action but it works so well.
The follow focus motor system works incredibly well and is highly adjustable the adjustment for speed relationship between the focus wheel and focus motor is really nice. The one huge thing I would recommend if you plan on using the Follow focus system on this rig is to get dedicated seamless focus gear rings for your lens. If you have looked at this before you probably already know they are expensive but I have a very cheap alternative for you.
The SmallRig seamless Focus Gear rings are only $2.00 each and honestly work beautifully they have completely changed my setup not only in setup time but also in looks and functionality. Click here to go to the SmallRig focus gear selection page. I originally bought them for use with my SmallRig follow focus rig (review soon here) and they are an absolute dream to use, I honestly can't recommend them enough.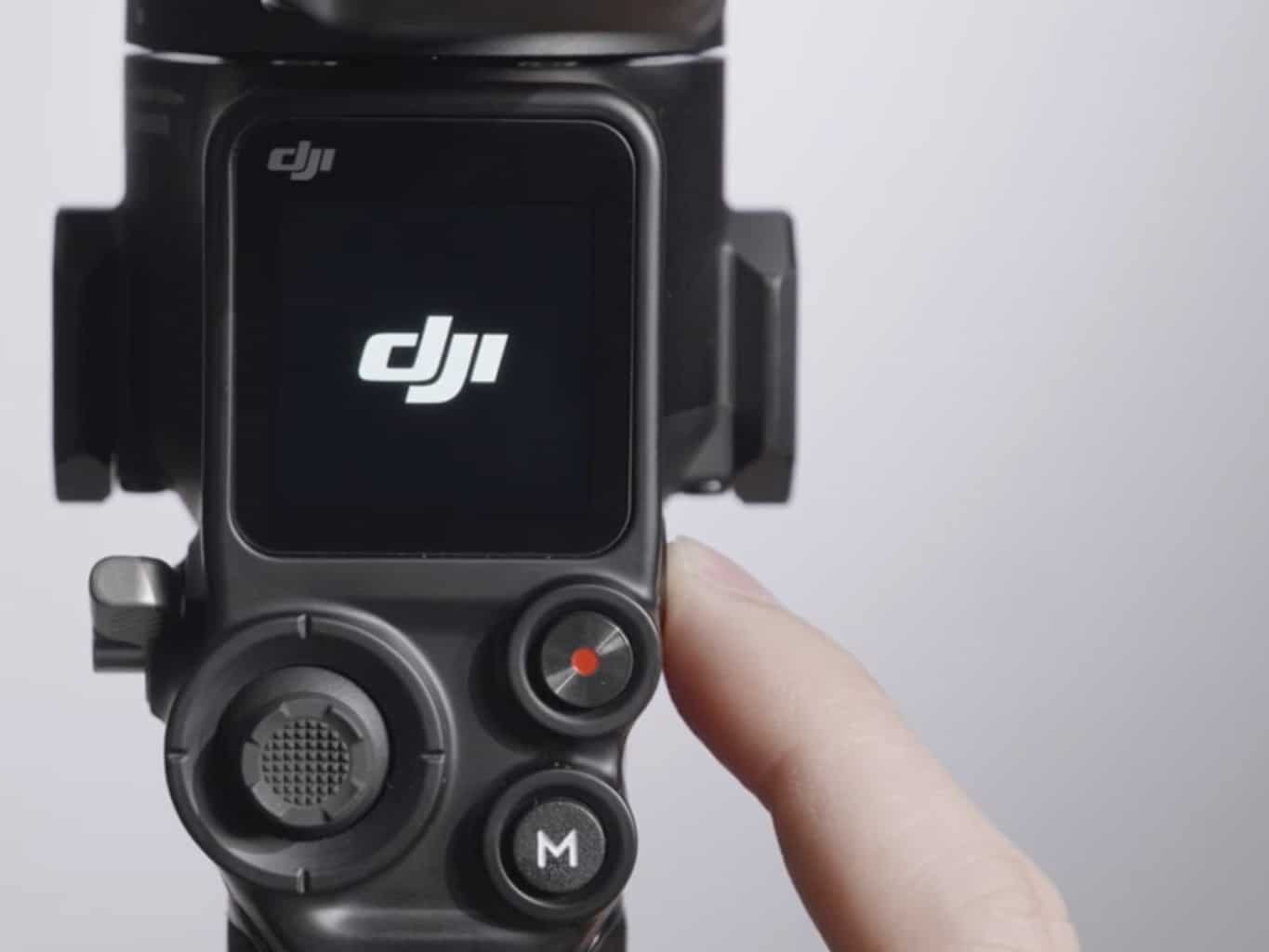 Dji RS2 review conclusion.
So do yourself a favour and go buy yourself the Dji RS2 Pro Combo Kit today you won't regret it or should I say I certainly don't… now I need to go sell that Ronin S 🙂
You can buy the DJI RS2 from Amazon click the link here to find out todays best price.
The Dji RSC2 also looks like a nice improvement on the Ronin SC. I would still choose the Dji RS2 over the RSC2 for a few reasons… firstly the higher payload capacity, secondly the touchscreen is incredibly hand also for a number of reasons, thirdly again the higher payload capacity as the motors are stronger and should be more capable of correcting movement and also eliminating any micro jitters also hopefully.