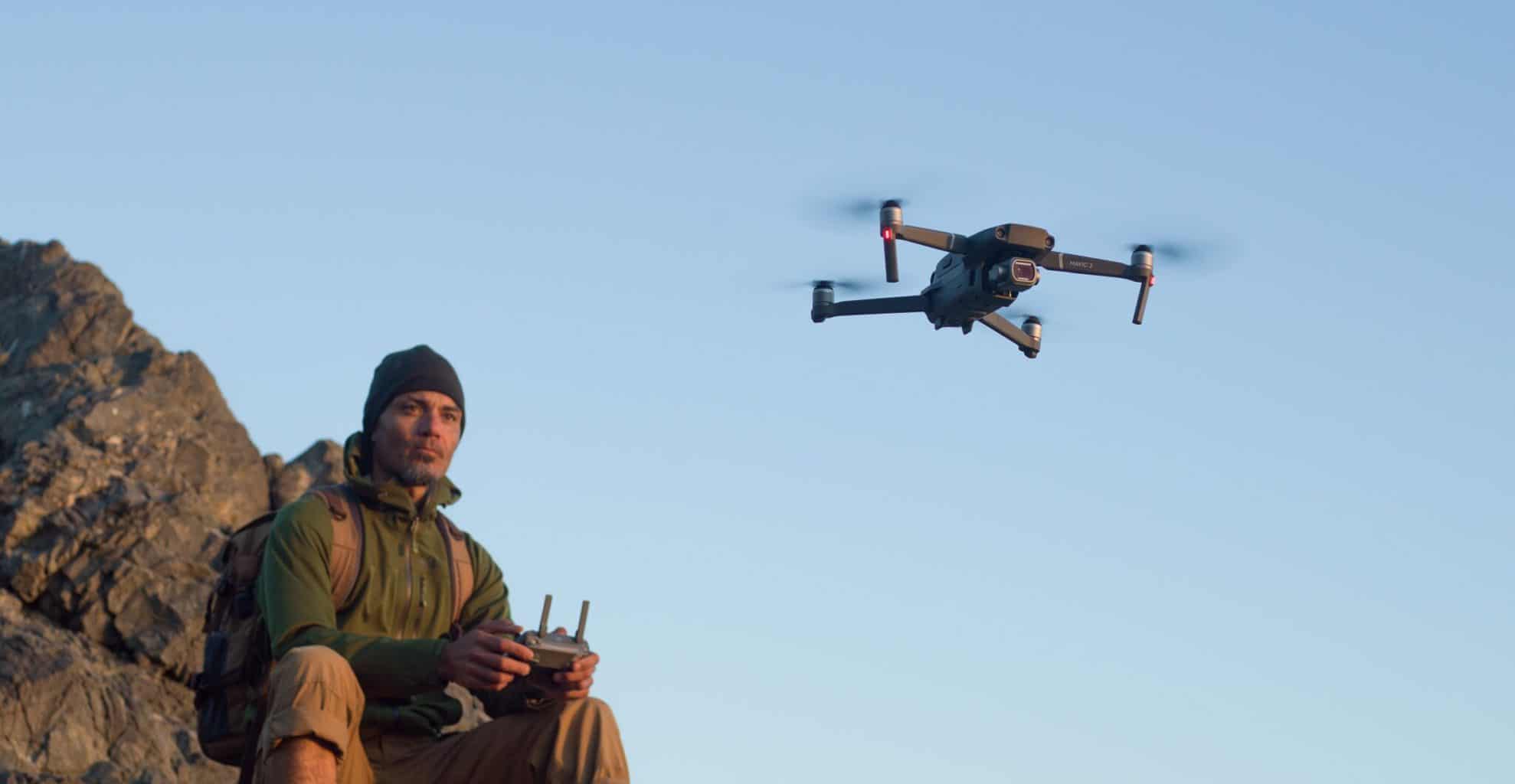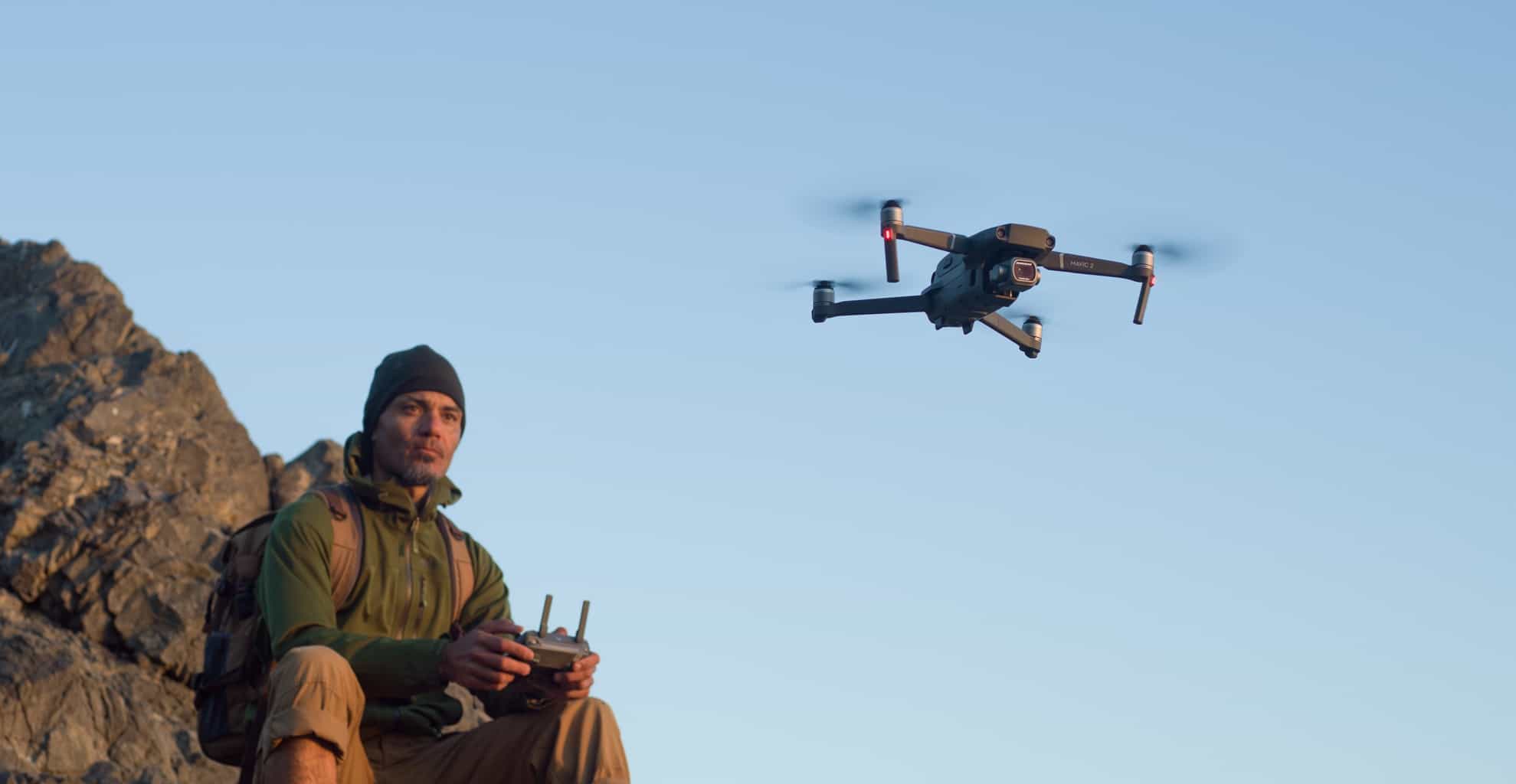 Dji Mavic 2 Pro review, tech specs and features
For me a drone simply has a few important parameters that just have to be right…
1.- Picture quality.
2.- Video quality.
3.- How it flies.
Now that is a bit overly simplistic but let's concentrate on just them for now.
Picture quality
On the photography side of things the Mavic 2 Pro is equipped with a 20 mega pixel Hasselblad gimbal stabilised camera with a nice one inch sensor which is capable of capturing up to 14 stops of dynamic range according to Dji (I would personally think that is a bit of a stretch and would put it at around 12 usable stops). 
You have the ability to record raw files in the DNG format as well as jpeg files of course. The option to change the aperture between F2.8 to F11 on the Mavic 2 Pro is an incredibly handy feature also, I personally found the sharpest pictures are achieved around F4 to F5.6, It's a bit soft especially in the edges at F2.8 but at F4 it really is a capable stills camera. 
It's the equivalent of a 28mm lens on a full frame camera so the Field of view is wide enough at about 77 degrees. This works beautifully as it's not too wide but also wide enough. If you go below 24mm I find the perspective depth of your images becomes incredibly false, basically the depth in your image seems to stretch and everything seem a lot further away than it actually is.
The Mavic 2 Pro takes micro SD cards up to 128gb in capacity and generally speaking if you are shooting 4k video you would want to go for a class 10 UHS-I card or faster (ideally). Again personally here I found a few 64gb Micro Sd cards are the better option. 
I bought a Samsung super fast 128gb micro SD card and on only it's second use the card failed and sadly I lost a stunning sunset video and stills while out on location. I found over the years that the Lexar cards are incredibly reliable and I mainly use either them or Sandisk memory cards.
Before I get to the video section on the Mavic 2 Pro I want to explain something about my drone journey as I feel it's incredibly important in understanding how good this drone is.
My drone journey and why I believe this is an amazing drone.
I was always of the believe that the best camera you can ever have is the one you have with you as let's face it that's what you have to work with now. 
That may seem like a strange opening statement for a drone review but stay with me… after owning two Dji Phantom drones, the Dji Mavic 2 Pro drone is an absolute godsend. You can just pop it in the camera bag and off you go.
The Phantom was more of a "will I really bring this with me now or not?" kind of a drone. You had to give it some serious thought as it was a bit more bulky to be carrying around. If you are just doing drone photography then it's always with you but a landscape and commercial photographer I found myself constantly letting it at home.
The mavic 2 Pro goes everywhere with me now and on a number of occasions it has been absolutely priceless like the time I was traveling light on a commercial shoot to an island, transport was a small crowded boat, mid way through the shoot a drone suddenly became an essential bit of kit and of course out popped the Mavic 2 Pro from my incredibly packed camera bag.
I had crammed two cameras, the Mavic 2 Pro, several lenses, lighting gear and a bit of lunch all into my f-stop Sukha camera bag with two tripods hanging off it and of course my Ronan S (at the time, I have now upgraded to the Ronan RS2 and I have a review here of it).
As you can imagine that was a good bit of gear to be carrying around with me especially as the location was a 4km walk on the otherside of the boat trip so having another bag to carry with a Phantom in it would have been a nightmare.
The number one thing this drone has is convenience and yes I know there are smaller drones out there again but for me the Mavic 2 Pro strikes the right balance between reasonable stability in windy conditions, picture quality in both photography and video uses, all round features and portability. In saying that the Phantom 5 is still a better drone but it's no good to you at home…
Video Quality
At less than 1kg (907grams) and measuring only 214×91×84mm when its folded up it's about the weight of and size of my 70-200mm F2.8 lens. This ultra compact drone is capable of 10-bit ungraded 4K video footage at 30fps MOV MP4 (D-Log at up to 100 Mbps bitrate).
Having up to 31 minutes of flight time which gives you a bit more time to do a few fly overs, manovouers or even just waiting for the right light to pop out again. The ability to again change aperture can be a incredibly handy when the light levels change suddenly you can increase or decrease your apeture to make up for the scene changes incredibly quickly.
The availability of ND filters for the Mavic 2 Pro is another positive point. Getting back to the video specs you can capture video at the below resolution levels and frames per second…
4k @ 24/25 & 30 fps
2.7k @ 24/25/30/48/50/60 fps
1920 x 1080 24/25/30/48/50/60/120 fps
As you can see from the above tech specs 1080p gives you super slow speeds of 120 fps down to 24 fps while 4k tops out at 30fps. This is not a problem though and at the end of the day 1080p is still really good, 4k fps are still good enough for the vast majority of people. I for one can't wait to see what the Mavic 3 (not announced yet btw) brings for 4k recording resolutions. Here's hoping for a higher frame rate for 4k and higher stills resolution…. wouldn't 30 mp plus be awesome there.
All the video and photography settings are controlled by the Dji go app which you can install on your phone and then connect to the very compact controller, there is also a smart controller (link opens in a new window) available for the Dji mavic 2 pro and Zoom it really is a fantastic controller and has an ultra bright screen.
The standard controller itself is ultra compact and folds down to a nice solid unit the ability to remove the joysticks is also a nice feature. The controller comes with both Lightning and USB-C connecting cables. Your phone sits in the cradle arms that open out from the bottom of the controller in a very sturdy, neat and comfortable to use housing.
The usability of the app to control your drone is great and very intuitive for anyone used to using a camera you will get the hang of it in a very short time.
While we are still on the video section of this review I would add that I highly recommend getting a set of ND filters for the Mavic 2 Pro, they can be purchased reasonably enough and are worth their weight in gold.
How to fit ND filters on the Mavic 2 Pro
A lot of people struggle to fit ND filters to Mavic 2 Pro and are worried about the best way to do it. So here we go….
Unlike normal ND filters where they screw on a lens thread or pop on, clip on or slide into your housing the Mavic 2 pro ND filters need to be twisted on but first you need to remove the stock UV filter that's fitted in the factory. The most important step here is to support the camera unit and gimbal while you are doing this.
Once you have the gimbal held with one hand you simple hold the front lens element and twist it counter clockwise (as you look at the camera from the front) and the UV filter will rotate approx 10 to 20 degrees. You then remove the stock UV filter and put the ND filter on by fitting the little legs into the corresponding slots on the drones camera unit and rotate the ND filter clockwise and you are done. So as you can see the ND filters are just slightly tricky to change and it takes a minute or two to get it done.
The advantage of using ND filters is you can create far more cinematic footage by using the 180 degree rule, that basically means you double the frame rate and use that figure as your shutter speed. So let's say you are out filming a slow-mo sequence at 60fps then ideally you want your shutter speed to be twice that or there abouts so you set your shutter speed to 1/125 as 125 is very close to double 60. Or if you are shooting 30fps then you set your shutter speed to 1/60. You generally need an ND filter to control the exposure so you can use the correct shutter speed.
So the video quality on the Mavic 2 Pro is really good and the stills quality is great also well all that's left now is how it flies…
Mavic 2 Pro and how it flies.
There are a few parameters here worth noting.
The first being how well it handles windy conditions and on my first flight I noticed a huge difference between it and my Phantom, not from a footage point of view though but more about the warnings that kept coming up warning me about wind conditions and to land soon. I soon got used to them and I know now that this little drone can handle a lot more than the warning system thinks it can. So that's a relief for one but I would still have to say the Phantom is a far better machine when it gets a bit windy. Alternatively I recently flew a Mavic 2 Air and that really got blown around by the wind. So on balance I think the Mavic 2 Pro has got the compromise between abilities and portability almost perfect.
Flight times are the next port of call and the Mavic 2 drones are quoted as being able to fly for up to 31 minutes, personally with varying wind conditions and different flight paths I found it to be closer to 27 to 22 minutes of flight time but again thats really good considering it's size and batteries. The tip here is to go for the flymore pack and to get the extra batteries from the start.
Speed and agility are the next things to look at and with a top speed of 45mph ot 72kph it is certainly fast, it is always very maneuverable and comes with a whole host of light path features too numerous to mention here in detail but they are….
Active track, point of interest, waypoint, cinematic, timelapse and quickshot modes all give you great facilities to help you create your desired footage.
So you really have nearly everything you need in this wonderfully compact drone.
Before I get to my conclusion on the Mavic 2 Pro you might also want to check out my 
.
I personally couldn't work without the Mavic 2 Pro now and it has to be one of the best drones on the market right now, yes it could have faster frame rates for 4k and higher resolution for stills but just look at everything else it does…
If you are thinking about buying one then just stop thinking and go take the plunge you won't regret it.
You also get credits for buying from the 
 that you can put towards your next purchase.
See you out there,
Kieran. 
I should also add that this review has affiliate links and I get a slight commission from Dji for any purchases made via them. Kieran Hayes  Landscape Photography Ireland Mavic 2 Pro Review  My Mavic 2 Pro review and why I think this is one of the best drones out there today  5.0 43