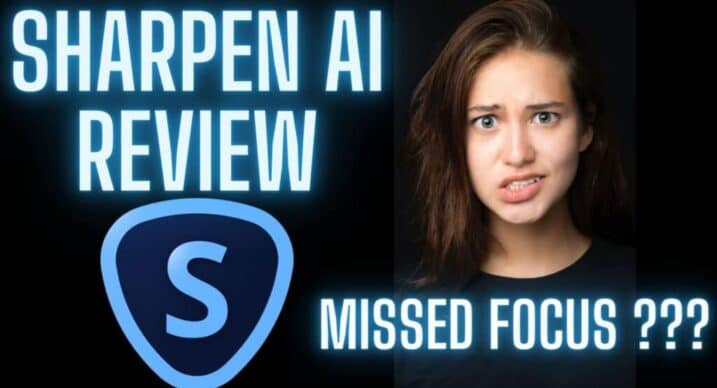 Welcome to my Topaz Sharpen AI Review and what can it actually do for you in 2023?
Topaz Sharpen AI Price
Before we get started on my Topaz Sharpen AI review we should talk about it's price and how much we can expect to pay for it.
The normal Sharpen AI price is $79.- but you can also buy it in the Image Quality bundle which is the better way to buy it as you get DeNoise AI and Gigapixel AI in the bundle for approx $149 to $199 depending on the offer that's on at the time.
In my video below you can see my Topaz Sharpen AI vs Topaz Photo AI Review and the results were surprising…
Topaz Sharpen AI Conclusion
If you don't want to read the full review or watch the video below here is my conclusion on Topaz Sharpen AI.
Sharpen AI is a great bit of photography editing software that works well to help sharpen your photographs and has a great ability via it's AI algorithm to recover the out of focus areas and any motion blur in your photographs. Sharpen AI was an essential part of my problem image workflow, recently I changed over to Tack Sharp AI and SuperSharp AI though as I found the results to be better at times.
Topaz Labs Sharpen AI Review
On opening and actually using topaz sharpen AI you will see a few different demo images on the bottom that you can play around with and maybe it's just me but I always know that those demo images are going to look amazing after being processed as they are probably hand picked to suit the AI algorithm so I would never trust those shots. 
I was using Sharpen AI myself for a couple of years and the results are really good, I have moved my own workflow over to Tack Sharp AI from ON1 and Luminar neo's Supersharp AI and between them I am gettin great results.
The first demo image I picked was the out of focus Owl photograph and after processing it, the results were perfect, crazily perfect in fact so now it was time for my out of focus sheep and see what it could do here…
Probably the best way to understand this software is to watch the  second of my Topaz Sharpen AI tutorials videos below where I process both a demo image and my own photograph in the different options or settings in Topaz Labs Sharpen AI.
Different Sharpen AI modes
No Topaz Sharpen AI Review would be complete without talking about the three different modes or algorithms built into Sharpen AI and how they all work differently and can be applied to your image in a different way.
Motion Blur
Motion blur is basically where either your camera has moved when you were taking the photograph (camera shake ,often a result of longer focal lengths) or you used a shutter speed that was too slow as your subject was moving when you were taking your photograph.
The Motion Blur option in Sharpen AI is primed at correcting the entire image and removing that motion blur from your image and it works well, again I recommend you try it out for yourself to really get a feel for it.
Out of Focus
This basically does what it says, it's primed to correct your focus so for example in my video above the sheep was just out of focus, I popped it into Sharpen AI and clicked on Out of Focus with everything set to Auto and let it process the file, it worked really well and really pulled back the focus on the sheep so it does work. I also adjust the settings manually to regain more detail which did help a bit again. There are 3 different algorithms you can use here Normal, Very Noisy or Very Blurry and they all work differently on your image depending on the exact issue with the photograph. Again you can see the results and hope they work ion the video above.
Too Soft
As the title implies this can be used to sharpen your image if it is simply too soft and it gives you incredibly good sharpening results on all image types.
The sub processing options of Normal, Very Noisy and Very Blurry still apply again here.
My video review is a bit more detailed and really shows this software at work, if you have a few minutes I highly recommend having a look at it..
If you would like to learn even more about photography then why not attend one of my Photography Workshops.
Topaz Sharpen AI review Conclusion
Sharpen AI is a fantastic bit of software to help you out of a sticky situation if you have motion blur or an out of focus shot. Yes, it also helps Sharpen your photographs but the real key for me is this software's problem solving capabilities and how it can fix problems other bits of software simply can't. Don't forget to have a look at my Topaz Sharpen AI Version 4.0 Review here. You might also be interested in my Gigapixel AI review here where I show you exactly how it works. Or my Video Enhance AI Review here. I have a few more photography editing software reviews below if you are interested in reading more about them…
Operating System Requirements For Topaz Sharpen AI
Internet Access
All current Topaz Labs apps require an internet connection for user authentication and/or AI model downloading & updates.
Windows
7*, 8*, 10, 11 (64 bit only)
Windows 7 and 8 are not supported but may function for some users
Mac
10.13 High Sierra and above
DeNoise AI v3.4 and higher requires macOS 10.14 or higher.
Sharpen AI v4.0 and higher requires macOS 10.14 or higher.
Big Sur and Monterey 
Sharpen AI is currently compatible with and supported on Big Sur and Monterey. This app is not yet M1 native, but will automatically run through your Rosetta 2 emulator if you are using an M1 device.


Apple Silicon/M1
M1, M1 Pro and M1 Max chips have been tested with Sharpen AI.

The Sharpen AI plugin is M1 native and will work natively with Photoshop 22.3 and above, which are M1 native Photoshop versions. Our other plugins will not show up on Photoshop 22.3 or higher unless you run Photoshop through Rosetta 2.
To manually force Photoshop to run through Rosetta 2, right-click your Photoshop application icon, select the Get Info menu option, and look for the "Run with Rosetta 2" checkbox in the Get Info panel. If you use the suite of Topaz applications as Photoshop plugins, you will have the smoothest plugin experience on an M1 device by keeping Photoshop running through Rosetta 2 for the time being regardless of which version of Photoshop you are using.
Tablets & iPads
Our photo applications do not currently run on iOS or Android devices. A laptop or desktop computer is required.

Linux
We currently do not support Linux-based operating systems.

*Windows 7 and Windows 8
As of Jan 14, 2020, we no longer support Windows 7 and 8 for our application updates. While we cannot support a manufacturer's unsupported operating system, our photo applications may still function on Windows 7 devices provided other hardware is compatible. Please note that we cannot guarantee a Windows 7 operating system that works with one version of our applications will continue to work with future versions of our applications.
---
Hardware Minimum Requirements for Sharpen AI
Processor (CPU)

Intel i3 or AMD Ryzen 3 equivalent or above (3.0 GHz and above)
AVX Instructions required. 
 

System Memory (RAM)

8GB (16GB and higher is recommended for improved performance)
 

Graphics Card (GPU)

OpenGL 3.3 or higher required.
Nvidia GTX 740 or AMD Radeon 5870 (higher series graphics cards recommended)
 

Dedicated Graphics Memory (VRAM)

2 GB (6GB or more for optimum performance)
 

Display (Monitor)

At least 1024×768
 
Special Hardware Considerations For Image Apps
The specifications listed above are minimum requirements to operate the software. More robust hardware will improve overall performance and processing speed. Your computer's ability to process an image may be affected by the size of the file itself, and a large enough file can exceed the resources of a minimally equipped computer and cause errant behavior.

Some computers without a dedicated graphics card may function but errant behavior should be expected. A sufficient dedicated graphics card with OpenGL 3.3 and at least 2 GB of VRAM is our minimum requirement to support the software on your device. We do not support Intel HD Graphics 4600 integrated graphics cards or lower in any configuration.

Graphics Drivers
Outdated graphics drivers may result in faulty performance. Drivers should be kept current through the GPU manufacturer's website or provided software. Windows driver updates are rarely current and newer drivers may be available even when Windows says you are up to date. Our programs use the newest optimizations from both Nvidia and AMD whenever possible.