ON1 Resize AI 2023 Review and Tutorial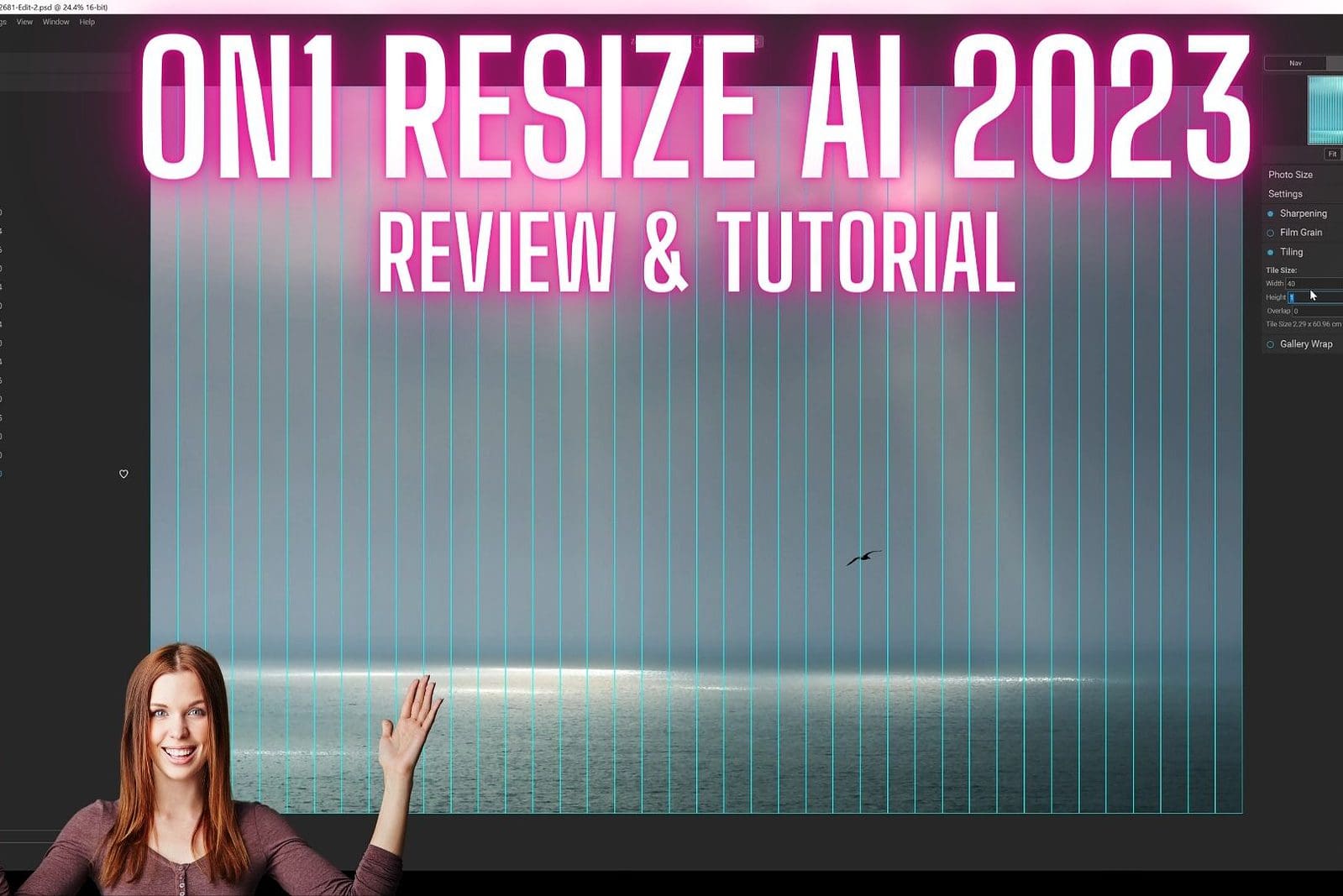 Welcome to my in-depth ON1 Resize AI 2023 Review and tutorial…
In this On1 Resize AI 2023 review I am going to be looking at every feature in this software and why this has to be the easiest to use and most complete photograph enlarging software available today. I also have a full tutorial video further down the page if you want to see it in action.
On1 Resize AI 2023 Price
The first thing I do in any of my reviews is to look at the price of the product and this Resize AI 2023 review is going to be no different 🙂  Before we get into the price I should mention that the nice people over at ON1 have given me a 20% off discount code (look down below this section) for you to use if you decide to purchase it.
What price is On1 Resize AI 2023
There are two ways to buy Resize AI 2023, you can buy it as a standalone product (not the best option) for about $100.- or €100.-  (don't forget you get 20% off that also) or you can buy the ON1 Professional Bundle (better option) for about $180 or €180.- but you get five awesome apps in this bundle.
Yes, you read that right five of them… Resize AI 2023, NoNoise AI 2023, Portrait AI 2023, HDR 2023 and Effects 2023 you get 5 apps in total for around $180 or €180.- and with my 20% off discount code applied it brings the price down to around $145.- or €145.- (check online for the latest prices).
Check out my review of  ON1 Photo Raw 2024 here.
20% off ON1 Discount Code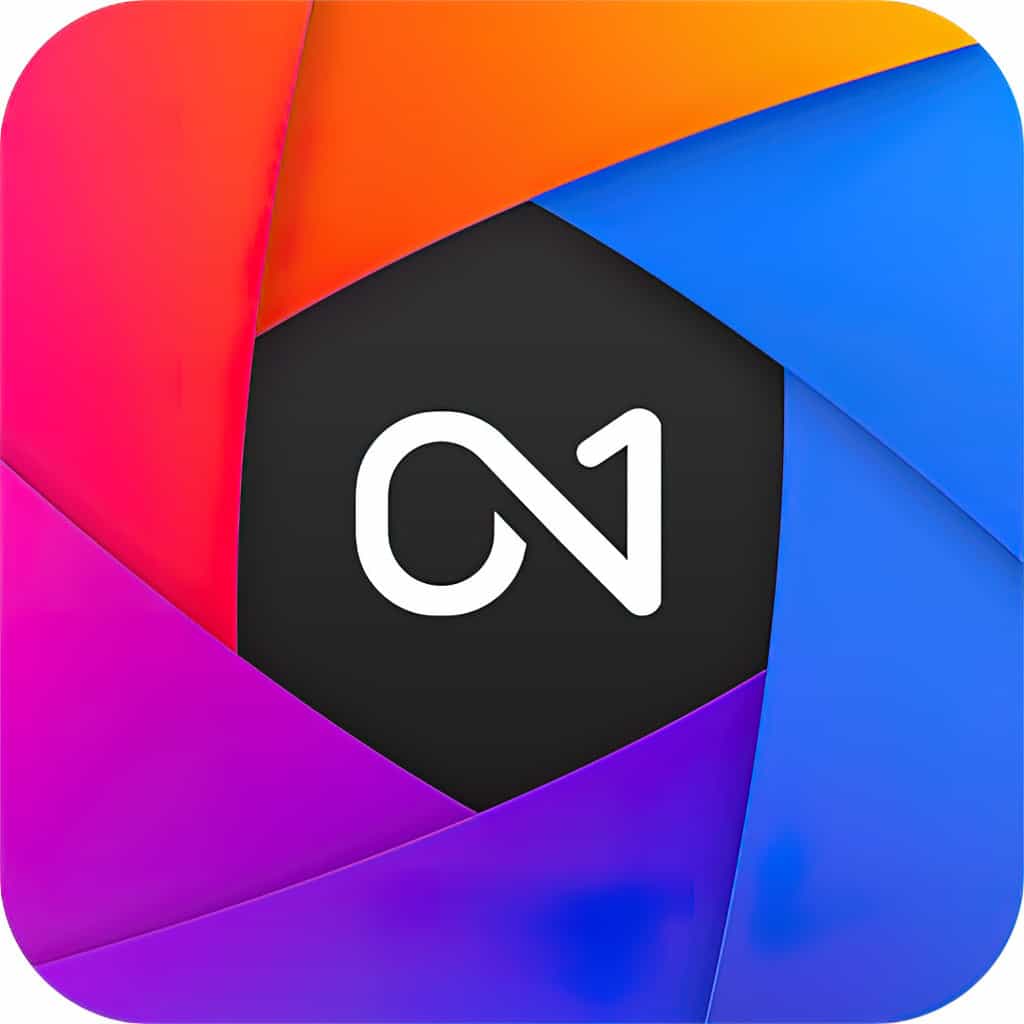 ON1 Promo Code 2023/2024
My ON1 Coupon Code gives you an additional discount off On1 photography editing software...
Show More
My ON1 Coupon Code gives you an additional discount off On1 photography editing software via their website. Simply click on the show code button below and it will automatically open the ON1 website in a new tab. Just copy and paste the ON1 coupon code and you save 20%.
Show Less
I should mention here that if you purchase an ON1 product with my discount code ON1 pay me a slight commission which I then use to help pay for a tree to be planted to help keep this planet beautiful. So if you thought my 17 foot yacht and Porsche came from software sales then I sadly have to tell you they were from selling photos of my feet on OnlyFans 😉 
ON1 Resize AI 2023 Features
Print Size Image Resizing
Algorithm choices
Sharpening
Film Grain
Tiling
I have my complete video review just below if you would like to see the results and features as I actually use them… Or read on below for the written review.
How do you use On1 Resize AI?
Resize AI 2023 Enlarging
Using Resize AI is so incredibly easy, all you need to do is open your low resolution file in Resize AI 2023…
Then you have a few different ways to enlarge your photograph.
By the physical size of print you want and that's it your done. Yes you just select a 20″ x 30″ print if that's the print size you want and your done.
By the percentage increase you want say 200% or 400% or whatever you need.
By the Total Megapixel size or resolution you want the resized image to be.
By the Longest edge resolution of the new resized image.
There are a few more options also but for most of us the percentage or even better the print size will be perfect.
It will enlarge your image to the correct size so you can simply send it off for printing then.
Now, of course there are a lot more options there too, like you can select Canvas prints that have a wrap around on the frame so you can see how that will look in the final print live on your screen, how cool is that?
Resize AI Algorithm Options
ON1 Resize AI 2023 like most image enlarging software out there gives you a choice of algorithms to use for enlarging your photograph. The two I personally find work best are "On1 Resize AI Standard" and "On1 Resize AI Faithful" the two remaining options are "Genuine Fractals" and "Bicubic" as with everything the best algorithm for one photograph may not suit the next one.
So swapping between them quickly to see which one works best is always a very good idea.
In the video tutorial above you can see how the various algorithms change how the final upscaled image looks.
Resize AI 2023 Sharpening.
Sharpening in Resize AI 2023 is a very straight forward process again, you can also make it as complex as you want as there are several sliders there to adjust your image exactly ads you want it.
Again if you look at the video above I explain all these sliders and the effect they have on your image.
Resize AI 2023 Film Grain
If you love film grain then this is the software application for you as it has tons of different film grain effects where it simulates the Film grain from 17 different types of analog film.
Not only that but you can also adjust the size and roughness of the film grain with separate sliders.
Resize AI 2023 Tiling
The Tiling feature in Resize AI 2023 is an incredibly handy feature especially if you like to create Diptych or Triptych prints or even better those massive murals made out of loads of smaller photographs.
Up until recently I had never used this feature in Resize AI but now I am wondering how did I miss this for so long.
I love Triptych prints as I personally think they can give you a real statement piece of a print.
Just picture your favourite print in 3 different prints with a nice piece of space between them.
Just imagine those visitors, friends or family members putting that image together in their head…
Or if you want to cover a wall with an awesome photograph you captured then you can break the image up into 80 A4 prints and off you go 🙂
Resize AI 2023 Conclusion
Resize AI is a great bit of software that is littered with features and still so easy to use. On1 have done a really good job with this update and when you consider the price of the Professional Plugin Bundle 2023 it's an absolute steal.
There is a nice improvement again over Resize AI and Resize AI 2022 making it one of the best enlarging plugins out there for Lightroom Classic and Photoshop as well as ON1 PhotoRaw 2023 of course.
All in all it's a massive thumbs up for Resize AI 2023 from me and well done ON1.
See you out there,
Kieran.
ON1 Resize AI 2023 review & Tutorial.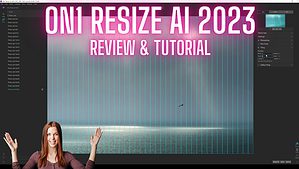 Welcome to my On1 Resize AI Review and tutorial where I do a deep dive into this awesome image enlarging software and it's hidden features and facilities...