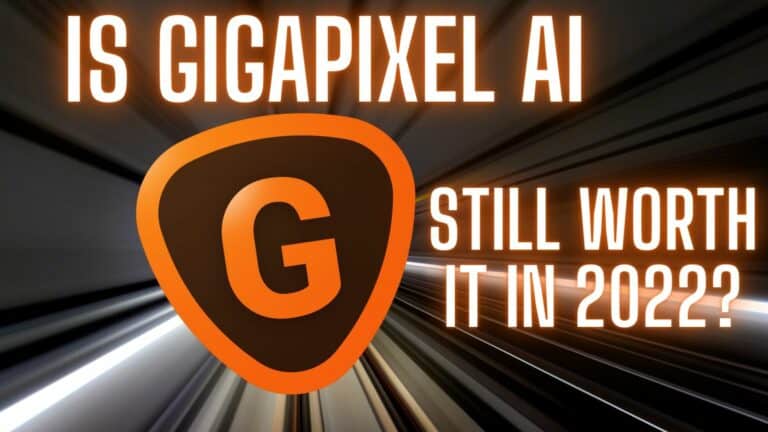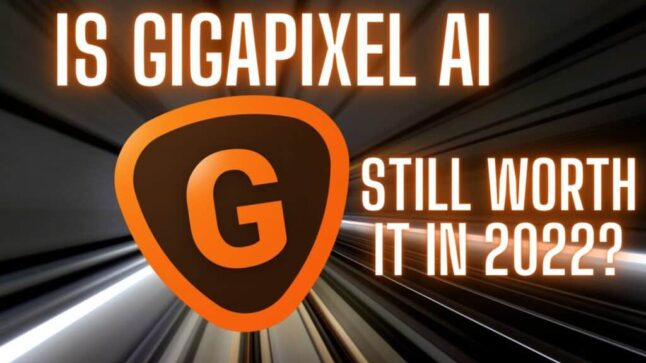 Welcome to my Topaz Gigapixel AI review version 6.2 and is it still worth it in 2022?
This Topaz Gigapixel AI review is broken down into a few different sections and my conclusion is just below also if you don't want to read the whole article.
Topaz Gigapixel AI Price
One of the most important things about any photography software is its price and before I start this Topaz Gigapixel AI review we should have a look at that… Gigapixel AI is normally $99.- but with my Gigapixel AI Promo code you can save a lot of money and sometimes there are great special offers and deals on Gigapixel AI where you can get it a lot cheaper.
So is Gigapixel AI still worth it in 2022?
Well, for me personally as of May 2022 I am no longer using Gigapixel AI and I have moved completely to ON1 Resize AI for a few different reasons, it's cheaper it has a great resizing feature where you just enter in the print size you want and it works out the exact size you need and the results are very impressive also. The other plus is any changes to setting are applied instantly and there is no rendering time to have to wait for. Now in saying all that Gigapixel AI is still a great product and it works well, I am not saying it's a bad product at all.
If you want to find out more about ON1 Resize AI and the 20% off then please click here.
If you want to know why I switched and why I am no longer working with Topaz Labs then please feel free to have a read of it here.
My Gigapixel AI Review Conclusion…
For those of you that don't want to read the full Topaz Gigapixel AI review or watch the video further down the page…
Topaz Gigapixel AI is a great bit of Photography editing software that performs very well on low resolution images to convert or upscale them to high resolution photographs. Now it is good but it's still not as good as an original high resolution image, no surprises there then.


So for me it's a thumbs up and what a nice bit of software… As the software has been upgraded over the years it just keeps getting better. It really is getting close to the detail levels you would expect out an original high resolution image but it's just not there as of yet.
I would recommend Gigapixel AI and it is still one of the top resizing software options out there but in my book Resize AI is just that bit better and it's cheaper also.
Topaz Gigapixel AI Review
I have this Topaz Gigapixel AI review broken into a few different sections and I also have my Gigapixel AI review video below which I highly recommend you watch as it's the best way to understand this software, a picture is worth a thousand words as the saying goes.
I was completely blown away by this software at first in my original review for a number of different reasons. It has put a huge smile on my face a numerous times already.
There were so many old low res images I had that just weren't good enough to print and now they suddenly are thanks to the black magic that's performed in Gigapixel AI. As you can probably already tell the outcome of this Topaz Gigapixel AI review is going to be very positive as I am more than sold on this software and to think I wasn't using it a year and a half ago is just crazy to me now.
Topaz Gigapixel AI review update
Topaz Labs have yet again improved on Gigapixel ai with version 6.2. So let's look at exactly what they have improved on from the previous version. There have been a few performance updates and bug fixes in version 6.2 but version 6.0 was the serious recent upgrade with the following updates.
Gigapixel AI 6.0 Native Apple Silicon Support Gigapixel AI is now fully supportive of Apples M1 chipset just like Sharpen AI, DeNoise AI and Video Enhance AI. This is a huge improvement as it gives you a faster processing time and start up time with approximately a 50% saving there. So that alone is a massive improvement in version 6.0.
Model Downloads After you update to Gigapixel AI version 6.0 and open up the software for the first time you will be asked if you want to download Models to speed up processing in future (I will explain this in a second). Gigapixel AI then downloads the AI models to your computer so it has them on hand next time you want to upscale an image. This greatly improves processing speed as the models no longer need to be downloaded then every time you want to process an image.
What are Models? These are basically AI models that are needed to perfect the upscaling of each image and there are understandably lots of different models, so having these models downloaded on your computer is going to greatly speed up the editing process. They will obviously need to take up a bit of space on your computer but for anyone that uses this software I think that's a very small price to pay.
User Interface Refinements. Version 6.0 has had it's UI or user interface improved to make it faster and easier to edit your photographs. It has a more update look and feel to it now giving it a fresh feel for 2022.
Bugs fixed… There were a few minor bugs fixed for both Windows and Mac users in this update also.
My Topaz Gigapixel AI Review on YouTube.
Topaz Gigapixel AI in a nutshell.
In my original Gigapixel AI review I hit the nail on the head on how good this software like this really is but to put it all in words I suppose I have to share this example with you.
In my review video I talk about an old favourite shot of mine that was taken on my Nikon D70S which you may or may not know was Nikon's first Pro grade DSLR camera and it had a whopping 6MP sensor (yes, hard to believe isn't it).
Now 6MP is not that bad but and even though I took the shot ad at a focal length of 300mm I still had to crop in a good bit as the horse was standing on top of sand dunes with the sun lighting up the clouds behind him. 
There were seconds to take the shot so I quickly took it before he moved. There was no way to get closer in time it truly was one of those spur of the moment shots and I just had to take it. 
So a 6MP shot heavily cropped left me with a 3MP file which let's face it was never going to print well above A4.
I personally always wanted a good A2 or A3 print but I knew in my heart it wasn't possible… Then here comes Gigapixel AI you absolute beauty.
I Gigapixeled (if that's even a word) that lone horse shot and now I can finally print it in A2 with results I am going to be more than happy with. I highly
recommend
 you watch the
video
 above to see that in action… Mind Blowing stuff. 
So thank you Topaz Labs for giving me this image and literally transforming some of my work.
That for me is exactly what Gigapixel AI and software like this is for, it's a photograph saver and an awesome tool to help you save and transform your work. In short they perform a little miracle that just shouldn't work but it does… 
Who is Gigapixel AI for?

Well it's for everyone really… Now do I really mean everyone? Yes, I do.
Let's break it into two groups first, Professional Photographers and hobbyist photographers.
Before everyone starts shouting hey why two groups and we can't all be divided into these groups, I would like to say yes I know that but it's more the grade or resolution of the equipment I am talking about not skill levels. Pro equipment these days has generally plenty of resolution with 46mp + sensors becoming very common now, hobbyists might well be shooting with lower resolution gear 24MP (this is not always the case I know and often times pro togs have 24mp sensors also).
As a professional photographer (I cringe inside when I say that) I am fortunate enough to have the latest pro-grade gear with me at all times but I have a lot of older files that just wouldn't print well in larger sizes and Gigapixel AI has solved that issue for me.
Now, those of you saying ah it's only for older shots so then are both right and wrong as I have also used it on several drone shots which were taken on both my older Phantom 3 pro and my Mavic 3 Pro which still struggles to print in larger formats.
You can also find yourself shooting and suddenly something special happens that you happen to see out of the corner of your eye but you have the wrong lens on your camera!!! So you have to crop in heavily to frame your subject correctly a bit like my horse shot for example again if I had a 24-70mm lens on my camera today and had to take that shot I would have had to crop it in a lot.
Even though it's a 46mp camera my file size would still be fairly small so again Gigapixel AI comes to the rescue.
Hobbyist often find themselves shooting with lower resolution sensors and shorter focal length lenses (not always of course I know that) so again cropping and Gigapixeling (now I am really just making up words) your photo will work well again.
So it really has it's use for for all photographers out there.
Is Gigapixel AI as good as using an original high resolution photograph?
Now that is a very good question and honestly if it was it would mean the end of high resolution cameras as why would you want one then…
What I will say is before I did this gigapixel AI review I would have never thought you could recover shots like this. It is incredibly impressive how the software makes detail out of practically no detail, that alone has shocked me and to those people that say it's just sharpening your photographs then I would say explain the last part of my video then.
I edited those files for the first time as I recorded the video and I was without doubt speechless at more than one stage. There are digital artifacts when you zoom in a lot and yes it's not perfect but it is amazing how it does it at all. Gigapixel AI really is an impressive bit of software and as part of the image quality bundle it's a steal.
My Gigapixel AI review conclusion
This version of Gigapixel AI is really good and I would personally gladly pay the price they are asking for it if only to be able to use it for 2 weeks to enlarge all my images and recover some more amazing detail in my photographs. Now this again brings us back to is it the best image resizing software out there and also can you save money by buying another photography resizing software solution. 
Which brings us too the other bit of photography resizing software I now use… so feel free to checkout my ON1 Resize AI 2022 Review. I will do a direct comparison review between the two shortly over on my blog so stay tuned for that.
I have a few more photography editing software reviews below if you are interested in reading more about them…
Luminar
  I have reviews of the Skylum range of photography editing software also (click on the name for the review)
Luminar AI
  and 
Luminar Neo
.
If you would like to learn more about Photography then why not attend one of my photography workshops.

See you out there,
Kieran.
Landscape photography Ireland Topaz Gigapixel AI Review July 2022 by Kieran Hayes.