The secret tips and tricks of photography in eight minutes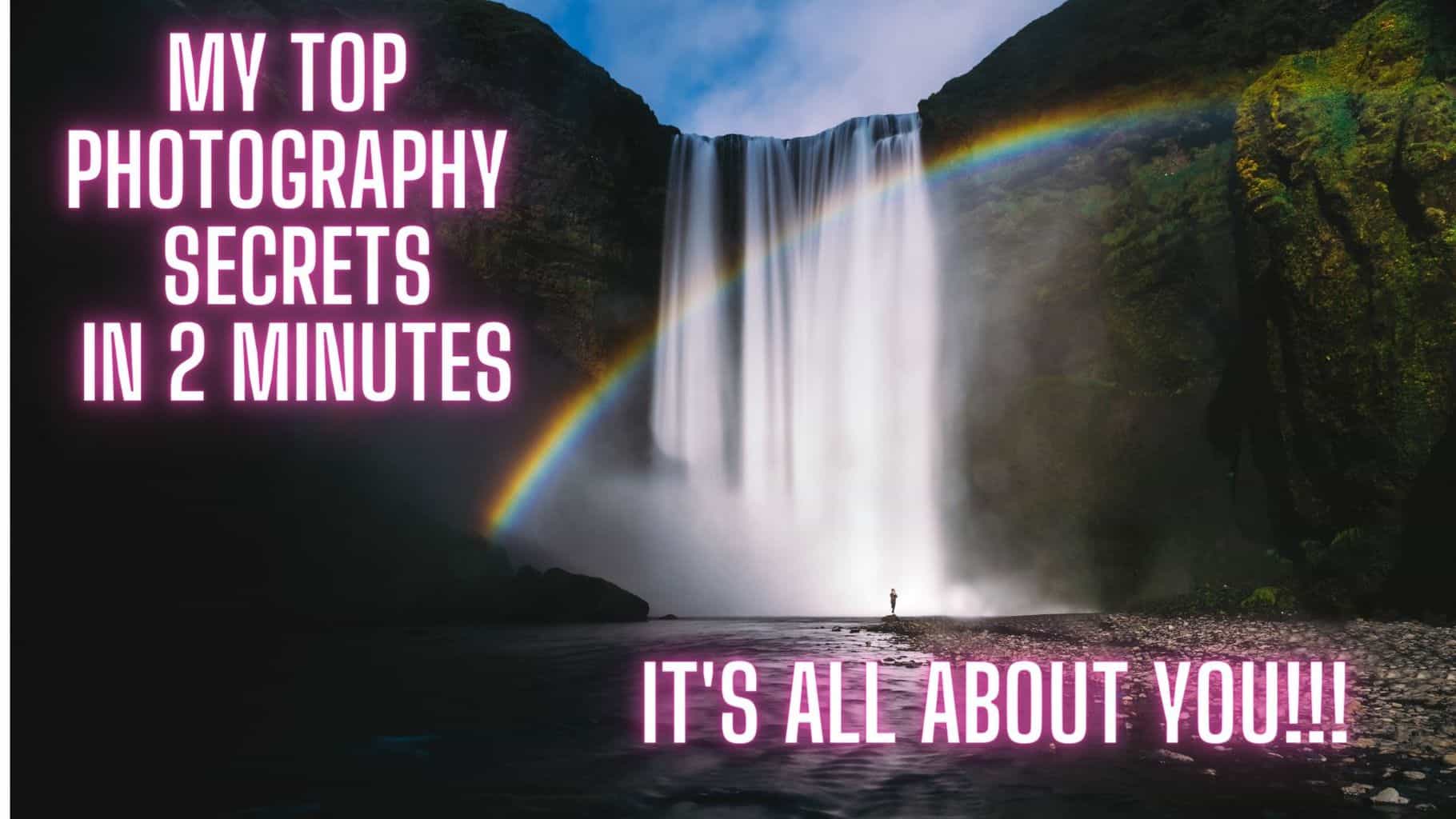 There are a few secret tips and tricks of photography that I share with clients on my workshops about how to take better photographs. I still think this one has to be the most important one out of them all though.
It's about your photography having a soul or heart and how to connect with your photography to tell a story.
Now, I can tell you all about my tips and tricks of photography here but I believe the better way is to watch my video below as sometimes things get lost without the right tone to the words. I can guarantee that if you watch the video then your photography is going to improve and you will also enjoy it a lot more. It's not about photography equipment it's all about you and your thought process and what you see.
You are what's unique, you are what's special and you are what makes the difference in every photography not your equipment. Again the video below probably does a better job of explaining it.
So as you can probably tell from that video I love taking photographs and always take my time and try to enjoy the moment as much as possible.
The other thing I tend to do is concentrate on the viewer and how they would see or interpret the photograph afterwards as that is also incredibly important.
Once you press the shutter button there is no going back so make sure you not only captured everything you want but you also let out the distracting or unattractive parts of the scene also.
The trick with photography is to picture exactly what you want in an image in your mind first and then try and transfer that into the camera.
Now you might well say "Kieran that's easy for you to say" and yes it is but it should also be easy for you too. If you start thinking no it's not then that's where some of your problems might be starting. Get a bit of confidence in yourself and no I don't mean that arrogant out loud confidence that most photographers have. I mean the quiet confidence that you know you can do this and you can capture what you want.
Photography is this sublime mix of creativity and technical skill and without both of these elements your images will fail for one reason or another .
The other point I should stress is don't ever think you know everything about photography as that just isn't possible. I am the first to admit I don't know everything about photography but I know enough to do exactly what I want to do and as I work as a commercial photographer for some very large international companies, I also work as a portrait photographer doing newborn sessions and family portraits and yes also as a landscape photographer. That's a crazy amount of different genres look at the commercial side of things alone that covers Fashion photography, Property photography, Jewellery photography and product photography all requiring their own levels of knowledge and unique skills. If you would like to see just a small snippet of my commercial work then feel free to checkout my commercial website www.kieranhayesphotography.com.
So yes I know a lot about photography but that never ever gets to my head as everyday I learn something new. Take tomorrow for example (Friday) I am going to a Luminar Neo briefing to talk with Skylum about the new features and how their new AI architecture is going to work as well as what the product will do. After that I am doing some product photography. On Saturday morning I am shooting a Youtube video and editing it in time for Sunday, in the afternoon I am running a photography workshop for 5 hours.
The point of it all is you are unique so invest in you not your gear, give your photography the time it deserves and worry about the equipment afterwards.
Now yes I am sure you are thinking that's ok for you to say Kieran you have every bit of gear you want and yes that's true but now I have no excuses anymore 😉
Go take photographs have fun enjoy it, connect, create and share the moments you see.