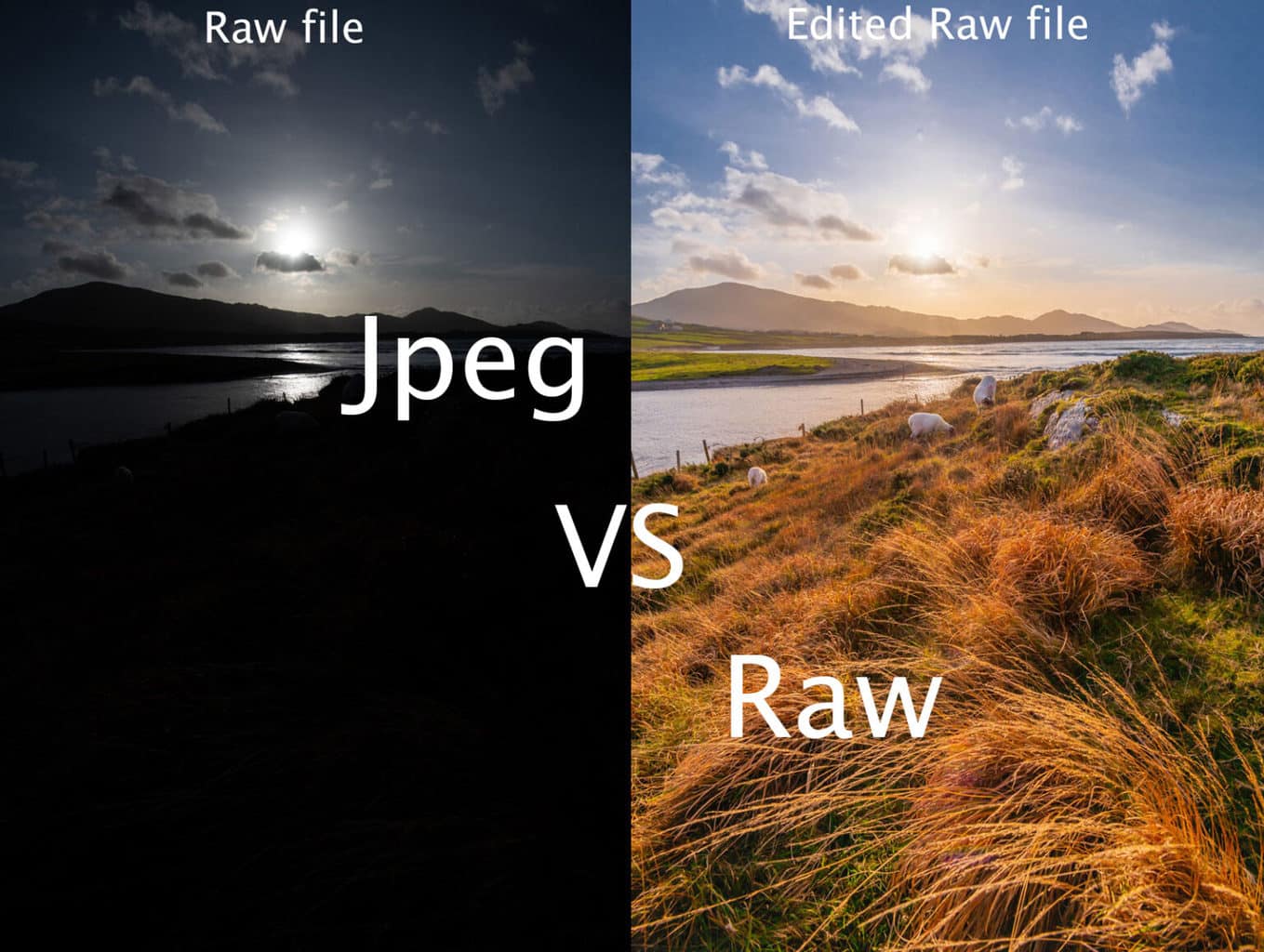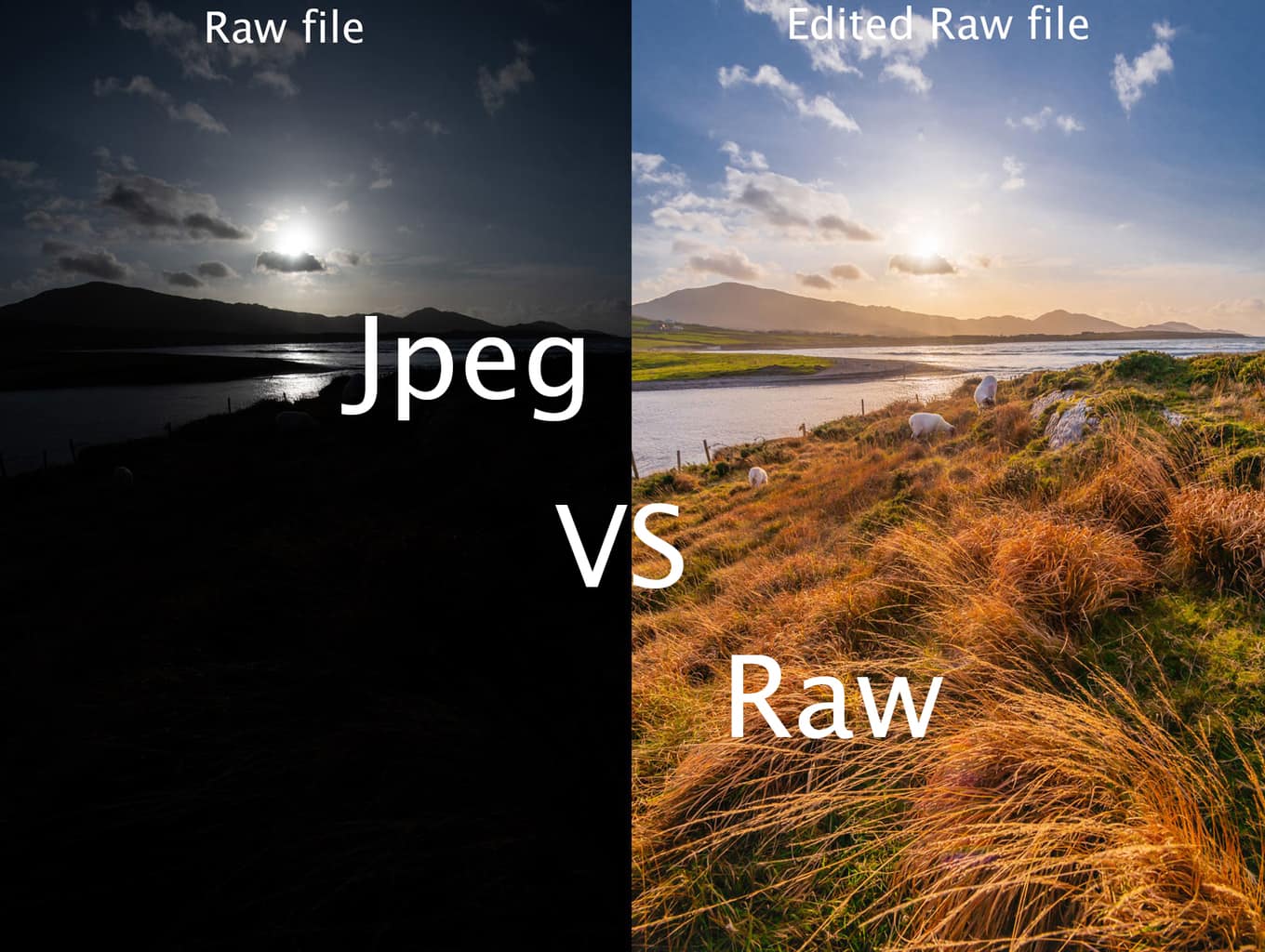 So what is the big issue with shooting in Jpeg vs Raw and what are raw photographs?
Jpeg vs Raw and what it's all about explained in an easy to understand way and more importantly which one you should be using and why…
Whenever we discuss RAW files there is something else that pops up that sparks furious debate in social media because it involves a very dirty word editing!!! 
There I said it, now it's out there and before you go running for the hills just stick around for another two minutes and let me explain why the two are interlinked.
Towards the bottom of this blog post you can see exactly how much of a difference there is between the two file formats, I have two photographs that highlight the issue perfectly. I have also now included a video of the editing of the photograph, it's at the bottom of the page.


Below is a super short list of their differences firstly, before we describe each one.
 
JPEG
RAW
Raw vs jpeg 
positives
Smaller file sizes,
They can be printed immediately from your camera,
They have been edited in camera for you,
They appear sharper and more colourful immediately,
Saves space on your storage device
Retains all the hidden details in your photographs,
Gives you more control over the final results,
Gives you greater dynamic range to recover shadow detail.
Better for large prints.
Raw vs jpeg negatives
It deletes some details it thinks you won't want,
Often times it edits the photo incorrectly,
Loss of dynamic range.
Less details for large prints
Photographs have to be edited,
Larger file sizes,
More storage space needed for them,
Images appear to be less sharp and dull.
So getting get back to the debate between these two file formats…
Lets explain them both in a small bit of detail.
Jpeg photographs
The main difference between the two is that Jpeg is a method of compression, so it makes the file size smaller on your memory card by getting rid of any unused data (that's the key point here) now some of you will think that's a huge advantage in the whole jpeg vs raw debate and that's the end of that then but wait we are not finished yet.
Secondly, yes brace yourself… with a jpeg photograph your photograph is also edited for you by your camera. Further down the page you can see what your camera actually does and how it edits a photograph.
So yes your camera captures the raw image and corrects it in camera so your camera actually edits the image for you and more often than not it doesn't do a very good job of it. If there is a large contrast in your image ie… a lot of highlights (bright areas) and shadows (dark areas).
Your camera looks at all this and decides how the image should look and edits it accordingly and then compresses the image and gets rid of the data you can no longer see.
So just to recap the main differences we have learned so far are that Jpeg images are smaller file sizes and they are edited for you by your camera.
Raw photographs
Raw on the other hand is the completely untouched raw data from your cameras sensor or the "pure light" that your camera saw while it was taking the photograph. 
So ok, some of you will say ah so this truly shows what the scene is like and yes you are correct but it shows what the scene was like to your camera and that's the critical point here. The camera sees light totally differently to the way the human eye does. The whole point of taking a photograph is to capture the scene as we saw it at the time not how and electronic sensor interprets that light.
Getting back to Raw files, the issue with Raw data is two fold. 
Firstly, it is a larger file size due to the amount of data in the image. So it takes up a lot more space on your memory card.
Secondly, it is untouched by your camera and completely unedited so the image looks nothing like it was when you were actually standing there. You can clearly see this in the images below.
So we need to edit the photograph to get it back to the way it was when we saw it. Now some people go way too far on this and look it's their right to do that if they want too. I personally see editing as a way to bring the image back to the way you saw it when you were standing there.
Now please remember your camera automatically does this for you when you shoot in Jpeg so the whole debate about people not editing their images is a bit silly. Every digital image taken on anything with a camera is edited unless you shoot in Raw.
So I guess most of ye are now thinking right so I get it it's a larger file size and it needs to be edited and they seem like two serious disadvantages to shooting in Raw while jpeg files are smaller and edited for you so the whole debate of shooting in raw vs jpeg is over right? 
Well, the answer is no, the real point of the whole idea of shooting in raw vs jpeg for photographers is to keep all that sumptuous detail.
Yes, it's all down to detail…
In a jpeg file most of that glorious shadow detail is deemed unnecessary and is deleted to make the file size smaller and is lost as it is deemed to be a waste of space.
In a raw file on the other hand all that detail is still there and you can bring out all those shadow details so the photograph now looks a lot closer to the way it was when you originally stood there and captured the scene.
So why does all this happen?
It all comes down to how incredibly special the human eye is and how we can look at a scene and see such a huge variation in light that's called Dynamic range. 
Your camera can only see about a third of that variation in light through a jpeg image.
In a raw file after it is processed you can bring it back to about two thirds of the dynamic range of the human eye.
While this is still not perfect it is an lot better than only one third of the range.
So this is the principle reason why we edit photographs and capture them in RAW.
How do you edit a raw file?
Well you can use programs like Luminar 4 to edit your photographs, the beauty of it all is you can get a one week free trial here so you have nothing to lose, just download the software (no credit card details needed). 
If you want to buy Luminar 4 then have a look at this page as I am delighted to be able to offer you €10.- or $10. -off the price. The beauty of Luminar 4 is it's a once off payment, there are no monthly rental charges.
So lets have a look at a raw file…
The below photograph was shot without any filters and the exposure was set to expose the sun reasonably correctly.
As you can see the main bulk of the photograph is under exposed so it's very dark apart from the sun.
This photograph has a large dynamic range and even when standing there looking at the scene it was difficult taking it all in.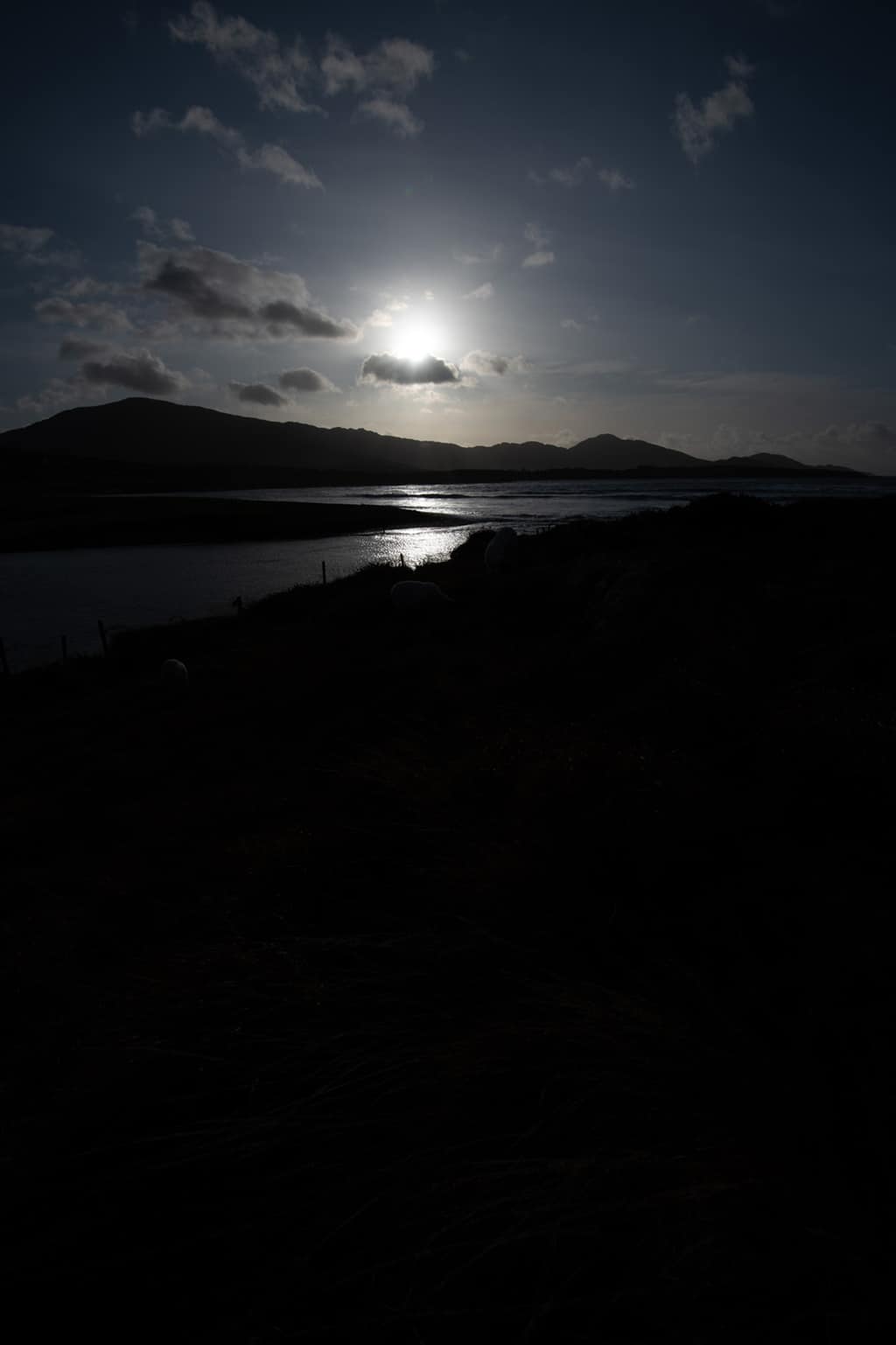 The below shot is the Jpeg shot captured in camera, most cameras have the facility to capture both raw and jpeg at the same time.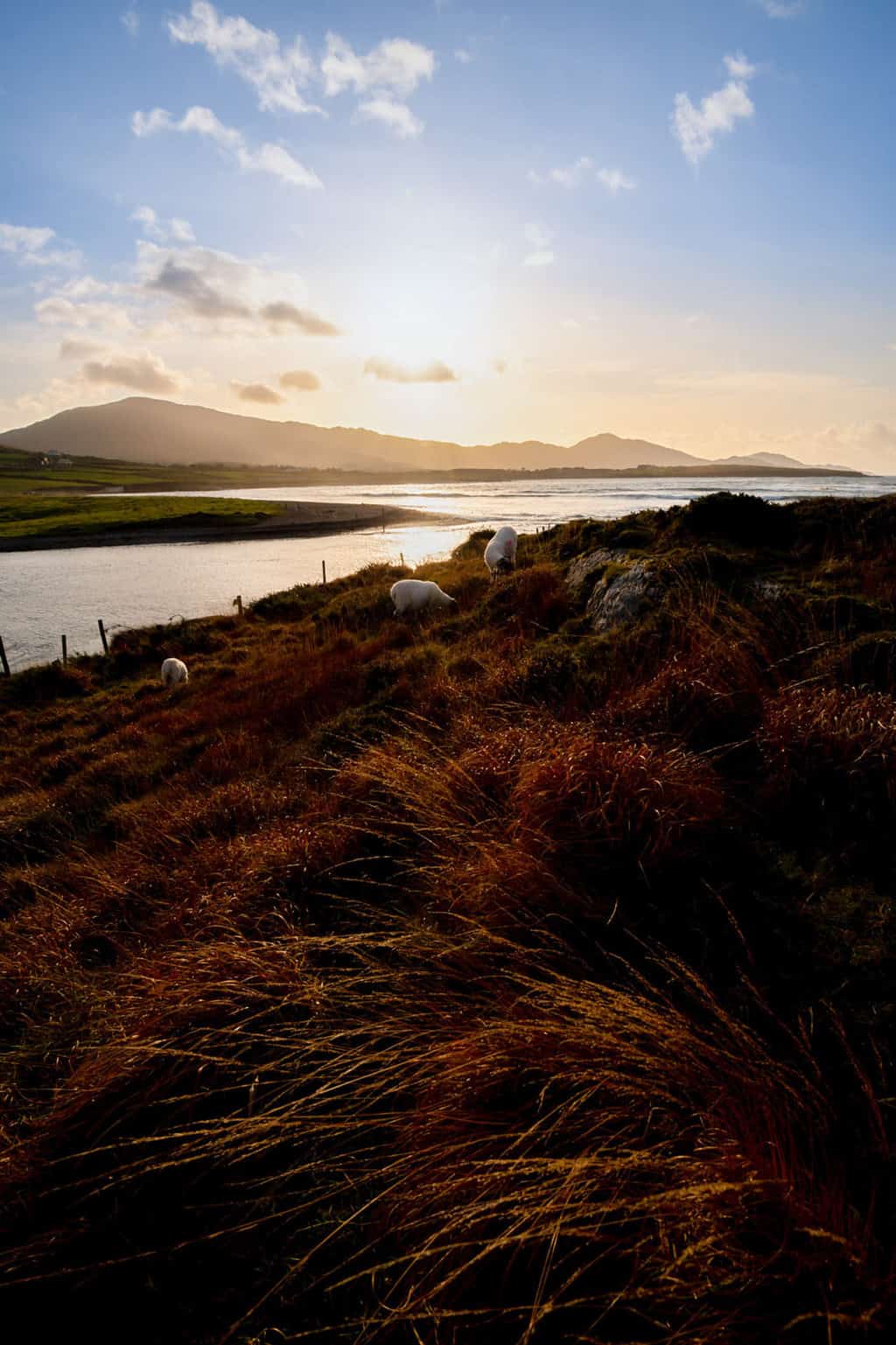 So the jpeg already looks a lot better than the raw file, you can see more of the foreground and the sheep are clearly visible also. This is all down to the fact that your camera has edit the raw file it captured for you and converted it to a jpeg file then.
The one thing you will notice that's still wrong in the image is that the foreground would have been a lot brighter and the textures of the grass would also pop a lot more in the image.
Now let's try to edit the images and see how well they look afterwards. Please remember our aim is to bring it back to the way it was when we were there.
Below is the edited raw file and wow look at that for a transformation. It's hard to believe they are the same photograph.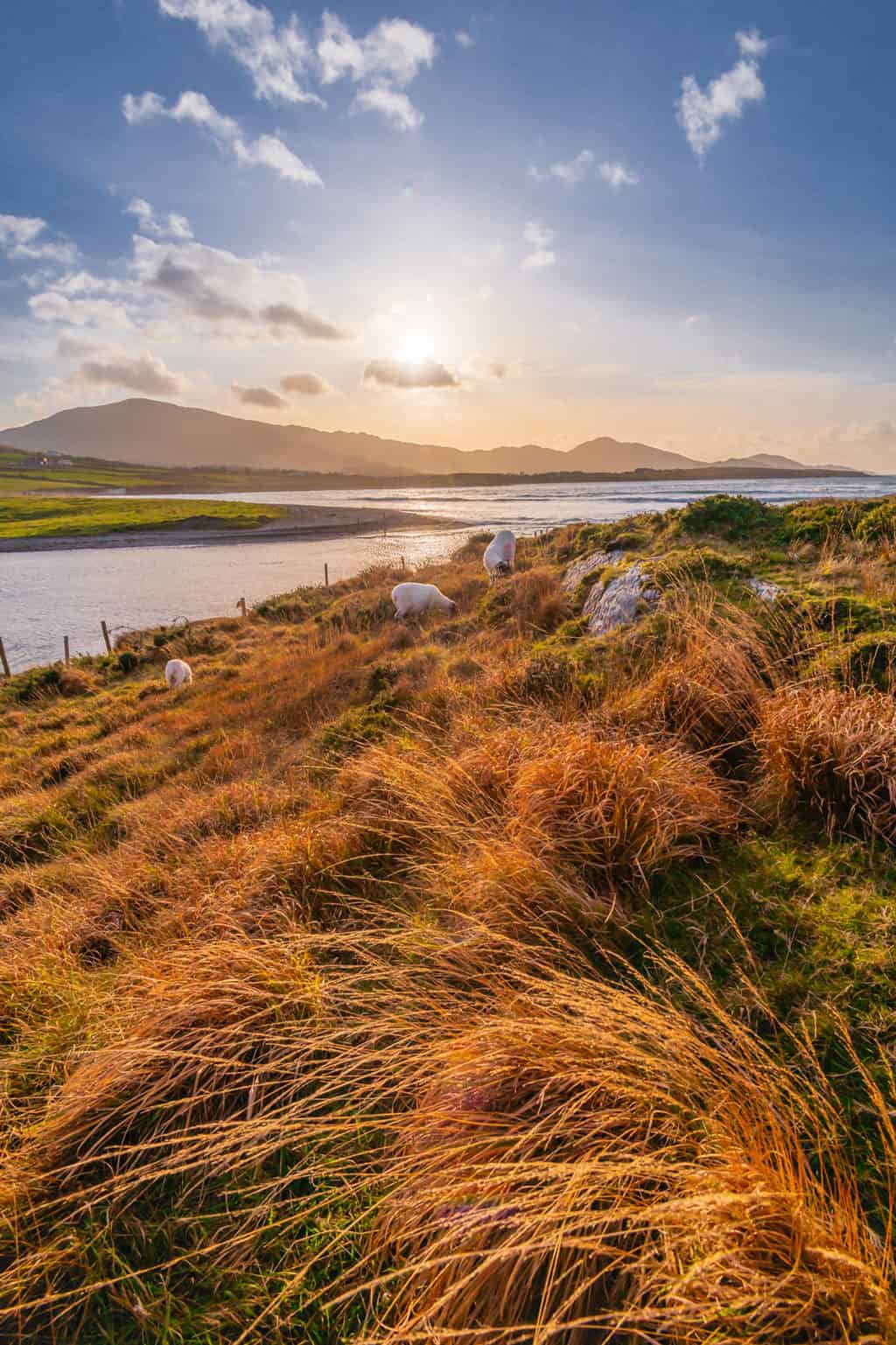 Lets just put the two of them side by side again and see the transformation.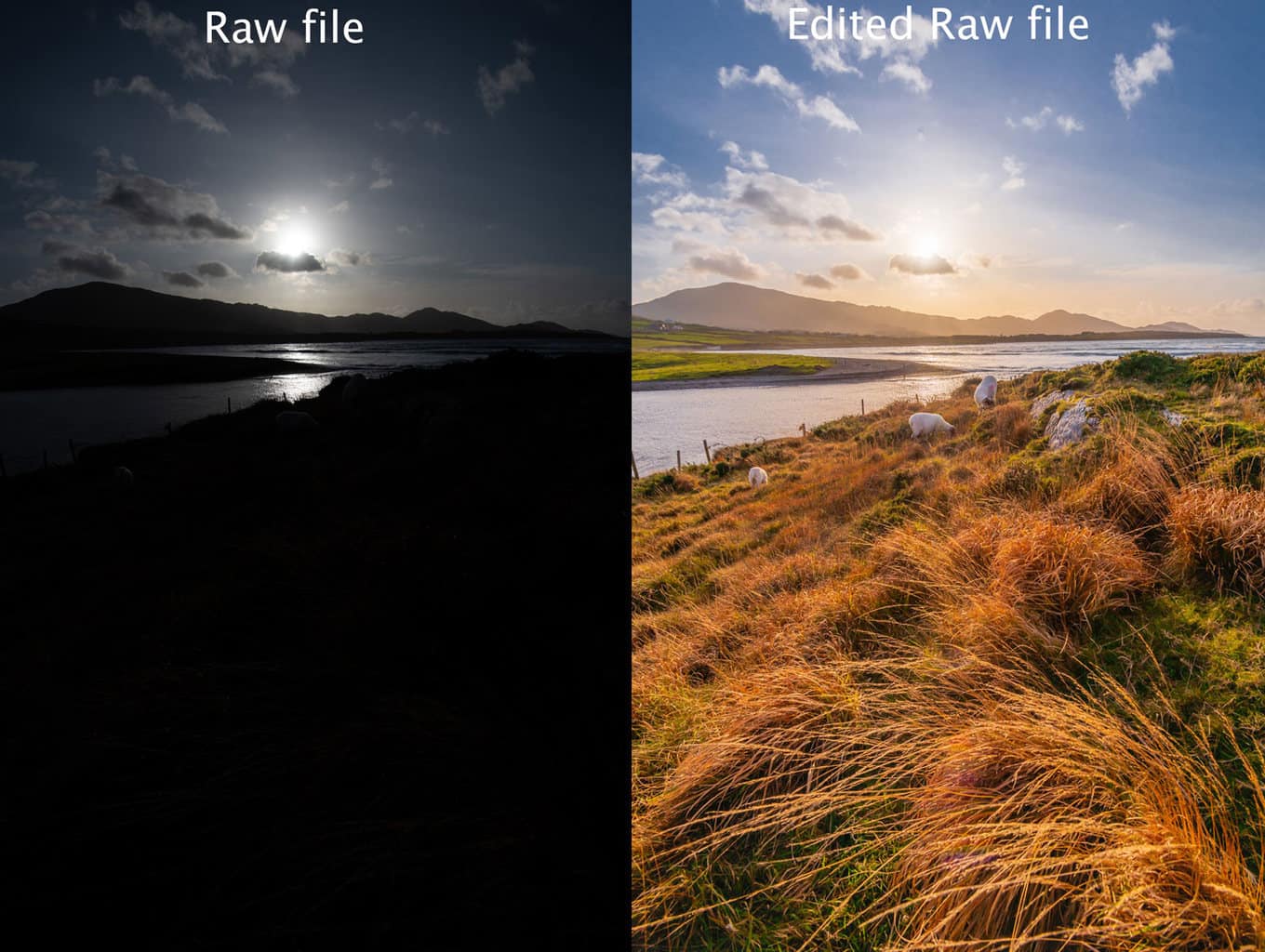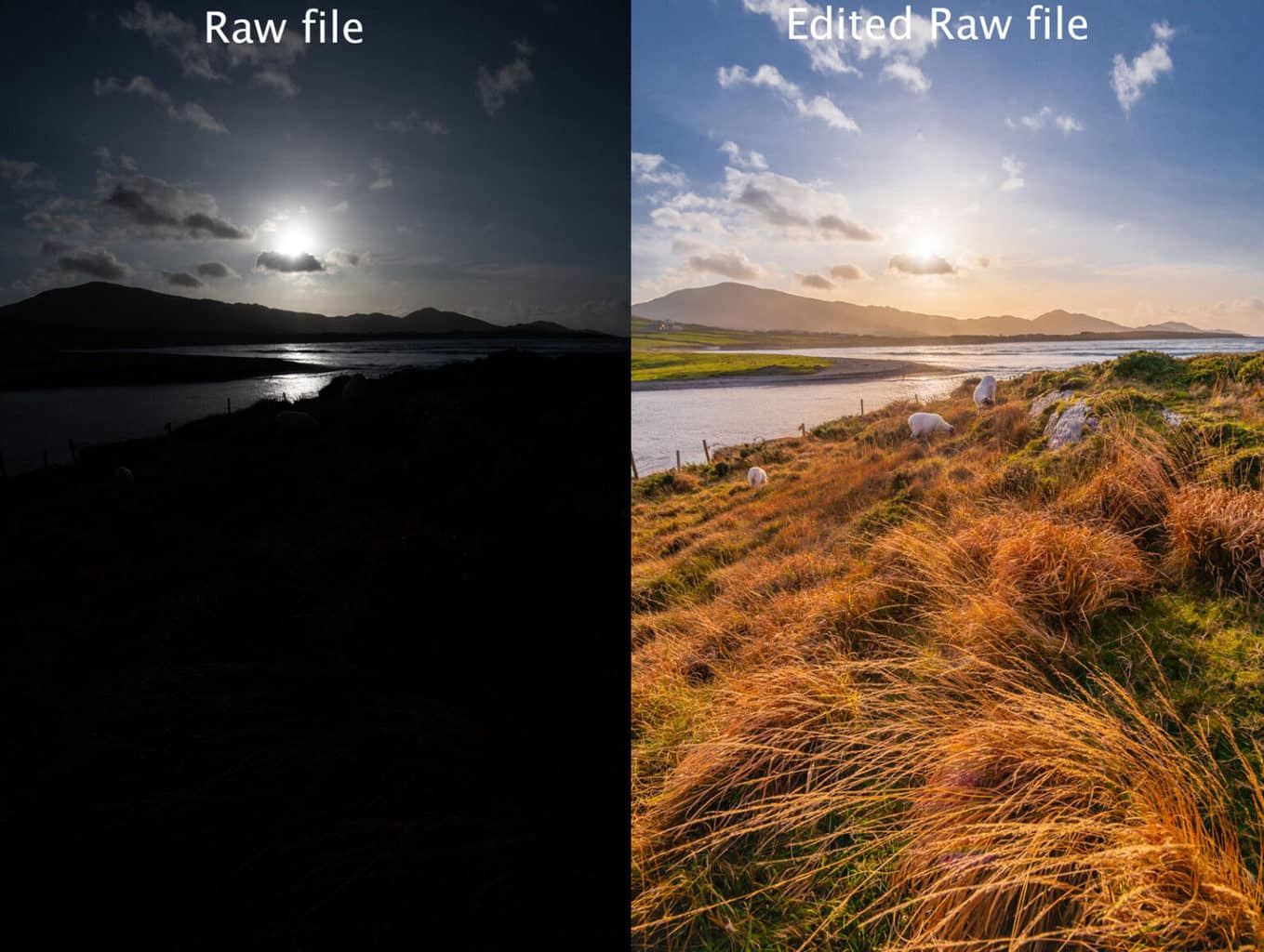 The above edited raw photograph is almost exactly what it looked like when I was standing there. 
So how did I get the photograph to look like that?
In this instance I used Lightroom to edit the photograph, I simple brought the highlights down (the brighter parts of the scene) and I brought the shadows up (the darker parts of the scene) then I brought up the exposure a bit to brighten the overall picture and your done.
So lets try editing the jpeg file now in exactly the same way and see how that goes. It was a lot brighter to start with so you would think it would be easy…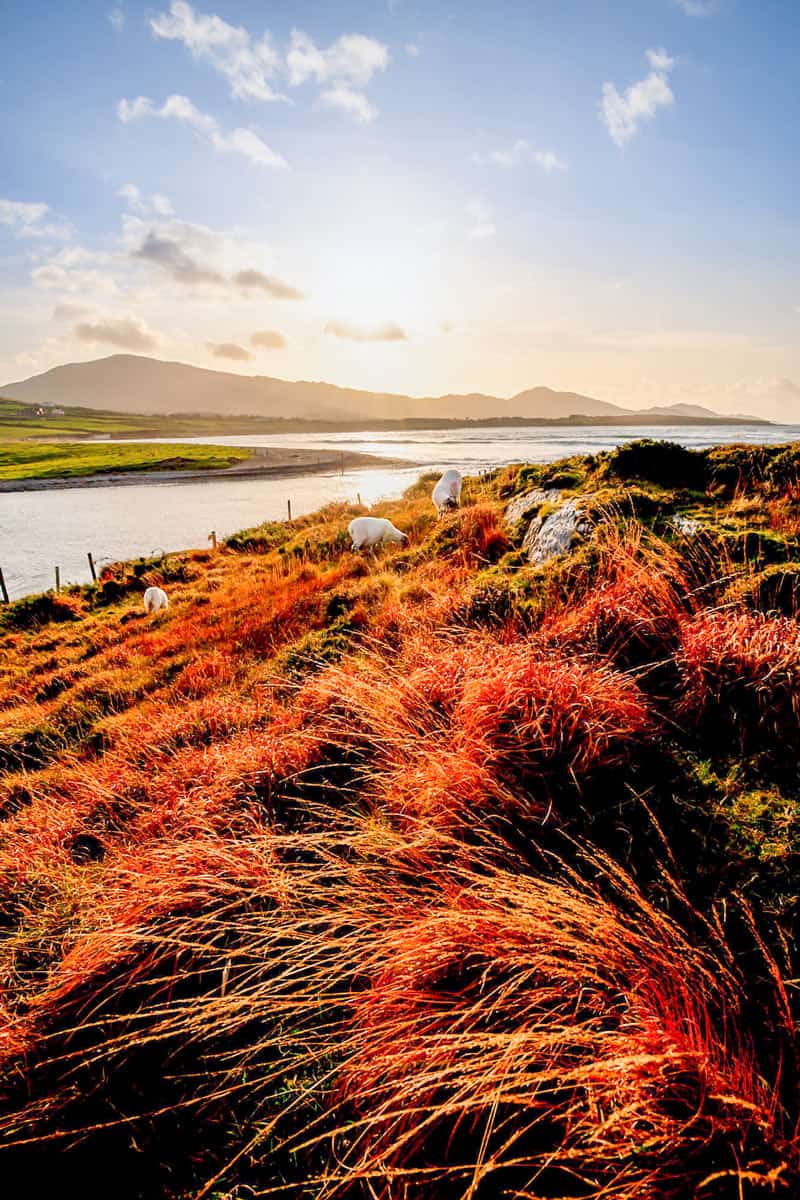 VIP… Now you might think I adjusted the colour in the grass but I didn't and that those dark patches are still there but no matter what you do the dark parts will never come back they have been stripped out of the photograph. All I did in editing the jpeg file was drop the highlights and bring up the shadow details and the overall exposure which was the same as I did to the raw file.
So why did the colours change?
Well remember I mentioned before that a jpeg file is a compressed file and that your camera strips out any information it deems to be useless… well the dark patches in the grass have been deleted and so have the variations of colour and tones in the grass.
All these bits of information were deleted because your camera decided they were useless and this is exactly why most professional photographers only ever shoot in raw. It gives you a lot more room to play around with the exposure so you can recreate the scene that was before you.
That photograph would be impossible to capture in a single image without using a graduated filter in jpeg.
But as you can see it's entirely possible to capture it in raw. 
A certain amount of this depends on your camera and its dynamic range, I was using the Nikon D850 for this photograph and as you can see it has an amazing dynamic range.
I have the editing of the jpeg file shown below in the screenshots where you can see the shadow details being changed and the effect it had on the image.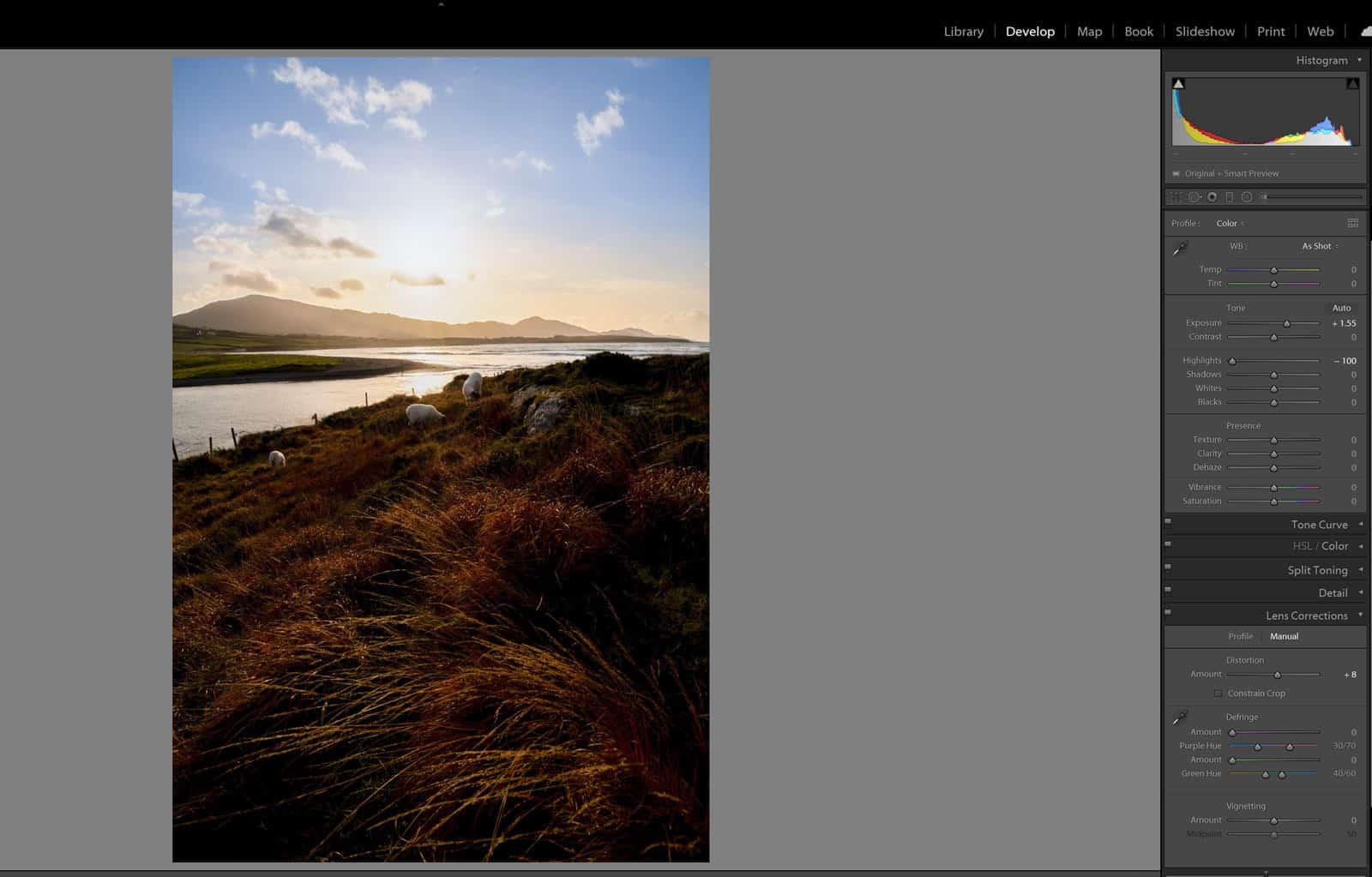 The above shot has the exposure bumped up a little and the highlights brought down also but the shadows are still as captured.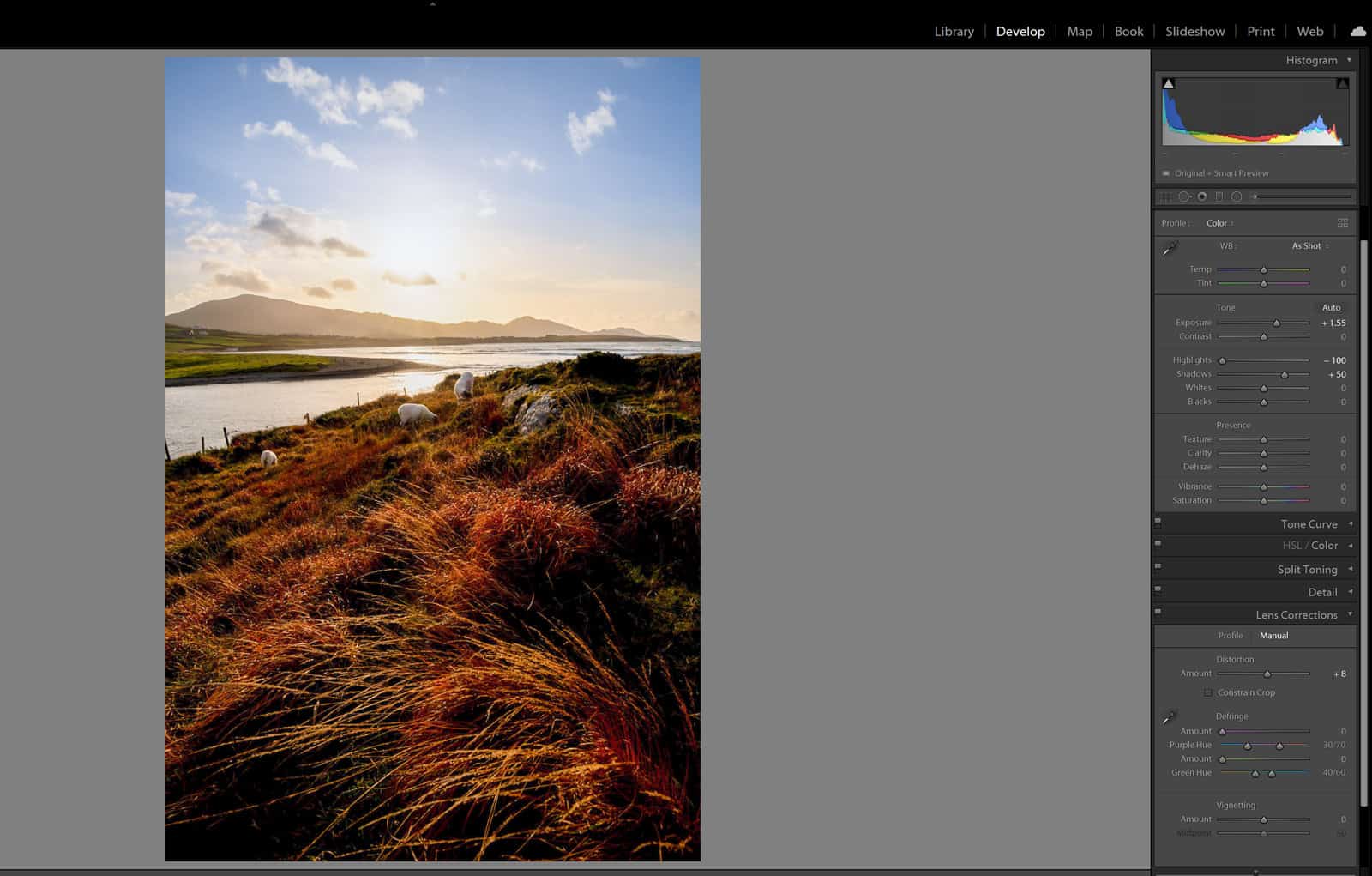 The above shot has the shadows brought up to +50, this was as hard as you could push the shadow details before it all started to look unreal.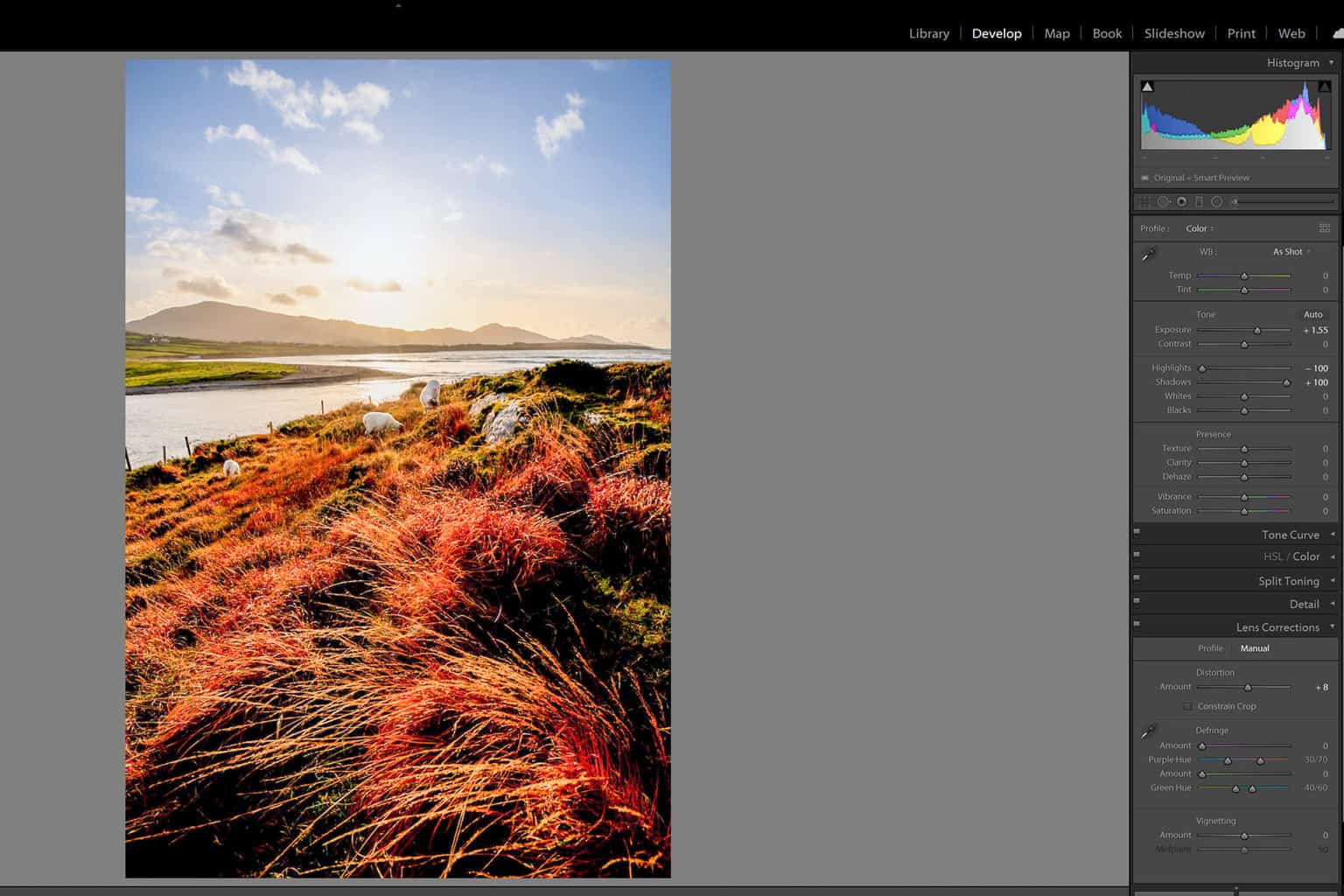 The above photograph has the shadows brought up to +100 and as you can see it looks terrible now.
My video of the raw file being edited is directly below. See this file being transformed with 4 simple steps.
If this blog post helped you then please do share it and help a few more people also…
I hope this very simple explanation helps you understand the RAW vs JPEG debate.
I will be adding photographs and videos to this page shortly to help explain this debate a bit more.
Lastly, can I just say if you are shooting away from the sun and lets say it is an overcast day, the fact that there is not as much dynamic range in your image means that you can easily capture every bit of detail you will need in a jpeg file. So you don't always need this extended dynamic range.
If you are printing extremely large file sizes there is also an added advantage of shooting in raw, that's a whole other debate or blog post though.
See you out there,
Kieran.


Kieran Hayes  Kieran Hayes Photography landscape photography ireland. raw vs jpeg 26th of July 2020 https://www.landscapephotographyireland.com/blog/jpeg-vs-raw 5.0 39 15