SmallRig Nikon Z8 L bracket review – model 3942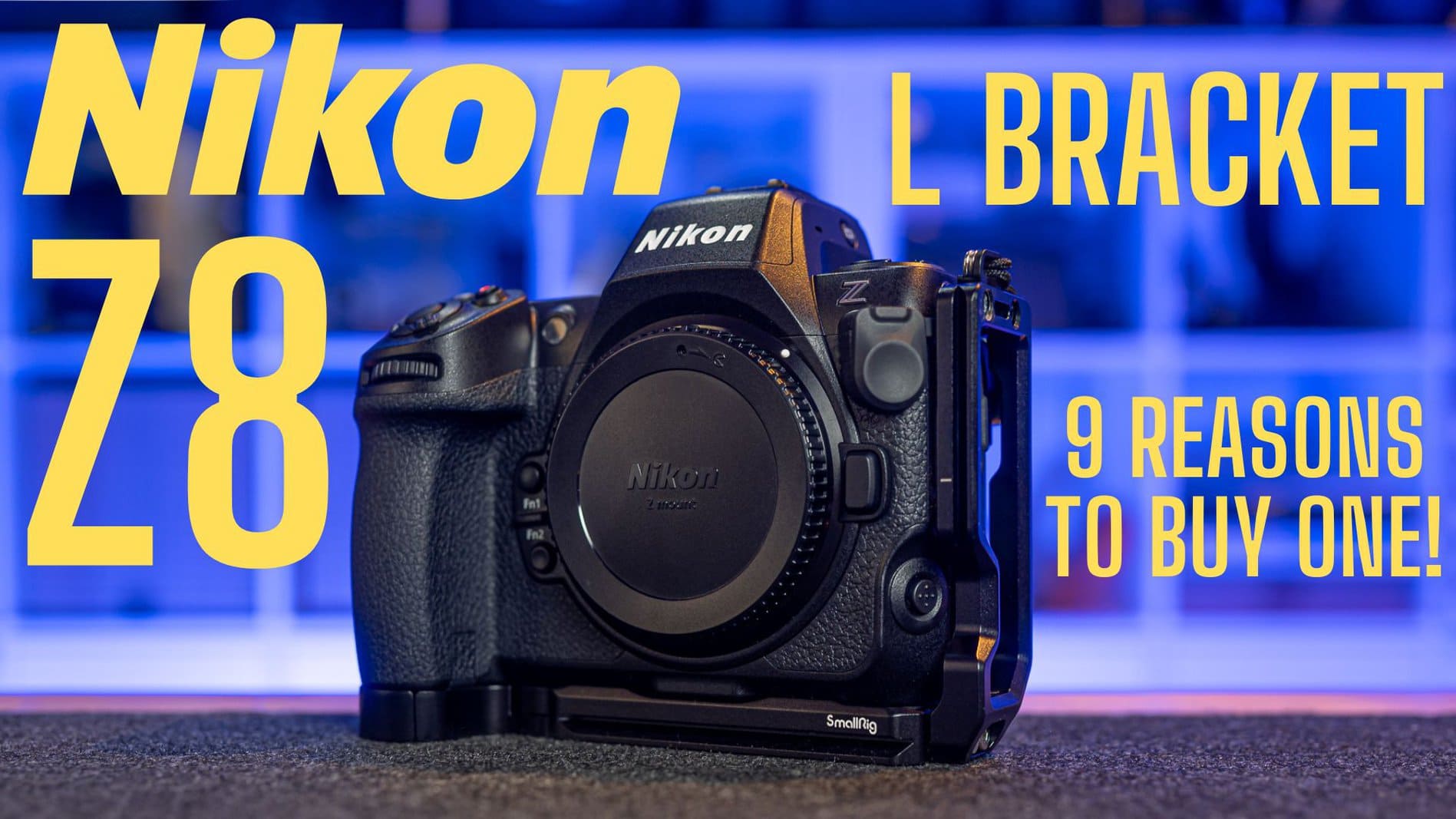 The best Nikon Z8 L Bracket and the 9 reasons you need one today.
I have been eagerly awaiting the arrival of the Smallrig Nikon Z8 L Bracket ever since my Nikon Z8 arrived, my camera just didn't feel right without it. So, this got me thinking what's so special about an L Bracket and more importantly why don't more people use them.
So I put up a video on the 9 reasons why I think you have to have a Nikon Z8 L Bracket which you can watch below or you can keep on reading also if you prefer.
As some of you may know I run well over a hundred photography workshops over the course of the year and it always amazes me how few L Brackets you would see on them. Yes, I know when you think of an L Bracket you probabaly think oh that's handy when you are shooting in portrait mode on a tripod and that's about it right?
Well, in my mind that's not all an L Bracket can do for you, so, let me tell you the 9 reasons why you badly need a Nikon Z8 L Bracket today, in I think every camera should have one. Before we get into that though I need to tell you where you can get one and where I got mine.
Where can you get the SmallRig Nikon Z8 L Bracket (model 3942)?
You can of course buy them on the official SmallRig website here or Amazon or via resellers all around the world. I personally buy mine either direct from the SmallRig website or via their Amazon shop (it's faster sometimes).
Now, I have to add here that SmallRig sent me out a pre release copy of the SmallRig 3942 Nikon Z8 L Bracket and they are only really starting to come into stock right now so they should be available over the next few days to a week I am told.
There is going to be a very high demand for these L brackets I am told and that would stand to reason as they seem to be the only reputable company producing one as of yet. Yes, I know several other companies have them in development but SmallRig have them on the way to stores as we speak.
I have affiliate links in this article so if you go onto purchase a product via a link here then I may get a slight commission but I also use this commission to help pay for a tree to be planted with every qualifing sale made so you are helping me help this planet also 🙂
These are in no particular order but I am sure at least 3 of them are going to be important to you…
Reason 1 to buy a SmallRig Nikon Z8 L Bracket
Increased protection for your camera, with an L Bracket on your Nikon Z8 you now have two sides protected by a metal cage which is going to help protect your camera from drop, bumps or scrapes. For this very reason alone I believe an L bracket is worth it.
As you can see in the photograph below the L Bracket really does help protect your valuable Nikon Z8.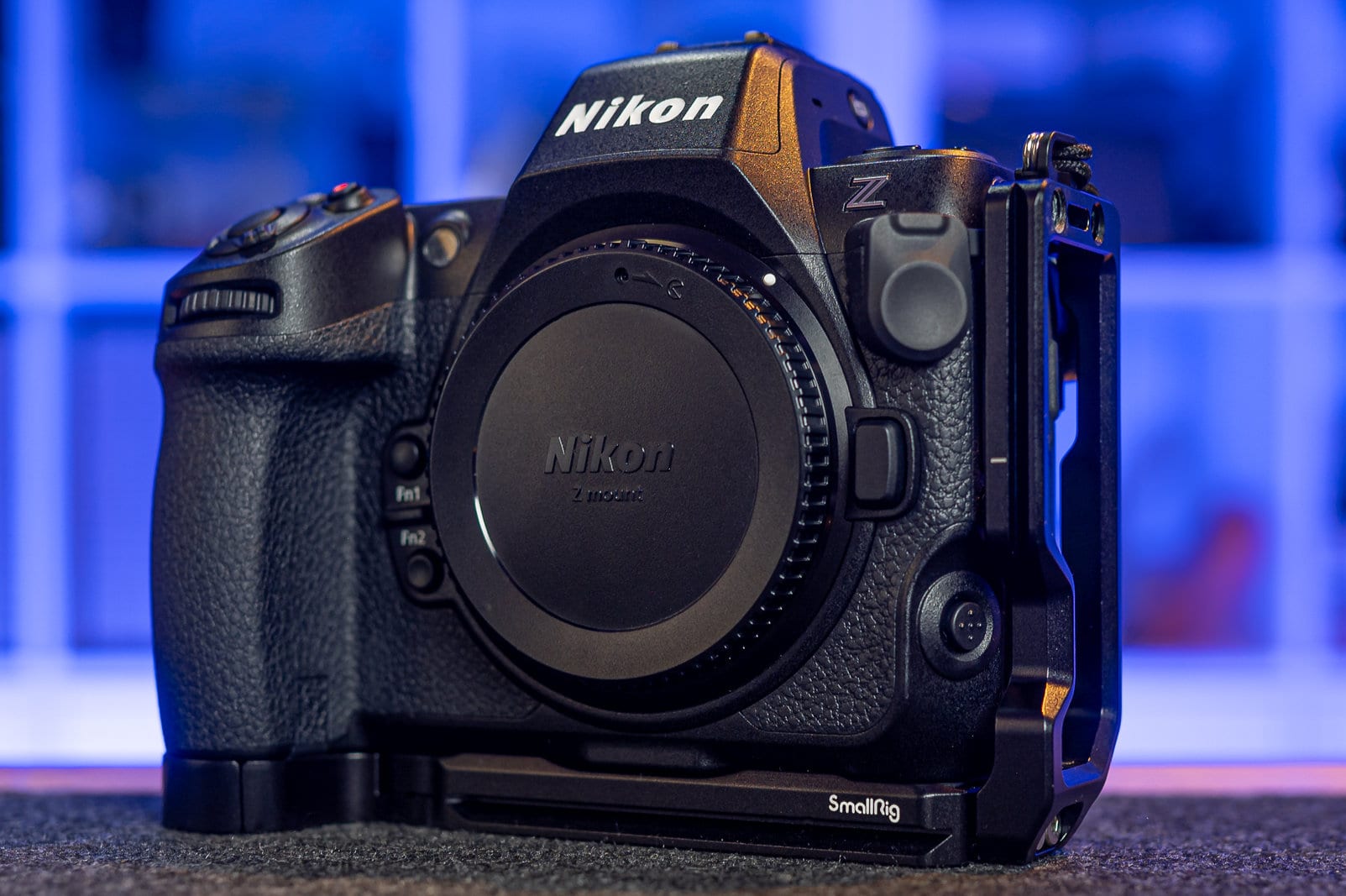 Reason 2
Added stability on your tripod, yes, with the wider base fixed onto the camera and with the combintaion of rubber and metal aswell as the anti twist pin at the edge of the cameras base the L Bracket will add far more stability and rigidity to your Nikon Z8 when you're shooting on a tripod.
Again, I think this is a fantastic feature to have and well worth the small price of an L Bracket.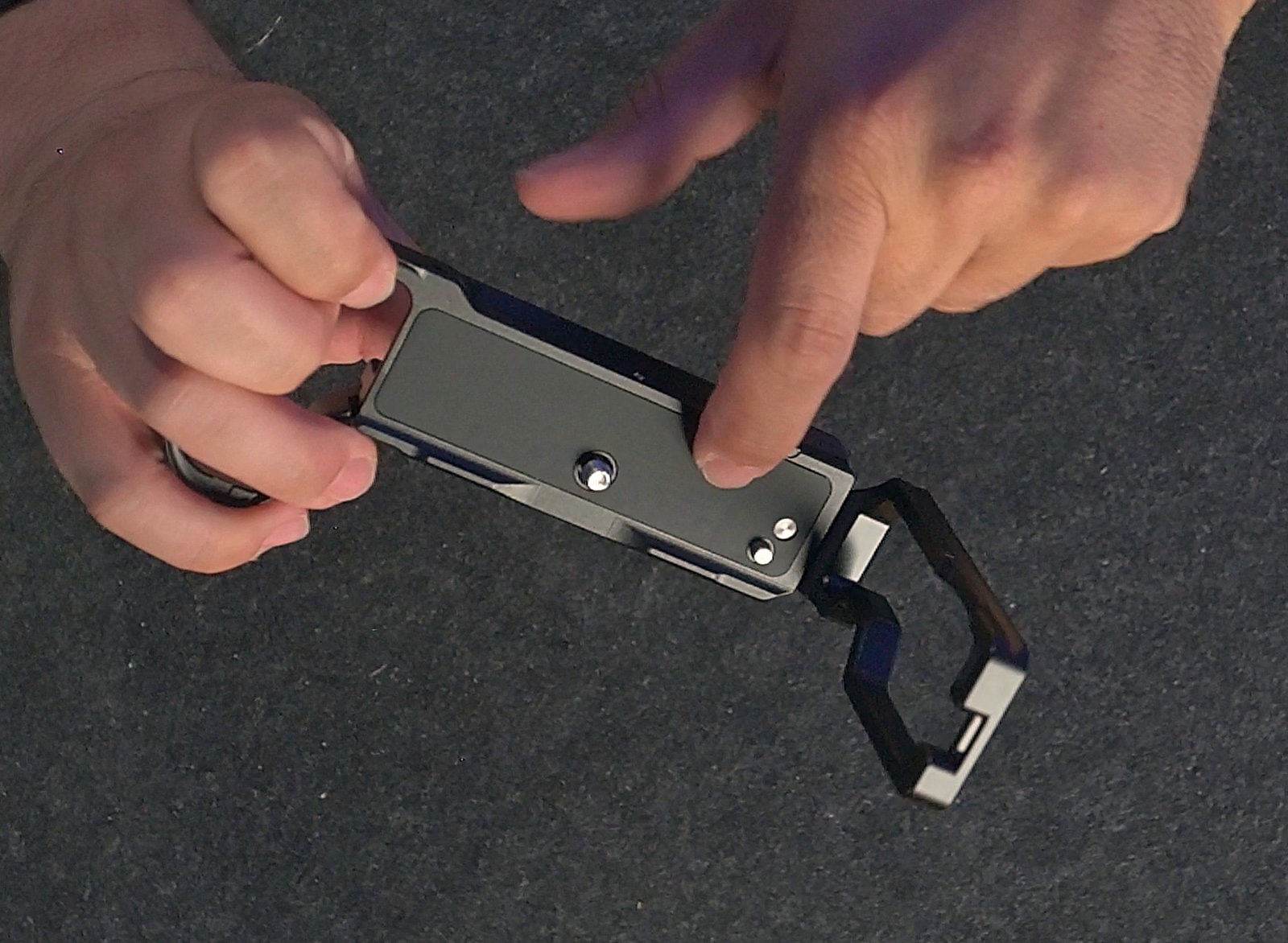 Reason 3
The more obvious reason to buy one… Yes, to be able to swap from shooting in portrait mode to Landscape mode in a second or two. This in my mind is incredibly handy but surprisingly not the main reason I would buy one.
With the arca swiss mount built into the L Bracket it's so incredibly easy to swap orientation without having to even level your tripod again. Reason 8 also expands even further on this…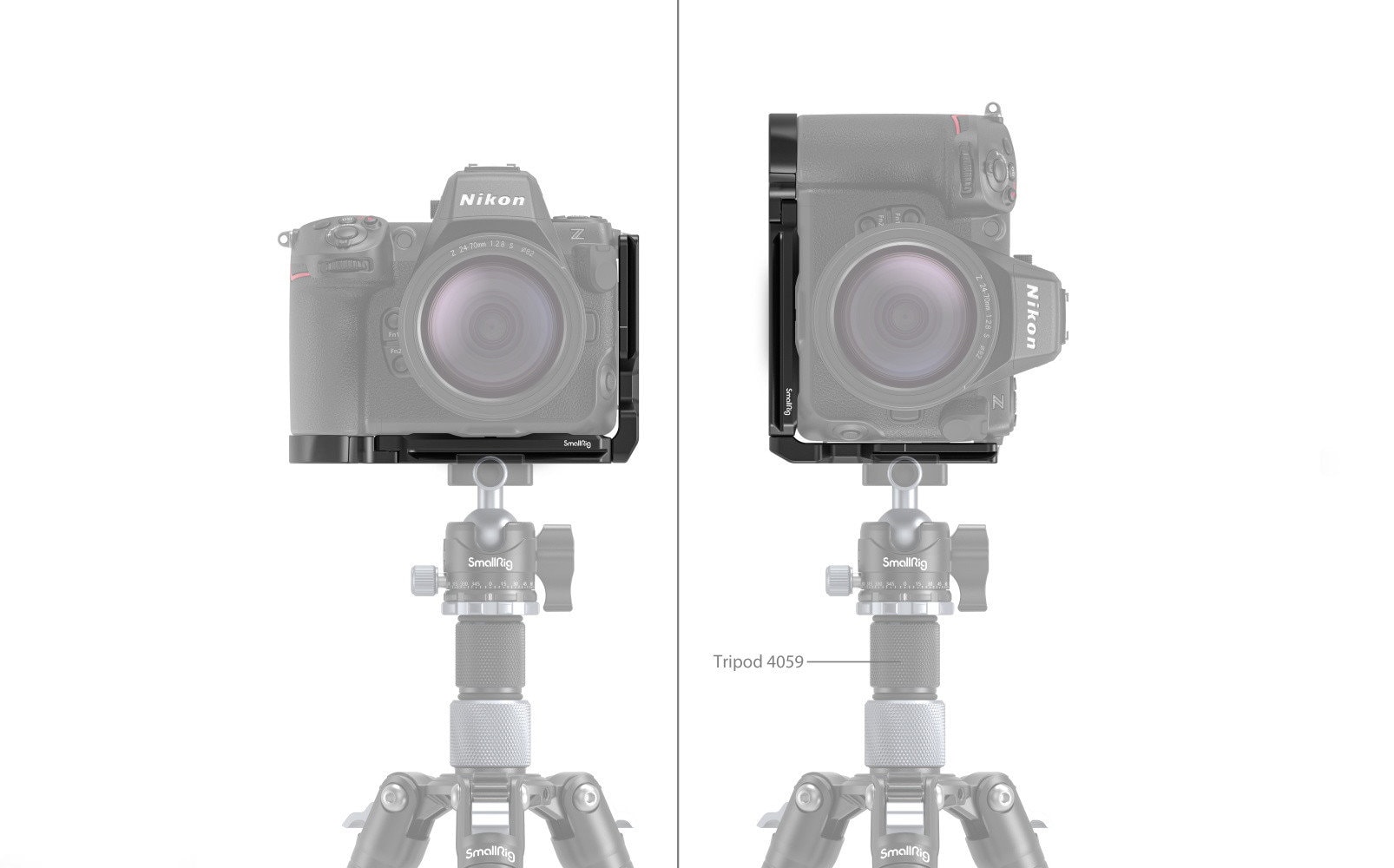 Reason 4
Fitting the L Bracket to your Nikon Z8 also adds a small bit more height to your camera making it feel a bit better in your hand, again this is not a huge reason to buy one but if you have larger hands this could be a very nice fit for you.
You can see that extra bit of height in the photos above. It adds about 10-11mm of extra height.
Reason 5
I have to say I love this… This Nikon Z8 L bracket is fully compatibile with the DJI RSC 2, RS 2, RS 3 and RS 3Pro gimbals, which is a real time saver. It simply just slips into position and even the locking lip works so it won't fall off the gimbal if it comes lose by accident. It might only be a small thing but this little feature is going to be so very handy for all the Hybrid shooters out there.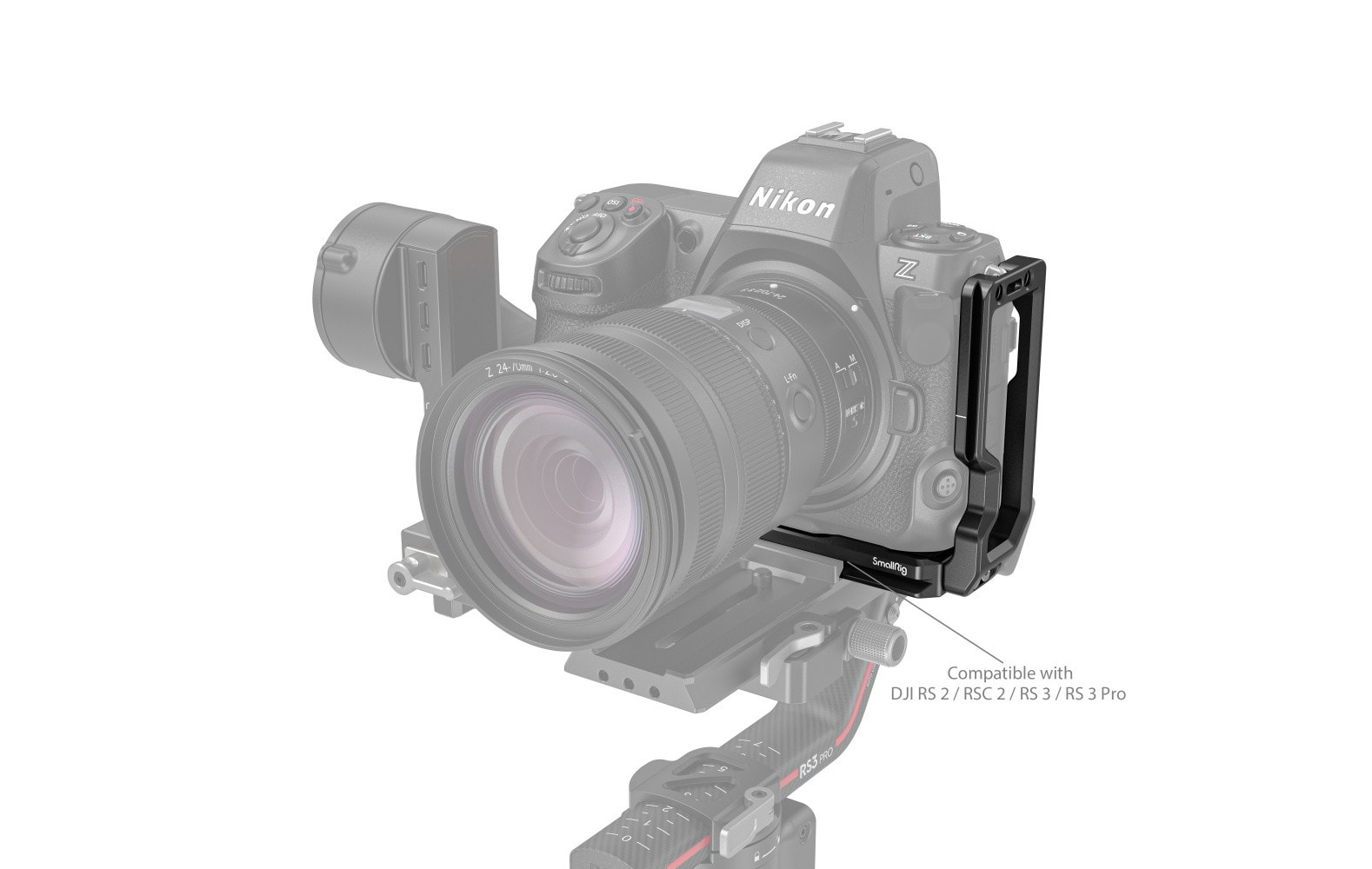 Reason 6
The extendable side plate is a massive advantage for two reasons firstly when you are shooting in portrait mode it means you can still access the connections on the side as the plate extends 23 mm out from the side of the camera.
The side plate also acts as an on the fly side handle when you are shooting video and you need a bit more stability or you simply don't have time to pop on a cage and a side handle.
I always loved this on the Z6ii L Bracket and used it an awful lot over the years.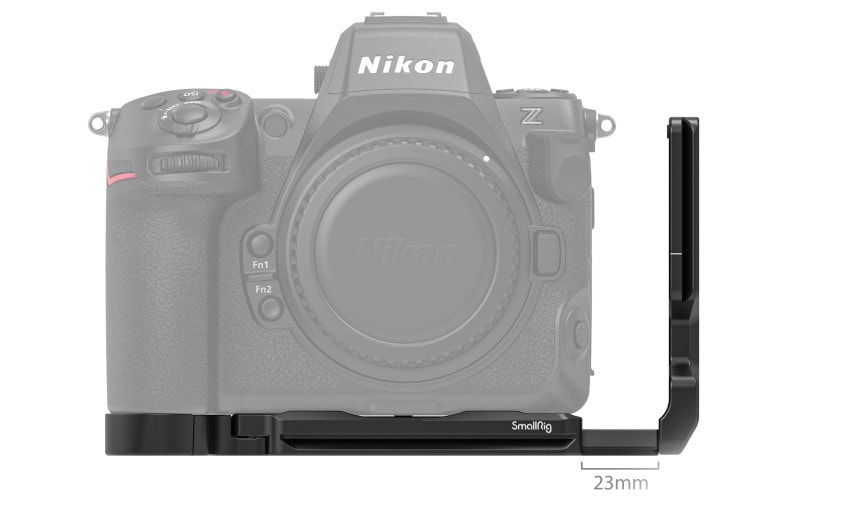 Reason 7
The posibility of adding additional accessories on the L Bracket like cold shoe mounts, mic mounts, spring clips, or additional tripod mounts without having to take the L Bracket off. n the video I talk about the Spring Clips I use for attaching my USB tethering cable to the L Bracket when I shoot tethered. 
BTW you can get those SmallRig spring clips here they are impossible to find on the SmallRig website.
Again I love that feature.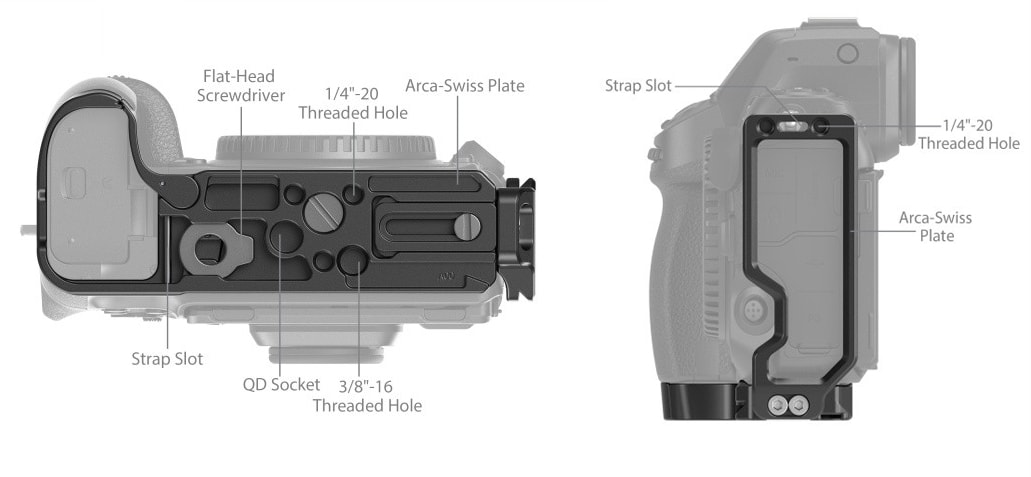 Reason 8 
Nodal Point markings on the L Bracket. If you shoot panoramic shots this is incredibly handy, all you have to do is pop your camera on your tripod and slide it along the Arca Swiss mount until the Nodal point is directly over the centre point of the tripod or it lines up with the centre point of your tripod head for even more accuracy.
I go into a lot more detail on why a nodal point marking is so important for shooting panoramic shots in my video (it's on the Reason 8 chapter in the video) if you want to learn more about it. 
Reason 9
Is the QD mount, this was something I never heard of before but I can see how this is incredibly handy.
So what is a QD mount? Well, it's a Quick Deploy Mount and it is used for carrying guns…. yes, I said guns. It's an incredibly simple mount for attaching your camera strap.
It allows the camera to swivel on the mount and with the press of a single button the camera strap can be completely removed from the camera and when you want to attach it again you simple push the button on the back of the QD pin to release it.
What an incredibly cool and fast way to attach your strap to your camera.
Right now I am using the SmallRig Camera strap and while it clips on and off super fast I have to say this is tempting me right now…
I hope this helped you not only upgrade your Nikon Z8 but also helped you add a bit more functionality to it.
You can check the price and also get your Nikon Z8 L Bracket via the SmallRig website here, very soon.
I have a section here on Nikon News and reviews if you are interested.
See you out there,
Kieran.
Nikon Z8 L Bracket Review - 9 reasons you the SmallRig 3942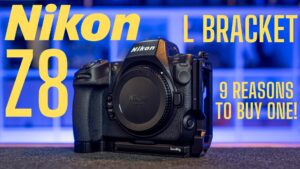 9 reasons you have to buy a SmallRig Nikon Z8 L Bracket today - My SmallRig 3942 L Bracket Review and why I think this is just epic...