Neewer Q4 Review and just how good is it?
Welcome to my Neewer Q4 review and my real world results.
If you are looking for a high powered battery strobe then you are in the right place and with my Neewer Q4 review as I will be not only sharing its specs and its features but also how I got on with it and how well it has worked for me. so, if you are wondering if you should buy it, or even worse, thinking should this funny looking thing even be taken seriously, then sit back, relax and enjoy the ride.
I think this could very well be the shape of all strobe lights yet, everything else just weirdly looks old fashioned to me now, trust me I didn't see that one coming.
The Back story on this Neewer Q4 review.
I originally started researching the latest high powered battery strobes a few months back thinking I needed an update and a bit more power in my kit. Of course I came across all the usuals models like the ProFoto's and Godox strobes, now in all honesty I had nearly settled on buying either the Godox AD400 pro or AD600 pro. At the time I just couldn't choose between them.
In all my research I did come across the Neewer Q4 though and I distinctly remember my first thought was "wow, that's a quirky looking strobe" as I added it to my very short "maybe list". I added the Q4 as it had everything I was looking at the time in a strobe (at an unbelieveable price) and I have only had great experiences with Neewer Products over the years.
I must admit though looking at pictures of the Neewer Q4 for the first time I was slightly torn as it just looked so odd, actually odd is probably the wrong word for it, it was just so different. Don't get me wrong I still thought it was a nice looking strobe but just not what a strobe looks like if you know what I mean.
Totally confused now and unsure of what model I would go for I simply put the purchase to the side until I had time to really look at it all again. I generally do a lot of research before I buy a product so I didn't want to rush into this and make the wrong choice.
That was honestly the best move I have made in a while, as two weeks ago I got an email totally out of the blue from Neewer asking me if I would like to test out the Q4, in the back of my mind I thought "isn't that the funky light I had on my short list" so it was a big "Yes please Neewer".
In less than a week I found myself sitting at my desk recording the unboxing section of my Neewer Q4 review. Before we get into that though lets have a look at the all important features first.
Q4 Features List.
The Q4 is litter with amazing features, but these are some of the main ones for me. Having 400 watts of power and better still being capable of 400 full power shots on a single charge is fantastic and this light can go all day for me.
Being full compatible with the Canon, Nikon and Sony TTL systems is fantastic and offering you shutterspeeds up to 1/8000th of a second in High Speed Sync (HSS), this strobe has features to burn already.
The built in 30 watt modelling light, was huge for me also as shooting specific products it's incredible important to be able to preview how the light will when you are still positioning the strobe.
With Ultra fast refresh times of between 0.01 – 1.2 seconds depending on the output power used of course. Now 1.2 seconds might not seem to be incredibly fast but when you shoot at 1/2 and 1/4 power its recycling time is very quick, once you drop below 1/8th power it seems to be nearly instant. I will run you through that properly in my video though (coming in the next week).
For this review I mainly used the Q4 with my Nikon Z8 and it worked faultlessly on HSS in very challenging conditions as you will see further down the page but let's have a look at the full feature list first.
The full list of Neewer Q4 features below…
400 watt output power.
400 full power flashes on a single charge.
Refresh time of 0.01-1.2 seconds depending on power setting.
1/8000s high speed sync
Can be used with the Neewer remote flash controller
Can also be powered via the mains adaptor.
30 watt modeling light.
Bowens Mount.
5600k +-200k
1/209-1/10989s flash duration depending on the output power used. The flash duration is also shown on the LCD screen so you can clearly see it there.
TTL compatible with Nikon i TTL, Canon E TTL and Sony TTL automatic flash systems.
Full support for flash exposure compensation.
Manual Output user selected power,
First/second curtain synchronization,
Supports S1, S2 mode, C.Fn custom settings, etc.
Supports USB Type C firmware upgrades
UnBoxing and my first thoughts.
The Q4 really surprised me as soon as I got it out of the box, firstly, you are getting a lot of light for your money here and it genuinely feels like it should cost twice the price, secondly, the Q4's design really had me thinking for a small bit and I was surprised how well it looked and felt in the hand.
As soon as you pick up the Q4 you will notice how easily it balances by just holding the top handle it just balances beautifully which is not something I can say about any other light I have used or owned.
Then the detachable grip/mounting bracket added to the base just feels really nice in the hand. It genuinely feels like a handle and not an mounting bracket as it has a nice size of a diameter and it's smoot the whole way round with nothing to dig into your fingers or palm after a few minutes. I immediately started to think there has been some serious thought put into this design and I haven't been giving it enough credit…
That may not seem important to you right now but if you have ever worked as a camera assistant and used high powered battery strobes before you know two things… the first is they are heavy and the second is they are always awkward to hold for anything longer than 5 minutes.
I would bet whoever degined the Q4 has probably spent countless hours holding one of those older more traditional strobe designs and thinking how can we make this better? I can tell you now this is the way forward for high powered strobes and it makes all the other lights out there look old fashioned now, just wait for the rest to slowly follow suit.
Did I mention the lower light stand mounting bracket has a really nice soft like rubber effect on it. I just loved that, it's also quite thick so it just naturally feels like a camera grip in your hand rather than a tough thin sharp bit of plastic like most other strobes.
I should also mention that the Q4 comes with its own well protected carrying bag and while the model I was sent has polystyrene foam packaging around it I am told by Neewer there is new upgraded packaging coming out for the new units so that's a positive. The foam works well and does it's job but you would just wonder how it would last if used daily.
Build Quality
The overall build quality is really good and again above what I was expecting especially at this price point. I had to constantly remind myself of the price and that it wasn't an aluminium body, in all honesty I had to google what the body was made of just to be sure it wasn't aluminium, it's made from ABS plastic and seems really solid. I have a good few different lights here from different companies and the Q4 could proudly stand alongside any of them build quality wise.
The Q4 weighs just over 2.3 kgs with the reflector and lamp fitted so it's not light but still around the weight you would expect it to be.
The LCD screen is bright and easy to read even in bright lighting conditions and has a wide viewing angle also which is handy if the light is overhead you can still read it then.
Any of the Bowens mount modifiers I have slipped on and off with the greatest of easy and the big release button was very positive and easy enough to find even in low light situations. Funnily it felt like using the lens release button on my Z8.
The one point I will mention here is the modifier can still wiggle a bit when it's mounted so it's not a tight fit. It's no issue but just thought it's only fair to mention it. I have found the same thing in the Godox lights so no difference there.
Q4 Price
I was already half sold on the Q4 after the unboxing it, switching it on and setting it up but wait for the best part…. The Q4 is presently retailing at €519.- on the Neewer website.
So, yes it's amazing value for money but the good news doesn't stop there as Neewer have also given me a 20% off Discount code HAYES20 for you to use worldwide on the Neewer website all year round, knocking over €100.- off the price of the Q4. This Neewer Discount code works on all the products on the Neewer website so if you want to grab the flash trigger or a softbox with it then you can save 20% off them too.
So the Q4 is €519.- and the remote flash trigger is €72.99 which makes a total of €592.98 then take off the 20% via the discount code above and it's just €474.39
The Godox AD 400 pro which is practically the same spec is €684.- and the remote flash trigger is €100.- costing you a total of €784.-
The Q4 for practically the same specs is over €300.- cheaper!!! Which makes the Q4 an absolute steal.
Please note my website has affiliate links and discount codes which if used I may make a slight commission from them but it costs you nothing to use them in fact you generally save money…
First use
Being built well and having a low price is about as much use as a waterproof teabag if it doesn't work well so I grabbed the Q4 and my model and went to the beach at sunset with my Nikon Z8 to fire off some shots in challenging light with the 65cm Softbox attached to the Q4.
To test a modern high powered strobe you need to test it in very bright challenging light conditions to see if can compete with the sun and even overpower it.
So I went out and shot straight into the sun at sunset to give you an idea of how powerful this light is. While the shots below might make you think the sun wasn't very bright a shutterspeed of 1/4000th of a second at F2.8 on ISO64 was needed to control it so I can assure you it was still very bright.
As you can see in the shot below the model was clearly properly exposed while the sun was darker in the background. It's not a beautiful photograph but it does effectively highlight the power of this strobe.
Crazily that was the Q4 on half power with the 64cm softbox attached and it was positioned over 2.5 metres away from the model. The shot was taken at 1/4000th of a second, F2.8, 70mm, and ISO 64 on a Nikon Z8.
Even in incredibly brighter sunlight the Q4 could clearly go closer to the model, the output power could be doubled and the shutterspeed could also be doubled. Nevermind using either a small softbox or even just the supplied reflector to add even more power again.
I really like using parabolic softboxes though and this 65cm Neewer softbox for me is the sweet spot between portability and diffusion. You can easily collapse it via the pressure mount clips on the back and just clip them all into place again when you want to use it. It also comes with it's own carrying bag which is a nice touch.
So in short this strobe has more than enough power to battle sunlight and totally dominate it if you want too. For me I know my fashion shoots are in safe hands going forward now and bright sunlight issues are a thing of the past.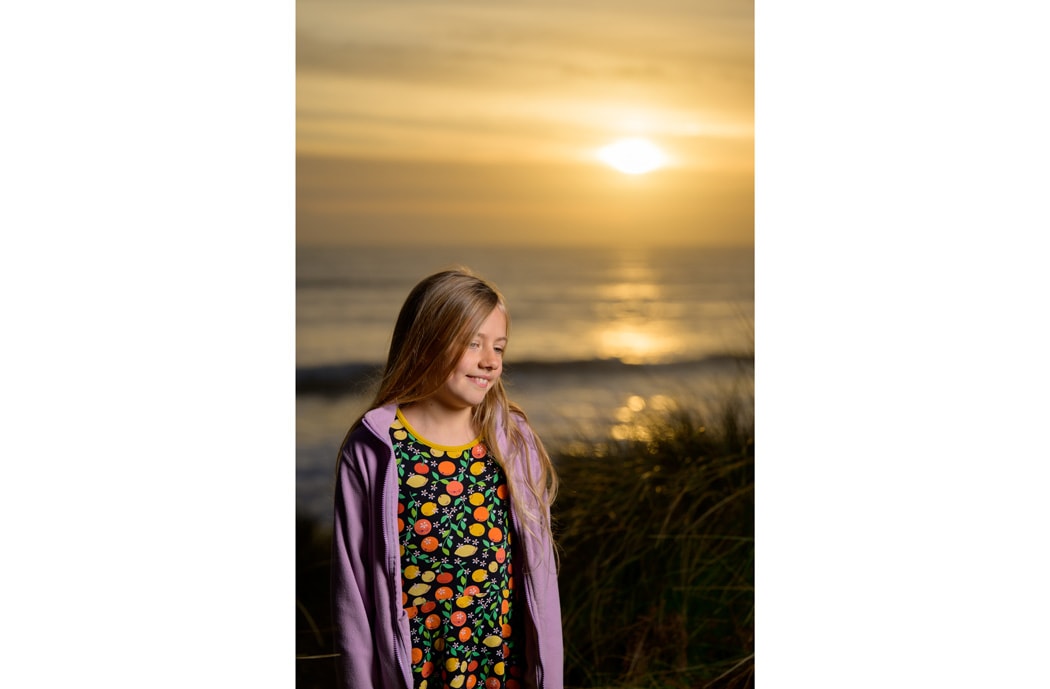 The behind the scenes shot below demonstrates just how well this light performs as you can see my assistant holding the Q4 with the 65cm softbox attached (showing up as black silhouette to the right of the model) and my model being perfectly exposed even though this was shot straight into the sun at sunset at 1/4000th of a second with the Q4 on half power.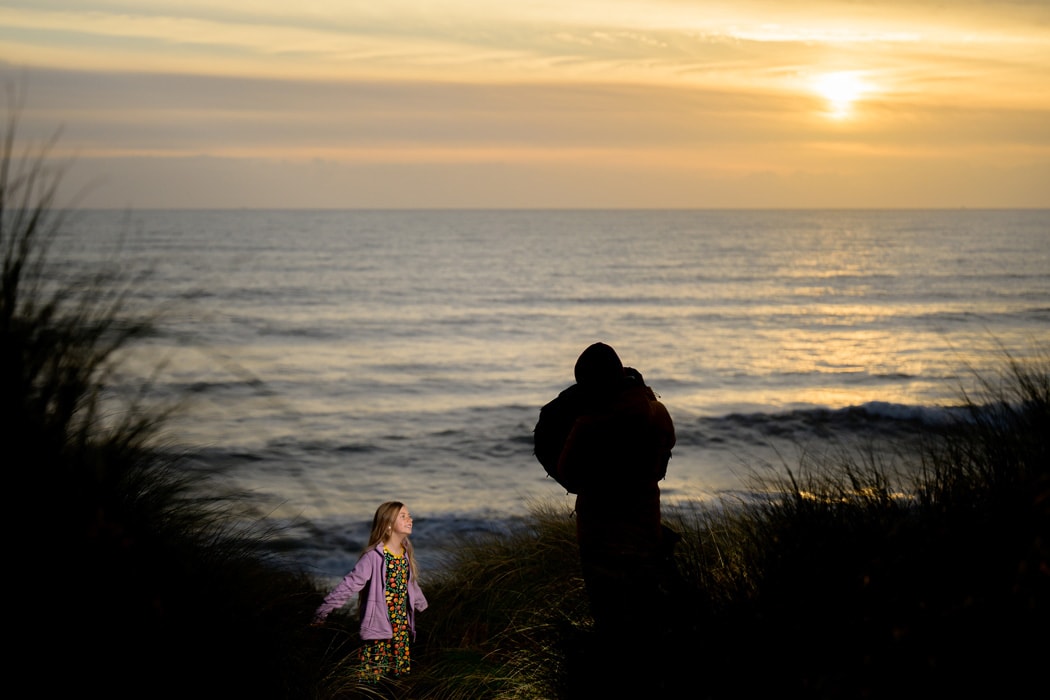 How to setup the Neewer Q4 for the first time.
Setting up the Q4 was super easy and after years of working with strobes I didn't even need to look at a single book and I had it working exactly the way I wanted in seconds.
When the Q4 arrives first the bulb is not fitted so the first thing you need to do is to pop the bulb into position, in my case I just ligned up the dots and slowly walked or slide it into position.
To charge the battery you simply plug the adaptor into the AC wall outlet and then plug it into the battery pack and it starts charging automatically.
Turning the unit on is again very straight forward you just press the power button and then a prompt comes up on screen asking you to rotate the dial to switch it on or unlock it. Now this is very handy as it prevents you accidentally switching it on by pressing a button if you are on a shoot or simply transporting the Q4.
After that you can select what group you want the strobe to be in A B C D or E so you can have multiple lights on the same shot and there are also 32 channels to choose from on the 2.4Ghz remote system that's built into the Q4. It's set to group A as default so you can leave it on that and move onto the next step.
On the remote trigger you can select what output you want for each group by pressing the group you want to change in our case here it's group "A" and then pressing the "Mode" button to cycle between off, TTL and Manual mode.
In Manual Mode you can vary the output power anywhere from 1/256 to 1/1 and in TTL you also have exposure compensation control on the remote trigger, so you can increase or decrease the power in TTL mode also.
You can switch HSS on and off by simply pressing the Sync button on the remote also to toggle between having HSS on and off.
For the modeling lamp you have three options "off", "10%" and "proportional" you can select the one you want by simply toggling between the options by pressing the modeling lamp button on the back of the Q4 or by hitting the "Mod" button on the remote trigger.
The audible beep is loud enough to hear from a reasonable distance so even if you are shooting at full power you can still hear it clearly a good distance away.
Review Conclusion
The Q4 is a cracking light, that's well built, very portable, powerful, looks great and is loads of fun to use,. At it's price point it's also incredible value for money. In short this Q4 has found a new home with me and I can see a very bright future for my fashion and commercial photography with the Q4 by my side.
Gone are the days of wondering how to control bright sunshine on my photoshoots.
I am genuinely struggling to find a negative for this product if I find one I will update this review.
Thanks again for talking the time for reading my Neewer Q4 review and if you have any questions please do feel free to ask them.
See you out there,
Kieran.