Nikon EN-EL15C replacement batteries and charger from SmallRig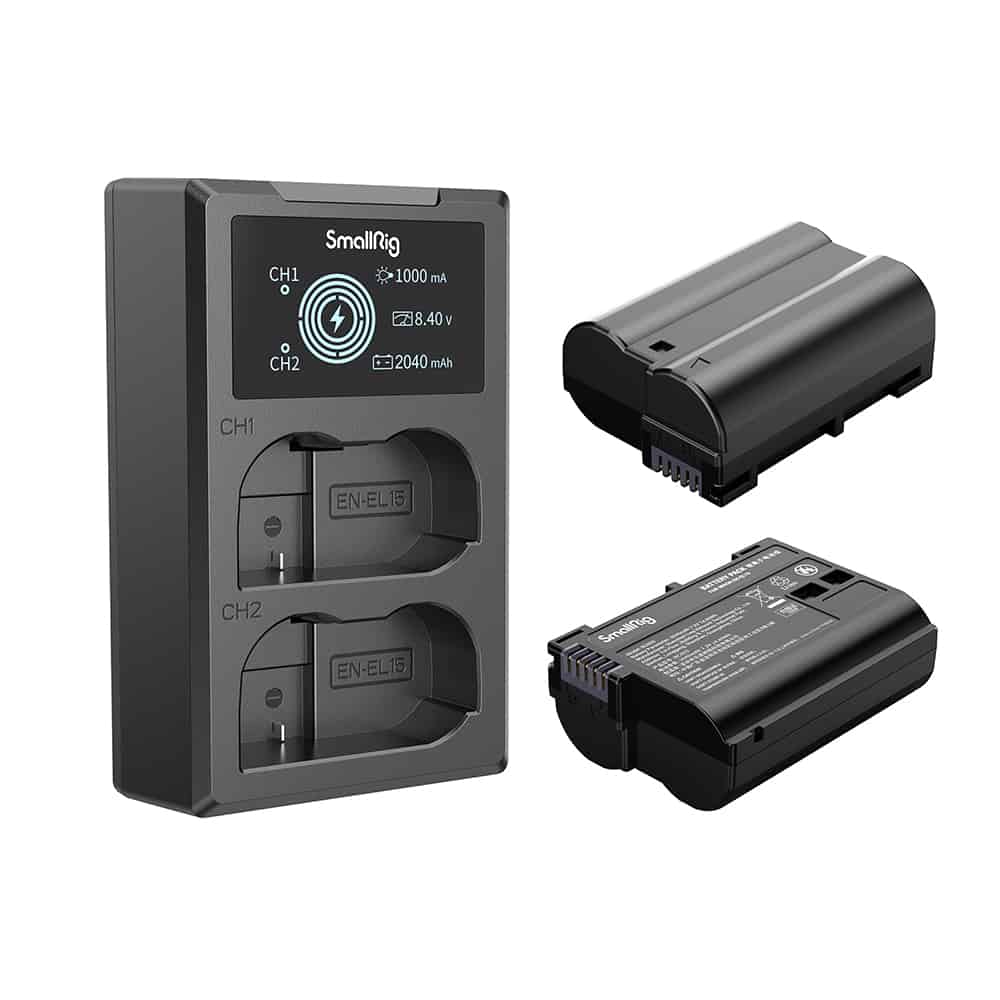 The SmallRig battery replacement kit that also includes a charger and two batteries…
This EN-EL15C Replacement battery Kit is ideal if you own a Nikon camera that takes any of the following batteries EN-EL15A, EN-EL15B or EN-EL15C… Yes that includes the likes of the Nikon Z6, Z6ii, Z7, Z7ii, D850, D810, D750….. To name but a few as there are actually too many models to mention here but if your camera came with an EN-EL15, EN-EL15B or EN-EL15C battery then this kit is for you.
SmallRig EN-EL15C battery kit no.3280 Price.
You can get this kit for $42.90 or around €40 or £40.- from Amazon.com here or Amazon.co.uk here or via the SmallRig website here. The kit is an absolute steal at this price, it's worth at least $70.- or €70.- in my eyes but SmallRig seem to have priced this really aggressively. They also have several other battery kits available for different brands.
Why do you need this SmallRig EN-EL15 kit?
There are several absolutely amazing parts of this kit and I am not just talking about the ridiculously low price but also the build quality, feature list and battery capacity of two, yes two batteries…
The two batteries in this kit will work with any version of the EN-EL15 powered cameras or original Nikon chargers also as they are all backwards compatible.
If you want to watch my video below, I do a quick unboxing and show you exactly how the product works.
Below the video, we will talk about the batteries first and then get into the great charger that comes in the kit.
What version of EN-EL15 Battery comes in the kit?
This kit comes with a battery that is halfway between the EN-EL15 B and EN-EL15C. There are two important differences between the B and C version of this battery.
The first is capacity the C battery has a higher capacity of 2,280mah and the B battery has a capacity of 1,900mah.
The second difference is the way the power is delivered from the battery. The C version has a more efficient power delivery so it helps the battery last longer again. The EN-EL15C is by far the better option if you are buying a new Nikon battery.
As I mentioned above this SmallRig battery is halfway between the B and C battery regarding capacity, the battery has 2040mah capacity so it's right in the middle of the two that way.
Regarding power delivery the SmallRig battery has also been optimised but it's not at the same level of the C battery from Nikon.
Optimised power delivery in ideal circumstances gains up to 26% more shots in the C version I am told.
In saying that though an original EN-EL15C battery costs around $60.- or €60.- whereas this kit which has two batteries and a USB powered charger costs just $42.90 so it's cheaper and gives you a lot more battery capacity.
Which is the reason I say if you need lots of power  and you don't have a massive budget then this kit is for you.
SmallRig Nikon EN-EL15 Charger features and Review
The charger is a wonderful bit of equipment for a few different reasons, firstly it's USB powered so it means you can charge your batteries anywhere via a powerbank or USB cigarette lighter adaptor in your car or any other USB port around your home. A USB PD adaptor is essential for fast charging, USB PD is used a lot now for fast chargers in mobile phones and laptops, they are relatively in expensive but worth their weight in gold in my eyes.
The second plus point is the dual charging port. So this can charge two batteries and as my video above shows, the display alternates between port one and two every five seconds so you can see the battery details of both charging ports and see how the charging is going.
The LCD Display is incredibly handy in the charge as it shows you the battery current charge percentage, the battery voltage and also the current going into the battery. There is also a "mah" Milliampere/hour Capacity counter below which tells you how much electrical capacity has been charged into the battery so it you flatten a battery it will tell you the actual capacity when it has been fully charged.
So if you have a battery that you think runs out really fast then flatten it and pop oit into the charge to see it's current fully charged capacity.
SmallRig Nikon EN-EL15 3280 kit Conclusion
Amazing value for money, great product and wonderful features so a fantastic buy in my mind.
I would highly recommend this kit or even two of them if you are out shooting a lot and need power on the go.
You can buy this great kit from Amazon.com here or Amazon.co.uk here or via the SmallRig website here.
I have a separate post here on how you can power your camera rig so if you use the EN-EL15 Batteries this could be great for you, you can read all about how to power your Nikon camera rig here.
See you out there,
Kieran.