Best 9 Instagram Photographers to be following in 2021 part 1
The best 9 Instagram photographers to follow
So why is this important?
Well, we all need inspiration and these are the instagram photographers I enjoy following, we can all too often get stuck in a rut in our own photography and may need to get a bit of a kickstart every now and then.
Instagram is and always has been my photography platform of choice as it was through Instagram that my own photography career started.
Several years ago I picked up a camera for the first time as a hobby and in less than two years I was working for nationwide companies on commercial photo-shoots and selling prints worldwide. My account climbed rapidly to nearly 10k before I closed it as I just couldn't keep up with all the comments and didn't have the time to reply to everyone. Without the support of so many people on Instagram I may never have braved it to show my photographs to anyone.
How this all snowballed from there is still a bit of a shock for me, to think this went from casually posting a few photographs on an app to being a professional photographer and working with worldwide companies is mind blowing to say the least.
So I owe Instagram a lot, through it I have swapped from getting hundreds of features a year on Instagram to having hundreds of paid published images a year in magazines and newspapers. The only downside is now I don't have as much time for Instagram as I once did, the ultimate irony is photography is keeping me away from photography :-).
My first best 9 Instagram photographers to follow are listed below in Alphabetical order…
Iurie Belegurschi
Patrick Galibert
Bernard Geraghty
Christian Hoiberg
Michael Shainblum
Neil Tapman
Vassilis Tangoulis
Do you feel I missed someone? If so then who?
Do you know someone that deserves to be on the list that I haven't heard of yet?
Iurie Belegurschi
Iurie's Instagram account
Iurie lives in Iceland and yes you guessed it, put a talented photographer in a stunning landscape and you get absolutely sublime images. He has some completely Jaw dropping photographs in his gallery and is one of the accounts on Instagram that you just have to follow.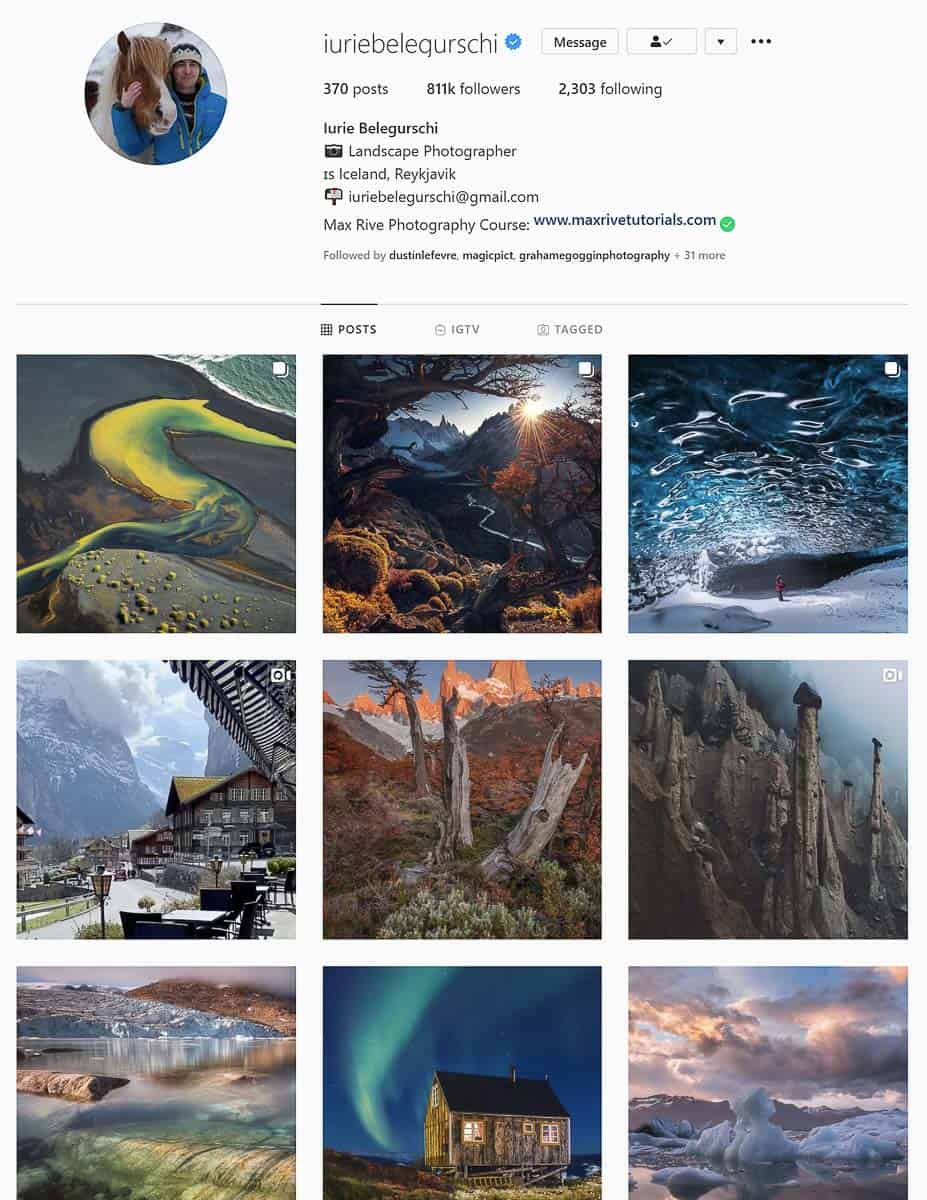 Patrick Galibert
Patrick Galibert is one of the nicest souls you could meet on Instagram and from the very start he has been nothing but incredibly supportive of me on my journey and a true inspiration for me personally.
His work is utterly stunning and always a pleasure to view, he gets the mix of Landscape and Portraiture perfectly right as far as I am concerned.
I have been following Patrick's work for years on Instagram and he is a true all-star as far as I am concerned. So go give him a follow and scroll down through his gallery to see the beautiful mixture of his work.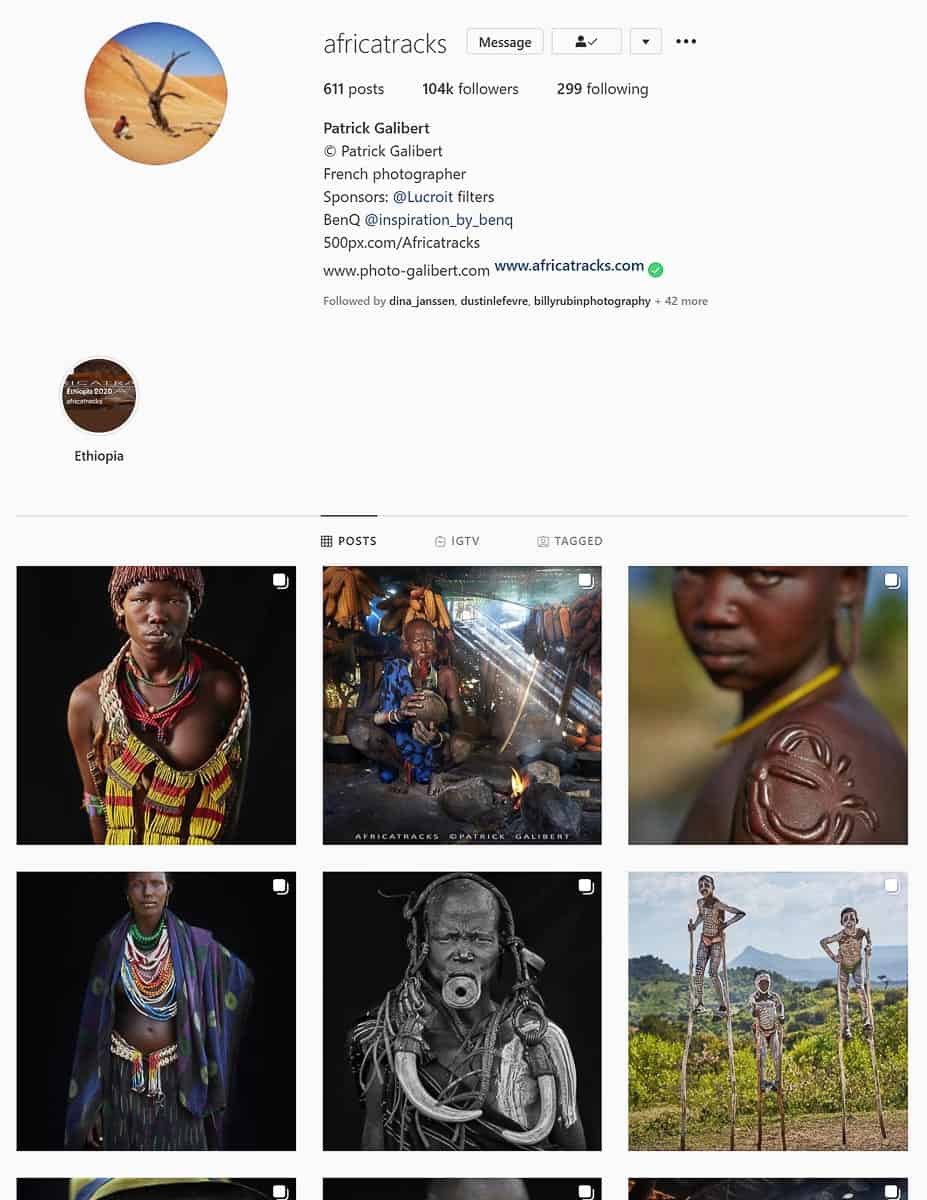 Bernard Geraghty
Bernard is a pure joy to follow on Instagram, from his swimming in freezing pools and rivers to his mad adventures all over the world and with the beautiful photographs to match he is a definite follow for me.
He gets clients to all the best places and tries his best to get you the shot. I have only met Bernard the once but we talk a good bit over the phone, let's just say neither of us are shy when it comes to words so the conversations tend to drag on a bit, that's mainly his fault though 🙂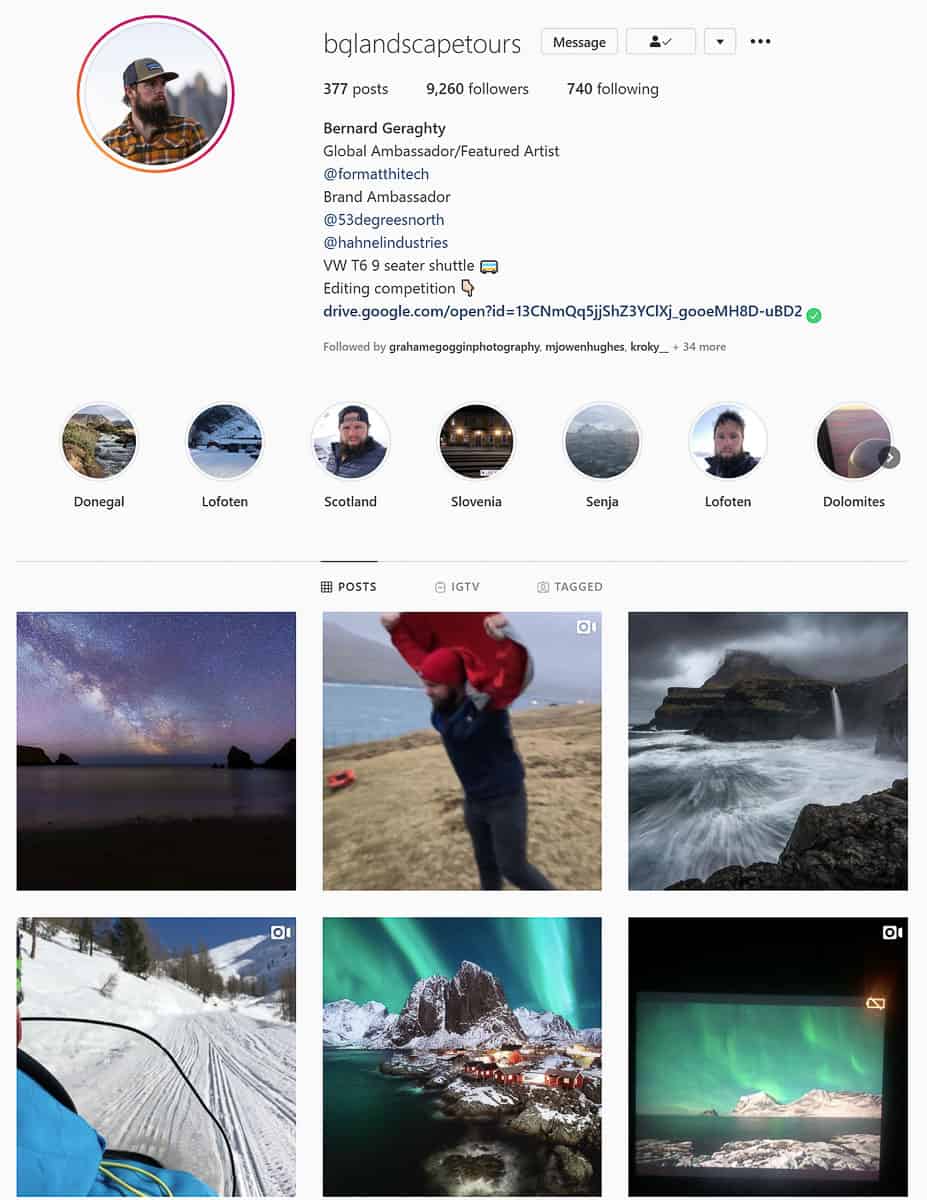 Christian Hoiberg
Christian's Instagram account.Christian has been a friend of mine on Instagram now for a good few years and I have always been a fan of his work. There is a real touch of honesty about his stunning photographs. He is also a good guy and always sharing his knowledge with others via his website capturelandscapes.com
So go give him a follow and support him on his journey. Tell him Kieran sent you…. don't be surprised if he says Kieran who??? 🙂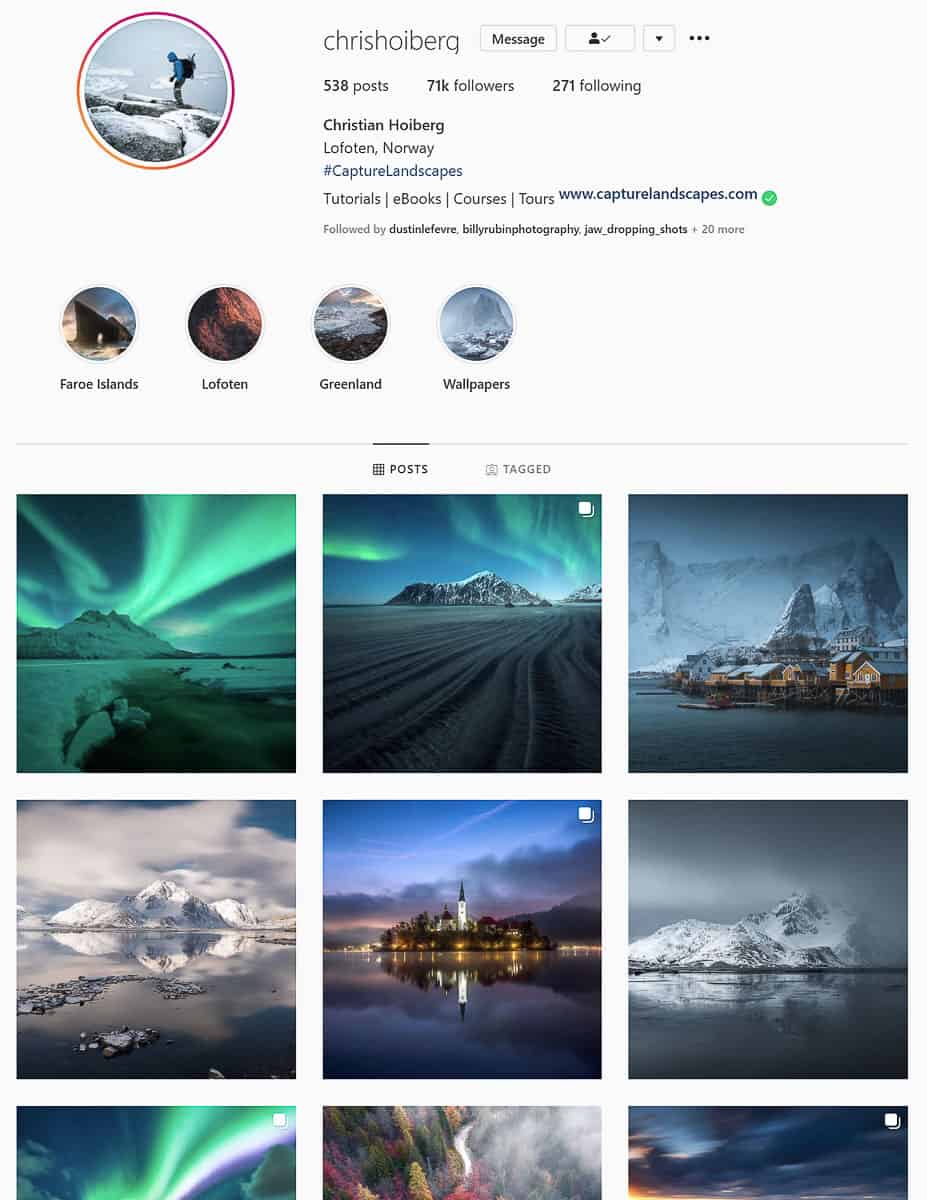 Matt Owen Hughes
I have never spoken to Matt but I have featured his work a number of times and I have to say I really like the mood and tones in his images. 
His photography work really helps to show off the sheer beauty of the Welsh landscape. I have only been to Wales once in my life but I am definitely going back there again in the coming year. 
Until then I will just have to keep looking at it through Matt's eyes.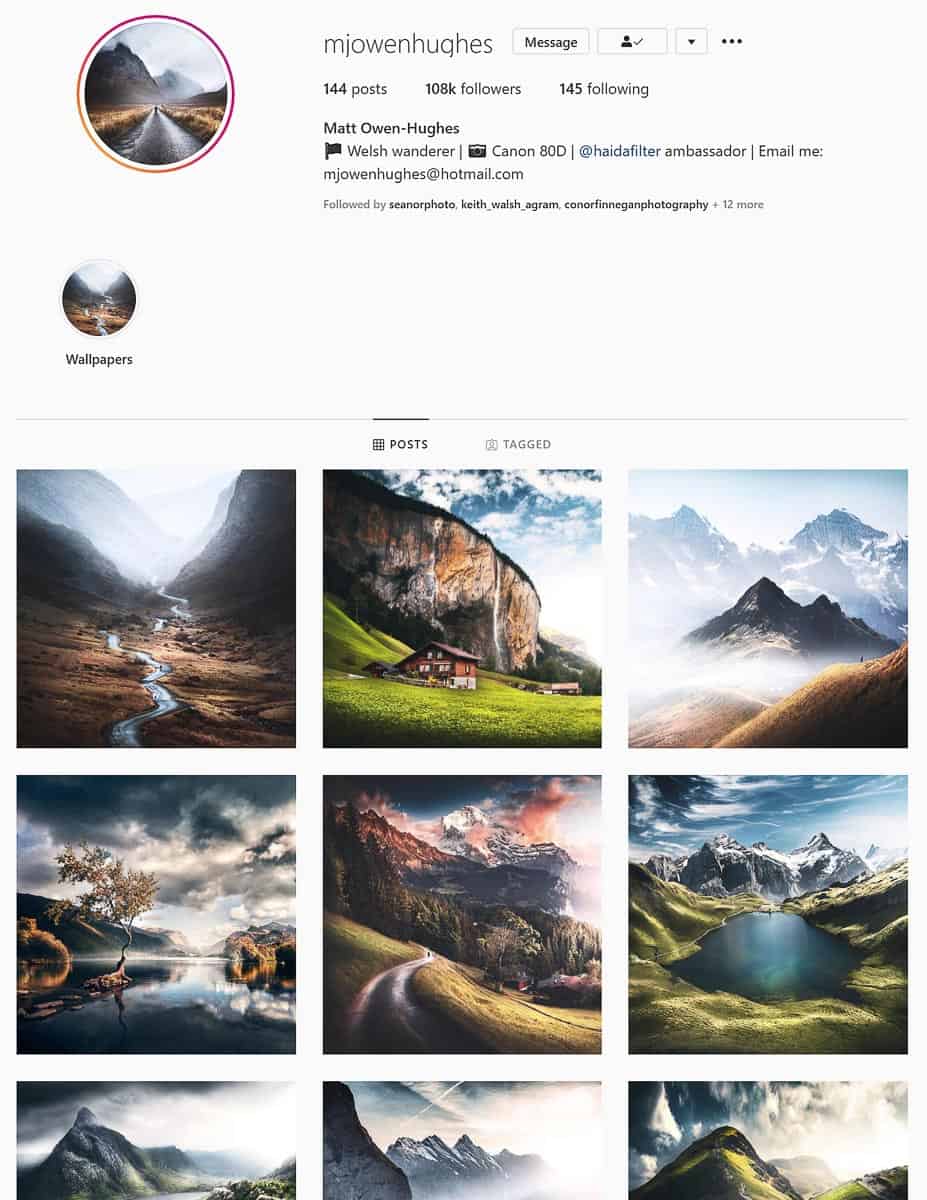 Natassa Triantafillou
Natassa's Instagram account.
Natassa is a friend I have known now for several years on Instagram and it has been mind blowing watching her work developed over the years. She gets to some amazing places in the world and captures them so beautifully.
Behind all the wonderful images Natassa is a really nice person and I am very happy to call her my friend so go give her a follow you won't be dissapointed.
Ps. Those minature shots she does are stunning. So please scroll down through her gallery to have a good look and give her a follow.
Michael Shainblum
Michael's Instagram account.
Ok, so who doesn't know Michael and if you don't what rock have you been hiding under?
Michael is one of the most inspirational photographers on Instagram, his work can only be described as spell binding.
I really can't find the words to describe his work, just go follow him you won't regret it I promise.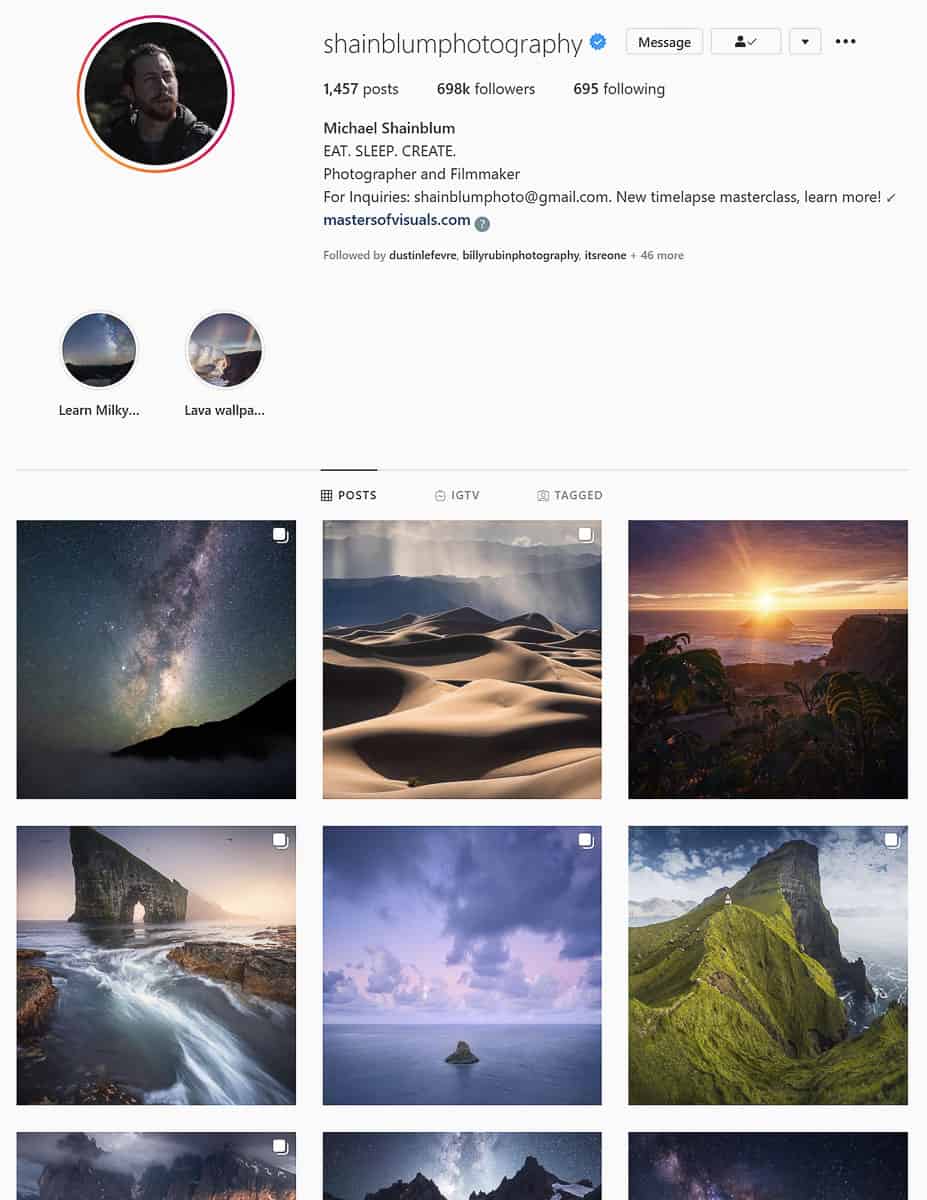 Neil Tapman
Neil's Instagram account.
Neil is a new follow for me in the last 3 to 6 months and his work is again sublime. Travelling all around the world taking breath taking shots of some gorgeous scenery. We all need a bit of beautiful light in our lives these days and Neil is well able to capture it.
Neil is a definite a follow and one to watch…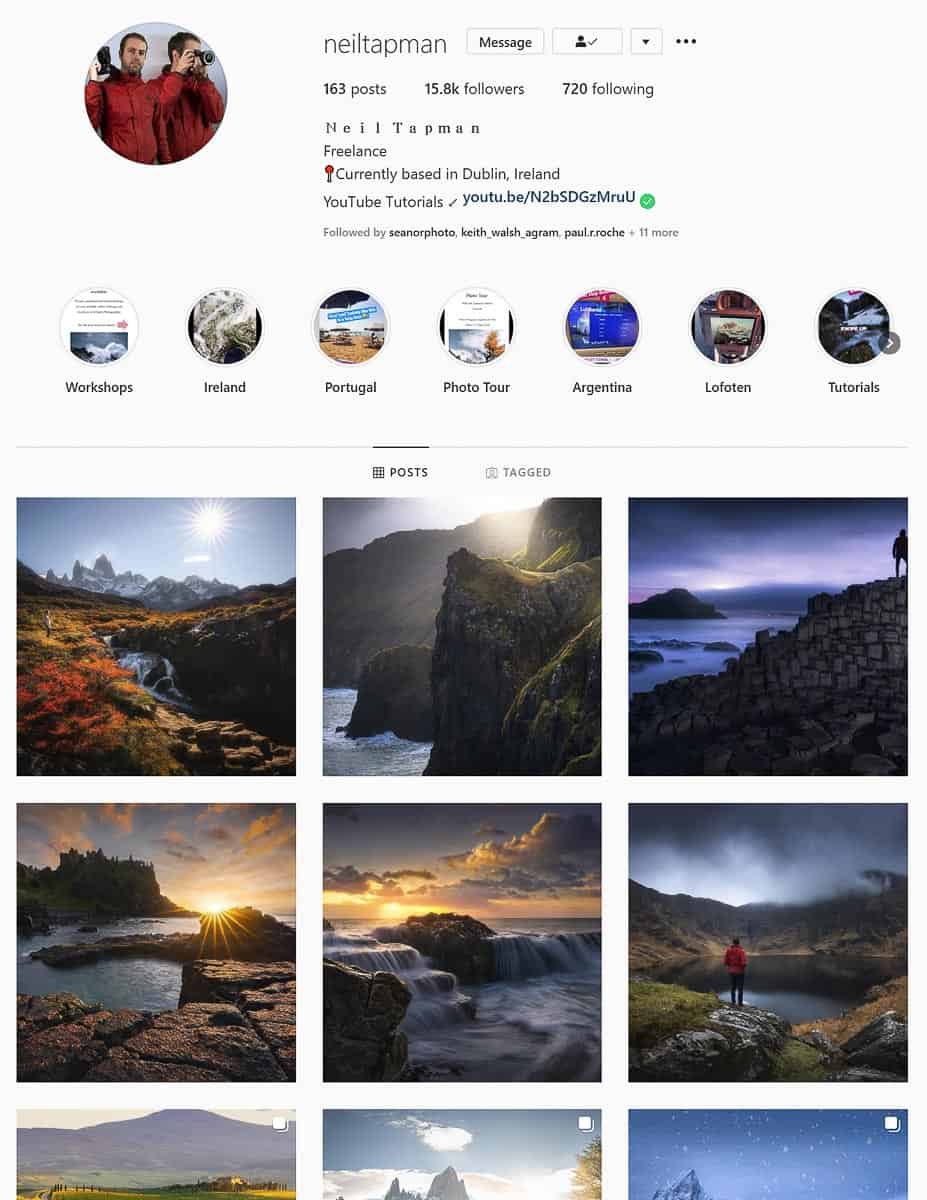 Vassilis Tangoulis
Vassilis's Instagram account.
Now Vassilis is one of those accounts you never tire of. So refreshingly beautiful and his style of photography and art is something I have always loved and it's something I had always planned to do for myself for the last few years but I never got around to it. So nice to see a great Black and white gallery on Instagram.
So if you love black and white photography with a surreal feel to it this is the account for you to follow.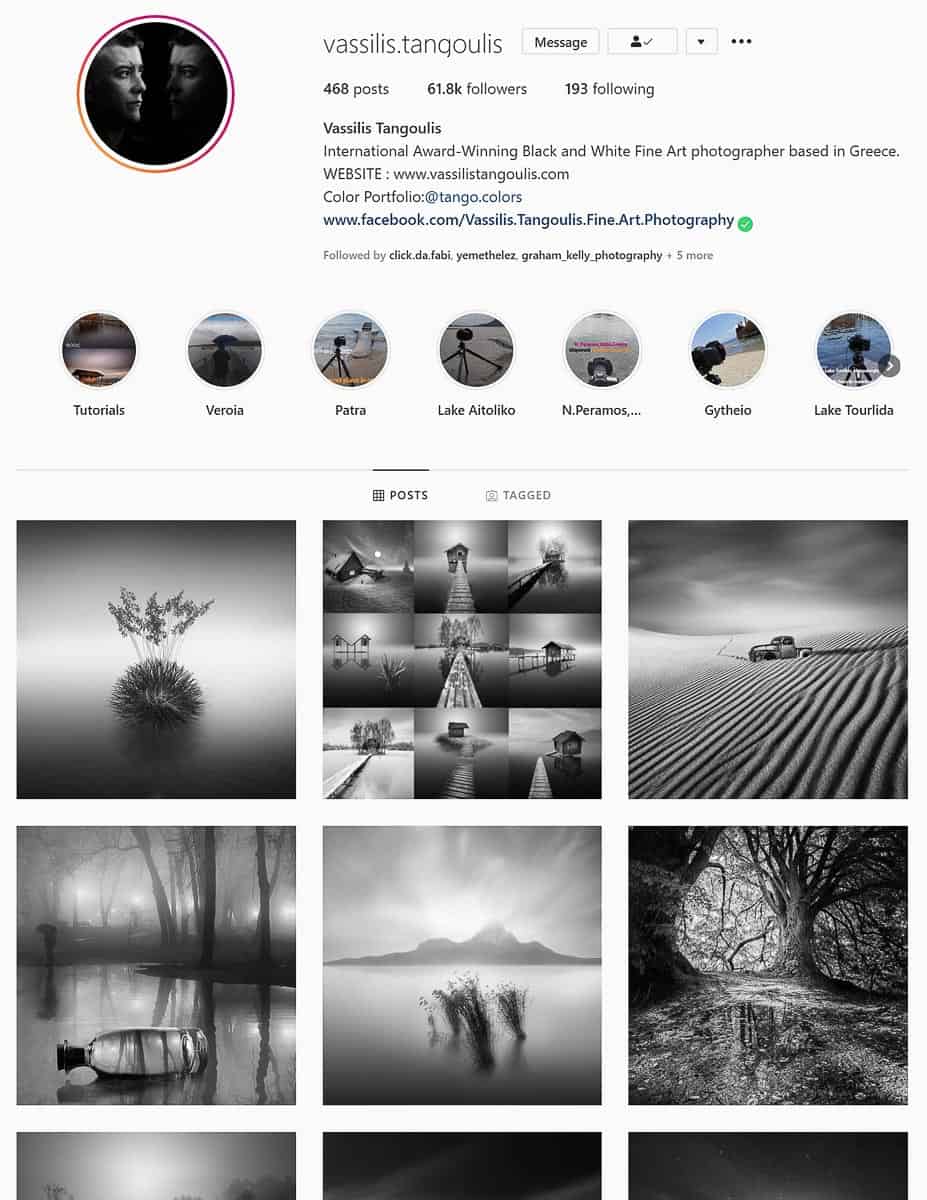 So that is my first best of 9 Instagram photographers and thanks for reading it, I hope you get some serious inspiration from them.
I could of course have added the likes of Mark Adamus, Daniel Kordan, Max Rive and several others to my list but the above best of 9 photographers are the ones I enjoy viewing and they all bring something special to the mix for me.
Have a look at my photography tips and tricks section in the menu where I cover everything from…
ND Filters explained and how to choose the right ones,
Photography tips everything from filters to tripods,
Seascape Photography explained,
Long Exposure photography tips,
How to backup your photographs,
My secret tips to photography,
If you want to follow an only average account on Instagram, I have that perfected 🙂

My Own Instagram account.

See you out there,
Kieran.