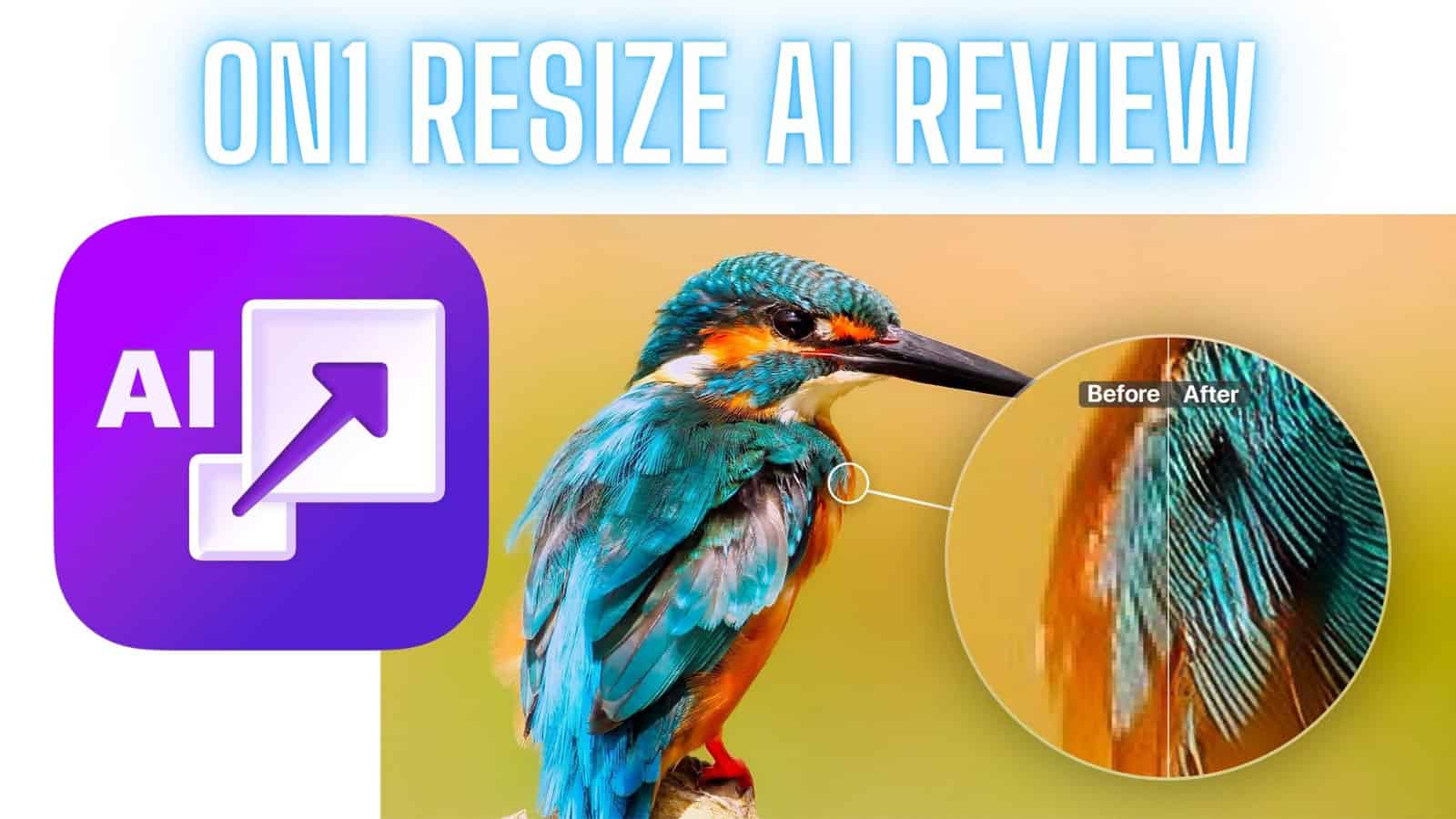 Welcome to my ON1 Resize AI Review and tutorial


Release Date for ON1 Resize AI
ON1 Resize AI has now been released and is available to purchase since April 2022 and in this review I put it through its paces to see if it really is the best Images resizing software out there and before I get any further into it I have to say I really like the print size facility in Resize AI. You simply select the size you want to print and this awesome bit of software resizes your image to the correct size for printing… now that's handy.
Resize AI Price.
Resize AI retails for around €120.- or about $130.- but there
are two little cheats here to save you a nice bit of money on Resize AI.
Tip no.1
I highly recommend
that you buy the
ON1 Professional Plugin Bundle click here
(to order it and don't forget to use the promo code also) as you get Resize AI and all their great photography editing plugins for the fantastic price of around €180 or $200.
Tip no.2 Add the Promo code the nice people over at ON1 have given me and save yourself another 20% off the price (this can be used on any ON1 product). This promo code will work for Resize AI on its own also.
Simply go to my
ON1 Promo Code Page
section below and click the "Show Code" button below to get the deal.
With both money saving tips applied you get all the plugins for around €150.- which is a steal.
It doesn't cost you anything to use my ON1 Promo code in fact you save 20% off the product price, I also get a slight commission and out of this commission I pay for a tree to be planted to help keep this planet beautiful.
It's my way of giving back to this beautiful world and helping Mother Nature. I have a page here explaining my affiliate links and discount codes and how I use the money it generates if you want to have a read of it.
I also have a page dedicated to my ON1 Promo Code here as well as other On1 product reviews like ON1 NoNoise AI here.
My ON1 Resize AI Conclusion…
If you don't want to read the whole article then here is my ON1 Resize AI review conclusion…
ON1 Resize AI is a great bit of Photograph enlarging software, it does it's job incredibly well, it's simple to use and the interface is easy to navigate. The AI algorithm works wonders on low resolution images converting them or upscaling them to beautiful high resolution version. ON1 Resize AI has just become a serious contender for best photography enlarging software.


I as you can tell am very impressed by Resize AI and thoroughly enjoyed using it but if you read on you will find out more about that.
ON1 Resize AI Review
Let's get into the software and have a look to see do you actually need it? What makes it different? How to resize images with it? and finally how well does it work?
Do you need ON1 Resize AI?
Photography resizing is something we all need and want for those old photos of loved ones and special moments and heck even for todays and tomorrows photographs this is going to be seriously useful.
So we all know that most of our older photos are low resolution images but why do we need this today with 46mp and higher cameras available?
Well we might need to crop our images as we didn't have the right lens on the camera at the time or the subject was just too far away, cropping the image heavily is obviously going to dramatically reduce the resolution of the photograph and that's where Resize AI comes to the rescue to enhance the image and create not just a larger file but through it's advanced AI engine create detail and texture while increasing the resolution of the file at the same time.
Don't forget those drone images also where you might be shooting with 12mp or 20mp and you want a really large print from the shot yes you guessed it ON1 Resize AI to the rescue again 🙂
What makes ON1 Resize AI different?
Well, the real difference here is how easy it is to use, now in saying that I have a beta pre-release copy so it might change a bit in the final version, could it get even better? (it didn't really and the Beta was near perfect)
This software looks at resizing your images differently and makes printing larger images so incredibly simple.
So lets say you have a photograph that was taken on a six megapixel camera and you had cropped it in a bit to say 2498 X 1665 pixels to frame your subject correctly, that's a fairly small photograph at only 4.1 Megapixels.
So you now want to print that as a 30 x 20 inch print… in order to do that you would ideally need a 9,000 x 6,000 pixel image meaning a 54 Megapixel image is needed, can you see where the problem is here?
So let's see what magic Resize AI can do and how it does it.
Directly below is the 4.1 Mp image that I wanted to Resize.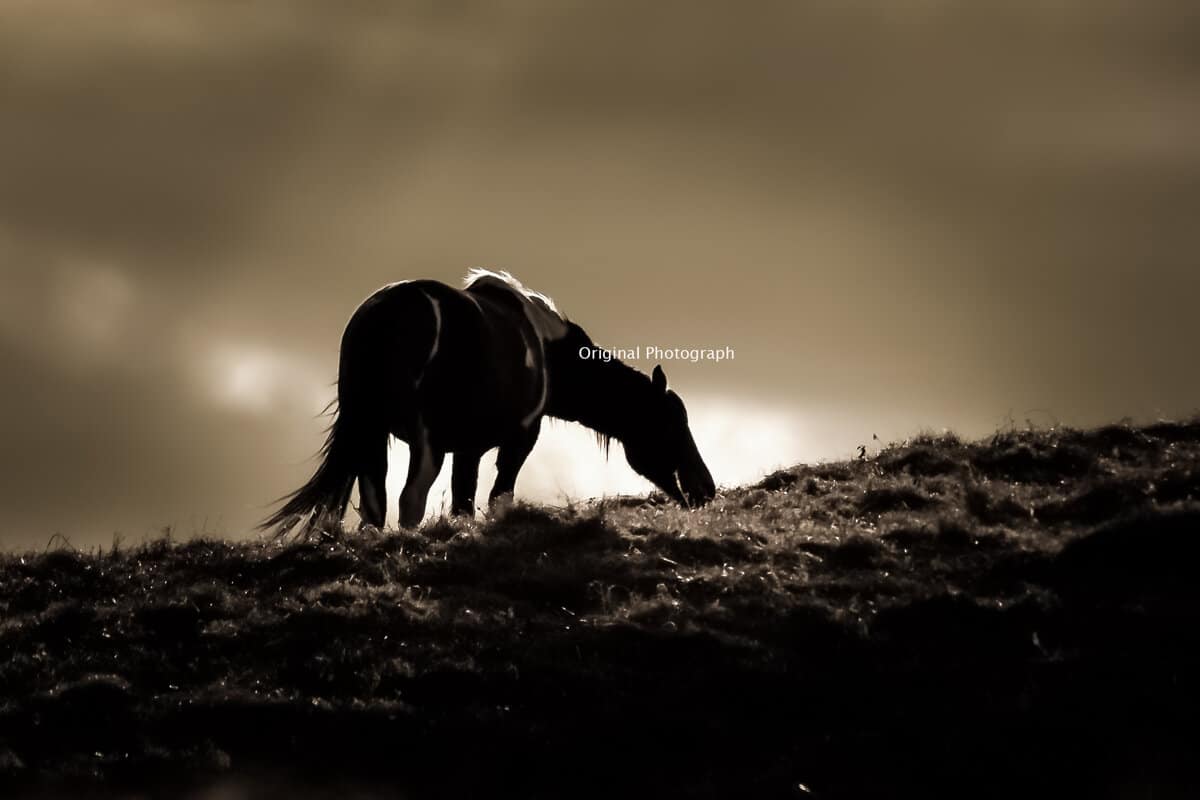 How to resize a photograph in Resize AI
You have 3 different options here but the first one really is the simplest one of the lot.
Simply select the size of the print you want from the print size panel on the right and Resize AI automatically does the maths for you and resizes your photograph to the right size for you.
You can also increase the size by selecting the percentage increase you want for example 200%, 300% , 400% etc…
You also have the option to input the exact image dimensions you want so if you wanted the above file to be 6,000 x 4,000 pixels you simply enter in those details and there you go.
It takes a few seconds for the software to work but after that you are ready to save your image (there are also other options here I will get to shortly).
For this example I am going to use the right print size panel as it's just soooo easy to use.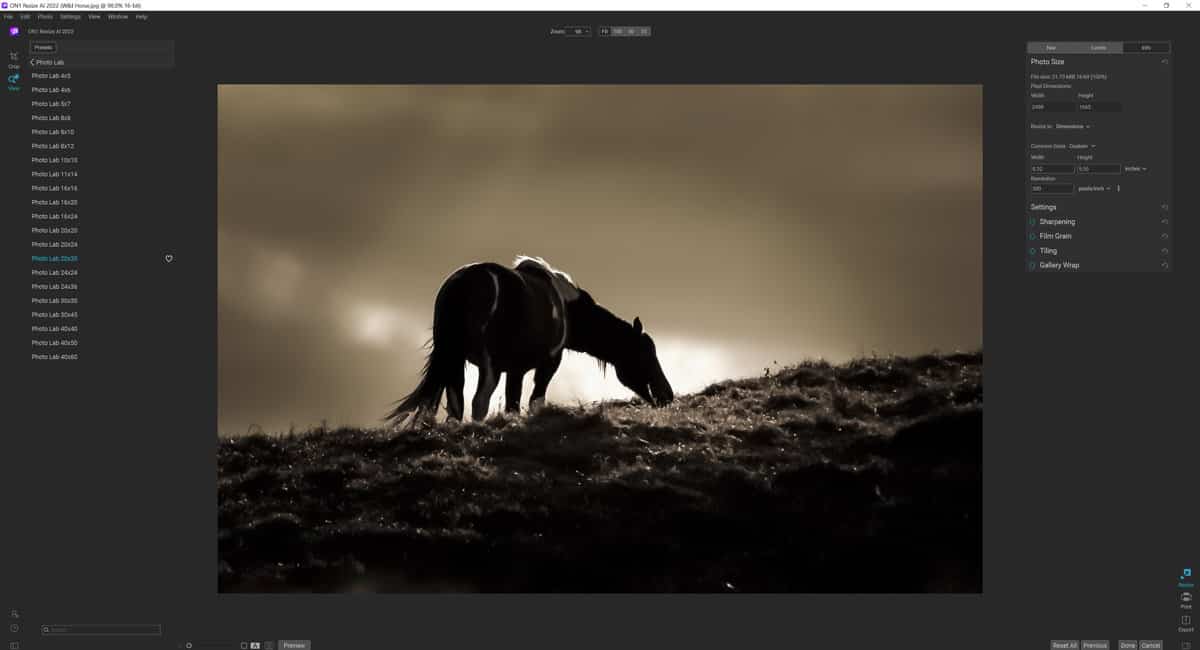 The left side panel gives you several options for printing including different paper textures, canvas, canvas wrap etc…. In this case I just picked the generic Photo Lab option. In the right side panel you can see the original image dimensions (as of yet I have not clicked on the 30 x 20 print option).
Once I click on the Resize AI print resizing option the first thing that will handily pop up is the crop tool as something the aspect ratio of your print might be different to your original photograph and yet again Resize AI automatically crops it to the right ratio for you. All you need to do now (if you want to) is recompose the crop a little. Click apply on the top panel and that's it…. how easy was that? No maths involved, no calculator and no messing around with numbers.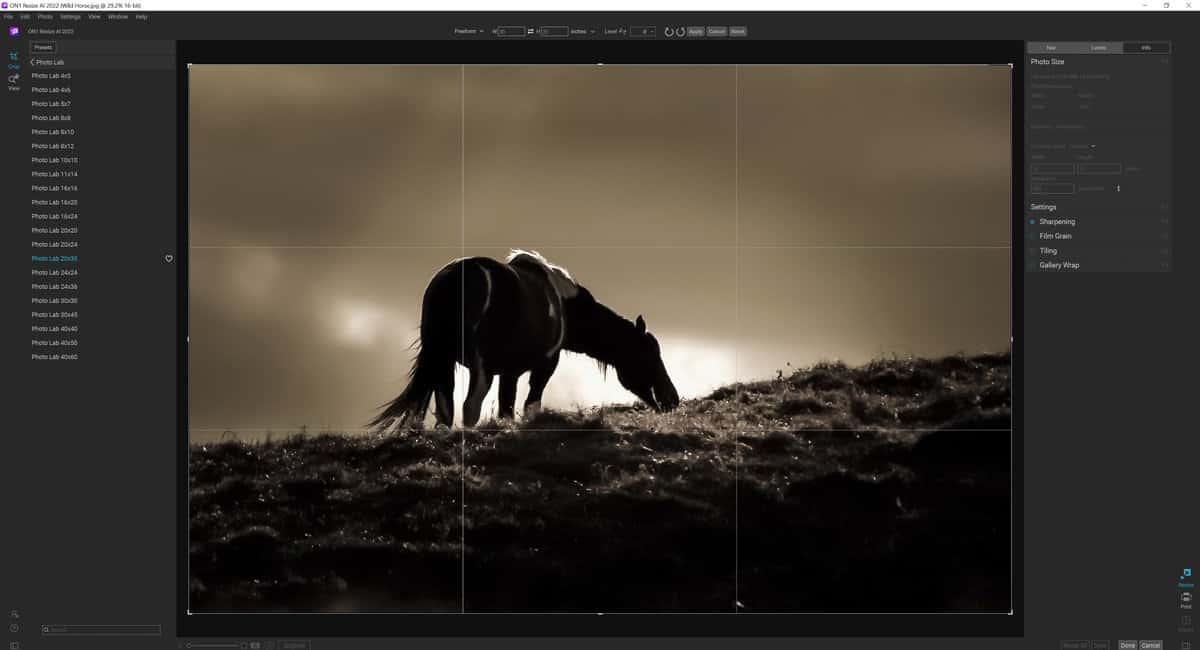 In the photograph below you can see the dimensions have now changed to 9,000 x 6001 pixels after I selected the 30 x 20  Resize AI print option. Which just makes it mall so easy to use.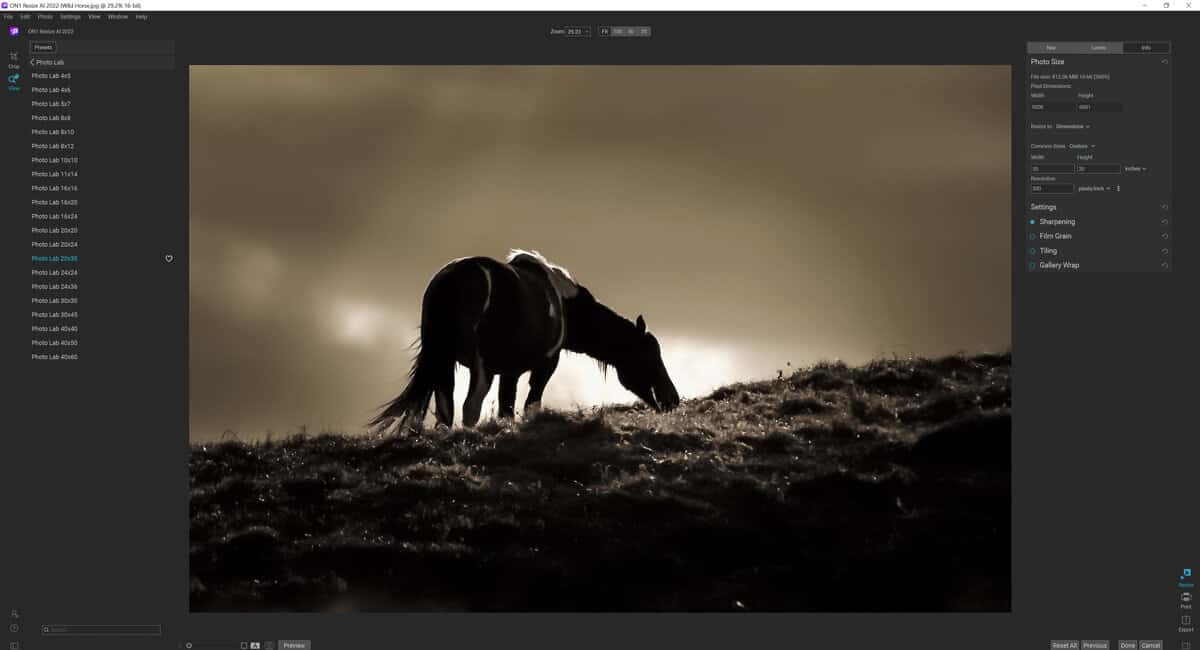 Now if you are like me and you are thinking easy is good but there must be a catch to this wizardry…. again like me you are probably wrong. The below two photographs are zoomed in at 100% so you can see the before and after effects of the software. The before image has very jagged edges on the horses nose and look at how indistinct the hair from the horses neck is…..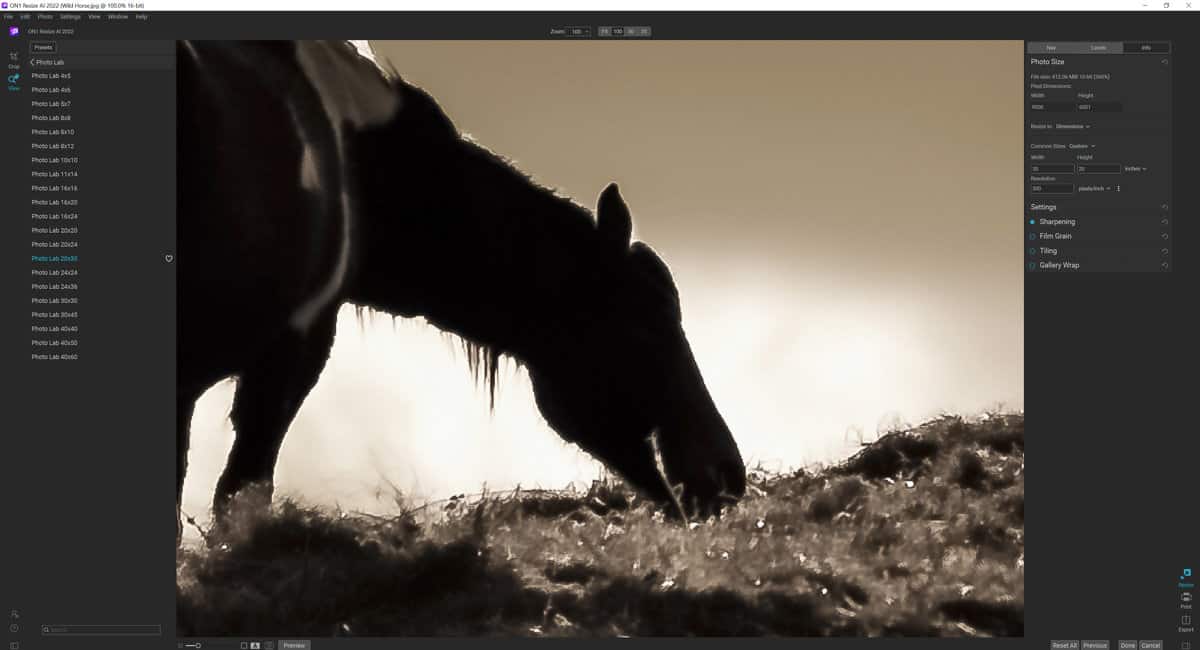 The photograph below is the Resize AI artificially altered image and it's just mind blowingly good. Look at how the hair on the neck and those jagged edges on the nose have been enhanced!!! Again please do download the images and see it for yourself as web compression isn't going to help the detail here.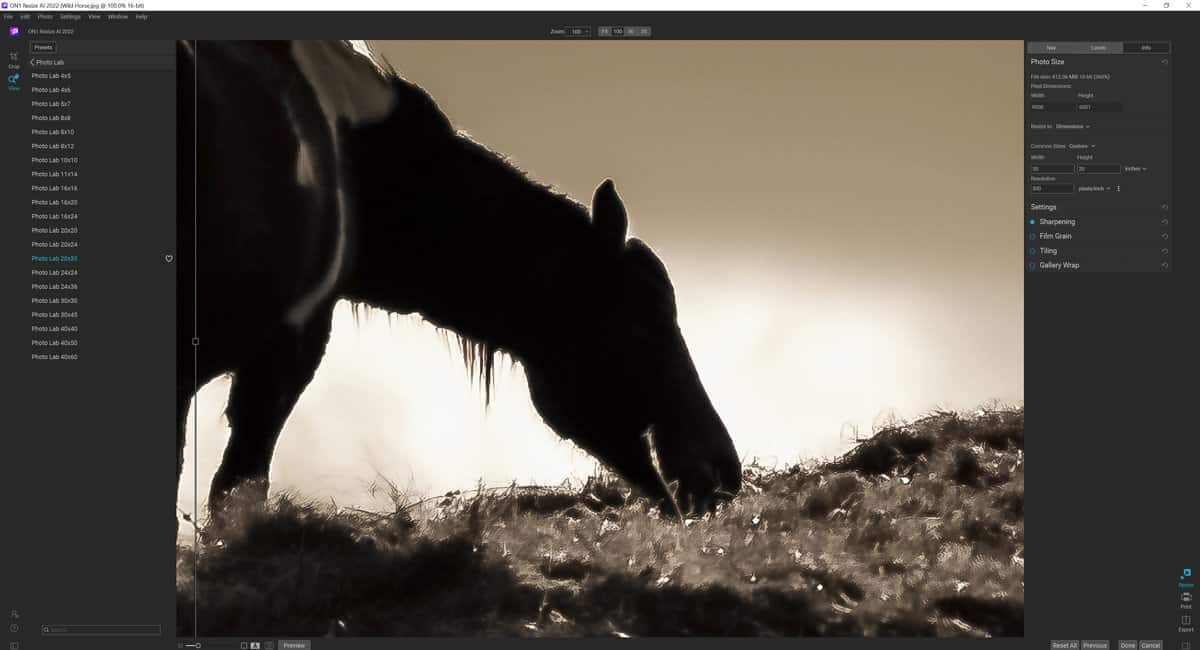 I will be posting a full video on this soon and putting it up here so you can get a better idea of how well this software works.
Click here to download the photographs.
To save yourself some money simply go to my ON1 Promo Code Page here (opens in a new window) and click the "Show Code" button below to get the deal.
If you are thinking about buying Resize AI then that you buy the ON1 Professional Plugin Bundle click here (to order it and don't forget to use the promo code also) as you get all their great plugins for a one fantastic price.
See you out there,
Kieran.
ON1 Resize AI Review by Landscape Photography Ireland reviewed by Kieran Hayes.