Themify Ultra review – is this the fastest wordpress theme?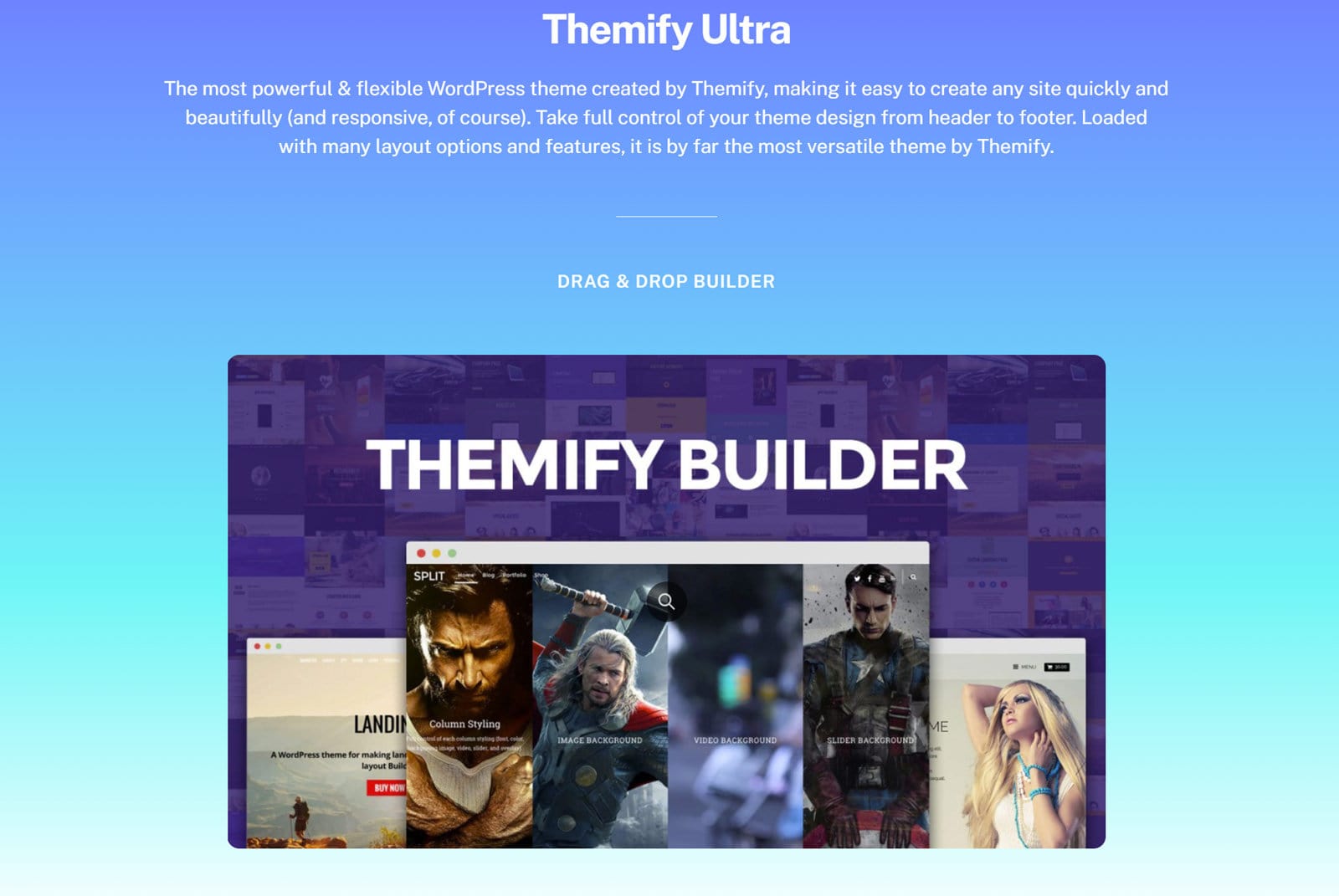 My Themify Ultra Review and tutorial.
Welcome to my Themify Ultra Review and tutorial where I talk you through why I selected Themify Ultra as my wordpress theme and how it has completely changed all of my websites for the better.
Yes, I know everyone says their theme is the best wordpress theme but today in my full Themify Ultra Review I am not going to tell you that, I am simply going to show you how cool it is and let you confirm that it is the best option for you for yourself :-).
Before I get started I want to clarify that this Themify Ultra review has not been paid for or sponsored and I purchased Themify Ultra myself at full price myself.
Now I am mentioning this as I was asked by another big Theme provider if I would write a review of their themes even though I had never used them and I was told "that doesn't matter as long as it's a good review"!
Scary isn't it? It was nice money too but I could never do that as I enjoy sleeping at night time 🙂 So rest assured this Themify Ultra Review is not sponsored and yes I use the product myself and love it.
Themify Ultra Price
The first thing you normally look at it is a themes price and in fairness to Themify they have a very competitive pricing structure. You can get the Themify Ultra Theme for $59.- but wait there is more…
The advantages of Themify Ultra…
You get 1 year of support and updates as well as 12 builder addons.
You can use the theme on an unlimited number of websites so it's great for developers and people with multiple website.
If you already have a Wordpress theme you can get 50% off for Switching to Themify Ultra, more details on that below.
Themify have also given me a 20% off Themify Ultra Coupon Code below.
So the price is right but if you want to get an even better deal then go for the lifetime club membership like I did at $250 which is only $125 if you have another theme installed or $200 with the coupon code below.
Or feel free to use my Themify Ultra Coupon Code below to save at least 20%
If you use my Discount code I may get a slight commission but it doesn't cost you anything in fact you save money by using it. I use this commission to help run this website and I also pay for a tree to be planted out of every sale I get I have a 
page here where I explain my affiliate commissions
 and where the money goes.
Themify Ultra Speed test
The second thing I was told by a web designer friend to look at was your website speed and after trying the other themes on my website I was surprised how fast Themify Ultra was.
Now if you are thinking a fast website is just a nice thing to have then let me tell you it's so very much more than that…

A fast Website is vital.
The way Google looks at user dwell time and user interaction now with your website has changed, with the new algorithms a fast website is has become one of the most important ranking factors along with great content and keyword research of course.
Having a beautiful website is great but if nobody sees it there isn't much point in having one.
So we want to rank in google searches as high as possible. BTW I have an article on how I got my website to score 100 out of 100 on google page speed insights here if you want to read it.
Check this page out on Goggle page speed insights yourself and check your own website too while you are at it (sometimes you need to check it two or three times to get an accurate average so don't just try it once). I am willing to bet you that yours isn't as fast as this one… I have a screenshot of my Pagespeed insights below how well is your website scoring?
So for a fast clean website Themify Ultra is really going to do amazing things for you and your business.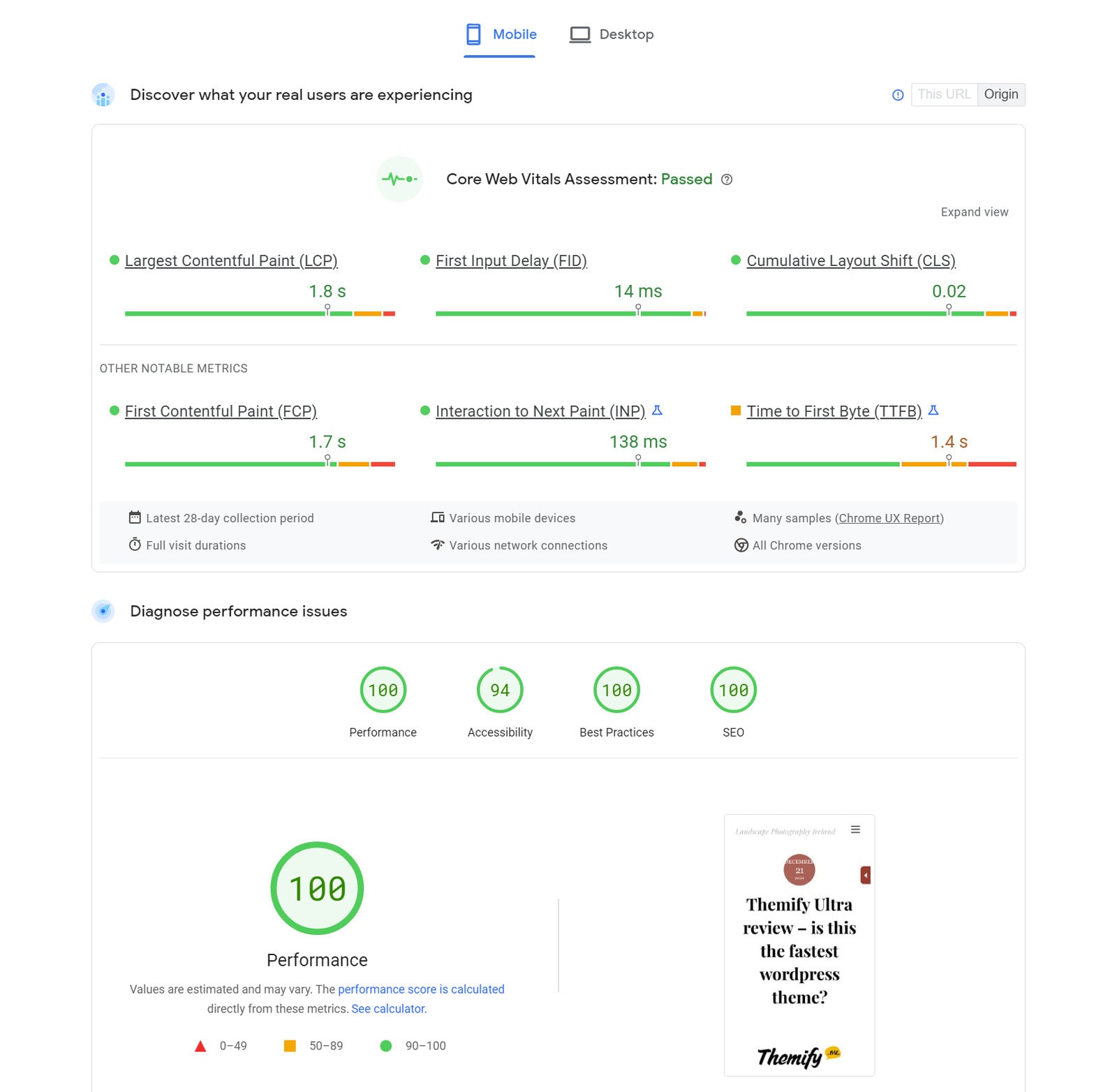 Google SEO and page speed explained simply.
This is really simple so stick with me for less than two minutes, I promise you it's a great investment of your time…
Every second a person has to wait for your site to load means there is a far greater probability they will just drop off and go back to the Google search results and try the next option. Now you might be thinking ok so I just lost one viewer big deal…
It's a lot more serious than that though, you just got a small little black mark from Google and if that continues it will kill your SEO, rankings and website traffic.
Recent polls show over 43% of users drop off after waiting for less than 3 seconds!!! So nearly half your users are already gone if it takes more than three seconds for your page to load. This percentage climbs a lot higher with every second it takes over the three second mark.
Again if you want to check your page load speed Google Page Speed Insights is your ultimate tool here.
If your page is taking 5 seconds or longer then you are really shooting yourself and your business in the foot.
Look at it from Googles point of view. 
Think of Google as an information provider that wants to supply the best possible user experiences. Even pretend you are Google for a second and a friend asks you "What's a good restaurant locally?" you recommend one and they go there bu the food wasn't great when they were there, which they happen to mention to you later on that week.
Suddenly, you are now less likely to send the next person who asks you to the same spot, now obviously everyone has a bad day so you might send another person there for food but if they too say it was poor then you start recommending another place and this is exactly what Google does. Their ultimate aim is a good user experience so you keep using their search facility.
If your site is slow and the user bounces back quickly (as an unhappy user) it's a really bad mark for you and you go down the rankings…. Now, when you consider you are already being judged and being punished and nobody has even seen your content that's kind of crazy isn't it?
Before anyone has the chance to see what an amazing piece you have written or what amazing products you have they have already gone somewhere else and you got as black mark with Google now too.
As you go down the ranking then less people will view your site and then your content dies… or your products don't sell and then you have to advertise and spend money there. So before you start spending hundreds on ads a week, month or year just get a good theme and as they say "if you build it (right) they will come".
I am guessing you are starting to see why site speed and an optimised theme is so incredibly important for you now.
I should also add there are a few more parameters to having a fast website other than just your Theme but that's going to be explained in another blog post one of these days. Let's just say for now if have a poor hosting platform then you are going to pay the price with speed again, I use DreamHost and I am very happy with their service.
So is a fast theme enough to get you to page one? 
Probably not, but it certainly won't be the thing holding you back from getting to page one.
This is the reason I love Themify Ultra and it has become my serious partner in crime for me versus the Internet kind of stuff.
Have a quick look at the Themify Ultra review video below which shows speed tests for Themify Ultra vs Divi vs Elementor vs Astra vs Avada vs Beaver vs OceanWP just to give you an idea of how good this theme is and how it out performs the rest.
Building a Website.
To give you a better idea of where I am coming from I think it's important you know a little bit about my websites and no I am certainly not a website designer so if I can do it you can too.
I started my website journey a long time ago with Zenfolio I then flirted with Squarespace, Duda, Format and a few more before ending out with Pixpa where I set up three websites.
I have a group test review on my Squarespace vs Pixpa vs Formatt vs Zenfolio vs Wordpress etc here if you want to read it.
Pixpa
If you want a really simple one stop solution and love the drag and drop building aspect and hate the idea of sorting out domains, hosting and themes then do check out Pixpa and the awesome news there is I have a 50% off Pixpa discount code here for their platform and you can get a free trial also :-).
After 18 months I found myself out growing Pixpa though for my own personal needs and I ended out on wordpress.org and the maze that is themes, hosting services, image compression systems, plugins and optimization apps. Pixpa was a lot easier here and a complete one stop solution.
Wordpress
I started to build a few of my websites on Wordpress and I have to say I really missed the drag and drop building system on Pixpa as it was just so fast and easy.
A quick chat with my web designer friend and he told me "go get a good theme that's the base for your website, saving money here is going to really cost you long term". I took his advise seriously and went browsing around for a good theme.
Which Theme?
After trying several themes and doing a ton of research and again talking to my amazing web designer friend I was veering towards the Themify Ultra theme.
They just worked and more importantly they were easy to use with the Themify builder it was all just drag and drop just like lego again so I knew this was right for me.
Now I tried Elementor, Div and several other themes but I kept finding myself coming back to Themify for their great pricing, speed and facilities.
Themify Ultra Review Conclusion
Themify Ultra is an amazing theme and it truly is very easy to use and yet you can make it as complex as you want also and use widgets or widgetised areas or custom sidebars like I have to the right of the page which again you can make sticky so as you slide up and down the page they stay min place and slide with you.
You just checked it didn't you 🙂
So it's fast, clean, easy to use, complex if you want to go down that route and so very versatile. My biggest regret is that I didn't go with Wordpress and Themify Ultra from the start as I would have saved myself an awful lot of time.
Have a look at the video below at the tutorial on how easy it is to build a page with Themify. I will be adding more to this review in the coming weeks so please stick with me and don't forget the Discount code to save yourself 20% and remember you save money and I plant a tree for every time the code is used so mother nature wins as well as you and me.
See you out there,
Kieran.