DxO PhotoLab 6 Review Demo and is this the new lightroom killer?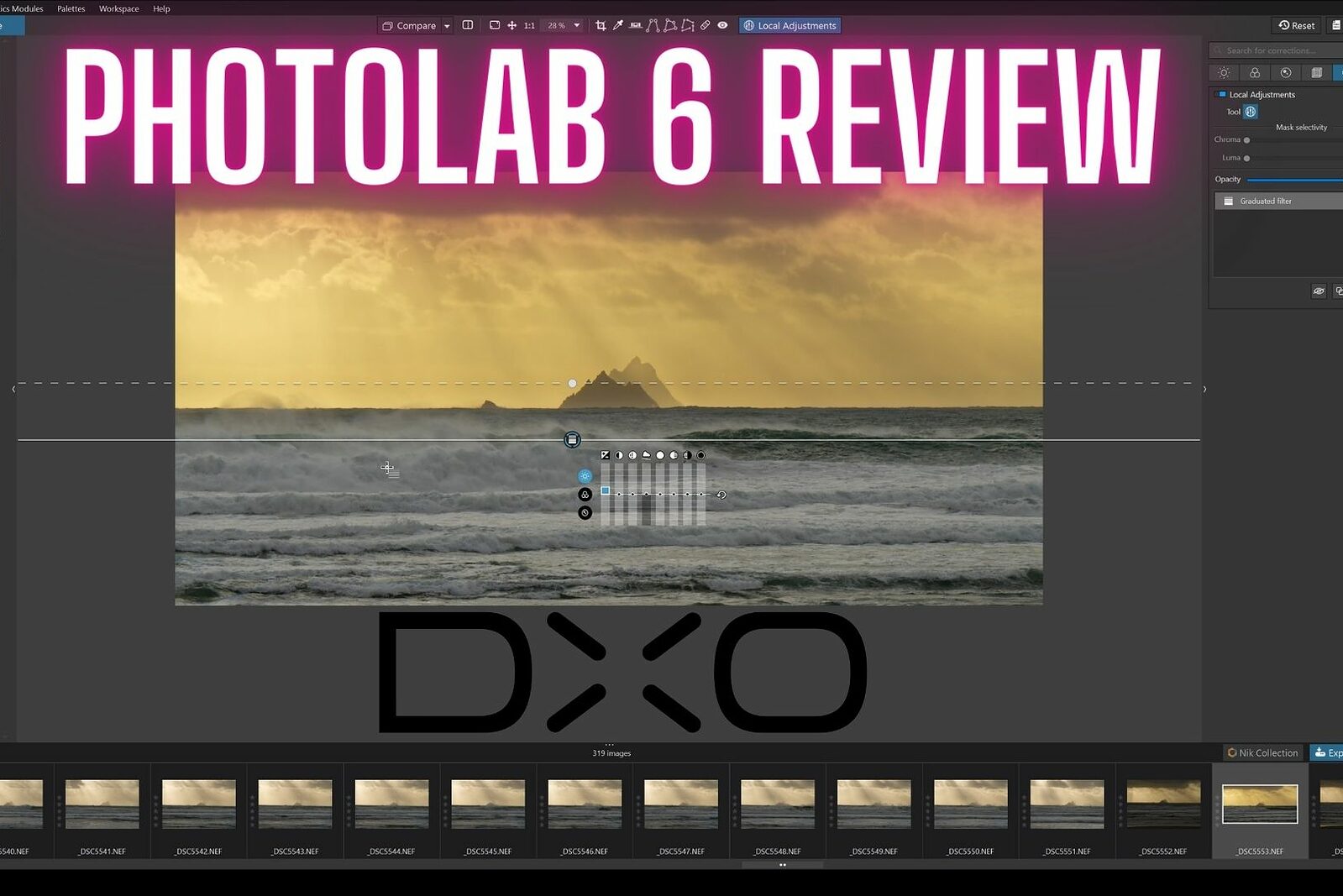 My in-depth DxO PhotoLab 6 Elite Review.
Welcome to my DxO PhotoLab 6 Elite review where I will be looking at every aspect of this photography editing platform from it's price, features and functions all the way through to the results you can get from this software.
Please not this DxO PhotoLab 6 Elite review was not sponsored by DxO nor did they see this review before it was published.
Overview of DxO PhotoLab 6 Elite
DxO PhotoLab 6 Elite is a great all round editing platform that's not just easy to use but it also gives users access to powerful AI editing features, from the Automatic Corrections and Color Rendering tools that make photo corrections easier and also the advanced HSL module.
DeepPrime XD is another huge bonus to the Elite version of PhotoLab 6, DeepPrime was already one of the industry leaders in Noise Reduction but DeepPrime XD has now pushed the boundaries further with class leading noise reduction while still retaining sharpness and clarity in your images.
A built-in Photo Library allows you to organize photos in albums according to their location, date taken, etc. Plus, Keywords make it easy to store and retrieve your photos quickly. With all these features and more, DxO PhotoLab 6 makes it easier than ever for us photographers to take our images to the next level.
First Impressions Of PhotoLab 6 Elite.
DxO PhotoLab 6 Elite is a great bit of editing software, from the very first moment I used it just seemed so intuitive and easy to use (check out my video below to see it in action). It also has some really nice AI features built-in to help you process your images even faster.
Now in saying all that I am also very used to jumping around between different photography editing software, but this one was easy. The finished edits looked great also, so first impression were really positive and immediately I found myself comparing it to Lightroom on so many levels..
What's to love about PhotoLab 6?
Ease of Use
The controls are all fairly intuitive and easy to understand, the best thing to do here is to watch my video below where I talk you through all its features and control layouts.
As I mentioned above there is as with every bit of editing software a slight learning curve but I did find this so simple, there was no fumbling around trying to find things like cropping tools or sharpness controls etc…
I am guessing a lot of that has come from this being designed by photographers for other photographers to use so it all just makes logical sense.
DxO Wide Colour Gamut
The Edited results were great and with the DxO wide colour Gamut the colours just popped off the screen with a vividness and accuracy that I can't remember seeing before.
The colours developed from the DxO wide colour Gamut just popped off the screen with a vividness and accuracy that I haven't seen before. What's not to love about that?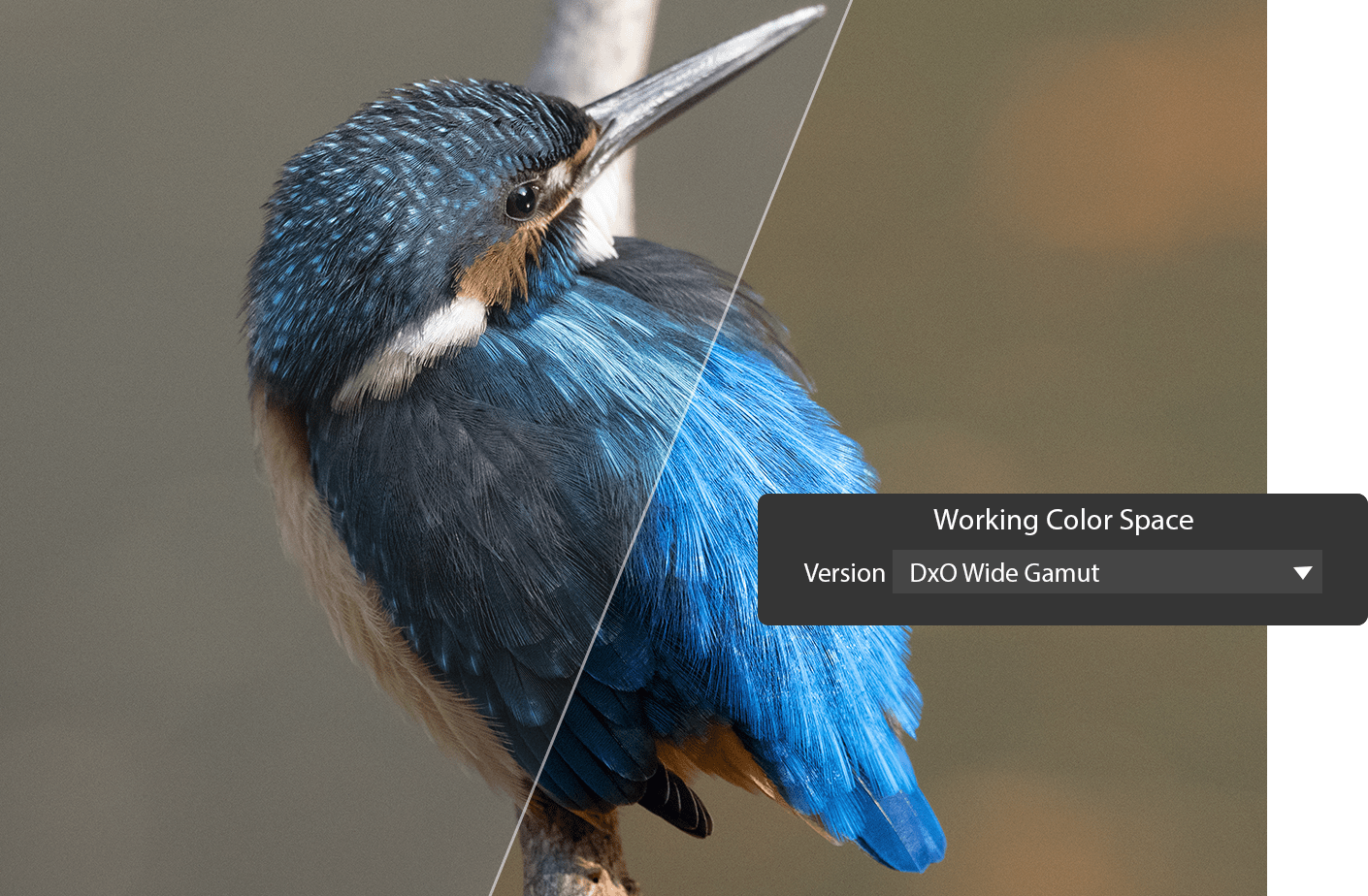 Camera Profiles
I am loving the camera profiles and the colours rendered by PhotoLab 6. Recently and especially since I have used PhotoLab 6 I have found that the Lightroom camera matching profiles for both my camera and drone aren't always giving me great results (they always seemed to be slightly off for some weird reason) so that's a huge plus for DxO already.
Soft Proofing
New to PhotoLab 6 is soft proofing so you can simulate printing results on your screen so if you are like me and you print your images yourself this is going to be incredibly handy for you. Again more coming on this feature in MY DxO PhotoLab 6 review update coming very soon.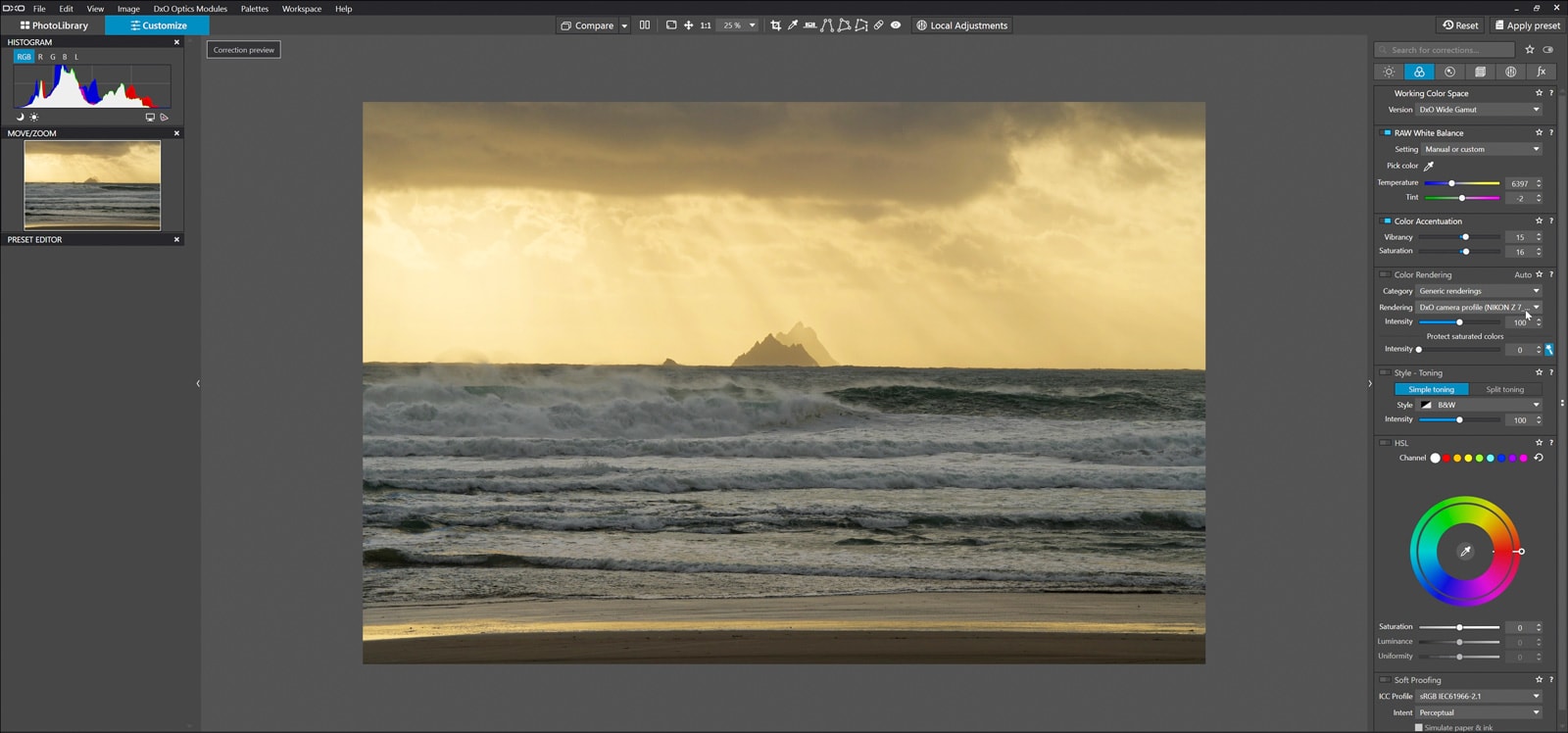 Deep Prime XD Noise Reduction.
Chances are you have already heard a lot of people raving about DxO DeepPrime XD and for a very good reason too as it's an exceptional noise reduction software solution and the new XD version is now is built into the DxO PhotoLab 6 Elite version.
Deep Prime has already made a great name for itself for being one of the best noise reduction applications out there but Deep Prime XD has blown my mind while doing this DxO PhotoLab 6 review as it has gone one step further and blows DeNoise AI out of the water with the results you can easily get from it.
I will be putting a full Deep prime XD Review video very soon so keep an eye out for that one.
Check out my DxO PhotoLab 6 review & tutorial video below where I walk you through the settings and how to use the software.
DxO PhotoLab 6 Price.
At the time of writing this DxO PhotoLab 6 review the Elite version of Photolab 6 was priced at €219.- now when you consider you also get DeepPrime XD as well as a full editing platform for that price it's great value for money.
You then own it for life with no yearly subscriptions or rentals, you of course have the option to pay for an upgrade to a newer version when it comes out, only if you want to of course.
You don't have to spend money on it today though as you can get my PhotoLab 6 free 30 day trial here so you can have a seriously play with it before you decide if it's worth it or not. The good news here is you don't even need to enter in any credit card details for my free trial.
When was DxO PhotoLab 6  Released?
The DxO PhotoLab 6 Release Date was the 5th of October 2022. It follows on from PhotoLab 5 which was released on the 20th of October 2021 so we can see this software is getting the now customary yearly updates as well as minor bug fixes and updates during the year too of course.
DxO PhotoLab 6 Review Conclusion
For serious photographers, DxO PhotoLab 6 is a great choice for enhancing and retouching photos. The results you get from it speaks for itself though.
The Soft proofing feature is incredibly handy feature in PhotoLab 6 and the colour reproduction has to be one of the best out there. Then you have DxO's AI-assisted tools making your post-processing easier, faster and more accurate.
So, If you're looking for a photography editing platform with incredibly powerful tools and great results, try DxO PhotoLab 6 today and don't just take my word for it.
I have a review of DxO Viewpoint 4 here if you want to read a bit more about this amazing bit of image correcting software from DxO, it performs sheer miracles with a few slider adjustments. I never knew this software was missing from my workflow until I tired it 🙂
My DxO PureRaw2 Review is coming very soon so keep an eye out for that one.
I also have reviews of On1 Photo Raw 2023 and Luminar Neo here if you want to check them out.
See you out there,
Kieran.