SmallRig follow focus vs Tilta follow focus system.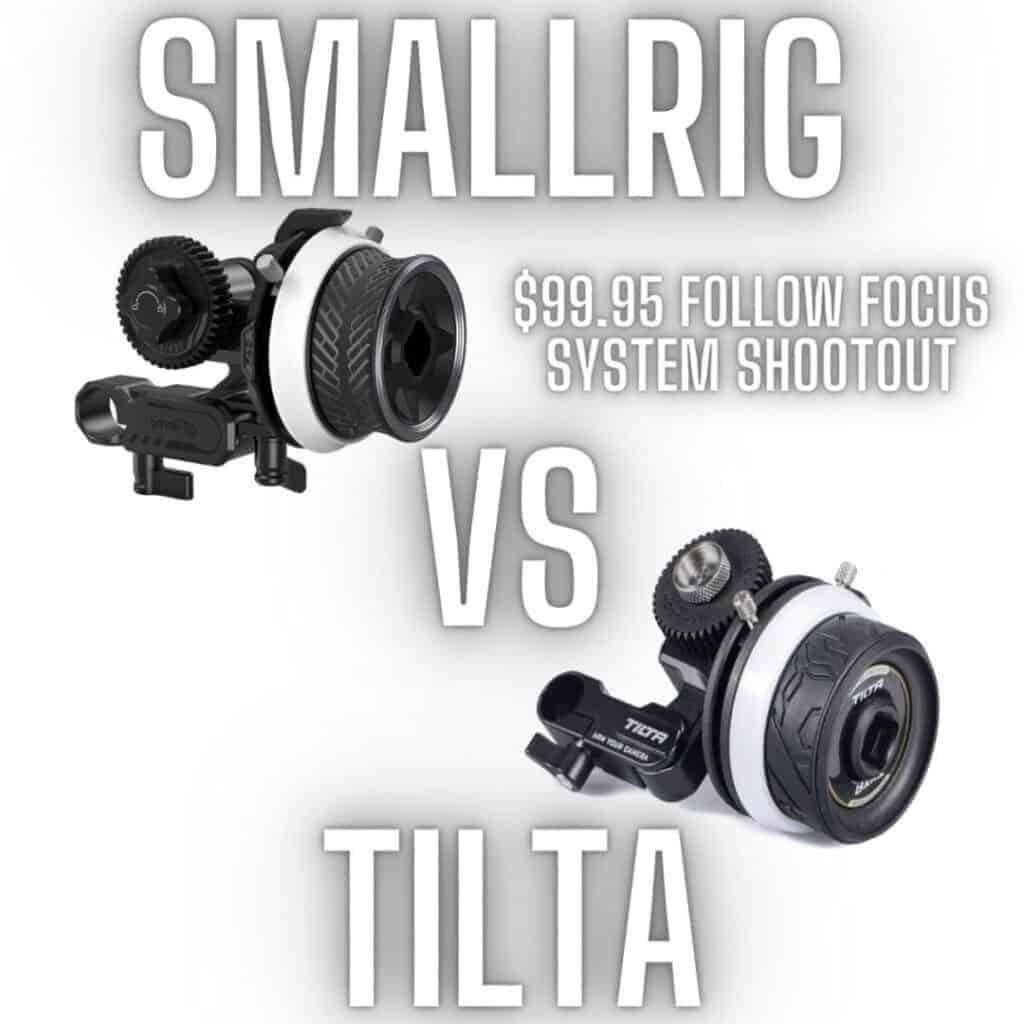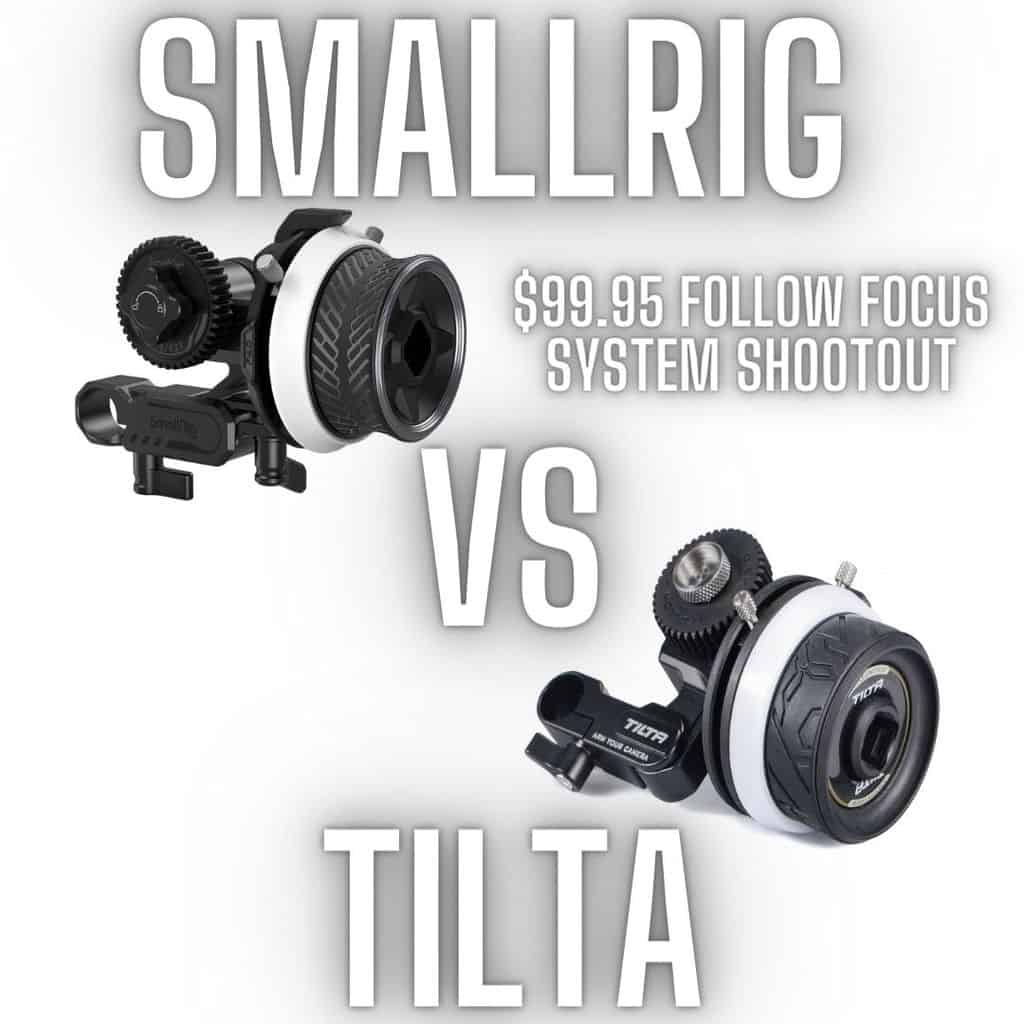 Welcome to my SmallRig follow focus vs Tilta follow focus review.
If you are considering buying a follow focus system then I say just go do it, I sat on the fence about one for nearly 12 months and finally when I bit the bullet I haven't looked back. They are incredibly handy and my top tip is if you do decide to buy one make sure to buy the seamless gear rings for your lenses (you can thank me later), they are only $2.00 from both SmallRig and Tilta but they not only make your rig look neater but they really speed up assembly time also.
Ok, so getting back to the review and which one is best for you?
Tilta vs SmallRig follow focus which one is best for you?
Having used both of these units now neither of these two are bad buys and they are both incredible value for money. 
There is very little between the SmallRig and Tilta systems from a looks perspective, after using both of them they are both incredibly similar to use also… but there are several differences between them.
Firstly, the SmallRig follow focus system is 190 Grams in weight and the Tilta follow focus is 220 grams now it's not much but it's there… making the SmallRig follow focus unit is 15% lighter than the Tilta, is that a big deal? Well no, it's not but when two items are so close it's the small things that make a difference them.
Secondly, both the SmallRig and Tilta have an A/B hard stop system which is incredibly handy when focus pulling between two dedicated positions on your focal plane. They both again work in exactly the same way but the SmallRig has a lovely feature that with the flick of your finger you can remove the hard stop lever and you are back to free flowing focus then again if you are shooting a continuous shot it is a huge advantage as the Tilta's hard stop is fixed in place and the only way to regain full focus range again is to physical unscrew the A/B stops and move them.
Thirdly, the SmallRig rod clamp for your camera cage also has a NATO rail built into it, that's a really clever little touch by SmallRig, it's the small things that all add up to make the SmallRig a better buy and we haven't even gotten to the price yet.
Price of the Smallrig follow focus vs Tilta follow focus system
SmallRig Follow Focus price
I bought the SmallRig Follow focus system myself and I have honestly not looked back since, after an hour of playing with it I am wondering how did I manage without one before. 
Getting back to the price, I bought it directly off the 
SmallRig website
 and it arrived in only a few days but not only did I not pay $99.95 but I also got seven free seamless gear rings with the follow focus system and SmallRig also had a 10% off offer so I only paid $90.00 for the system and 7 geared rings. 
At that price it really is a bargain, at $99.00 it's still a better buy than the Tilta system but for $90.00 there is no comparison between them. 
Check the up to date price of The SmallRig follow focus system on the SmallRig website here or via Amazon click here opens in a new tab.
These are affiliate links so please be aware if you purchase from these links you don't pay anymore for it but I get a slight commission, I have made a commitment to pay for a tree to be planted with every sale made though as my way of giving back to mother nature.
Tilta Follow Focus Price
As I mentioned above the Tilta system is roughly around the same price normally as the SmallRig model and can be bought for just under $100.-.
It is also a classy unit and well worth the money but in my mind the SmallRig model is more functional and better value also.
Looking at the price of the additional gears you can buy as optional extras to change the ratio of the focus the Tilta gears are $20.00 each where as the SmallRig gears are $13.90 each. So again another nice little positive.
All of the above specs and pricing can be clearly seen on both websites BTW.
Both of these units retail for $99.00 normally and for that price you are getting a complete bargain, ok there are cheaper systems out there and yes they work but they just about work let's just put it that way.
At that price it really is a complete bargain, at $99.00 it's still a better buy than the Tilta system but for $90.00 there is no comparison between them.
You can buy the Tilta follow focus unit from several resellers worldwide or off Amazon via the link below.
Conclusion
I was actually expecting this to be a little closer but I honestly feel the SmallRig follow focus vs Tilta follow focus winner has to be the SmallRig Follow Focus 3010 system as it's just an all round better unit and better value for money also.
I have several SmallRig products now and I have to say the quality of their products especially considering the price is amazing.
You can check out all the amazing SmallRig products via their website here or on Amazon here.
I hope this review helped you decide which one is best for you and have a read of a few more of the posts I have below on equipment to improve your cinematography. Posts like The Best Diffusion filters to buy for example or any of the others below.
Or my review of the SmallRig Lightweight Matte box versus the Tilta Mini Matte box here.
My SmallRig Follow Focus unboxing and setting up video is below
I will be posting a full video review on my channel soon so do please subscribe to stay up to date on my adventures in Photography and Cinematography.
See you out there,
Kieran.
*I have some affiliate links on this page, these links don't cost you anything to use but I do get a slight commission from them but that commission helps me write articles like this then.
Kieran Hayes, Landscape photography Ireland, SmallRig follow focus vs Tilta follow focus review, SmallRig. 5 5 0 5 5 0 43 15th of August 2021
https://www.landscapephotographyireland.com/smallrig-follow-focus-vs-tilta/