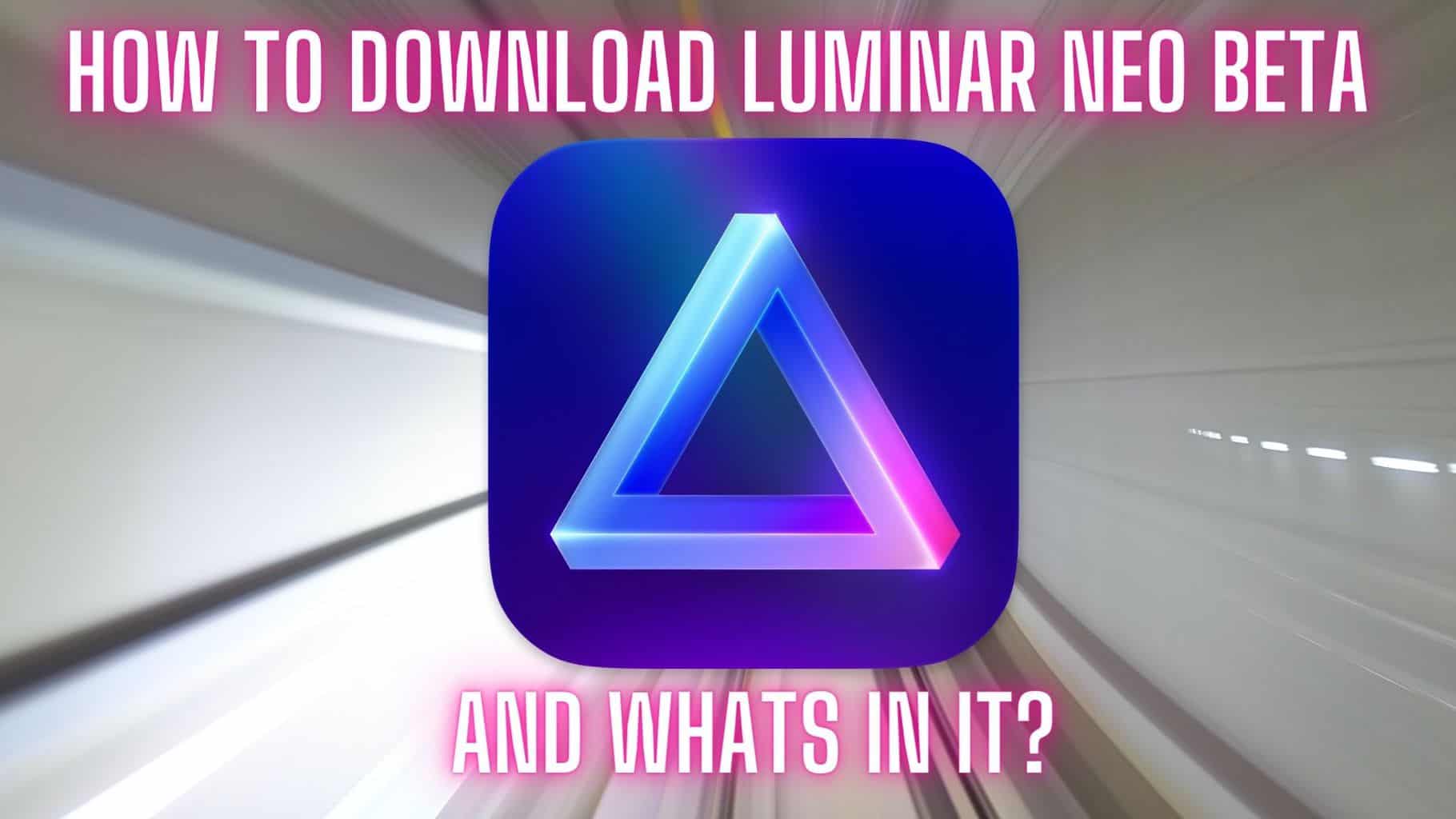 Skylum have now released Luminar Neo Beta, find out all about it here and how to download it yourself.
On the 28th of December 2021 Skylum released the Luminar Neo Beta download or early access version of Luminar Neo. So anyone who purchased the early bird version of Luminar Neo can now log into their Skylum account and download Luminar Neo Beta there. I have instrutions on how to do that at the end of this blog post.
If you haven't purchased Luminar Neo yet then checkout out my special offer links below….
Luminar Neo Beta Features
Before we get into this I have to say this is not the full version of Luminar Neo and it's limited to a number of new features, which I have listed below…
Luminar Neo Beta Features

The new processing engine.
Relight AI
Remove Dust Spots
Powerline removal
Impotant Note!!! All applied edits may be lost with each update to the Luminar Neo Beta early access versions, so ensure that you have backed up important files when using this version.
Now there are also a host of normal features missing in the Luminar Neo Beta version as of yet for both the Mac and windows versions. The reason why these features are missing right now is that Skylum are still busy perfecting them and don't want to release them until they are working properly.There are also parts missing listed further below to each platform.
What's still missing in Luminar Neo Beta

Histogram
Dodge and Burn Tool

Clone and stamp tool

Portrait Bokeh AI tool

Face AI tool

Image 3D transform

Colour Picker in the develop tool

Flip and rotate functionality in the crop tool

Copy and Paste, Pen pressure (only on Mac OS) for radius and opacity Linear and radial gradient functionality in masking.

Application on hover in LUTs in the mood tool

Undo and redo functionality

Revert to original functionality

Sync assignments, copy and paste adjustments functionality
Additionally, on mac OS:
⚬ The context menu is absent in Single Image View for Catalog and in the Edit tab
⚬ Missing Undo functionality in Masking
⚬ Missing Erase functionality after applying Vignette effect Incorrect states may show in Erase steps in the History tab
On Windows:
⚬ Missing Crop AI
⚬ Disabled sliders in Sky AI
⚬ Inability to export multiple files
⚬ Issues when using Develop tools
⚬ Significant delays while using Erase and fast-forwarding in the History tab
⚬ Not active plug-ins
⚬ Limited hotkeys
Instructions on how to Download Luminar Neo down below the Luminar special offer prices.
How to Download Luminar Neo Beta.

Follow the instructions below to download your copy of the Luminar Neo Beta version right now.

Step 1 Go to skylum.com

and click

Log In

in the top right corner. (If your already logged in then click on your profile picture and select

My Software

in the drop-down menu, then jump to step 4.)

Step 2 You can sign in to skylum.com with a linked Google, Facebook, Microsoft, or Apple account, or with your email and password. If you don't have a Skylum Account, click Register and create an account by linking an existing third-party account or by providing your email address and creating a password.

Please note it's important to use the email address you used to purchase Luminar Neo with.

Step 3 In your Skylum Account, select the My Software tab, which will open a list of all your Skylum software, including Luminar Neo.
Step 4

Find Luminar Neo in your list of software and click

Get Early Access version

.

Step 5 Read the information in the pop-up and check the box stating that you understand and accept the terms of the Early Access version.
Step 6 After that, click Download early access. Your download should start automatically.
Step 7 Congratulations! You've downloaded the Luminar Neo Beta or the early access version of Luminar Neo.
Note: If you don't see Luminar Neo in the My Software tab, chances are you bought it with another email address. If that's the case, scroll down and link your Luminar Neo license to your existing Skylum Account in the Link my licenses section. To do this, enter the email address you used when purchasing Luminar Neo and click Link my licenses. After that, please go to the inbox of the email address you've just entered and verify your email.
How to activate Luminar Neo 
Follow these simple instructions to activate Luminar Neo.
Download and install Luminar Neo as above
Open Luminar Neo. You will see a window that prompts you to log in to your Skylum Account.
Simply log into your Skylum account and Luminar Neo will then be activated on your computer.
I hope that helps and have fun playing around with it.
See you out there,
Kieran.
Landscape photography Ireland kieran hayes photography kieran hayes 29th of December 2021 Skylum have now released the Luminar Neo Beta Version find out all about it here and how to download Luminar Neo also. How to Download Luminar Neo Beta Version and find out all about it here. 5 5 0 5 5 0 43 Skylum  https://www.landscapephotographyireland.com/luminar-neo-beta-version-and-how-to-download-luminar-neo/