What is the best RGB LED Video Light?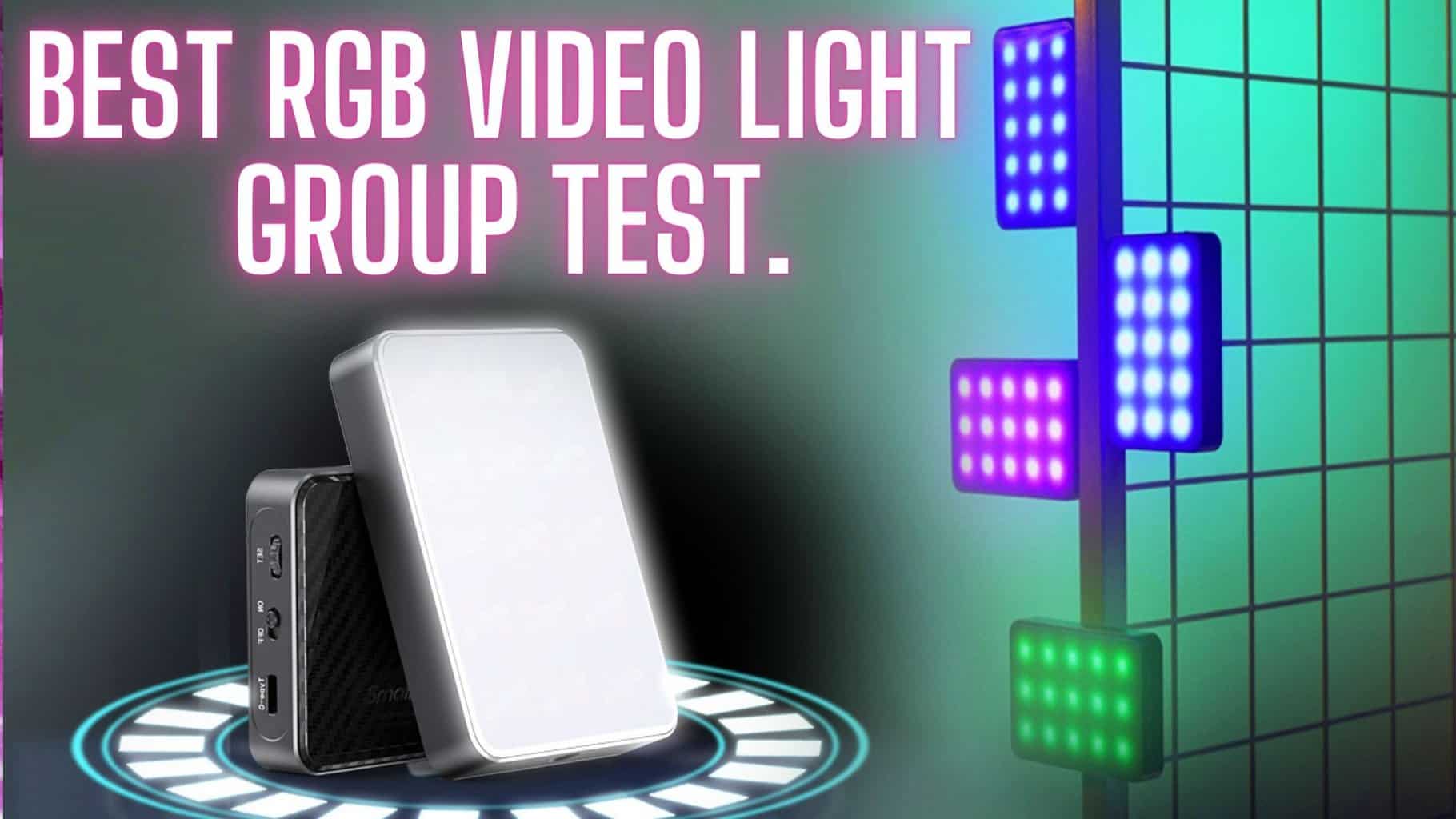 My Best RGB Video light group test and which one is right for you?
Welcome to the Best RGB Video Light group test, here we will be looking at some of the best portable RGB Video Lights out there with a massive range of functions and facilities you can add to your video setup to help you create something special.
These lights are highly portable, compact, powerful and all of them have internal rechargeable batteries making them ideal for home studios, YouTube Channels, main lights for compact run and gun setups, background lighting and for effects for studio or on location shoots.
These three lights have a truly massive range of features from the super bright SmallRig Pix M160 RGB Video Light ($99.-), the Smart RM75 RGB Video Light ($79.-) or the Ultra long lasting and bright RM120 SmallRig video light ($59.-).
Common features across all the models tested here are…
They all have a dedicated power on and off switch which is very nice little feature.
An LCD display on the back which displays the mode you are in, the light output power and battery status.
A standard 1/4″ – 20 mounting thread mounting option.
USB C connectivity for charging.
Multiple effects 12 different lighting modes. For more info on each light click the review link.
Variable colour temperature output from 2,500K to 8,500K
Variable light output via the thumbwheel from 1% all the way up to 100% output power.
95+ CRI.
Full RGB Colour output control.
I have a photograph at the end showing the output of all the lights at 100% so you can see how much brighter one is over the other one.
SmallRig M160 RGB Light Review.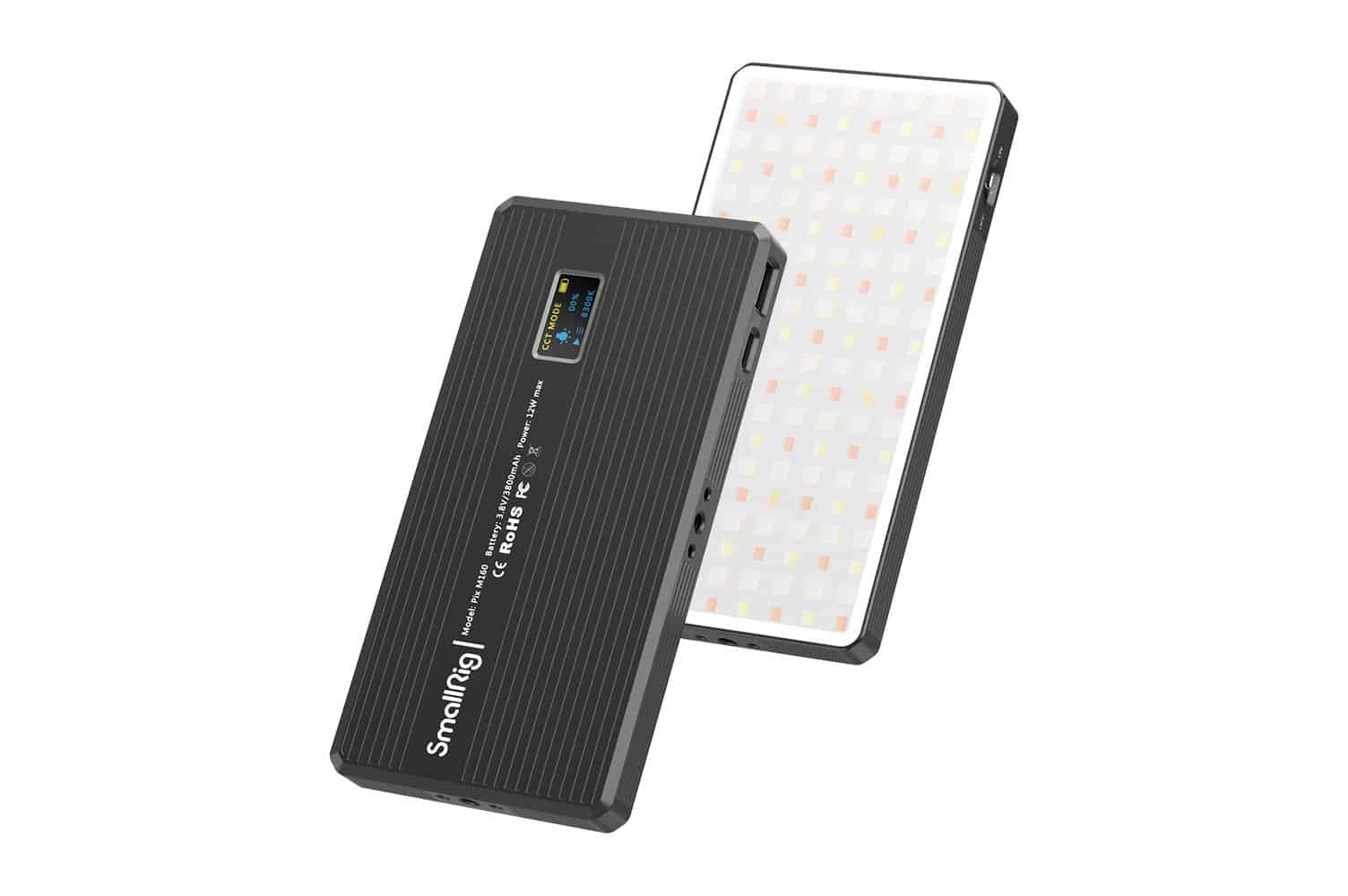 SmallRig Pix M160 Features…
The SmallRig Pix M160 is the largest out of the three lights tested here and it's also the brightest of the three with a larger panel it also offer a slight bit more diffusion as the source of Light is slightly larger. Measuring 158mm x 80mm x 12.4mm and weighing 230 grams it easily fits in your pocket or gear bag. It comes with a silicone diffusion panel and also a silicone grid to to reduce any light spill if you want your light to be more directional. It's the only light in this review supplied with a grid btw, so if that's important to you keep that in mind. So the main differences between this light and the others in the test are
Larger sized light panel.
Supplied silicone grid.
High output power.
High battery capacity of 3,800mah.
USB Phone charging option (use it as a power bank)
It also has the option of using an ARRI anti rotational mount.
The Pix m160 also has Magnet mounting option via the builtin magnets so you can easily mount it on any magnetic surface.
It retails for around $99.- You can buy the Pix M160 here on Amazon or also on the official SmallRig website here.
Pix M160 Conclusion
If you want a larger bright RGB Light, supplied with a silicone grid, an ARRI anti-rotation mount option and with the option of using it as a power bank then this is the best RGB Light for you.
SmallRig RM120 RGB Light Review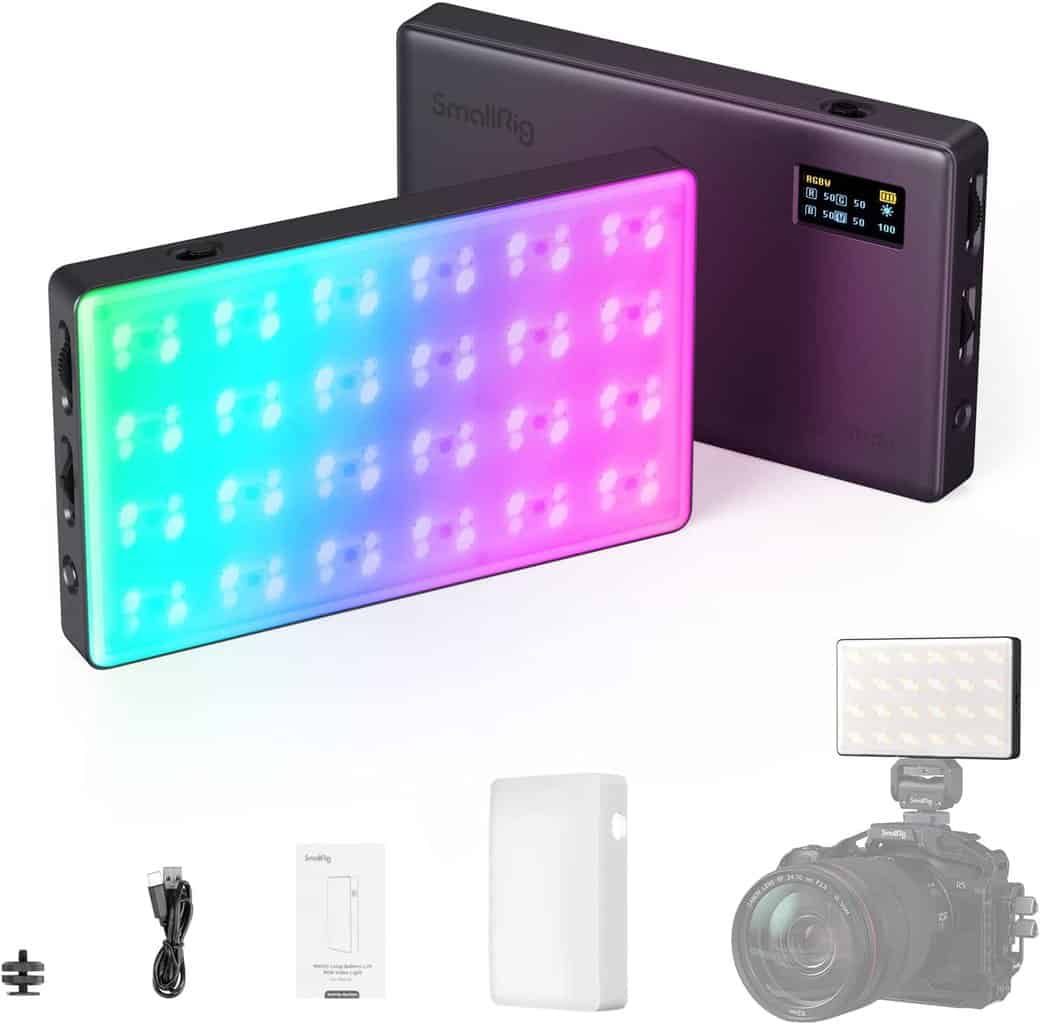 SmallRig RM120 Features
The SmallRig RM120 is right in the middle of the Pix M160 and the RM75 lights regarding its size, measuring 125mm x 75.2mm x 15.4mm and weighing only 204 grams it's smaller and lighter than the Pix M160.
The big feature of this light has to be its high capacity battery at 5,000mah it's the largest on test here by quite a bit.
Yes, it has all the standard features that I mentioned at the start of this review as standard and while it may seem slightly boring compared to the other two lights in this test the RM120 is a real power house and packs a big punch for such a small price.
So if you need a no frills long lasting powerful RGB Video light then this is the one for you. That battery will provide you with a constant 3 hours of light at full power which is awesome.
It's smaller footprint and yet nearly the same output power as the Pix M160 with 1850 Lux @0.3m make this a serious all rounder.
The other huge advantage this light has is its price at only$59.- it's fantastic value for what you get.
You can buy the RM120 here on Amazon or also on the official SmallRig website here.
Check out my full SmallRig RM120 review here.
SmallRig RM75 RGB Light Review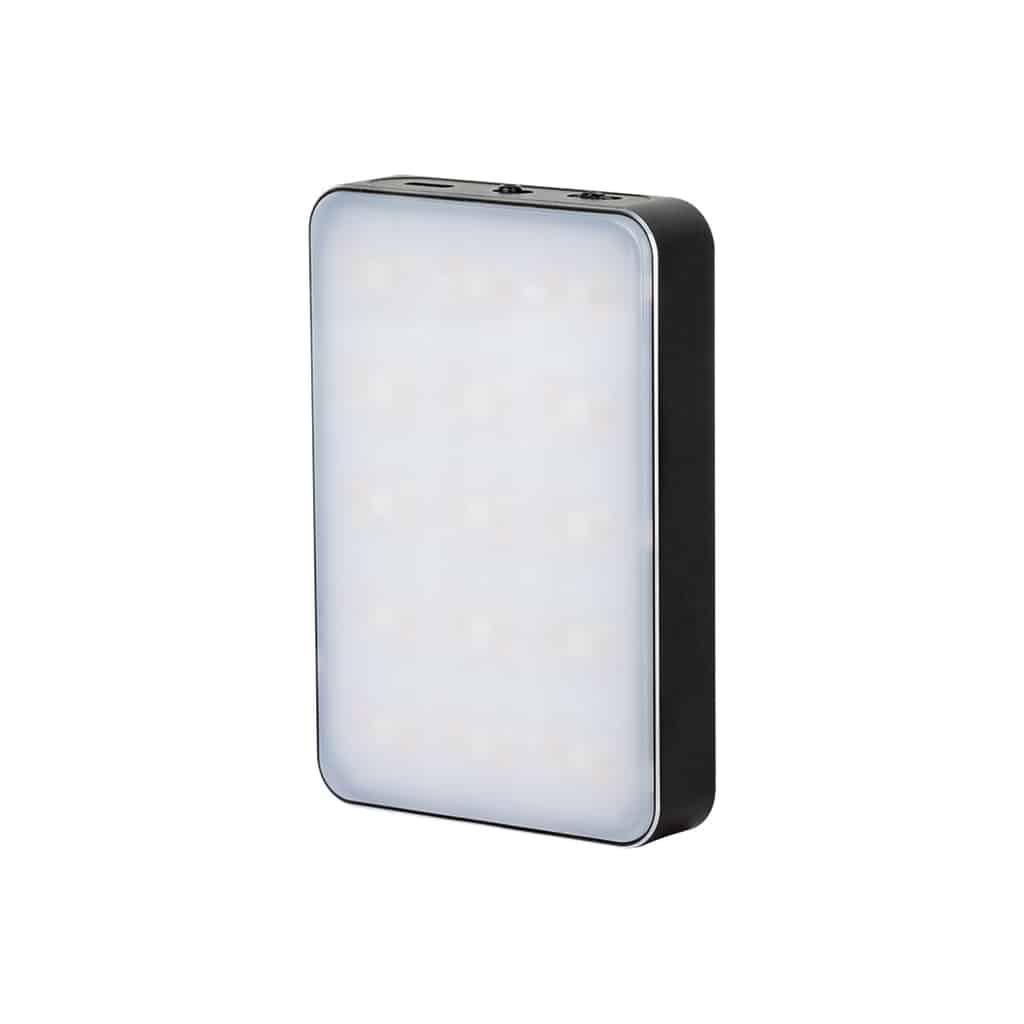 SmallRig RM75 Features
The SmallRig RM75 RGB Video Light is one of my favourite RGB lights and personally I think the best RGB Video light out there right now for its sheer functionality.
It is littered with features including a massive 4,000mah battery which again gives you 3 hours of use at 100% output power (it's not as bright as the RM120 though).
It has 4 magnetic sides so your mounting options are endless.
It's Smart options as just fantastic, you can control the light completely from your seat with your phone or tablet and if you have a few of them like me and you are a one man band YouTube creator then you can sit there and change your background colours or intensity or hair-light without ever having to leave your seat.
The smart functionality is what truly makes this light great.
Now it may not be as powerful as the Pix M160 but it's plenty bright enough for lighting backgrounds and general use.
I have a full review on the RM75 here where I go into a lot more detail if you want to have a read of it and checkout my video on it below also and don't forget to subscribe to stay up to date on new videos and tutorials.
SmallRig RM75 Review Best RGB Video Light, Smart, Magnetic & under $80
My SmallRig Rm75 review of this Smart RGB video light with FX modes, magnetic sides and back, it also has a fantastic battery time remaining function for bat...
The Photographs below shows each lights output power at 100%, I adjusted the camera settings for the brightest light (Pix M160) and fixed the camera at that. All the lights were positioned 0.5m away from the mannequin head with the same camera settings.
If you look closely you can even see the change in the shadow detail in the background and how sharp or softly it transitions from light to shadow as the lights have different sized light panels. The Pix M160 having a slightly better diffusion (a softer transition from light to shadow) due to the larger panel size.
While all these lights are rated at different output powers the surprise for me here is how little a difference in this test there is between the RM120 and the RM75 light. In saying that there was more light spreading wider on the RM120 shot which didn't translate in these shots.
The RM120 is still slightly brighter than the RM75 in the shot below but as I was saying it was closer then I thought it would be. You notice it more on the floor of the image and also the corners but even the background isn't quite as bright on the RM75 shot. When I put up my video review this will be a lot easier to see. Make sure to check out my YouTube channel and subscribe to get all the latest news and reviews as well as tutorials and behind the scenes stories.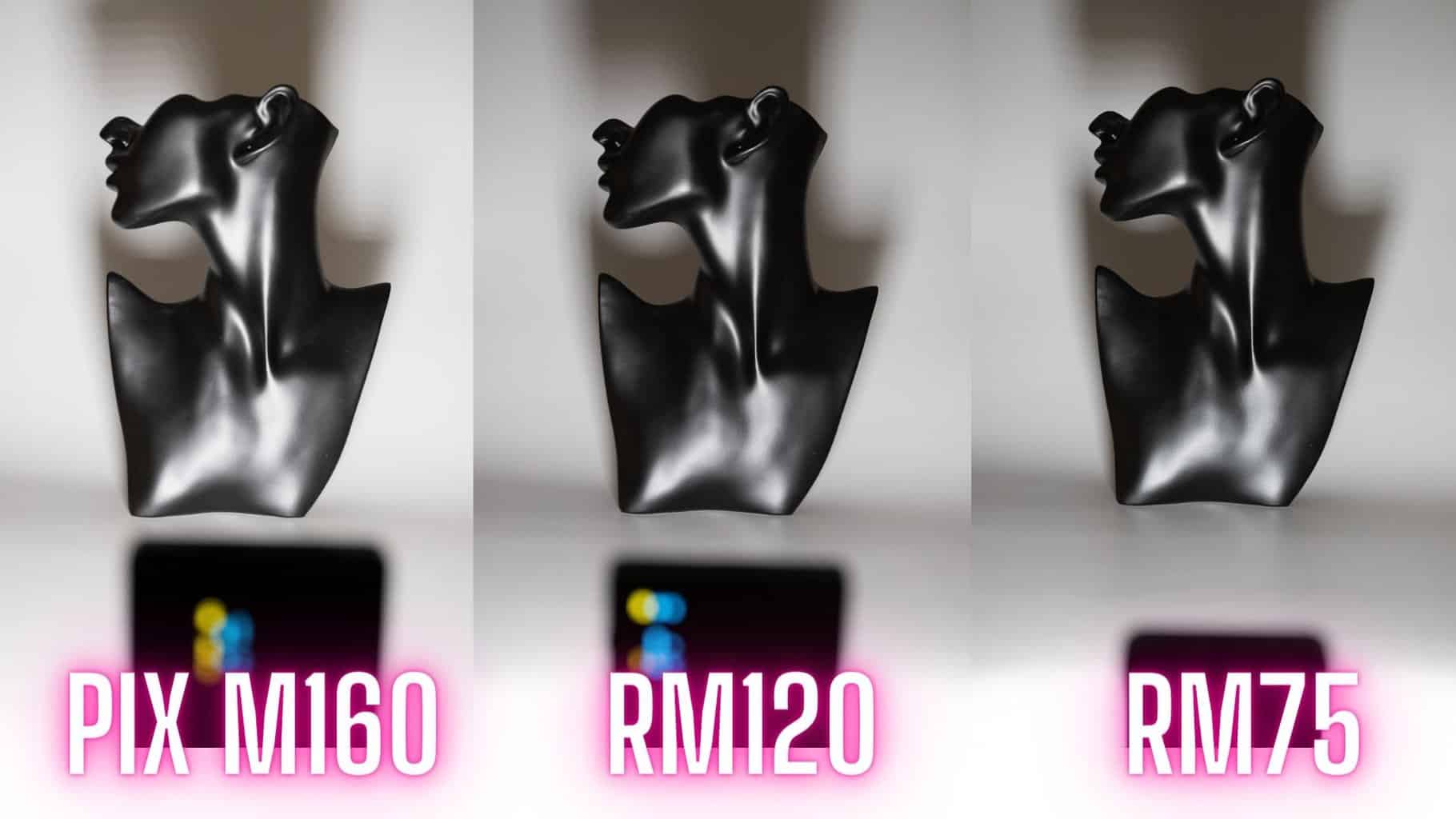 Best RGB Video light test Conclusion.
If you need a very bright video light then the Pix M160 is definitely the one for you as it is provides an amazing amount of light for such a small unit.
If you are looking for smart functionality then the RM75 is going to be incredibly hard to beat with it's rich feature list and wireless connectivity.
If you want n all round great light that's easy on the pocket and super portable then the RM120 is the one for you. You can nearly buy two of the RM120's for the price of one Pix M160 so the light output is going to be even better then.
I have individual reviews of these lights below if you want to know more about each individual unit.
SmallRig Pix M160 Review (coming soon)
See you out there,
Kieran.