Luminar Neo 1.06 Update and Mask AI now included.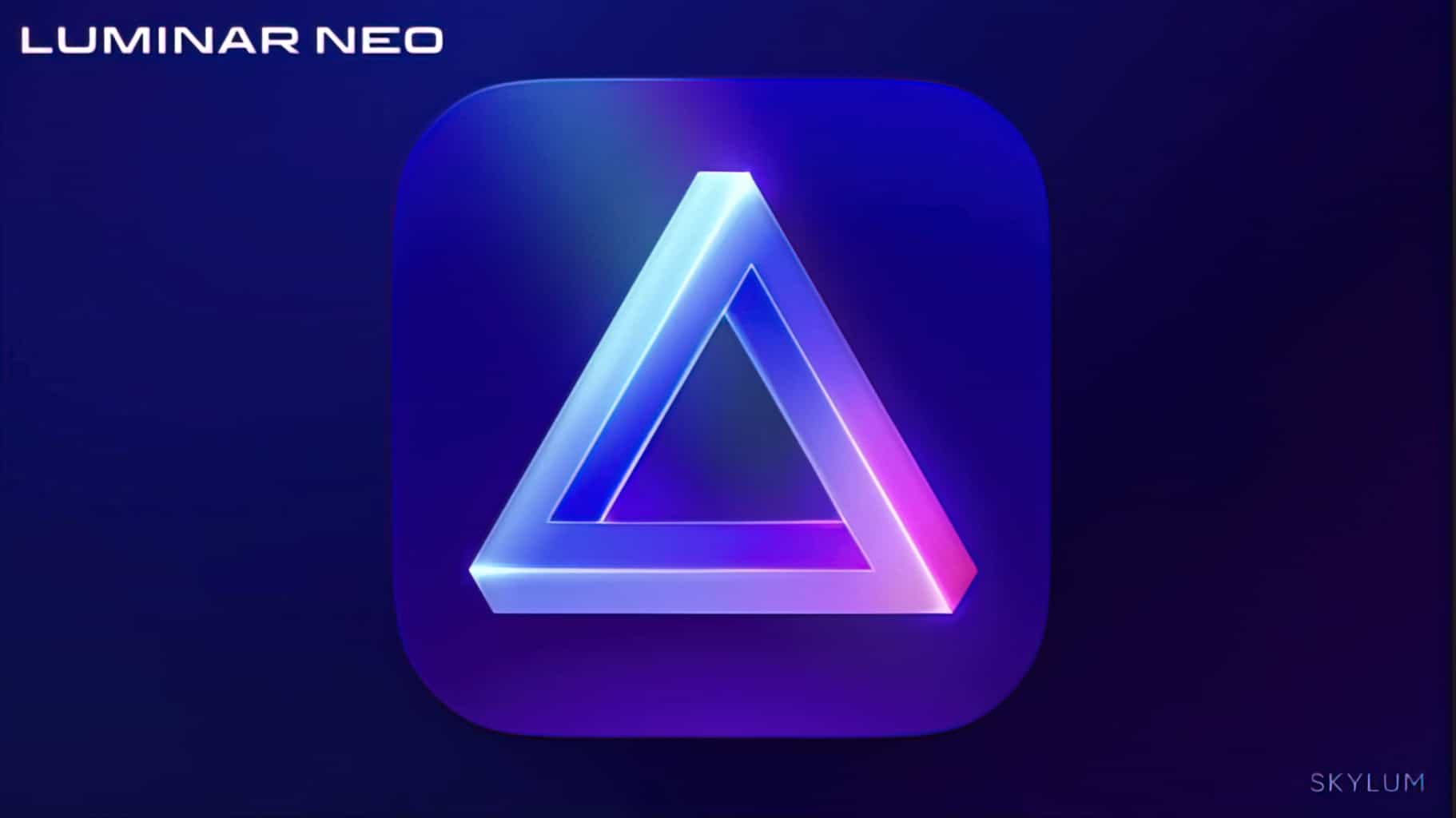 Luminar Neo update 1.06 and the launch of MASK AI, Radial and Linear grad filters and a few bug fixes…
I am delighted to say that Luminar Neo now includes the awesome  Mask AI a new AI feature to help save you some serious time and also the Radial and Linear grad filters as well as the Histogram and as I said already the introduction of MASK AI all in Luminar Neo 1.06 which is a free upgrade for any Luminar Neo owners out there. 
This is one upgrade that is very worthwhile and I have been waiting for this one :-).
If you want to have a look at the full Luminar Neo Review then click here to have a read of it.
Radial filters and Linear Grad masking filters in Luminar Neo.
Yes, radial filters and linear Graduated filters are now back and working in Luminar Neo in version 1.06 which is great news for all of us and a very welcome update.
Yes, I know I have heard it before that they should have been included from the start, they have been delayed as have several other Luminar Neo updates due to the ridiculously stupid Russian invasion and war in Ukraine. I think it's fairly obvious how strongly I disagree with what Russia are doing here and the level of atrocities they are committing in the Ukraine right now but we are here to talk about photography software so let's get back to it…
The Histogram is up and running also thankfully in both Windows and Mac computers, so that's another huge positive. Also something that was honestly badly needed.
Getting back to the grad and radial filters, there isn't a lot to say about them really as they  work how they should do and it's awesome is it having them back in Luminar Neo now but that's not really the big exciting news with update 1.06, the big news has to be Luminar Neo and Mask AI. So let's take a look at that now.
Luminar Neo Mask AI
So what is Mask AI?
Simply speaking Mask AI is an incredibly fast AI algorithm which dissects your image into a number of different masking options.
Take the shot below for example, Mask AI automatically created several different layer masks in seconds so we can simply and easily adjust the masking in each of these areas separately. That's going to be a big time saver and an awesome feature to have in your photography editing tool bag.
What's really cool about mask AI and yes maybe I am just a big child is the AI specs at work when you click on the Mask AI option. These little white dots do kind of a dance around your image as the AI engine tries to decode the different elements to your photograph you can actually see it at work and it just makes it all a bit more real, if you know what I mean.
Yes, I know it's small and possibly a little stupid but it keeps me entertained for the few seconds while it's decoding the image, I really do like it though.
Now a word of warning here is that Mask AI is not perfect as of yet but it's fairly darn close. I personally can't wait to see what update 2 in Mask AI brings as this could be truly something to behold.
If we think back to the Sky Replacement facility when it first surfaced in Luminar and it wasn't exactly perfect but now it's pretty darn amazing and easily my sky replacement tool of choice and much prefer it to Photoshop.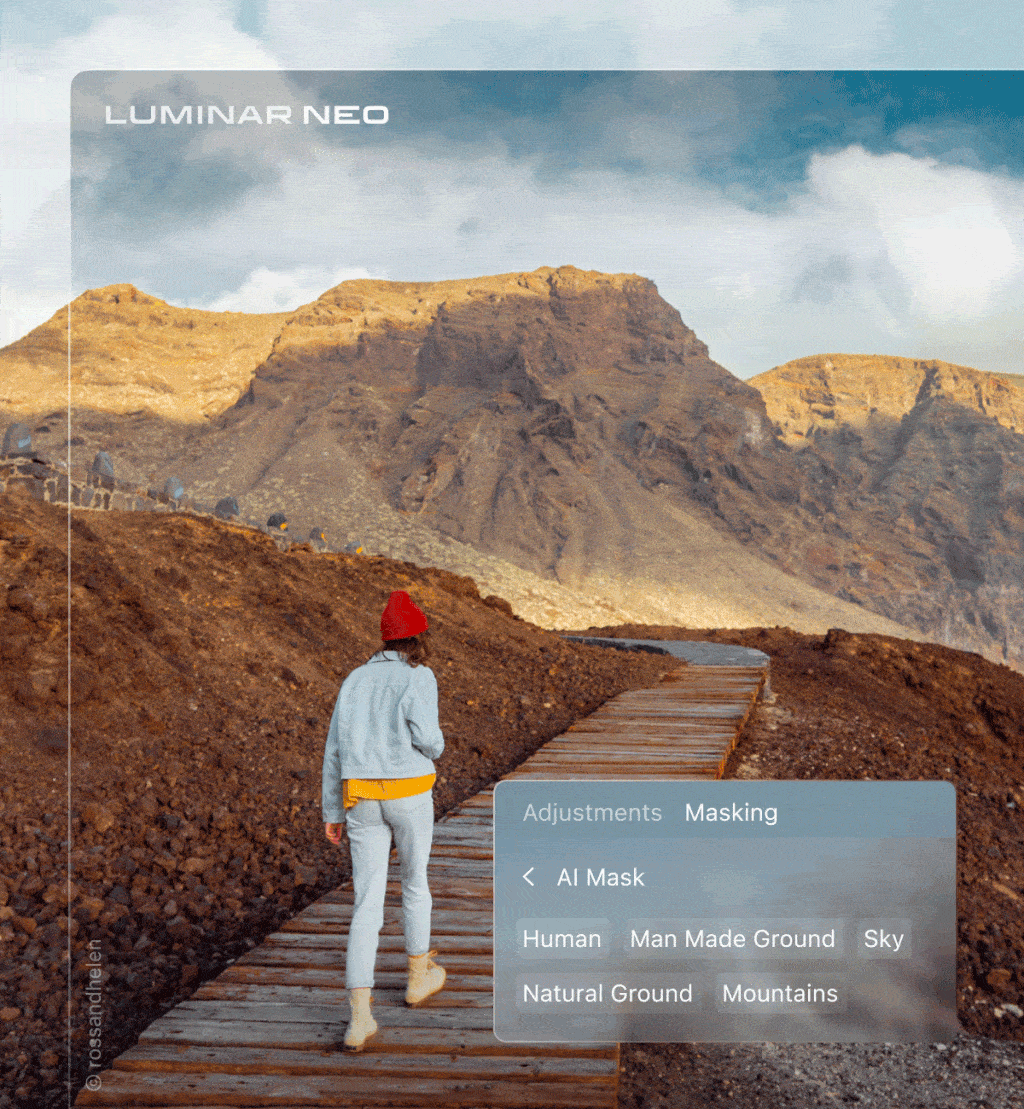 So What does Mask AI do?
It automatically diagnoses your photograph and separates the image into a possible 9 different layers for you to adjust. The layer options are…. people, skies, architecture, transportation, water, flora, mountains, natural ground, and artificial ground.
Now that may very well be expanded on in the future as updates come out and new AI techniques are brought forward.
So basically it helps to speed up your editing by automating the masking process and yes if it doesn't do it exactly right you can still modify it or tweak it with the brush tool, it still saves you a lot of time though.
The possible applications for this going forward are minding blowing…. as no doubt knowing the technical guru's over at Skylum and how they seem to be able to merge what can only be called black magic into their editing software then this is going to be a ground breaking addition to your photography editing software in years to came.
Just think you could be looking at a photograph and saying to yourself that the road (or pathway like above) in your shot is a bit too bright so you simply click on Mask AI and let it do it's magic then select the "Road" (option not available yet) or "Man Made Ground"(like above) drop the brightness down and bang you have exactly what you want without having to go painting in the road. What a time saving feature that will be, so for me that's a huge positive and I can't wait for the day when there are more options available to select.
I will be adding more to this review in the coming days and really exploring what Mask AI can do.
Bug Fixes
There have also been a good few bug fixes on Luminar Neo in version 1.06 and there have been a few slight performance improvements also. Even in a war zone this software continues to improve and get better.
Stay safe Skylum team and just know the rest of the world is hoping for a peaceful solution to this war very soon. At the end of the day it is normal people on both sides that will pay the ultimate price for this.