My Luminar AI Update 2 or Luminar AI 1.2 review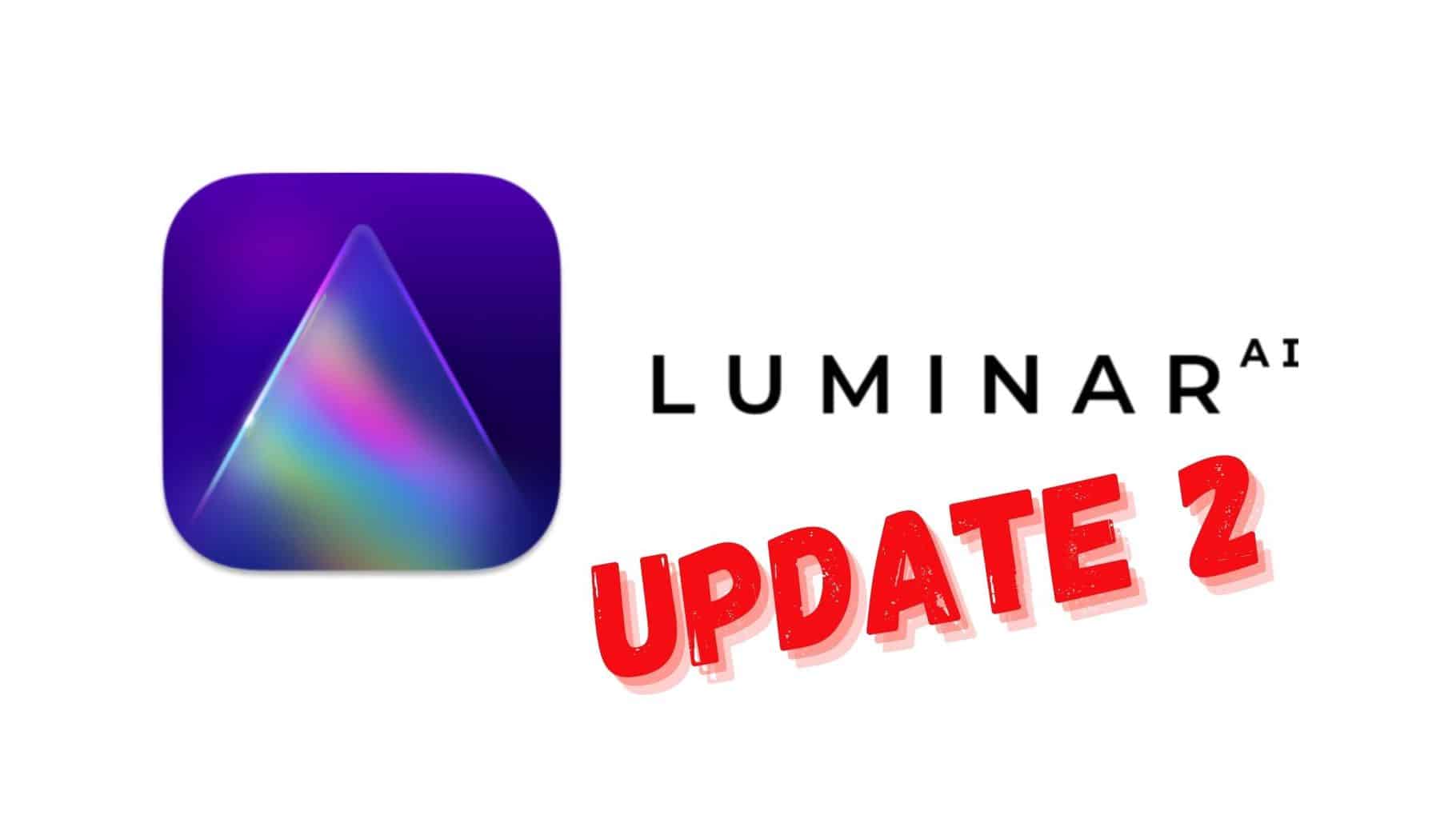 Welcome to my Luminar Update 2 blog post.
As you probably know by now Luminar Neo has been announced and I have a a page specifically dedicated to my
Luminar Neo Review here
which also include the latest videos on it if you want to know more about it. I also have a review up on
Luminar Neo vs Luminar AI here
if you would like to know more about the differences between the two.
What exactly is Luminar AI Update 2 or Luminar AI version 1.2 as it is also known.
Luminar AI Update 2 is a 

free update

 for all Luminar AI owners (details on how to update to version 1.2 below).
Ability to add png overlays for 

watermarks

 text or texture overlays in images.
Sky AI has seen a major update (not just the sky reflection feature added, more details below).
Better

fine detail adjustments

on Sky replacements (examples below).
Better

colour matching

on sky replacement.
New camera support also added (List below, going forward camera compatibility updates will be faster).
Relighting Human now that's awesome…(more details below).
The 

Histogram

 now stays open if selected(more details below).
Sky replacement 

orientation

 adjustment.
Sky reflections mirror and 

combine with the texture of the water or surface.

Templates have been made 

easier to use

.
Luminar AI update 2 video review is below with 3 shots being edited highlighting all the new feature updates. Don't forget to subscribe for lots of new videos coming soon.
30% off Luminar Neo Promo code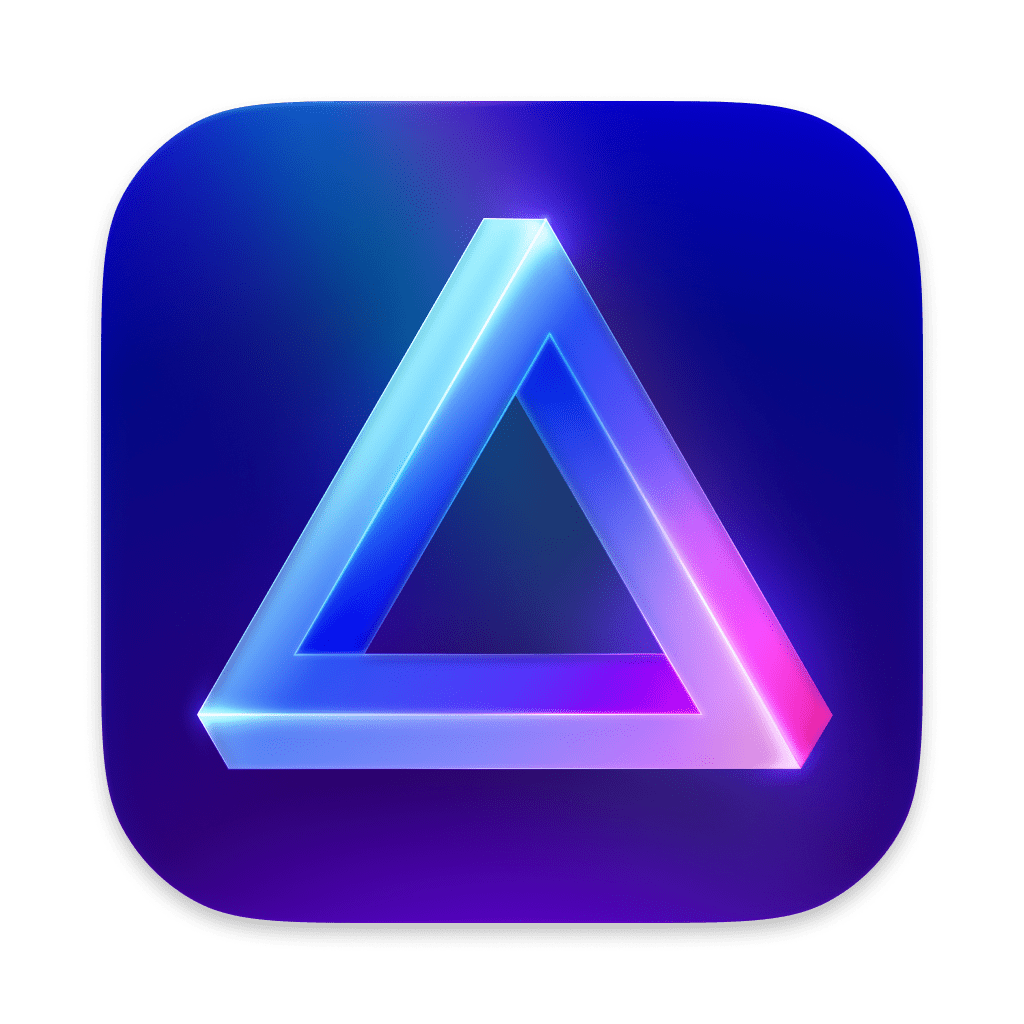 Luminar Neo Promotional Code
To get my 10% off code simply copy it and enter my Luminar Neo Discount Code at checkout...
Show More
To get my 10% off code simply copy it and enter my Luminar Neo Discount Code at checkout and you can also get a free special gift worth €25.-, to get the free gift offer click the show code button and before you purchase pretend to leave the page and you will be offered a free gift 🙂
Show Less
Luminar AI update 2 is the second free update from Skylum and while the first update had bug fixes and a few slight improvements the new Luminar AI update 2 or version 1.2 is a good leap forward with a whole host of feature updates and new camera additions. Speaking of new camera compatibility Skylum have also said that new cameras will receive support faster in future so that's also a nice positive.
Luminar AI update 2 download.
On and after the 16th of March 2021 you can download update 2 or version 1.2 by doing the following steps…
Luminar AI update 2 download on Mac OS. You can update by clicking on Luminar AI in the top menu bar and choosing Check for updates. This will bring up the new update 2 option.
If you purchased via the Mac App Store, open the App Store and go to the Updates tab.
Luminar AI update 2 download on a windows computer…

You can update by clicking Luminar AI in the left-hand corner, then choose Help and then Check for updates. This will bring up the new update 2 option.
Bokeh AI has not been added to Luminar AI as of yet but I am assured it will arrive as a free update to Luminar AI in 2021. Bokeh AI is currently still in final development and should be finalised shortly I am told, again I will have more information on release dates of Bokeh AI when Skylum tell me and then release the Non Disclosure Agreement on it. You can see how some new features in update 2 have come from the Bokeh AI development though with the ability of the software to detect humans in pictures the 3d mapping already being used and the SKY AI reflections software that not alone maps the depth of the sky but reflections and ripples in water also. I have to say Bokeh AI is what I am really waiting for and what I am super excited about.
Png and texture overlays
Yes watermarks are here… Now you could easily skip past this part and not give it a second look but this gives us the ability to add watermarks to our images as png files and you can also add overlays and textures to your images as well so for me this is a fairly big deal and I know a lot of people have been asking for the watermark ability in Luminar AI so well done Skylum for listening.
Sky AI update
Ok, this has to be the big one that everyone is focusing on with not only the ability to now add sky reflections in water but also the ability to fine tune the sky replacement so beautifully as well. You could easily skip over this one and say ya they have been promising this for a bit now so it's what we expected…. But I don't think any of us had predicted such a serious update in SKY AI, the myriad of updates to SKY AI have made it seem brand new. Between reflections, fine detail adjustments like around leaves, hair, buildings etc… better colour matching (explained below) and also the ability to alter the sky orientation now too all help to make SKY AI the real winners out of update 2.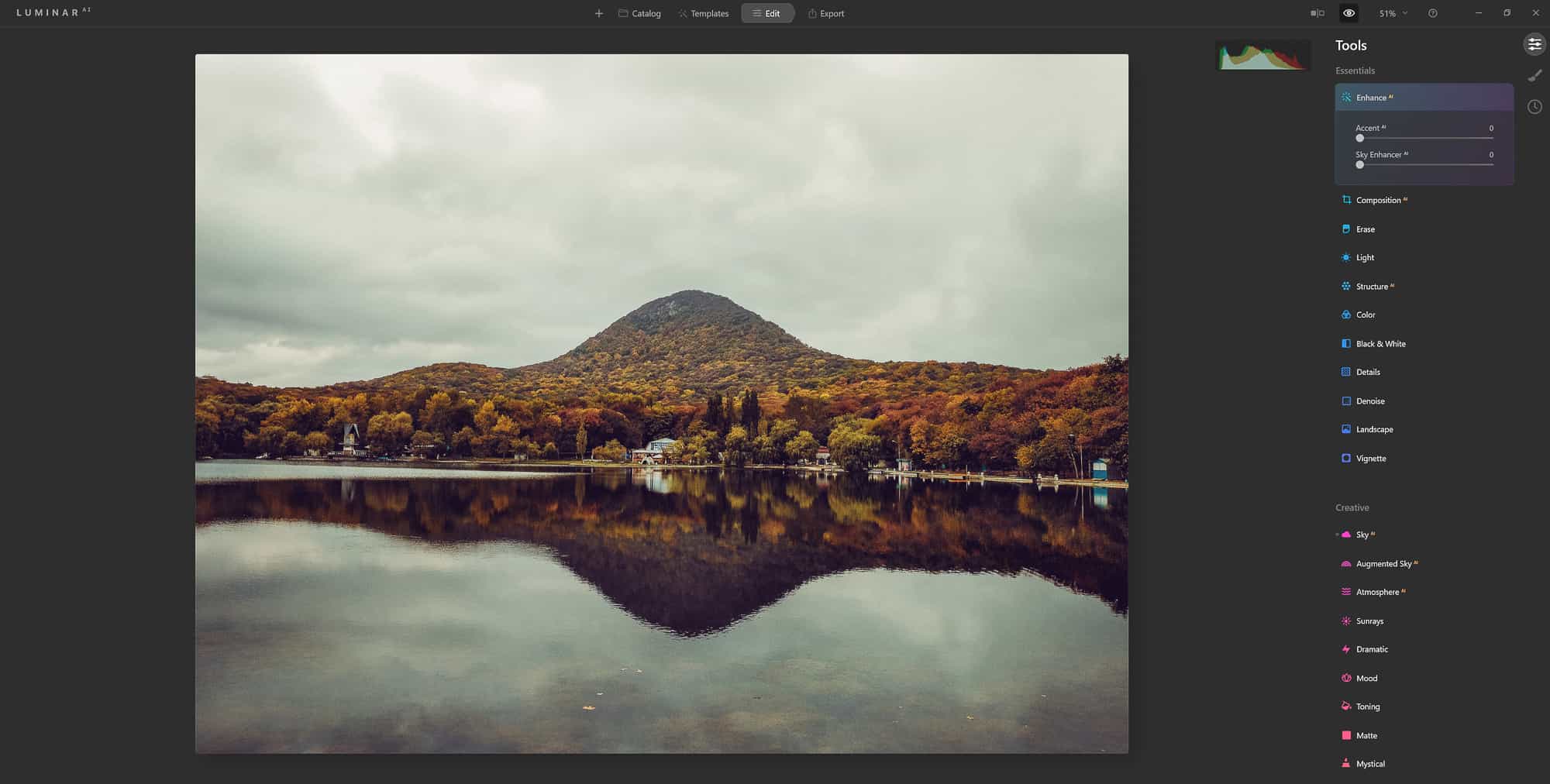 Above is the original shot which I edit in my video, as you can see the new Sky AI works perfectly and with the relight scene and reflections it's so incredibly real.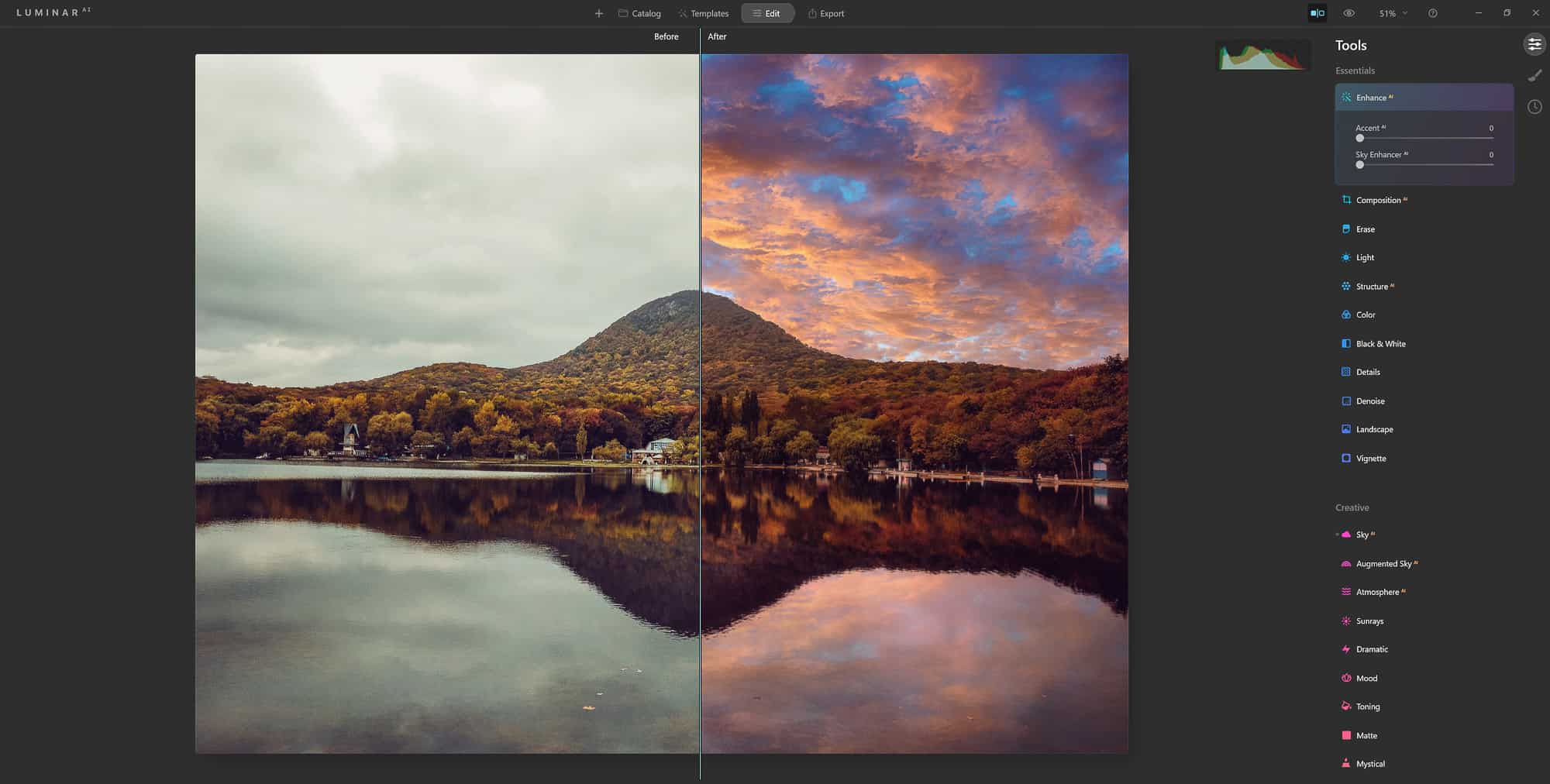 The split screen above shows how Sky AI has completely transformed this photograph. The finished photograph is below…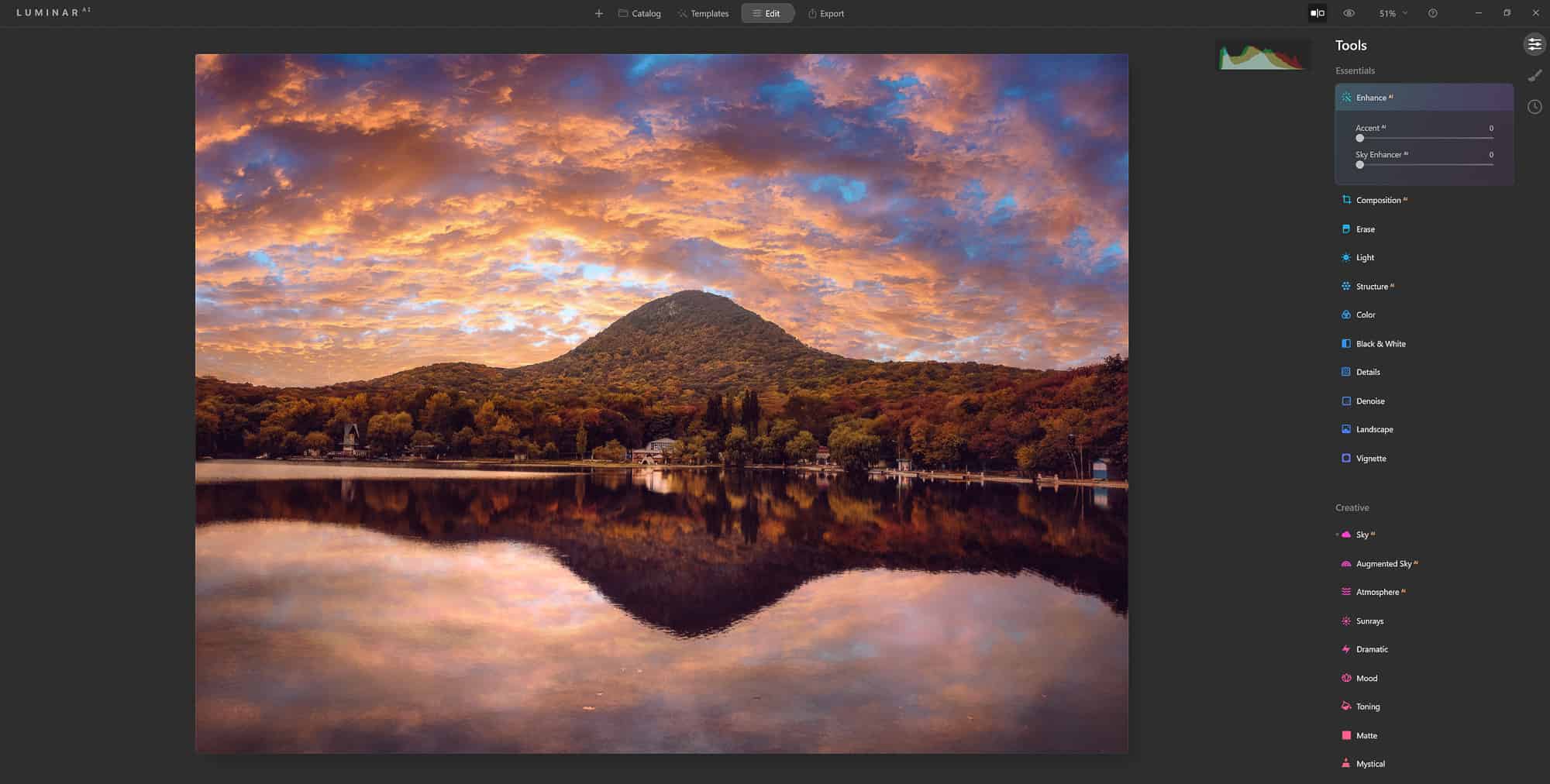 As you can see the difference is like night and day, this update is mind blowingly good.
New colour matching in sky replacements
The added colouring in your image from the sky replacement is handled differently now for brighter areas like snow and sand than for darker parts of your image like shadowed areas and areas less likely to reflect the light from the sky so this gives us a far more realistic and natural lighting effect in our images. The relight scene controls completely transform these shots and bring realism to your end results, again just watch the video above to see it in action.
If you are thinking of purchasing Luminar AI then don't forget to save some money with Discount codeHAYES10 at checkout
Canon EOS R5, Canon EOS R6, EOS 850D, EOS-1D X Mark II

Fujifilm X-S10

Leica M10-R, S3, SL2-S

Nikon Z 5, Z 6 II, Z 7 II

Olympus E-M10 Mark IV

Panasonic DC-G100 / G110, DC-S5

Sony ILCE-7C (A7C), ILCE-7SM3 (A7S III)

Zeiss ZX1
Luminar AI 
New File Formats
Lossy compressed CR3 files

Lossy compressed RAF files
Relighting Human
Yes this is exactly as it sounds, when you replace the sky in an image you now have the option to relight the Human in the shot also and the AI engine picks the person in the shot and you can relight them to match the sky and new colouring of the image making it awesome for outdoor portraits and travel photography as well as those casual shots everyone takes when out and about.
Luminar AI Histogram functionality
Luminar AI will now remember the metadata window (Info panel) state and the Histogram state whenever you quit the application or switch views. This makes it more convenient to resume editing upon the next launch or when you switch images or folders. This has been a minor annoyance for a good few users and again thank you Skylum for listening and correcting this for us.
Luminar AI system requirements
FOR MAC
MacBook, MacBook Air, MacBook Pro, iMac, iMac Pro, Mac
Pro, Mac mini, early 2010 or newer
CPU Intel® Core™ i5 or better
Memory 8 GB RAM or more (16+ GB RAM is recommended)
macOS 10.13.6 or higher. IMPORTANT: macOS 10.12 is not
supported
10 GB free hard drive space; SSD for best performance
Display 1280×768 size or higher resolution
FOR WINDOWS
Windows-based PC with mouse or similar input device
CPU Intel® Core™ i5 or better, AMD Ryzen™ 5 or better
Open GL 3.3 or later compatible graphics card
Memory 8 GB RAM or more (16+ GB RAM is recommended)
Operating system Windows 10 (64-bit OS only)
IMPORTANT: Windows 7 and Windows 8.1 are not
supported.
10 GB free hard drive space; SSD for best performance
Display 1280×768 size or higher resolution
Please feel free to check out my other Photography editing software reviews below.

Kieran Hayes Landscape Photography Ireland Kieran Hayes Photography Luminar AI update 2 5.0 39 10% off Luminar AI discount code