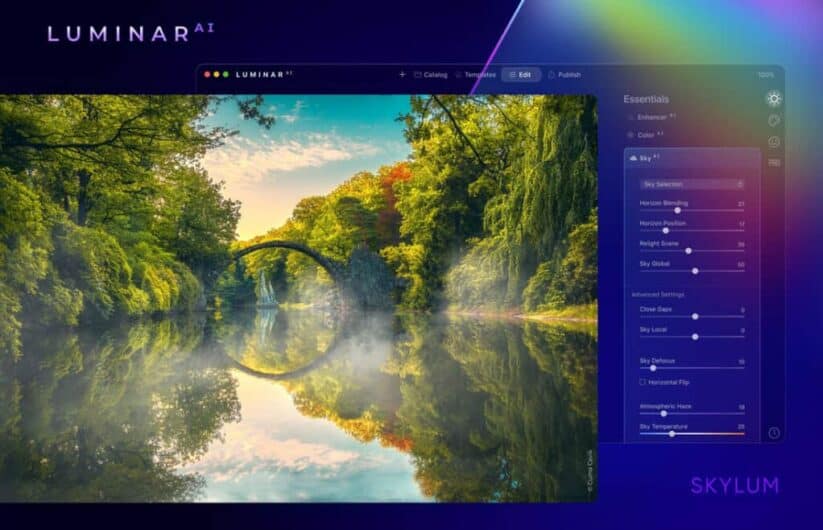 Luminar AI Version 1.4 with Portrait Bokeh AI demonstration and editing 6 different images
Working demo video of Luminar AI Beta below showing just some of the editing in Luminar AI on a few photographs.
I am delighted to be able to offer you my Luminar AI Promotional code HAYES10 to save you $10.- £10.- or €10.- off the price worldwide.
What are the minimum system requirements for Luminar AI?
Luminar AI will work on your desktop or laptop as long as it meets the following minimum system requirements.
Luminar AI Mac minimum system requirements.
For Mac MacBook, MacBook Air, MacBook Pro, iMac, iMac Pro, Mac Pro, Mac mini, early 2010 or newer CPU Intel® Core™ i5 or better  Memory should be 8 GB of RAM or more (16+ GB RAM is recommended) macOS 10.13.6 or higher.& IMPORTANT: macOS 10.12 is not supported. Your hard disk should have at least 10 GB of free space, an SSD will give you the best performance. A display of 1280×768 size or better.
Luminar AI Windows minimum system requirements.
For Windows Windows-based hardware PC, a CPU Intel® Core™ i5 or better, AMD Ryzen™ 5 or better. Open GL 3.3 or later compatible Graphics Cards. Memory of 8 GB RAM or more (16+ GB RAM is recommended) Operating System Windows 10 (only 64-bit OS).  IMPORTANT: Windows 7 and Windows 8.1 are not supported. Hard disk 10 GB free space, use an SSD for best performance Display 1280×768 size or better.
What system requirements I found work well.
I found the following system requirements works best… using an SSD drive and 16GB of RAM, a fast cpu will also help of course but the SSD and 16GB ram will give you a serious performance boost and won't cost a fortune.
My own current system is running on 64gb of RAM, a 2TB M.2 SSD, an overclocked Core i7 9900K processor at 5.1ghz on all cores. Which is all a bit mad but I also do cinematography so I need a serious processor to fly through editing.
I dropped the RAM down to 16GB to try it and there was little to no difference in speed (with no other programs operating).
I use Luminar AI as a plugin for Lightroom so I usually end out have a browser, Photoshop, Lightroom, Luminar AI and a few other apps working away in the background, hence the 64GB of RAM which is complete over kill btw. I would think unless you are a professional photographer and time is money then 32GB is more than enough for anyone.
Don't forget to add discount code HAYES10 in the Promotional code box at checkout to save even more.
Atmosphere AI sneak peek
This page is dedicated to the new Luminar AI software and my preview and sneak peak at it's upcoming new innovative features. I will also be posting my Luminar AI promotional code here to save you a bit of money. 
See the bottom of the page for Luminar AI minimum system requirements
As a brand Ambassador for Skylum software and Luminar AI I get a slight commission for sales made with my Luminar AI Promo code HAYES10 but it gives you a nice discount on the product so it's a win win for everyone.
To find out more about the latest pricing in your area then please click here to go to the official Skylum Luminar AI website.
The latest bit of information I can release is on Atmosphere AI
This is a truly special bit of software as it has 3d reconstruction technology which basically means it analyses each image and creates a sort of depth map similar to what mobile phones can do now with 2 cameras only this uses a single camera. Now this is an amazing bit of AI technology and something Skylum have worked on for over a year. Thjis is also one of the reason they moved onto Luminar AI from Luminar 4 as the engine in Luminar 4 would never be capable of producing these results.
This depth map can then be worked into your image as you apply "Mist" in a very realisitic and 3d manner.
Yes, you could also pop into photoshop and create a few layers and do the very same thing but that's not the point, these tools are all about saving you time and giving you more time to get back out there and take more photographs.
So Atmosphere AI applies a beautiful realistic mist to the image in just a few moments, saving us a lot of time. You can of course play around with the effect via the sliders to go for maximum effect or bring it back to add just that subtle detail to your image.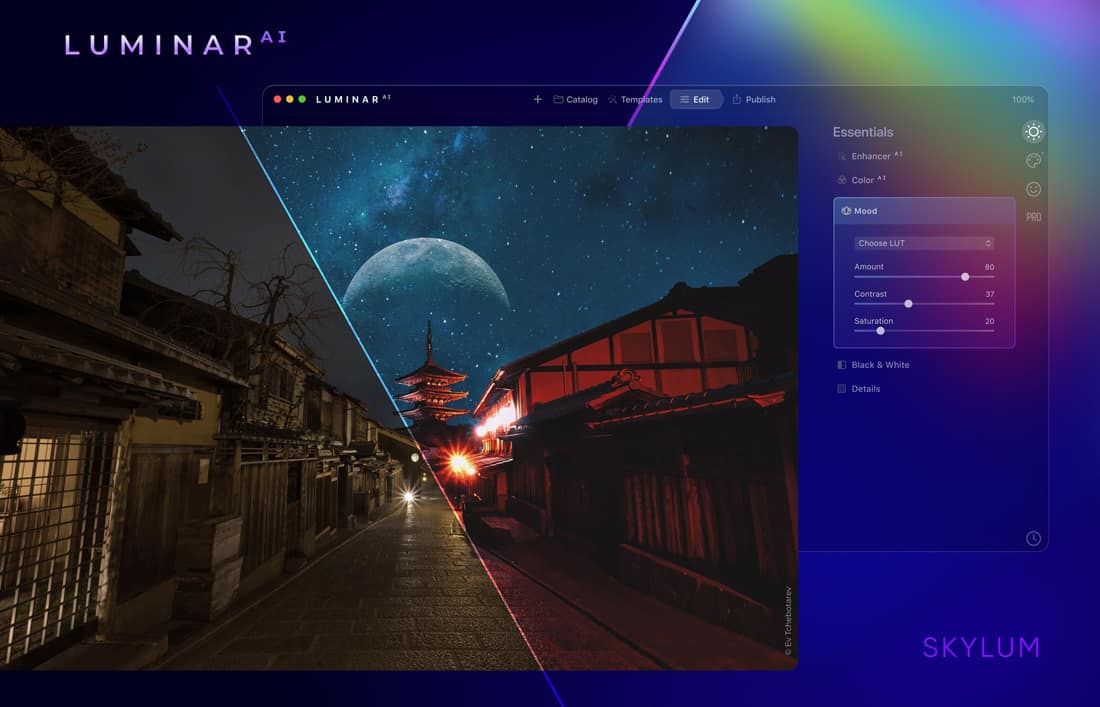 This is just one of the new AI tools for Luminar and this is just of this amazing technology, you can combine multiple AI features to create incredibly striking results. for both portraits and landscapes.  
Combine Atmosphere AI with another AI tool like Sky AI, this will intelligently adapts tone mapping and lighting of the sky to the foreground, you of course have a full set of sliders and tools to control these effects again. So you can adjust a single image to any condition in a matter of moments, even if the sky was flat dull and boring just swap it out and transform your image in seconds.
Now if you say hey I want to do more than that you can use the Mood tool to convert your image into something magical.Pop in a bit of Structure AI and those details will be pop in your image creating a truly awesome image.
What's better again is If you have several images of the same scene, just sync the adjustments and Luminar AI will apply the adjustments specifically to each image, even including AtmosphereAI.
Luminar AI Update 4 is now live… click here for my review of it.
My Luminar AI promotional code is still to be confirmed but I presume it will stay the same and be HAYES10 to give you$10.- or €10.- off the Skylum software. I also get a slight commision from sales made with my discount code/affiliate link but you get a nice discount also.
More details to be announced soon.
To find out more about pricing and the launch date for Luminar AI have a read of my blog post here. 
See you out there,
Kieran.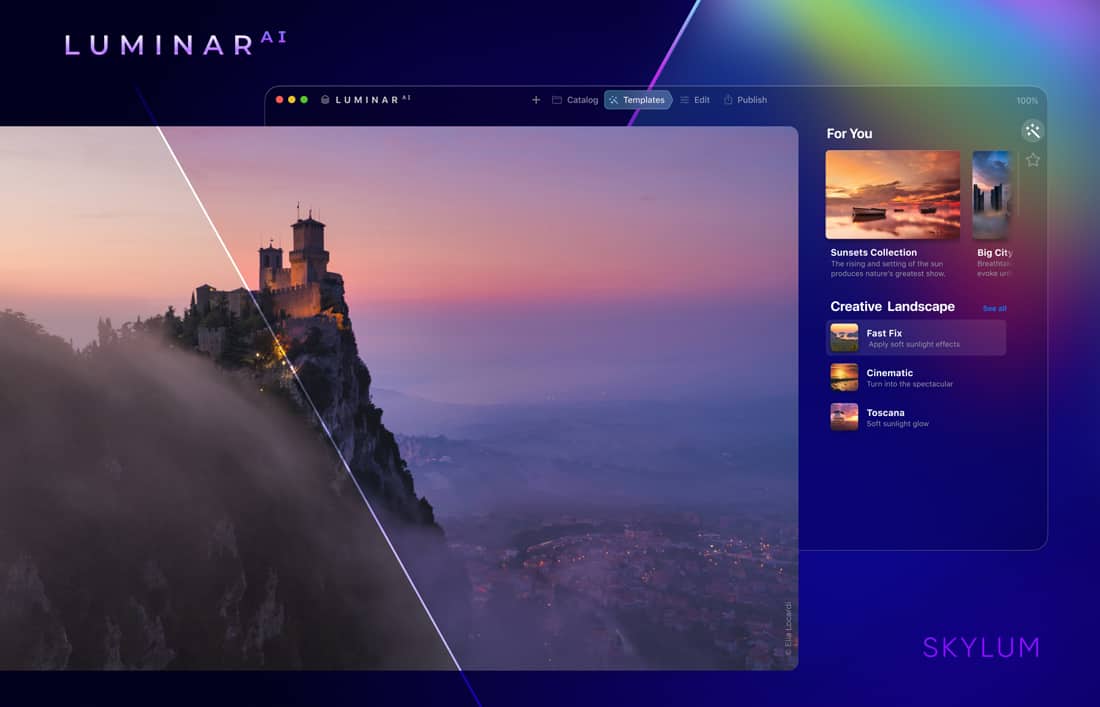 Kieran Hayes  Landscape Photography Ireland Luminar AI review and promotional code Atmosphere AI and how it works in Luminar AI and my review of it. 1st of October 2020 https://www.landscapephotographyireland.com/luminar-ai-review-and-promotional-code 5.0 39 10% off promo code