Luminar AI 1.01 Update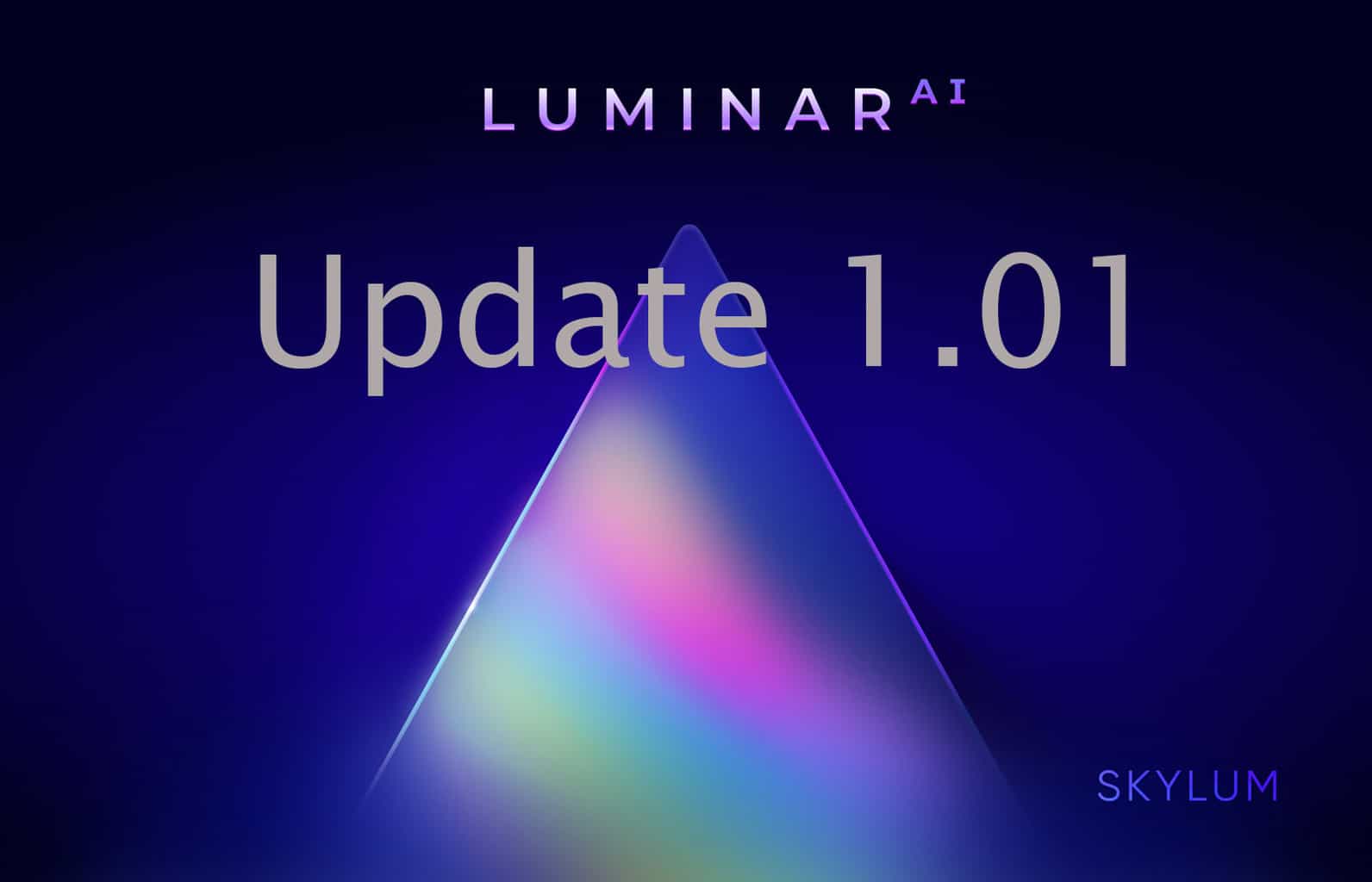 Get 10% off Luminar AI with Luminar AI Discount code HAYES10
Luminar AI 1.01 update and what you need to know.
 Luminar AI 1.0 to Luminar AI 1.01 there are not only over 100 bug fixes but also a few new additions to the software and a bit of a change to the edit panel also. See the video below showing the new layout.
To upgrade to Luminar AI 1.01 on a Mac OS…
You can update by clicking on Luminar AI in the top menu bar and choosing Check for updates. This will bring up the new update option.


To upgrade to Luminar AI 1.01 on a windows computer…
You can update by clicking LuminarAI in the left-hand corner, then choose Help > Check for updates. This will bring up the new update option.


VIP…Sky2.0 and Bokeh AI not there just yet.
For those of you eagerly awaiting the Sky AI 2.0 update and Bokeh AI this is not the update you are waiting for…
The Sky2.0 AI update or Luminar AI 1.1 as it will be known should be the next free update and I hope to have an announcement on that in mid to late February.
Don't shoot the messenger on that one but I know it's coming and I will try to keep ye as up to date on that as possible.
The free Bokeh AI update possibly called Luminar 1.2 (just guessing that) will I am told be after that and later in the year.
The Luminar AI 1.01 update is more of a performance and usability update. Luminar AI 1.01 is designed to make the application easier to use and to kill off a few little software bugs at the same time. The next round of updates including SKY 2.0 AI are on the way soon…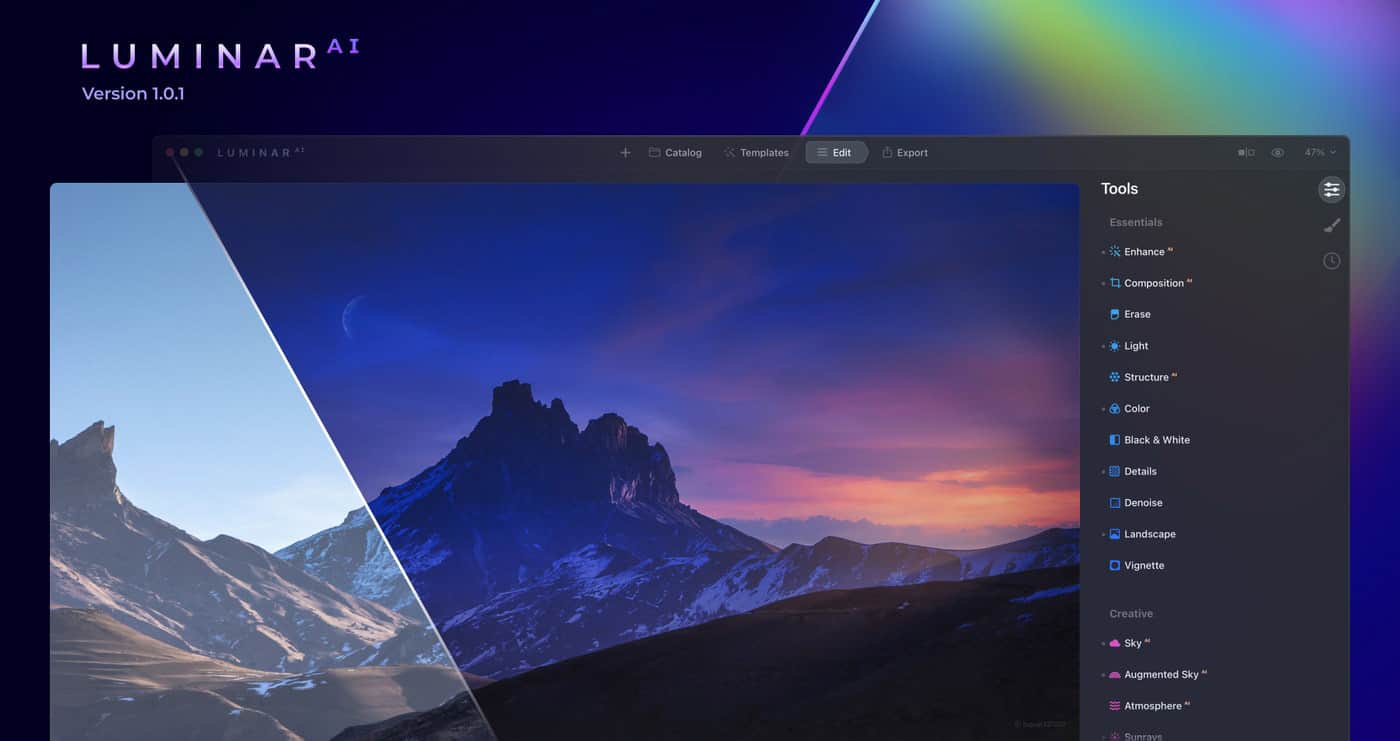 Editing panel changes…
As you can see from the above image and video the edit panel has changed and all the edit tools are now you open the Edit panel, you'll now see all of the Edit tools in one list. They're divided into color-coded categories, but there's no need to switch between tabs, which allows for a more comfortable editing experience.
Pop-up on Import
When importing an image or a folder a pop up now yes you guessed it pops up! So just click on add folder or add image. TBH not much of an update there but hey it's more aesthetically pleasing I suppose and as visual artists that should mean something to us I am told.
Don't forget I can offer you a Luminar AI promotional code HAYES10 to give you €10.- or $10.- or £10.- off Luminar AI and other Skylum products, don't forget to checkout my little trick below to get a free gift from Skylum also.
I should also add as I am an ambassador for Skylum products I get a slight kickback with each sale made with my promotional code or via one of my links but hey you get money off also so it's a win-win for us all.
Redesigned Toning tool
The Toning tool now has Shadows and Highlights buttons and matches the design of other Luminar AI tools.
Tooltips added throughout the software
Hover over the icons in Luminar AI to learn what you can achieve with each feature. Explore Luminar AI in a new way and access all the tools you need.
Localization improvements
We've improved the French, German, and Japanese translations in the UI texts. On top of that, the names of Templates in History are now localized.
What Skylum have said about bug fixes!!!
Thanks to everyone who helped us fine-tune the performance of Luminar AI and provided valuable feedback. We've fixed 111 bugs, including 11 major bugs on macOS and  including 7 major bugs on Windows that could lead to crashes or unexpected results.
On macOS:
Export photos and replace existing files in folders without crashes
Move subfolders within a folder without a hitch
Use Clone & Stamp on zoomed photos and enjoy a smooth result, without any artifacts or crashes
Smoothly switch between Template previews with no more overlapping of the previous and next Templates preview
Add PNG files to your textures in the Local Masking tool
Use Cmd+Z or Undo in the Erase tool to go back one step instead of removing all previous adjustments
The Sky AI tool now shows all images in the Custom list, including images with the TIFF or TIF extension
Install Luminar AI as a plugin in Lightroom and Photoshop in a beat without duplicate files in the plugin folder
…And more! We hope you enjoy the steadier and smoother experience.
On Windows:
No more issues with working in the Edit panel, when when the screen is scaled to 150% and you're viewing in full HD
Apply changes in the Optics tool and switch to other tools without loss of image sharpness
Experience a smooth, crash-free migration from Luminar 4 even if the Looks folder is inaccessible
Achieve a realistic background blend when adding your custom Objects in PNG format using Augmented Sky AI
…And more! We hope you enjoy the steadier and smoother experience.
On both Windows & macOS:
No more artifacts visible on darker photos when applying Skin AI
No more halo artifacts after working with Erase canvas after Sky Objects are placed
Achieve a perfect composition with Composition AI and use the Vignette tool without crashes
We hope you love the improvements! We're working hard to make Luminar AI more enjoyable and more comfortable to use for all Luminar AI artists with each new version. Stay tuned for future updates.
So that's Luminar AI 1.01 for you,I hope the next announcement will add new functionality as well as.
I am still looking forward to Bokeh AI and Sky 2.0 though and they literally couldn't come soon enough for me.
Come on Skylum get the new features out there so we can use them…
Please feel free to check out my other Photography editing software reviews below.
See you out there,
Kieran.
Kieran Hayes Landscape Photography Ireland Kieran Hayes Photography Luminar AI 1.01 update What is the Luminar AI 1.01 update, what isn't it and when is it coming? 21st of January 2021 https://www.landscapephotographyireland.com/luminar-ai-1-01-update/ 5.0 39 10% off promotional code